Study Nursing in Germany for Indian Students
Studying Nursing in Germany for Indian students free is the most popular talk in India among the young high school leavers!
When parents join their young children who have just finished their higher secondary school, education becomes a more exciting subject to discuss and look for various options!
Nursing in Germany for Indian students who wish to study nursing
Germany has two options for pursuing nursing;

Let's start with the most famous German nursing programme among youngsters in India, 'Nursing Ausbildung '.
Many call it a vocational programme is apprenticeship training in Germany offered at hospitals, nursing homes, and pediatric and elderly care centres for overall experience and knowledge. The provider of this vocational nursing training in Germany pays a stipend to the attendee/trainee every month and for the entire duration.
The placement and classroom training providers of the Ausbildung nursing programme don't charge any tuition fees for the apprenticeship program in Germany.
State Governments control the Ausbildung programme,  and the completion of the apprenticeship program in Germany leads to a state-approved vocational qualification titled 'nursing specialist'.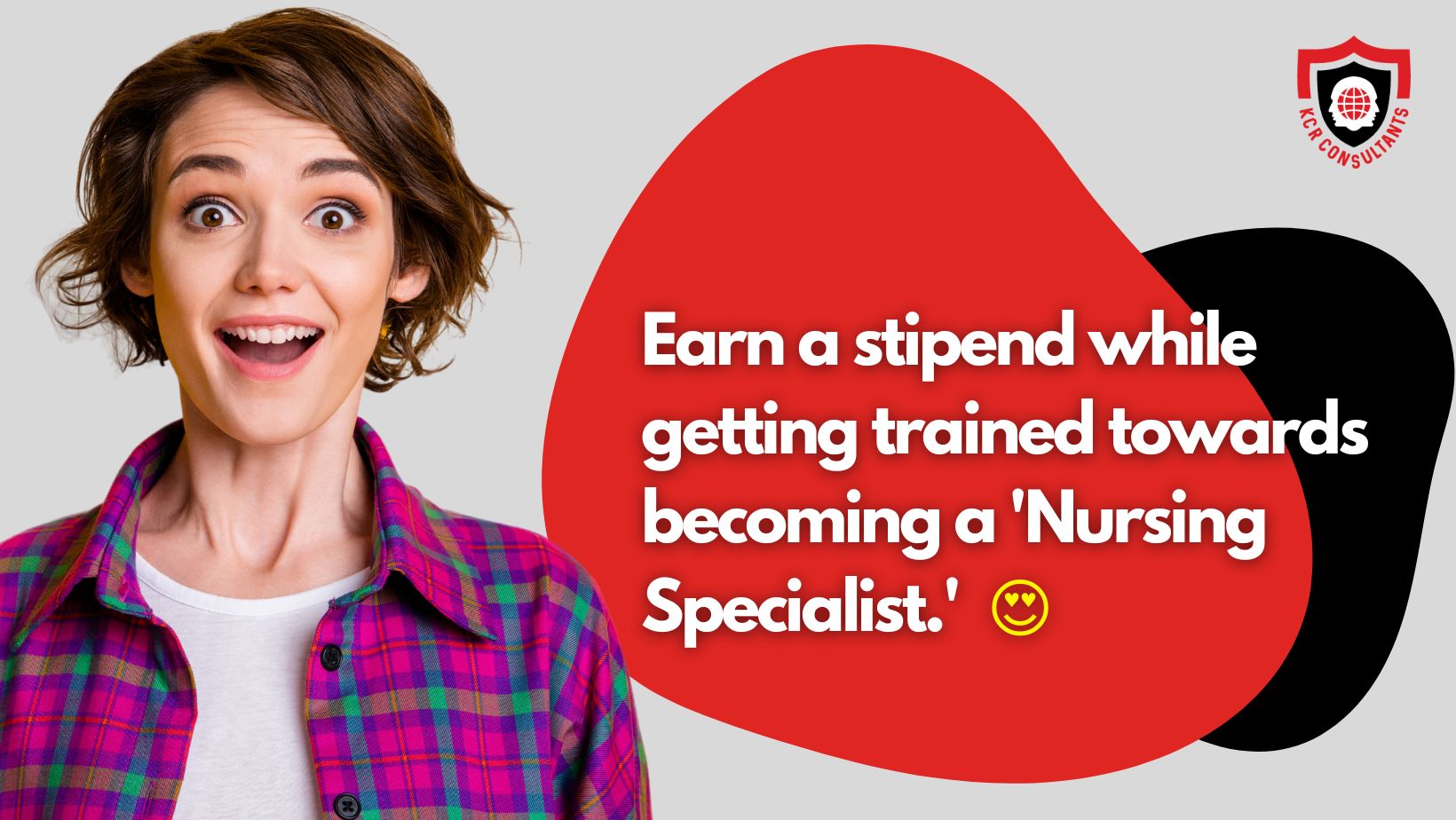 The BSc in Nursing in Germany – Universities offer this degree programme in partnership with big hospitals for placements!
The universities teach, and the hospitals provide work placements simultaneously. Therefore the BSc nursing in Germany is called a dual study programme from which one will qualify with a degree in nursing from a university and gain experience in the nursing job from the participating hospitals. 
There are no tuition fees for BSC nursing dual programme, and the students/trainees get a monthly stipend for their involvement and contribution to the hospital's work.
The differences between learning nursing in Germany from the Ausbildung programme and the BSc Nursing dual programme
The most important differences are in the admission criteria and the total duration of each programme. 
Nursing Ausbildung and BSc nursing dual programme demand a higher secondary school education completed in the science subjects and pass with better marks in their board examinations. That means the school education qualification required is the same for both programmes.
For nursing Ausbildung, one should learn German in India and pass the B1/B2 Gothe test. A B1 test pass will sometimes qualify the applicant to attend interviews conducted by the participating hospitals. But generally, a B2 is the level required for Ausbildung.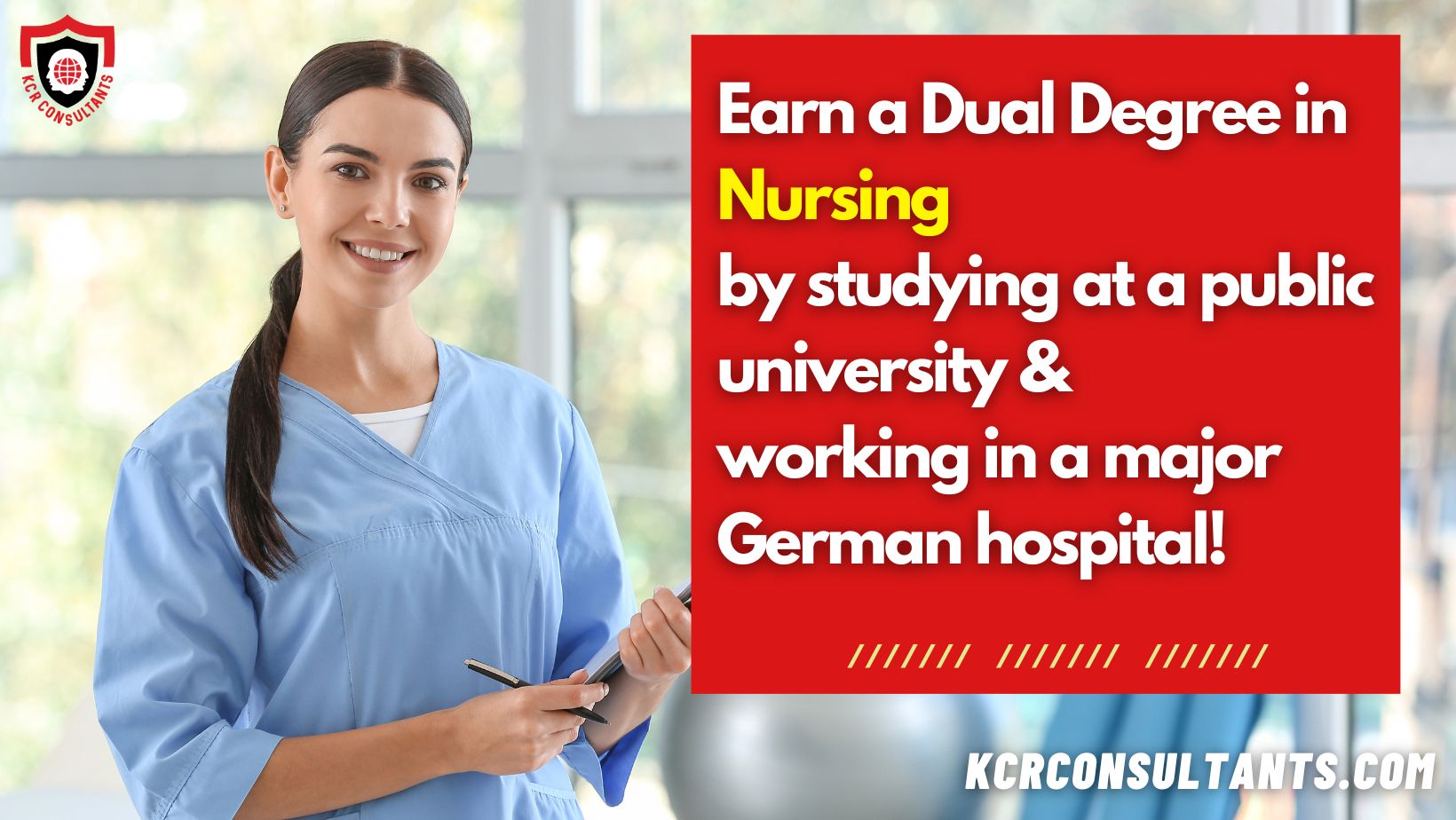 Ausbildung nursing participants start their vocational training in Germany from the first month onwards and are trained by the existing employees of the hospital. B2 level skills are ideal for following the apprenticeship program in Germany.
But one can learn German in Germany instead of in India while applying for a BSc nursing dual programme, as they need to follow an M foundation course before applying for a place to study the dual programme at a public university and a participating hospital.
Since language learning and M foundation course are not parts of the university's BSc nursing course, you will need to bear the cost of both programmes.
Foundation course leads to attaining Abitur level academic qualification and meeting the academic entry criteria of the BSc nursing course in a German public university.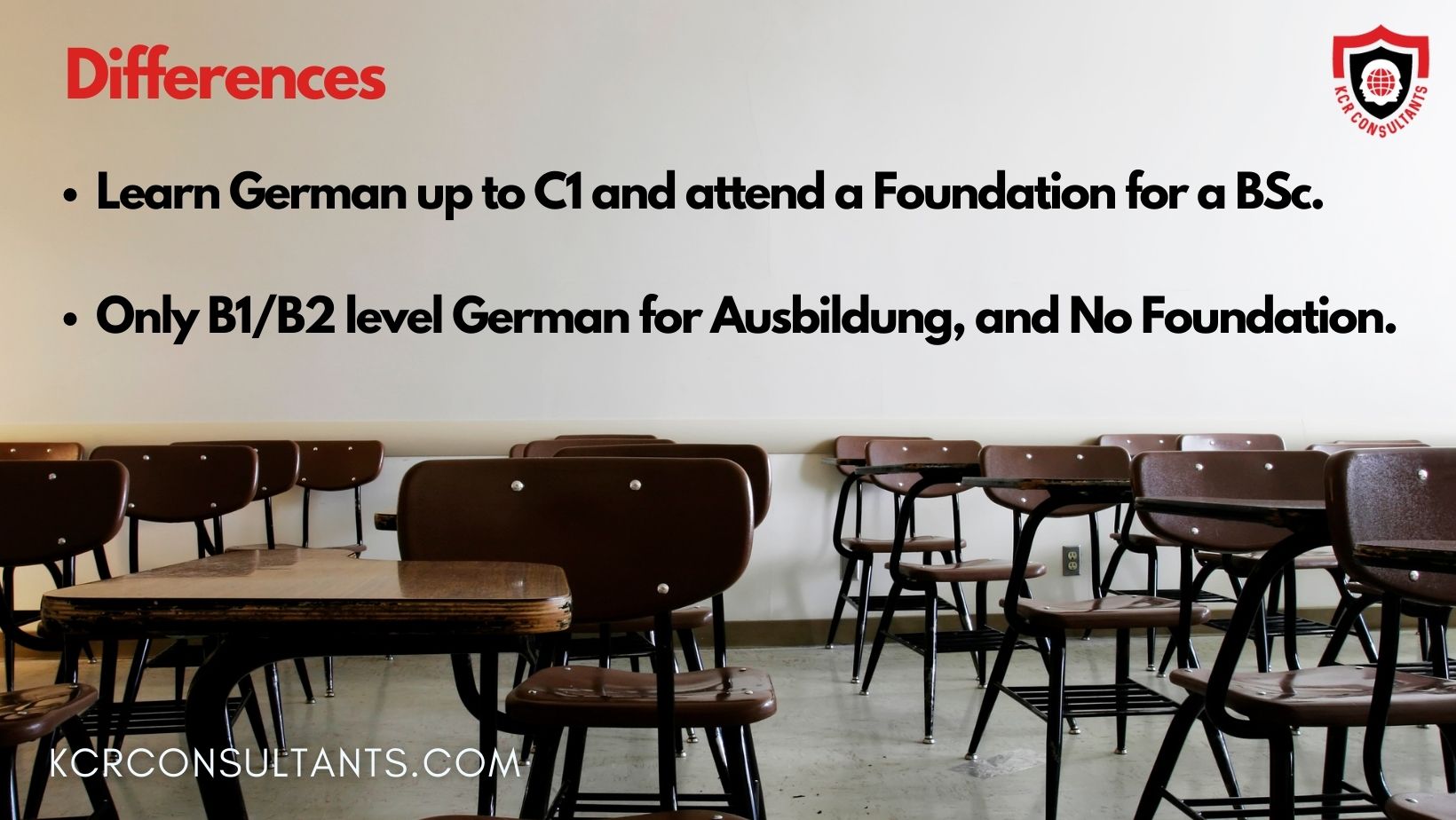 Abitur is a qualification that German public universities consider an entry qualification for a bachelor's degree course.  
The German Abitur qualification is for those who complete the German school system's 13 years of education which is the university entrance qualification in clear terms.

Those with an international certificate of A-Levels or IB Diploma of American High School meet the same criteria.

Those who have completed a minimum of one year of university education in countries like India after their 12th-grade education meets the Abitur qualification.

Finally, those who attend a foundation Year programme in Germany and pass the FSP exam meet the Abitur criteria for university education.
Germany is not a new country for Indian nurses, especially from Kerala. Many Indian-educated nurses in Germany immigrated years ago from India to work and settle permanently in Germany and other parts of Europe (Germany nurse salary). 
One will find Indian nurses of Kerala origin across Europe. They are well accepted and respected for their hard work and dedication worldwide! 
Once attracted by young girls for job satisfaction alone became the prevalent occupation for permanent employment, earning well and a much-demanded profession to immigrate to their country of choice. 
An occupation primarily designated for females alone is in high demand for females and males alike across India.