Introduction : Professional Nursing and Germany Nurse Salary
Foreign educated nurses who qualify with the required German skills and acceptance from the nursing board/council/the state office overseeing nursing practice in the German state can work in German hospitals as a nurse. Once registered, Germany nurse salary is attractive, the occupation is admired and respected by Germans.
Germany spends a lot on education and health care as it has a fast greying population now. The German Government does its best in taking care of its citizens and permanent residents. After all, 'Health is Wealth'. Therefore, Germany looks for thousands of qualified health care professionals worldwide.
Nursing jobs in Germany attract qualified nurses worldwide. Germany offers better salaries and other facilities to attract foreign-educated health care workers, including annual and maternity paid leaves. Germany is one of the better places for life-work balance. 
Duty hours per week cannot go beyond 38-42 hours. Germany has a minimum wages salary, and every occupation has an industry lead minimum wage at the beginning of their work. Germany needs health care workers and professionals, and nurses are in high demand! 
'Nursing in Germany' is the goal of many foreign-educated nurses and the new ones who wish to become nurses in future, considering Germany's standard duty hours, better amenities, and the much talked about work-life balance in Germany.
What's the Germay nurse salary?
Foreign origin nurses who completed their nursing studies in India and similar countries with at least six months of post-registration work experience are qualified to apply. 
Germany nurse salary starts at 1,500-1,800 per month while on their adaptation programme/training in a German hospital or clinic. 
Of course, one needs to learn German and achieve a B2 level or B1 before attending an employer interview. Many employers nowadays sponsor the foreign nurses German learning in Germany for a B2 group if accepted and offered a nursing job after completing an adoption training and eventually a nursing registration. 
What's Germany nurse salary once registered as a nurse in a German state

.

The average Germany nurse salary is €30,872/year. The base salary is €24,000 per year. The highest salary for a registered nurse is €43,000 per year. 

Nurses in German hospitals get a bonus ranging from €385 – €5,000. Hence the annual salary becomes €25,000 – €47,000.
Where to start and convert foreign nurses to German nurses and qualify for the Germany nurse salary?
German language skills:
If you are already a nurse in your home country or the land of residence and wish to practice nursing in Germany, you should consider learning German. Communication skills are critical in health care practice, whether it's medicine, nursing, therapies or any other kind of caregiving. One needs better skills in the language used at the workplace to communicate appropriately with coworkers, doctors, surgeons, patients, and their parents whenever required.
Germany is a German-speaking country, and the official language of Germany is German. The language used at most workplaces in Germany is German. The language used in hospitals and other health care settings in Germany is mandatorily German. Therefore, the state nursing councils look for acceptable German language skills/proficiency evidence before accepting a foreign-educated nurse to the registry or nurses.
Adaptation training programme:
Even after having the required German language skills, a foreign nurse needs to wait for the state department/nursing board's decision on their application for registration. 
The board will like to assess foreign-educated nurses nursing qualifications based on the German nursing qualification – a degree or a vocational qualification. 
The BSc/Diploma Nurses from India and similar countries are generally advised to look for hospitals/clinics to attend adaptation training in the specified areas of nursing studies and practice.  
The training is generally for six months, but it also could be extended. Upon completing the training, they will be accepted as nurses and issued licenses.  
Attend a knowledge test instead of attending an adaptation training:
Those who are very confident in their knowledge as registered nurses, theoretically and practically, may choose to participate in a knowledge test and pass to become a registered nurse in Germany.
They may or may not attend an adaptation training programme in a German hospital or a clinic.
Is it necessary to know the German language to get the qualifications assessed to apply for registration?
One may choose to process their application for registration before learning the German language. 
You will be required to translate all the qualifications and other supporting documents in the German language for the German state nursing board/state office to assess your capability as a qualified nurse. A German state-approved translator should conduct the translation process. 
It may take approximately 45 to 60 days to complete the assessment and issue a report or decision as per the assessment's outcome.
So one can get the assessment done;
much before and while in their home country or country of residence

after the arrival and being in Germany

After passing the B2 /B1 test
Is that necessary to be a nurse first before immigrating to Germany? Shall I learn nursing in Germany and become a German nurse directly?
A BSc nursing completed in an approved university in a foreign country has the best chances to assess foreign qualifications at the German state nursing board/office. Diploma in General Nursing and Midwifery of minimum three years course clubbed with the nursing council's registration from the home country stands equally qualified.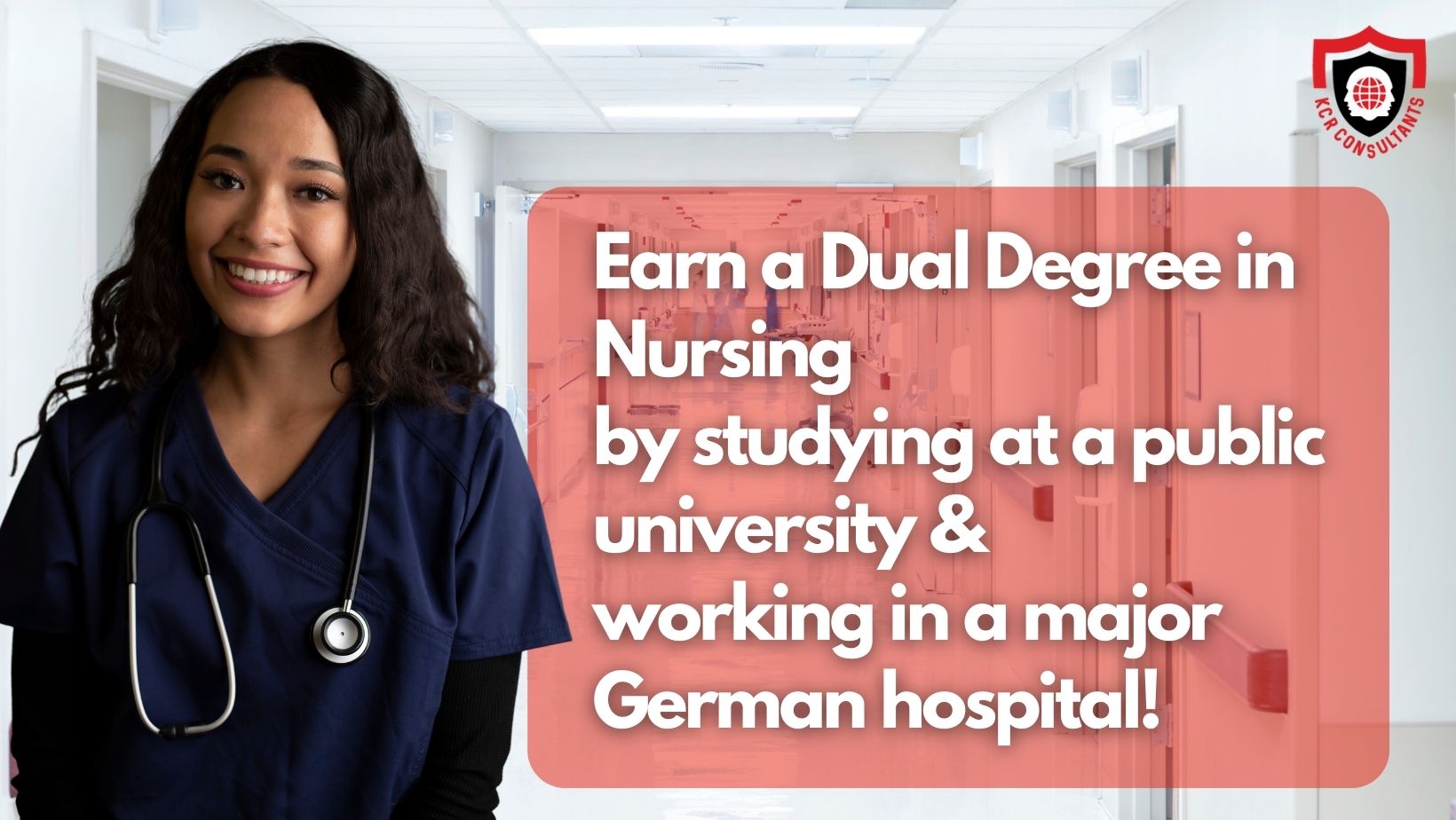 Studying nursing in Germany for non-EU citizens and residents is not that easy. One should be already working in a health care setting or getting a confirmed job offer while applying for a nursing programme in a German university. 
This requirement is that the German universities teach nursing as a mixture of work and study. Work placements are more critical, and sometimes the ratio goes like 70:30, respectively. 
Here the applicants need to approach the hospitals directly. The result is next nil as the hospitals look for permission granted already by the German Government to work from the applicants. 
Therefore the EU citizens and permanent residents only qualify for a job offer from the partnering hospitals.
So what's the next option? " there is a way if there is a will"! 
What is Ausbildung in nursing, and how will it qualify for a nursing status and get a Germany nurse salary?
Nursing Ausbildung in Germany is open to all those with a 12th-grade pass qualification below 30 years. Of course, there should be a passion for taking care of the well being of the needy. 
An employer offers nursing Ausbildung in Germany with a training institution's association. Therefore, an applicant doesn't need to look for a work placement independently. 
The major or the only role of the participating employer is to provide work placement and on the job training. In contrast, the training institution provides the necessary period of classroom teaching based on the chosen occupation.  
Here too, it works precisely like 70:30, as mentioned above. After three years of the programme and graduating with a state-accredited occupational qualification, they can sit the nursing licensing test and pass to become a registered nurse. 
Is it making sense then why to hesitate to get in touch with KCR CONSULTANTS and one of our Expert counsellors will guide you step by step!