Nursing Ausbildung is the Answer to Germany's Shortage of Qualified Nurses
The population of developed countries is ageing rapidly. So, the percentage of elderly is also increasing. To provide adequate care to these elder ones, the Governments of the developed nations are expanding their healthcare systems in all manner. The declining birth rate and growing population stir up the demands for healthcare professionals.
Nursing has become a wanted job across the world. Germany is one of the best places for education. So, if you want to migrate to Germany to pursue your career in nursing, read this article completely to know more. The German government has many plans to create thousands of new jobs and make the nursing profession more attractive. More youngsters opt to train as nurses. But how does one participate in nursing in Germany?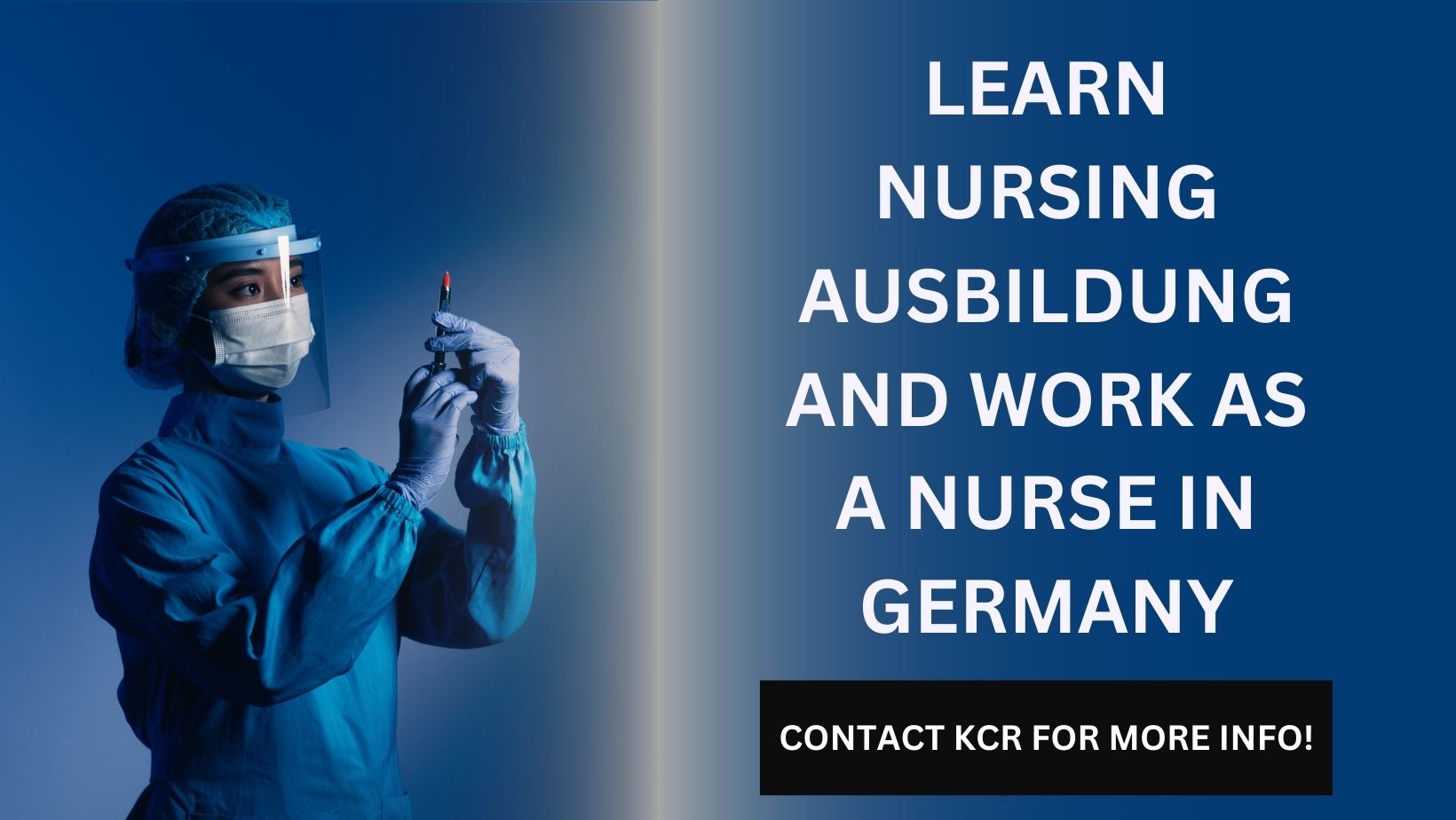 What are the eligibility criteria for nursing?
If you want to start your career as a nurse, passing the 12th grade in your home country is considered eligibility. There are many ways to pursue nursing in Germany. But you cannot do B.Sc nursing in Germany until and unless you are a permanent resident of the country. This law is for all international immigrants across the globe.
Then how could one pursue their career in Germany?
Suppose you want to become a registered nurse in Germany with a degree or diploma from your home country. In that case, you should have work experience to the required level to become a registered nurse in Germany. 
This work experience of 2 1/2 years and fluency of the German language is not enough to become a registered nurse in Germany. The chosen candidate should undergo the Adaptation training period to adapt to the German ambience. That candidate should work with actual German-speaking employees.

What is the adaptation training period?
This phase is nothing but a certain period, i.e., for six months, the desired candidate must work under a professional in a hospital in Germany. A chief nurse will monitor the training and progress of the attendee for successful completion of the adaptation training programme.
The state office for nursing practice will accept the trainee as a nurse on completing the adaptation training.
Sometimes, a candidate whose skills matches all these criteria but still hesitates to enrol because of the language. 

What is the pay/salary for nurses in Germany?
During the adaptation training period, a nurse can earn around 1500-1800 Euros as their stipend from the concerned clinic/hospital. They can expect approximately 2,200 Euros after completing the adaptation training period and getting registered as a nurse in a German state.
What's Ausbildung nursing, and how is it different from the above?
Ausbildung nursing unique!
It is a straightforward programme; it takes only three years to complete it and qualify for the nursing licensing examination. No more adaptation training after the said three years of on-the-job learning. Work placement of seventy per cent of the programme makes a lot of sense! Start working from the first week onwards, and get paid from the first month of the programme and keep earning while learning for the entire duration of three years!
What is the eligibility criteria for Ausbildung in Germany, and who can apply?
Any candidate with a pass percentage in 12th-grade can enrol for nursing under Ausbildung in Germany. Unlike other programs, the purpose of Ausbildung is to train people with practical experience. The nursing course concentrates on 70 per cent of working in hospitals, and the remaining 30 per cent is on classroom sessions. So the individual studying nursing under Ausbildung in Germany will get more exposure than others.

Is German language knowledge required to register for the preparatory programme with KCR?

 
Skill development program:
People not having prior knowledge of the German language can also register. They are about to get into the skill development program before pursuing their Ausbildung in nursing. The skill development program teaches essential language skills to follow the Ausbildung nursing training programme mainly offered in a natural work environment. Educational consultants, like KCR Consultants, can guide you on the right path, even if you don't have prior knowledge of the German language. 
Is Germany the only country that provides this affordable and straightforward Ausbildung nursing programme?
Like Germany, many other countries offer various nursing programmes. But the cost-cutting will be massive. For example, UK universities provide nursing courses for aspiring candidates. But learning nursing in the UK is going to cost you more. It ranges from 30 Lakhs for the tuition fee alone. This cost excludes the accommodation and such. 
In addition to your 12th-grade science background and qualifications, you must prove that you know English to the UK's standard set for higher education.
You may wonder! Everything ends in a hiccup. Then what is the right option to do nursing?
How about nursing under Ausbildung in Germany?
Ausbildung paves you the way from your desires to what you deserve. It helps the right candidate to earn while they study nursing in Germany. And unlike B.Sc nursing in Germany, it is available for everyone, including international citizens who have a higher secondary school qualification irrespective of the subject group of studies completed in the 11th and 12th grade. 
How much can an Ausbildung trainee expect per month a stipend, and for how long?
The participating hospital/clinic pays the trainees every month for the entire duration of the programme, i.e., three years. As per the German state Governments and the industry regulations, an Ausbildung trainee earns 1000 to 1500 Euros per month. 
So, why not go with the Ausbildung in Germany?
How do you make the right decision?
 Approaching the right people to find the right path is necessary. KCR Consultants with more than 20 years of experience enrolling students in various educational institutions and programmes worldwide is there to clear all of your doubts. World-class academic counsellors are available to guide you. So contacting them would be a good choice before entering your career path.