Ausbildung in Germany is Long-Overdue for German Employers as well as Non-EU Citizens!
The basis of the apprenticeship model of training is to learn while doing an activity. In this training model, apprentices undergo a twin training program which includes classroom learning in the participating institution and on-the-job training from the employer. 
This kind of training assists in providing a perfect combination of both, a theoretical understanding of the subject of the chosen occupation in the school and receiving practical skills essential for the job. The training program helps to build both skills as well as the personality of the individual.
The term 'apprenticeship' usually refers to the training received at the post secondary education level. The tenure of this training depends on the kind of trade being pursued; however, most apprenticeships last between 1- 4 years. 
A perfect example of an apprenticeship job would be that of a person who works with an electrician to learn the necessary skills to become an electrician who can work independently later. Most European countries advocate these training programs so that by the time students complete their education, they are already skilled professionals. 
Ausbildung in Germany
One of the vital reasons why Germany has the lowest youth unemployment rate in Europe is due to the Apprenticeship or Ausbildung programs available in the country. Ausbildung, also known as the Dual Vocational Training system, allows students to apply to private companies for a maximum of three years. At the same time, students receive classroom learning in government-funded vocational schools. 
These students spend 3-4 days at work and 1-2 days at school. Thus, learners spend almost 70% of their time at the workplace and 30% at the school. They also receive stipends for their work while on work placements. At the end of the program, students receive vocational qualification certificates, and most apprenticeship programs lead to securing future employment.
History of Ausbildung

The origin of this kind of training system goes back to medieval times when occupational socialization was prevailing. The occupational socialization later led to the industrial revolution in the 19th century, 
The present model of apprenticeship, which is the dual vocational program, evolved in the late 19th century when trade schools were built for young factory workers and students. This training system primarily helped to disintegrate the feudal training regime in the European countries. The objective of this system was to focus on civic education and gradually, the curricula were modified to include vocational content. 
During the early 1900s, this model of systematic training was further extended to craft trades and the commercial and manufacturing sectors. After the establishment of the Weimar Republic, these trade schools were elevated to VET schools. 
Even though this well-developed dual system of learning has been prevalent since the 1920s, it was given a legal framework only very recently in the late 19th century.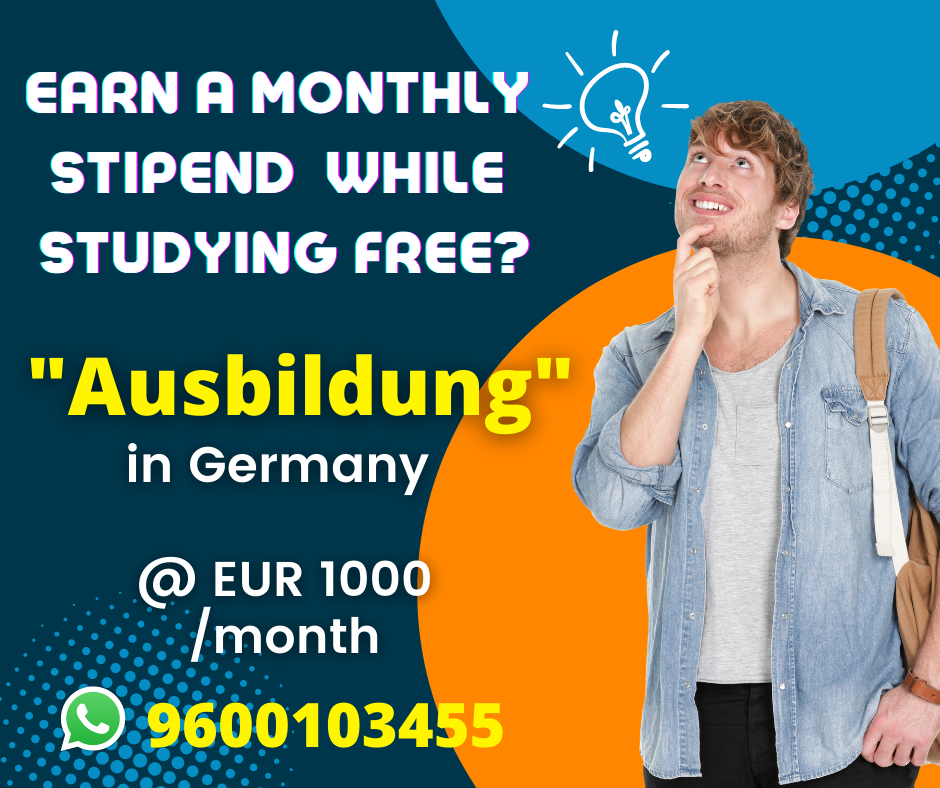 Earnings through Ausbildung
In Germany, most of these trainees receive a fixed compensation for their work as an apprentice. The monthly remuneration depends largely on the occupation in which they are getting trained and contributing to the employer. 
The monthly remuneration of the students is generally around €600 gross in the first training year which gradually increases to at least €900 by the third training year. Many occupations attract better compensation between 800-1400 per month.
Students also receive several other benefits from their employers such as free local transport tickets and sometimes financial assistance for their accommodation. 
How to Apply for Ausbildung?
Ausbildung opportunities in Germany are offered every year in September. A summer intake in March is also offered in some occupations in which there is a huge shortage of skilled people in the job market. These opportunities are available for German students, EU students, and also non-EU students now. 
After a successful application process, the candidate needs to agree to the company's training contract which includes their schedule, duration, remuneration, and holiday. They would further require a visa and a residence permit to kick start their apprenticeship in Germany.
Advantages of Ausbildung
There are innumerable advantages of Ausbildung in Germany. Let us delve deep into a few of those:
Even though apprenticeship starts with very basic pay, it still is a great opportunity for students as they are learning the skills of their chosen profession.
Recognized Qualifications
With each year of the training, the learners receive a recognized qualification that eventually helps them to secure future employment. At the end of their training, they receive a state Government approved certification.         
Working in a company allows the learners to take responsibility for their actions and how to do tasks independently. This helps a lot in gaining confidence to handle assignments effortlessly even in future employments,
While doing these apprenticeship programs, students receive personalized support from their assigned assessor who is responsible for the programme delivery as well as guiding and helping the participants. 
Apprenticeship programs allow students to gain work experience while being at school or university. This helps them professionally as they will start their career later with previous work experience. 
Once graduated from an Ausbildung programme in Germany, students become more job ready and employable.
While doing apprenticeship programs, students receive several discounts as they receive discount cards which allow them free transport and many other facilities.
Ausbildung Opportunities for Non-EU Citizens is Long Overdue
The amendments in German immigration laws in March 2020 give more opportunities for people from Non-EU countries to come to Germany and apply for Ausbildung. Currently, foreigners from all across the world can begin their vocational training in the country. Once they graduate, they can now also work in Germany and establish their careers.
Germany allows individuals of all nationalities to work as an apprentice in the country. However, there might be a few occupations that might require approval from the Federal Agency. In such a case, foreigners would have to apply for approval from the agency and its decision would determine whether the candidate can get the appropriate visa. 
Opportunities for Ausbildung
As a Non-EU citizen, it is advisable to choose such a profession where Federal approval is not required. This increases the chances of getting an early visa for apprenticeship training in the country. Let us look into the best opportunities available for Non-EU citizens and how to apply for those. 
We already know that the German government allows apprenticeship opportunities to Germans, EU citizens, and Non-EU citizens. However, earlier German employers preferred either German or EU citizens for these opportunities. The primary reason was that such citizens have freedom of movement and they can accept employment without any restrictions.  The skilled immigration act, 2020 allows German companies to accept non-EU citizens just like how they recruit the Germans and Europeans, The act made it hassles free for the employers as they don't need to wait for any permissions from any government agency to offer an Ausbildung place to a foreign citizen now.
To apply for an apprenticeship, Non-EU citizens would require a school leaving certificate and fluency in the German language. It is the German company that would decide if the educational background and the language skills are enough for the preferred program. But the academic qualification should have recognition in Germany.
Several businesses are having a difficult time looking for trade professionals with specific qualifications and this is where Non-EU citizens have a good chance of getting Ausbildung opportunities. Let us look at those trades in which there is a shortage of skilled workers.
Nursing is a profession that is in high demand currently, and the local availability is comparatively much low. The sector thus holds great promise for Non-EU citizens, who can apply for these jobs; hospitals also take people with weaker German language skills. 
Germany is also in the need of craft workers, clerks, and other customer-oriented professions. By choosing one of these occupations for Ausbildung opportunities, foreigners can gain a good chance of getting a visa and working in the country. 
All the Ausbildung opportunities in Germany would require German language skills, especially, for reading and writing the exams and understanding the lectures. Level B1 is a good enough level for beginners. 
At the end of the program, when students pass the exam and receive their certification they are allowed to work in the profession for which they are trained and this certification is not limited to Germany only. They are allowed to work in many other countries in the EU. 
Ausbildung through the perspective of German Employers
Ausbildung in Germany is extremely popular throughout the world and the German model of apprenticeship is gradually being followed in quite a few countries. There are several reasons for this popularity and German employers form a good part of that. 
In Germany, both employers and employees respect practical work. Most German employers do not consider this vocational training program as just a benefit for struggling students or simply a corporate social responsibility. The companies call for apprenticeships because they need real talent to work for them. 
Making world-class products is not easy and most German companies are very particular about who they hire. Employers are always on the lookout for quality and apprentices are very popular in this regard. 
The trainees are quick learners and they learn not just skills but also responsibility. A huge number of individuals are screened before a company appoints one candidate. For instance, around 3000 candidates apply every year at the John Deere plant in Mannheim for 60 slots, and for an apprenticeship at the Deutsche Bank in Frankfurt, 22,000 candidates apply for 425 slots.  
Another essential virtue of most employers is the fact that they teach more than just skills to their trainees. They are on the lookout for candidates who are thoughtful and self-reliant so that in the future they can be an asset to the company. Such candidates can understand the company's goals and methods and when needed, they can improve them to make it work better. 
Another very interesting thing about German Ausbildung is that the system is centralized and the state plays an essential role in regulating the working of the private companies. They have standardized occupational curricula developed by the government which helps every machinist to get the same training throughout the country. 
Final Words
The vocational training program offered by Germany is different from the apprentice opportunities available anywhere else in the world. Educational reformers consider this kind of training to be lifelong learning for individuals. However, getting an apprenticeship opportunity in the country is a difficult task for any individual. 
Candidates from all over the world apply for Ausbildung in the country. Yet skilled candidates are lacking in several industries such as in healthcare, construction, information technology, catering, sanitary, heating and ventilation engineering, retail sales, and bakery. Non-EU citizens have a great opportunity to apply to attend an Ausbildung programme in several fields. 
Ausbildung in Germany is a wonderful prospect for developing skills and acquiring real work experience. This is the perfect time for young people from all over the world to apply and exploit this opportunity.