Ausbildung in Germany is overdue and needs attention from both German employers and non-EU citizens.
The core philosophy of Ausbildung in Germany revolves around learning through practical experience. Within the framework of this educational model, apprentices partake in a comprehensive twin-track training program, commonly referred to as vocational training in Germany. This multifaceted program encompasses structured classroom learning within educational institutions alongside valuable on-the-job training provided by employers.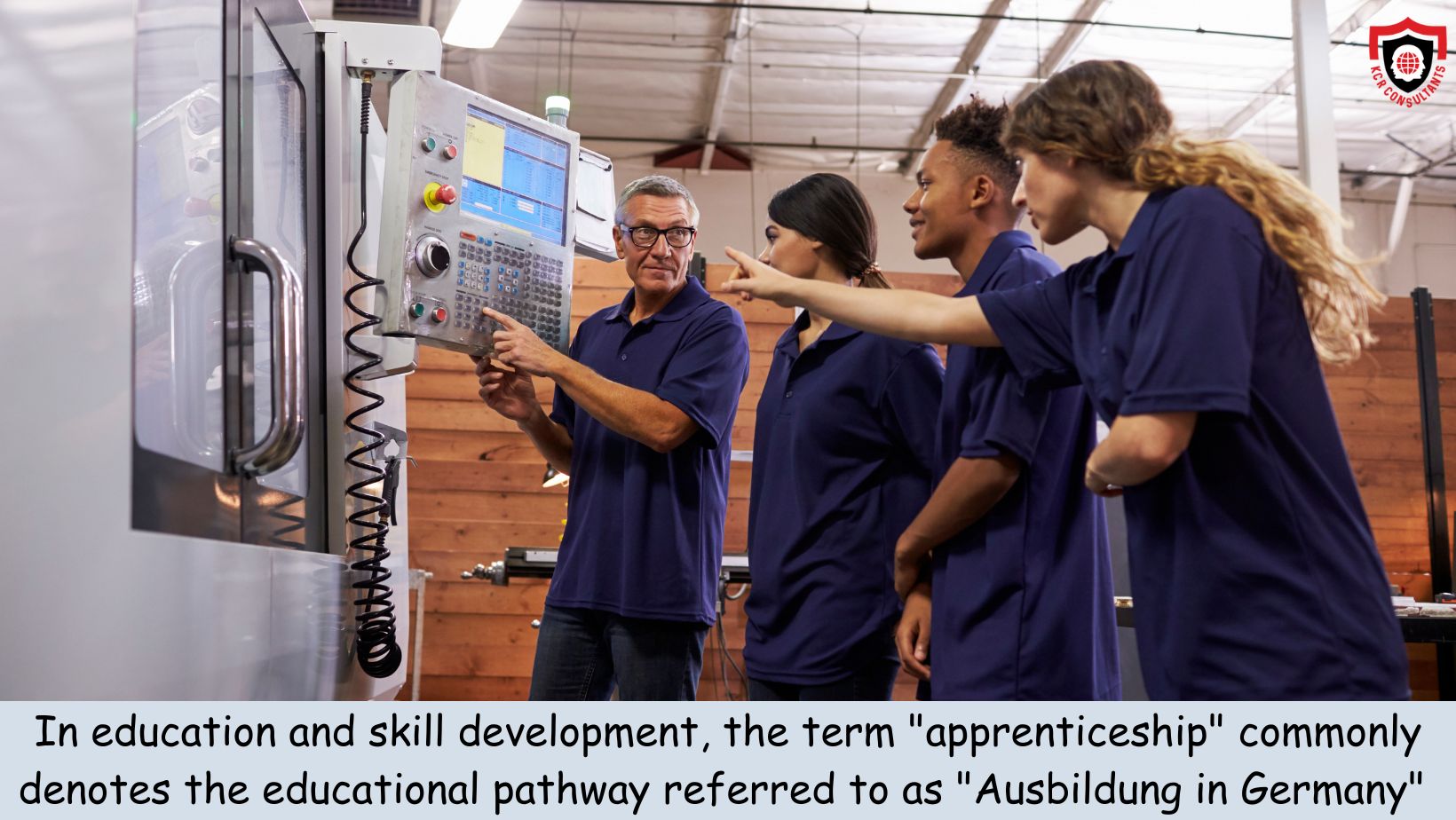 Ausbildung in Germany offers a harmonious blend of theoretical knowledge acquisition within the classroom setting and the addition of vital practical skills necessary for the chosen occupation. This training program, woven into the fabric of Germany's educational landscape, is pivotal in nurturing individuals' technical skills and personal development and growth.       
In education and skill development, the term "apprenticeship" commonly denotes the educational pathway referred to as "Ausbildung in Germany" 
The duration of this Ausbildung in Germany can vary depending on the specific trade being pursued; however, it typically spans 2 to 3.5 years.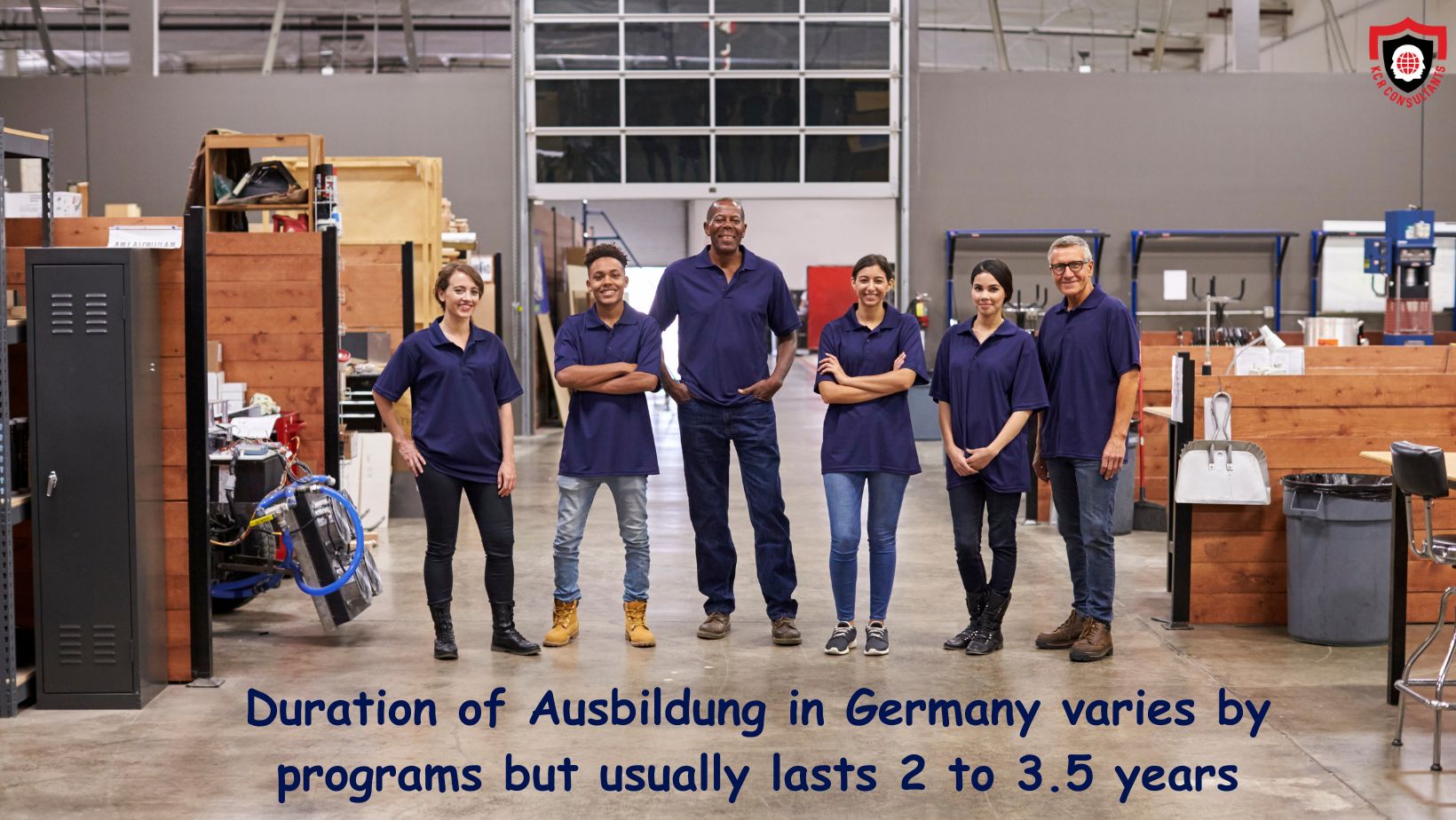 A prime illustration of an apprenticeship job within Ausbildung in Germany involves an individual working alongside a seasoned electrician to acquire the essential skills necessary to become an independent electrician eventually. 
Throughout Europe, most countries endorse and actively promote such apprenticeship programs, ensuring they have evolved into highly skilled professionals as students conclude their education. 
This commitment to Ausbildung in Germany and similar programs across Europe empowers students to seamlessly transition into the workforce as proficient experts in their chosen fields.
Ausbildung in Germany
One of the key factors contributing to Germany's remarkable achievement of the lowest youth unemployment rate in Europe is the robust Ausbildung in Germany, also recognized as the Dual Vocational Training system in Germany. This well-established Ausbildung in Germany framework empowers students to embark on a three-year journey, during which they actively engage with private companies while benefiting from classroom instruction at government-funded vocational schools.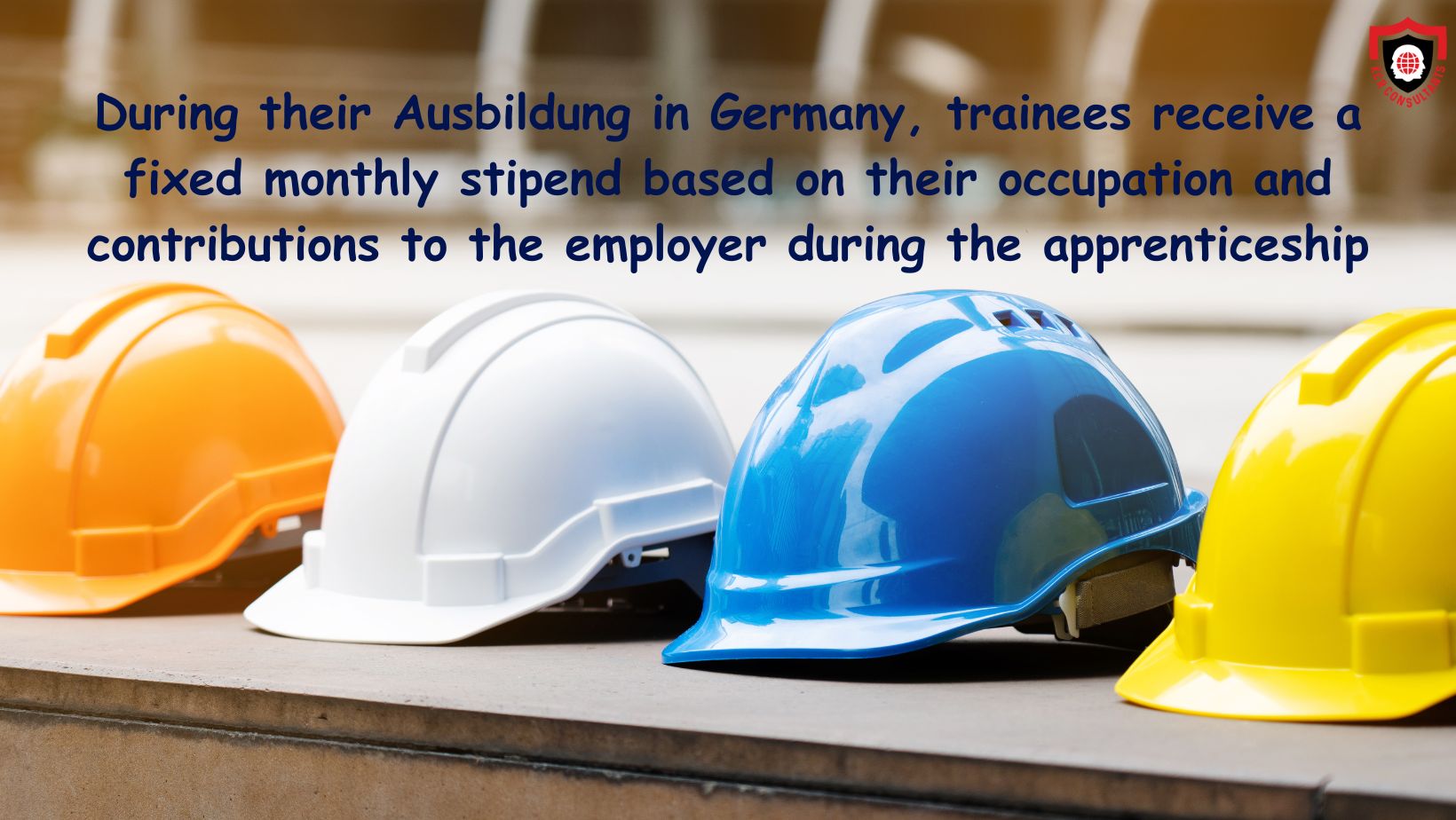 Within this educational structure, students allocate most of their time to the workplace, typically spending 3-4 days gaining practical experience while dedicating 1-2 days to academic studies at school. This balanced approach means that learners devote approximately 70% of their time to on-the-job learning and 30% to classroom education. Furthermore, participants in Ausbildung in Germany receive stipends for their valuable contributions during their work placements.
Upon completing the vocational training in Germany, students earn vocational qualification certificates, which significantly enhance their prospects for future employment. It is worth noting that most apprenticeship programs in Germany culminate in the achievement of secure and promising career opportunities for graduates.
History of Ausbildung in Germany
The roots of this distinctive training system can be traced back to medieval times when the prevailing practice was occupational socialization. This historical process of occupational socialization eventually played a pivotal role in catalyzing the industrial revolution of the 19th century.
The contemporary iteration of apprenticeship, synonymous with Ausbildung in Germany, emerged during the late 19th century. During this period, specialized trade schools were established to cater to the educational needs of young factory workers and students. This transformative training system played a crucial role in dismantling the feudal training structures prevalent in European countries. Initially geared toward civic education, the curricula progressively evolved to encompass vocational content.
As we progressed into the early 1900s, this systematic approach to training expanded its influence to encompass craft trades and the commercial and manufacturing sectors. With the establishment of the Weimar Republic, these trade schools were elevated to the status of VET (Vocational Education and Training) schools.
Despite its longstanding presence since the 1920s, it was only in the late 19th century that this well-developed dual-learning system, known as Ausbildung in Germany, received a formal legal framework.
Earnings through Ausbildung in Germany
Most trainees undergo an apprenticeship as part of their Ausbildung in Germany, during which they typically receive fixed compensation for their work. The monthly remuneration is primarily determined by the specific occupation they are being trained in and their contributions to the employer.
During the first year of their Ausbildung in Germany, students generally receive a monthly gross remuneration of around €600, which gradually increases to a minimum of €900 by the third year of their training. However, it's vital to note that many occupations offer more attractive compensation, ranging from €800 to €1400 per month under the framework of Ausbildung in Germany.
Additionally, students pursuing Ausbildung in Germany can enjoy various other benefits their employers provide. These benefits may include complimentary local transport tickets and, in some cases, financial assistance for their accommodation.
How to Apply for Ausbildung in Germany?
Ausbildung opportunities in Germany are made accessible yearly, with intake typically commencing in September. Some select occupations facing significant shortages in the job market also offer a summer intake starting in March as part of the Ausbildung in Germany program. These Ausbildung opportunities are now open to candidates from Germany, the European Union (EU) and non-EU countries.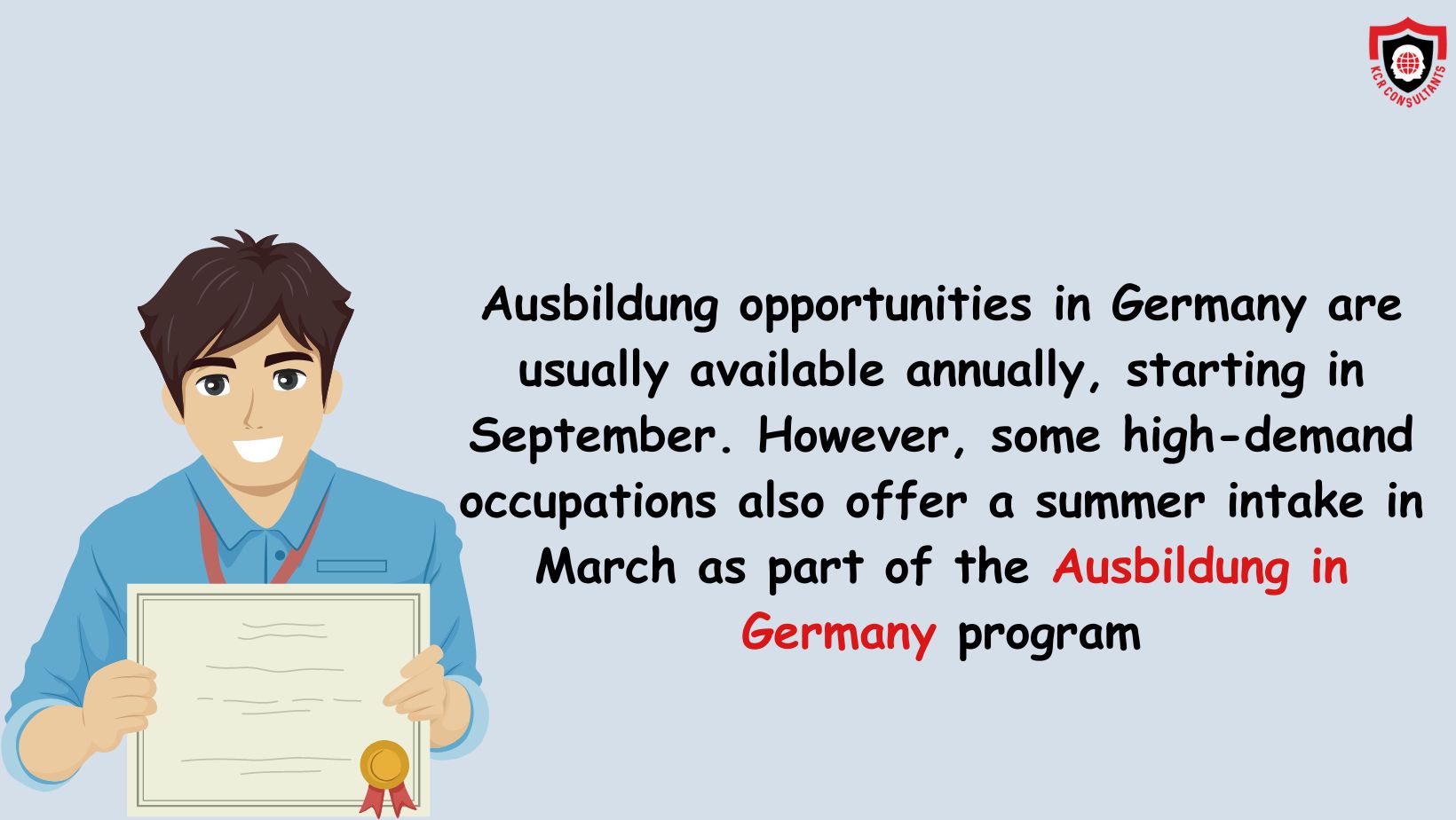 Upon successful application, candidates must enter into a training contract with the company, outlining essential details such as their schedule, program duration, remuneration and holiday arrangements within the context of Ausbildung in Germany. Additionally, candidates will need to secure a visa and a residence permit to initiate their apprenticeship journey in Germany, essentially their entrance into the world of Ausbildung in Germany.
Advantages of Ausbildung in Germany
There are innumerable advantages of Ausbildung in Germany. Let us delve deep into a few of those:
Learning and Earning
Even though the apprenticeship program in Germany starts with fundamental pay, it is still an excellent opportunity for students as they are learning the skills of their chosen profession.
Recognized Qualifications
With each year of the training, the learners receive a recognized qualification that eventually helps them to secure future employment. At the end of the Ausbildung training, they receive a state Government-approved vocation qualification.         
Independence
Working in a company allows the learners to take responsibility for their actions and learn how to do tasks independently. This helps gain confidence to handle assignments effortlessly, even in future employment after an Ausbildung in Germany is completed.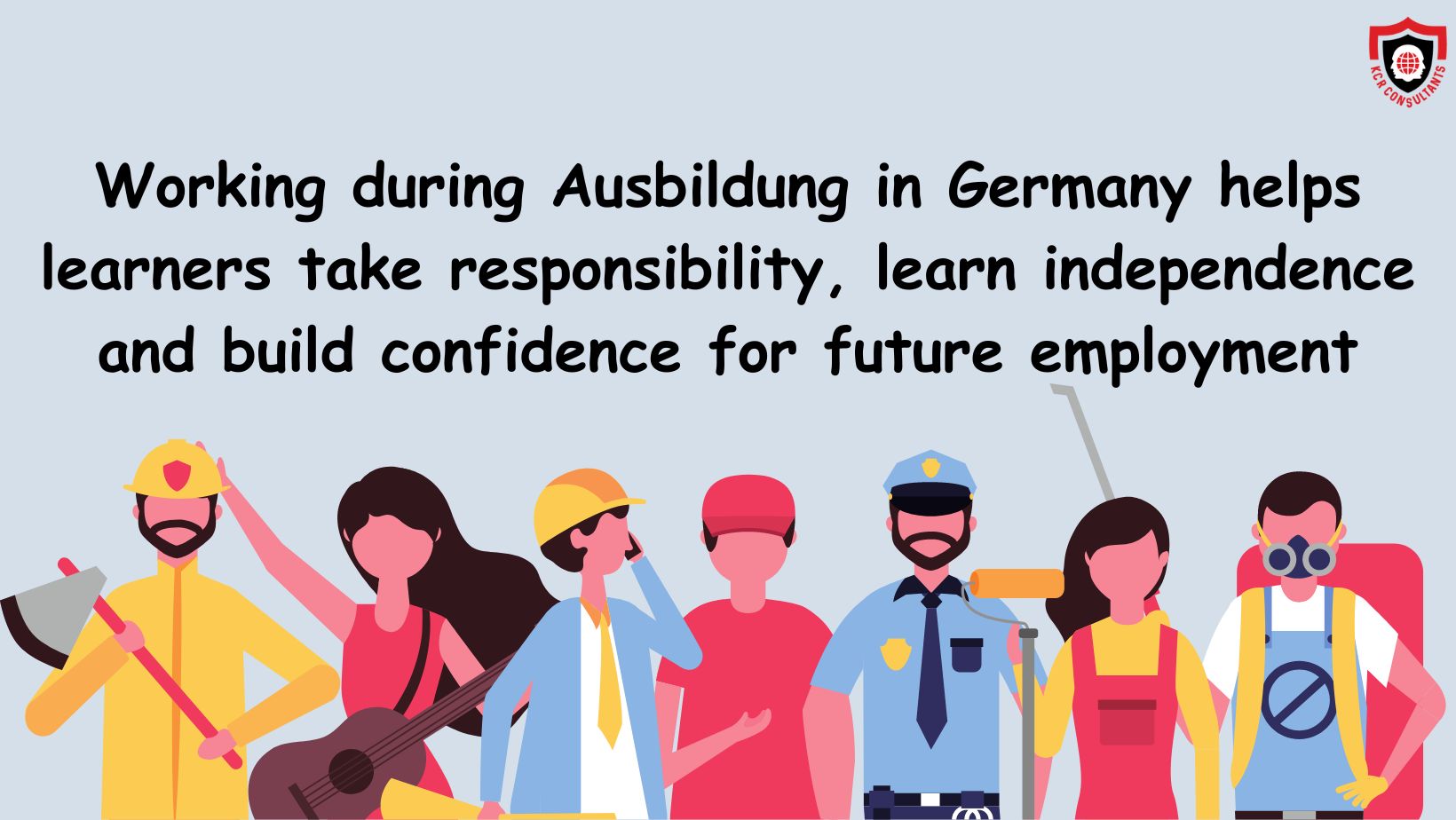 Personalized Support
While doing these apprenticeship training in Germany, students receive personalized support from their assigned assessor, who is responsible for the program delivery, guiding and helping the participants. 
Work Experience
Ausbildung in Germany allows students to gain work experience while being at school or university. This helps them professionally as they will start their career later with previous work experience. 
Improves Employability
Students become more job-ready and employable once they graduate from a program of Ausbildung in Germany.
Discounts
While doing apprenticeship programs (Ausbildung in Germany), students receive several discounts as they receive discount cards which allow them free transport and many other facilities.
The changes made to German immigration laws in March 2020 have expanded the scope of opportunities for individuals from non-EU countries to engage in Ausbildung in Germany. Individuals from various countries worldwide can embark on their vocational training journey within the framework of Ausbildung in Germany. After training, they can also work and establish their careers in Germany.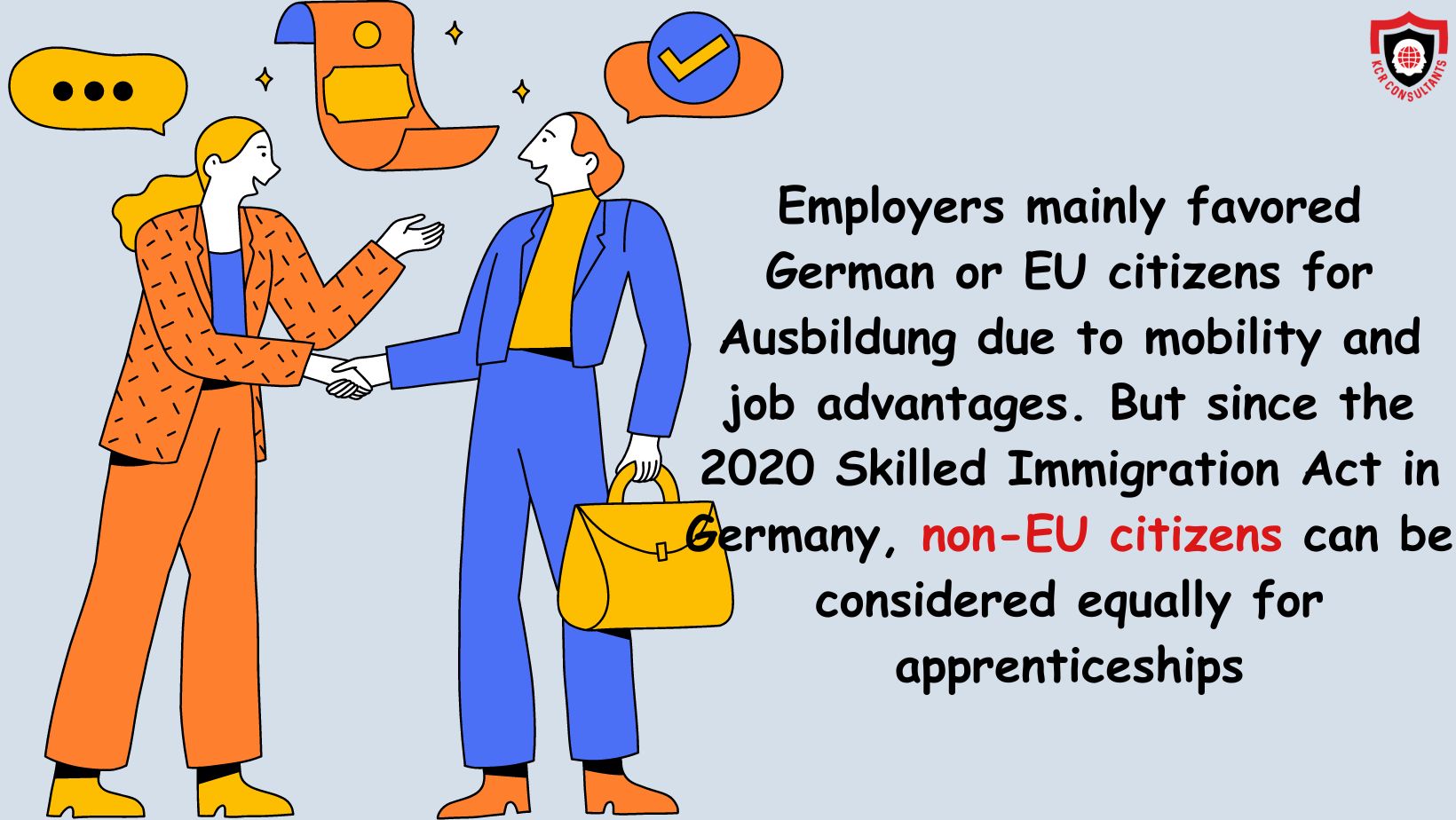 Germany's inclusive approach allows individuals of all nationalities to participate in apprenticeships as part of Ausbildung in Germany. However, certain occupations may necessitate approval from the Federal Agency. In such instances, foreign applicants would be required to seek a license from the agency and the agency's decision would play a pivotal role in determining their eligibility for the relevant visa to engage in Ausbildung in Germany.
Opportunities for Ausbildung in Germany
For non-EU citizens aspiring to pursue Ausbildung in Germany, selecting professions that do not necessitate Federal approval is advisable. This strategic choice enhances the likelihood of obtaining a visa promptly for participation in an apprenticeship program in Germany. Now, let's delve into the most promising opportunities for non-EU citizens and explore the application process.
Previously, German employers typically favored German or EU citizens for Ausbildung in Germany due to the ease of mobility and unrestricted employment opportunities for these individuals. However, with the implementation of the Skilled Immigration Act in 2020, German companies can now consider non-EU citizens on equal footing with Germans and Europeans when recruiting apprentices. This Act has streamlined the process for employers, eliminating the need for government agency permissions to offer Ausbildung in Germany to foreign citizens.
To apply for an apprenticeship, non-EU citizens must possess a school leaving certificate and demonstrate proficiency in the German language. The German company will assess whether the educational background and language skills meet the requirements for the desired program. Additionally, academic qualifications should be recognized in Germany.
Several industries actively seek trade professionals with specific qualifications, presenting opportunities for non-EU citizens within the framework of Ausbildung in Germany. Let's explore some of these trades where skilled workers are in high demand.
The nursing sector is experiencing significant demand, while the local supply remains relatively low. Consequently, non-EU citizens have promising prospects in this field. Some hospitals even accept candidates with limited German language skills.
Germany also requires craft workers, clerks and professionals with customer-oriented roles. By selecting one of these occupations for their Ausbildung in Germany, foreigners increase their chances of obtaining a visa and pursuing employment there.
It's vital to note that all Ausbildung opportunities in Germany mandate proficiency in the German language, especially for reading and writing exams and comprehending lectures. Achieving a Level B1 proficiency is generally sufficient for beginners.
Upon completing their Ausbildung in Germany and passing the relevant exams, students receive certification, enabling them to work in their trained profession. This certification is not restricted to Germany alone but allows them to work in various European Union countries.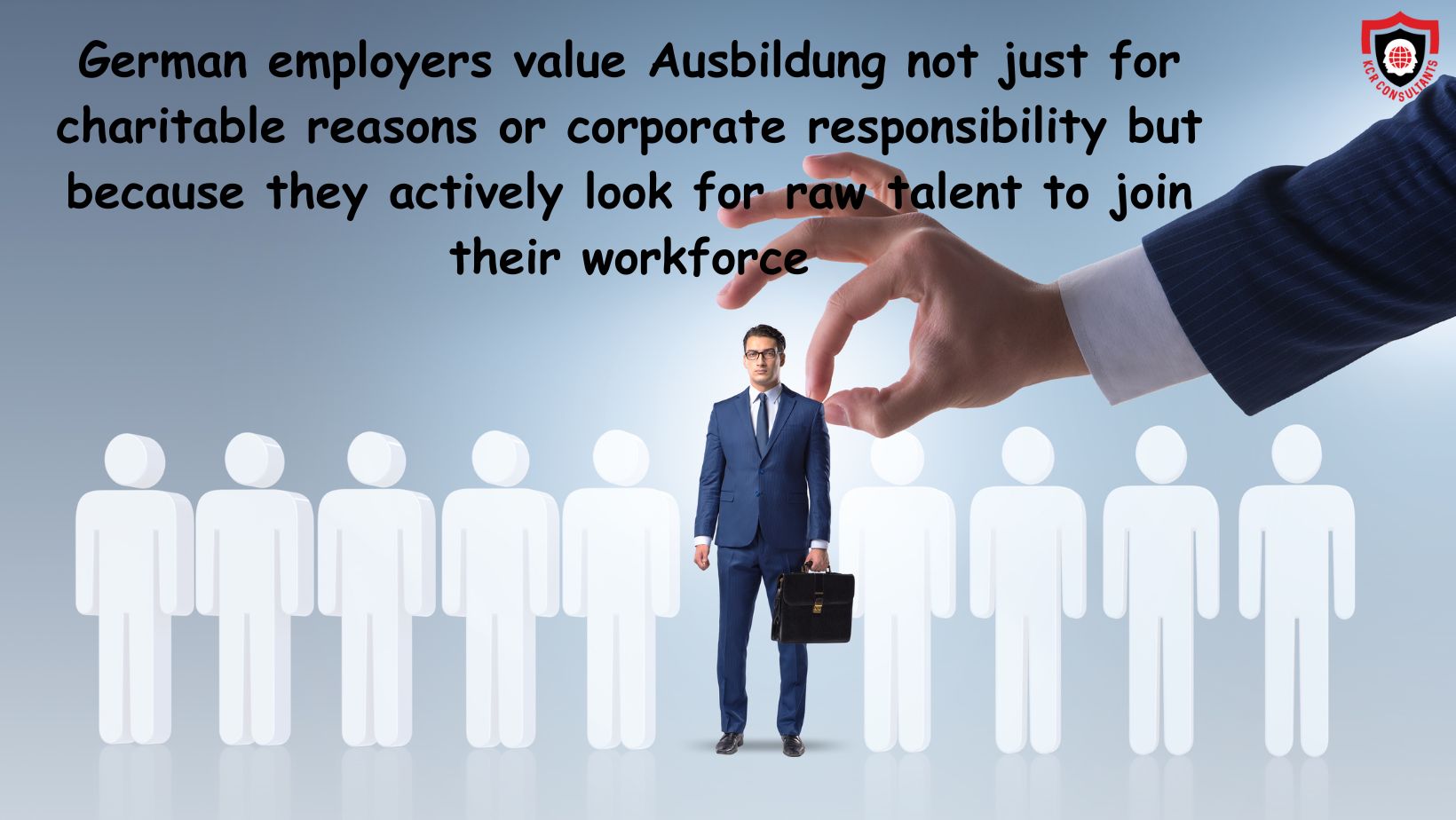 Ausbildung in Germany through the Perspective of German Employers
Ausbildung in Germany enjoys global popularity and the apprenticeship program in Germany is gradually gaining traction in numerous countries. The reasons behind this widespread appeal are multifaceted, with German employers playing a pivotal role.
In Germany, a deep reverence for practical work permeates employers and employees. For most German employers, Ausbildung in Germany is not merely a charitable endeavor for struggling students or a matter of corporate social responsibility. Instead, these companies actively seek apprenticeships because they seek raw talent to join their workforce.
Crafting world-class products demands exceptional effort and German companies are known for their discerning hiring practices. Quality is paramount and apprentices are highly sought after.
Ausbildung in Germany cultivates quick learners who acquire valuable skills and develop a strong sense of responsibility. The rigorous selection process for apprenticeships is a testament to this. For instance, approximately 3,000 candidates vie for just 60 coveted slots annually at the John Deere plant in Mannheim. Similarly, the Deutsche Bank in Frankfurt receives a staggering 22,000 applications for 425 available apprenticeship positions.
Moreover, German employers go beyond imparting technical skills; they also seek thoughtful and self-reliant candidates who can evolve into valuable assets for the company's future. Such individuals grasp the company's objectives and methodologies and when necessary, they contribute innovative ideas to enhance its performance.
An intriguing aspect of Ausbildung in Germany is its centralized system, where the state assumes a pivotal role in regulating the activities of private enterprises. Standardized occupational curricula developed by the government ensure uniform training for machinists nationwide. This system ensures that Ausbildung in Germany maintains a consistent quality throughout the country.
Final Words about Ausbildung in Germany
The vocational training program Germany offers, "Ausbildung in Germany," stands apart from apprenticeship opportunities elsewhere. Educational reformers hail this unique training as a form of lifelong learning for individuals. Nevertheless, securing an apprenticeship opportunity in the country poses challenges for many.
Individuals worldwide aspire to embark on an "Ausbildung in Germany" journey. However, even skilled candidates often find room for improvement in various industries, including healthcare, construction, information technology, catering, sanitary, heating and ventilation engineering, retail sales and bakery.
Non-EU citizens, in particular, have an outstanding chance to apply for admission to an "Ausbildung in Germany" program across various fields. This presents a fantastic opportunity for skill development and gaining practical work experience. Young people worldwide should seize this moment to apply and make the most of "Ausbildung in Germany."
Related Article: