Everything you need to know about Ausbildung
Ausbildung in Germany is a unique system which allows students from non-EU countries to work and train in German companies as apprentices while learning a trade or profession in a training institute.
Ausbildung programmes in Germany have been developed historically out of the medieval guild system.
This is not new to young people in Germany, as many enter the working market through the apprenticeship system. 
Over 500,000 new apprenticeships (Ausbildung) contracts are concluded every year by various companies in Germany.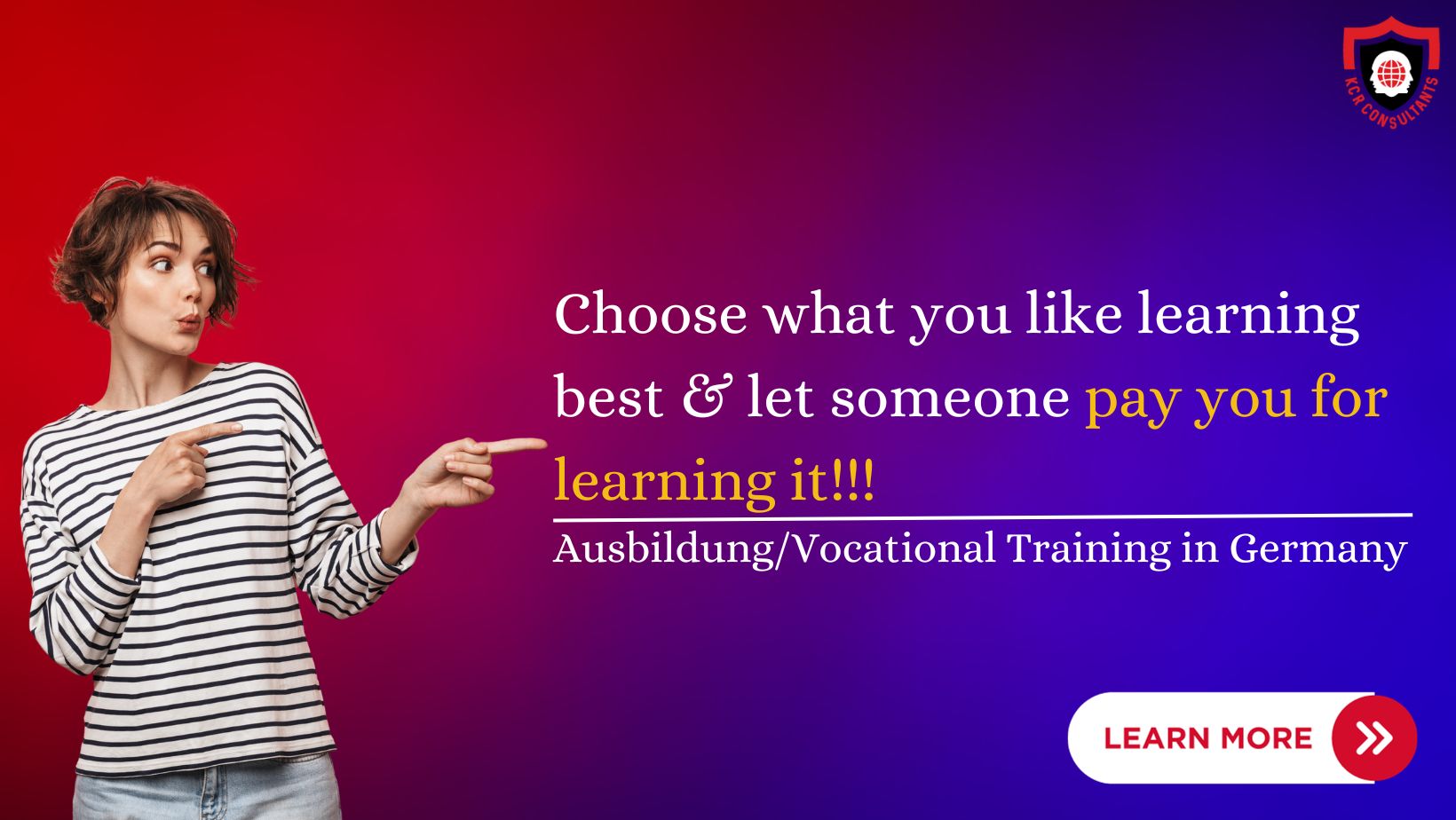 What is Ausbildung in Germany?
Ausbildung in Germany for foreigners is a vocational training program in Germany and is known as an Apprenticeship in the English language.
Once accepted as an Ausbildender by a German company, your Ausbildung training will be divided into two parts:
First, you will be contacted by a German employer/company where you'll be in a work placement as an apprentice.
Secondly, you'll be affiliated with a vocational training school, also known as Berufsschule in the German language, where you will attend training classes.
You need to attend both places, and you must divide your time for that based on your apprenticeship period.
For example, suppose you are in an Ausbildung in a hotel. In that case, you must work for three days in any assigned department to gain practical experience and the remaining days in the training institution.
Your assigned departments can change, as you'll be asked to work for one month in housekeeping, one month in room service, and one month in the front office to get the overall experience in the hotel management job.
For the remaining two days of your week, you'll participate in your vocational training school (Berufsschule), where you'll study your assigned category and technicalities.
Your vocational training school will conduct your exams like midterms and final exams. 
Your final Ausbildung score will include grades from your company and vocational training school.
The company will give you grades according to your work and training school according to your exam performance.
Now, let's discuss how long this training will last.
Duration of Ausbildung Program in Germany
Usually, the Ausbildung program lasts three years, but if your grades are reasonable based on your performance in the company and vocational training school, you can reduce this period.
But it doesn't make any significant difference, as you can reduce three to 2.5 years, so it hardly matters.
Time duration usually depends on various factors, like which company you work for, which department you are assigned, and from which vocational training school you are studying.
But one crucial thing you badly require to be eligible for the Ausbildung program is German language skills.
Language Requirement For Ausbildung in Germany
The language used in the vocational training school is German. They conduct all exams in German. 
Also, your work placement and practical training in the company will be in German. 
Sometimes, there could be English-speaking people also participating in the training. But usually, the communication in the workplace is in the German language. 
The most important prerequisite that most companies check for hiring apprentices from other countries is German language knowledge and communication skills at the required level.
Over 90% of the companies (with apprenticeships) stated that language skills are necessary to complete a training course. (Source–DIHK survey)
So, you must have better German language skills to meet the language requirements for an Ausbildung programme in your desired field of occupation. That is a B2  level!
If you are fluent enough in the language, even a B1 will be perfect sometimes; because the requirement is one must have good communication skills to follow the programme. 
One of the critical questions that can arise in your mind after going through all these details may be:
Education Requirement For Ausbildung in Germany
If you are non-European, and from a country like India, you must have a 12th-grade (senior secondary) school examination pass certificate. This is the minimum academic qualification required for an Ausbildung programme in Germany.
Those with higher level qualifications achieved after the 12th-grade school education, e.g., diploma or degree, can apply.
Most companies and training institutions maintain 30 as the maximum age criteria and 17+ as the minimum age.
Immigration departments or German state governments set no stipulated maximum age. It depends on the hiring employer/company. 
How can a Non-EU citizen apply for Ausbildung in Germany?
Currently, around 330 occupations require formal training in Germany and businesses that participate in the dual training scheme consider vocational training the best form of personnel recruitment.
There is a growing awareness across Europe and worldwide that excellent work-based vocational education and training are vital for competitiveness and social participation.
Let's go through some questions about how to apply for the Ausbildung program as a non-EU applicant.

What documents are required for non-EU citizens to apply for an Ausbildung in Germany? (Requirements for Ausbildung in Germany)
You need two essential documents for applying for Ausbildung in Germany:
This is your first requirement, and your CV should be brief. It should include precise education details, work experiences (only if applicable), etc.
A statement of purpose or a motivation letter
This is a significant opportunity to show you as a more suitable and motivated candidate.
Certified or attested work experience letter/s
If you have worked in the relevant field of your chosen occupation will influence your candidature for the career you are applying for.
School certificates, diplomas or/and Degrees
Some companies might ask you to provide a German-translated version of your certificates mentioned above.
A notary public could do the certifications in your country. 
Why do you need these documents?
Now you know you can start an Apprenticeship (Ausbildung) after 12th grade, depending on the requirements of the specific company you're applying to.
Your school leaving certificates are compared to the German equivalent, i.e. Hauptschule or Realschule. 
What monies and documents are required for a visa for Ausbildung in Germany?
If you apply for the Ausbildung visa, you need to have:
A written confirmation or a contract by the training company/employer

Sufficient money to maintain the cost of living in Germany for your stay until the Ausbildung and start receiving monthly stipends.

Valid health insurance until the start of your vocational training.
Monthly stipend
Participants of Ausbildung are paid a monthly stipend by the company where they work and are trained. The allowance varies from 650 to 1400 EUR depending on the occupation one chooses. 
How to apply for a visa application for Ausbildung in Germany?
Suppose you are serious about getting trained in your desired occupation and excited to be in one of the best countries in the world. In that case, you need to have a good grasp of German and all the necessary documents to get your Ausbildung visa approved.
So, if we sum it up, being a non-EU citizen, you have to follow these steps for joining the vocational training in Germany:
Get school-leaving and other certificates recognised and translated

Learn the German language and achieve B1/B2 level

Attend interviews with the Employers/companies interested in your application

Receive an offer and training contract 

Apply for a visa

 
What can you expect from us?
We at KCR Consultants can help you with all these crucial requirements once you get in touch with our team members. 
If you are searching for a list of Ausbildung courses in Germany, the best Ausbildung courses in Germany, Ausbildung list in Germany or Ausbildung in Germany courses, please read Ausbildung in Germany occupation list.