What is DAAD Scholarship?
DAAD stands for Deutscher Akademischer Austauschdienst, translated as German Academic Exchange Service.
Do you need financial support to study in Germany or funding for your studies, research, or learning German?
DAAD scholarship will provide the necessary funding for your need.
German Academic Exchange Service has supported around 100,000 national and international students and researchers.
DAAD is the world's largest funding organisation of its kind.  
Who can avail DAAD Scholarship? 
They made DAAD scholarships available for graduates and people who are pursuing a doctorate and post-doctorates. It funded them for their studies, research, and sometimes internships at German universities and non-universities (research institutions in Germany).
Why DAAD Scholarship?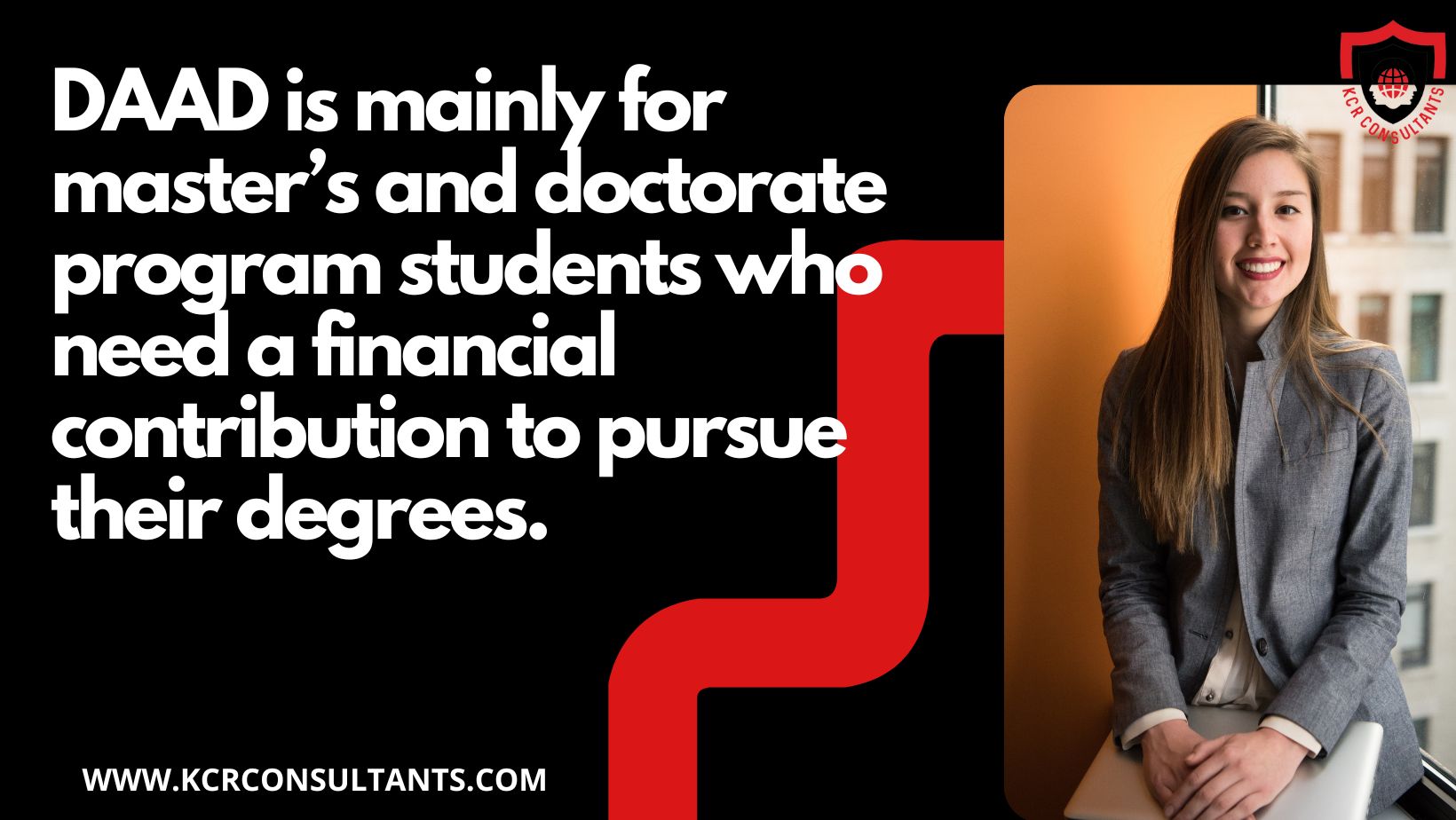 Many students have the desire to pursue higher studies but do not have financial stability. DAAD helps these students pursue their dream through Free Education in Germany.
Different Scholarships 
PhD students and post-doctorate people receive

Research Grants – Short Term Grants

.

All origin countries get

Research Grants – One-Year Grants for Doctoral Candidates

.

One can apply to

University Summer courses

and

University Winter Courses

programmes to learn a language course in Germany.

If you are a student from a developing country, you can avail of a

grant for a full doctoral programme

in Germany.

People from industrial countries can get

a scholarship for a Master's degree in Germany

.

You might be a student or a graduate who could not avail of a scholarship in your native country. You can apply for a scholarship through the

Hilde Domin Programme

.

Candidates cannot apply for a DAAD scholarship by themselves. They have to be nominated by an institution or organisation in Germany.

DAAD will contact the people who fit the criteria and invite them to apply through the DAAD official application portal.

DAAD offers

Sur-place

and

Third Country Programmes

for home country or region students, scientists, and researchers for their graduate, doctoral, and post-doctoral programs.
Benefits of DAAD Scholarship 
A huge advantage of the DAAD scholarship is that students need not pay the money back.

It comes as a monthly scholarship payment (it differs for graduates and PhD students.

It also involves a flat-rate travel allowance.

There are certain cases where DAAD covers your health, accident, and personal liability insurance.

Based on your scholarship programme, there are more benefits like a one-off research allowance, family benefits, and funds for language courses.

You can know every necessary detail for the respective scholarship programme in the scholarship database.
Moral Support
Moral support is equally important to scholarship students. Moral support covers academic conferences, holiday academies, and language courses. Current and former scholarship holders get beneficiaries as well. It not only helps students personally but also induces future career prospects. 
Requirements for DAAD Scholarship 
The student must have commendable grades in school and university, but one can gain a scholarship even without higher grades. Organisations want their candidates to be engaged civically.
A certain target group often gets funding, and they award a scholarship depending on the student's background.
More than a third of the candidates receive funding for which they have applied.
You can increase the possibility of getting a scholarship if you apply to a smaller and lesser-known foundation rather than a bigger organisation.
They found that around 70% of the students studying in Germany have never applied for any scholarship or funding help.
 Note: A first-year student or for a complete course of study receives funding only on exceptional terms.
Checklist before applying for DAAD scholarship 
Does the bursary provider's offer meet your personal and educational needs? 

Do you meet the formal requirements of the fellowship program, from academic status to the field of study?

Do you meet baseline educational and civic engagement requirements?

Will you be able to compile the required application documentation prior to the deadline?

Are you ready for the key points of a nomination interview, and do you know what you want to accomplish with your bursary?
An important step is to enquire in your native country if you are eligible to apply for a scholarship and funding options.
If you want to know more about scholarships in Germany and need assistance with studying in Germany for free, kindly approach KCR CONSULTANTS.
 They will guide you throughout the process in a hassle-free manner. 
Contact KCR CONSULTANTS now!