Medical Universities in Romania for International Students 
Medical universities in Romania are prominent in offering world-class medical education for local and international students.
To study at Romanian medical universities, one should have obtained at least 50% marks in the 12th-grade board exam makes it easier than in the universities of other European countries.
Is it true that Romanian medical universities accept international students without conducting any entrance exam?
Medical universities in Romania generally don't conduct entrance tests, as universities and colleges in many other countries do. In Romania, one can apply to pursue general medicine, dentistry, and pharmacy based on the percentage or grades obtained in the senior secondary board examination.
Mandatorily you should have completed your senior secondary education in science subjects.
Romania is an EU member country; hence a medical degree from a Romanian university holds the same value as any other nation in the EU. 
One can work as a European doctor with a Medicine Degree (MBBS) from any medical university in Romania.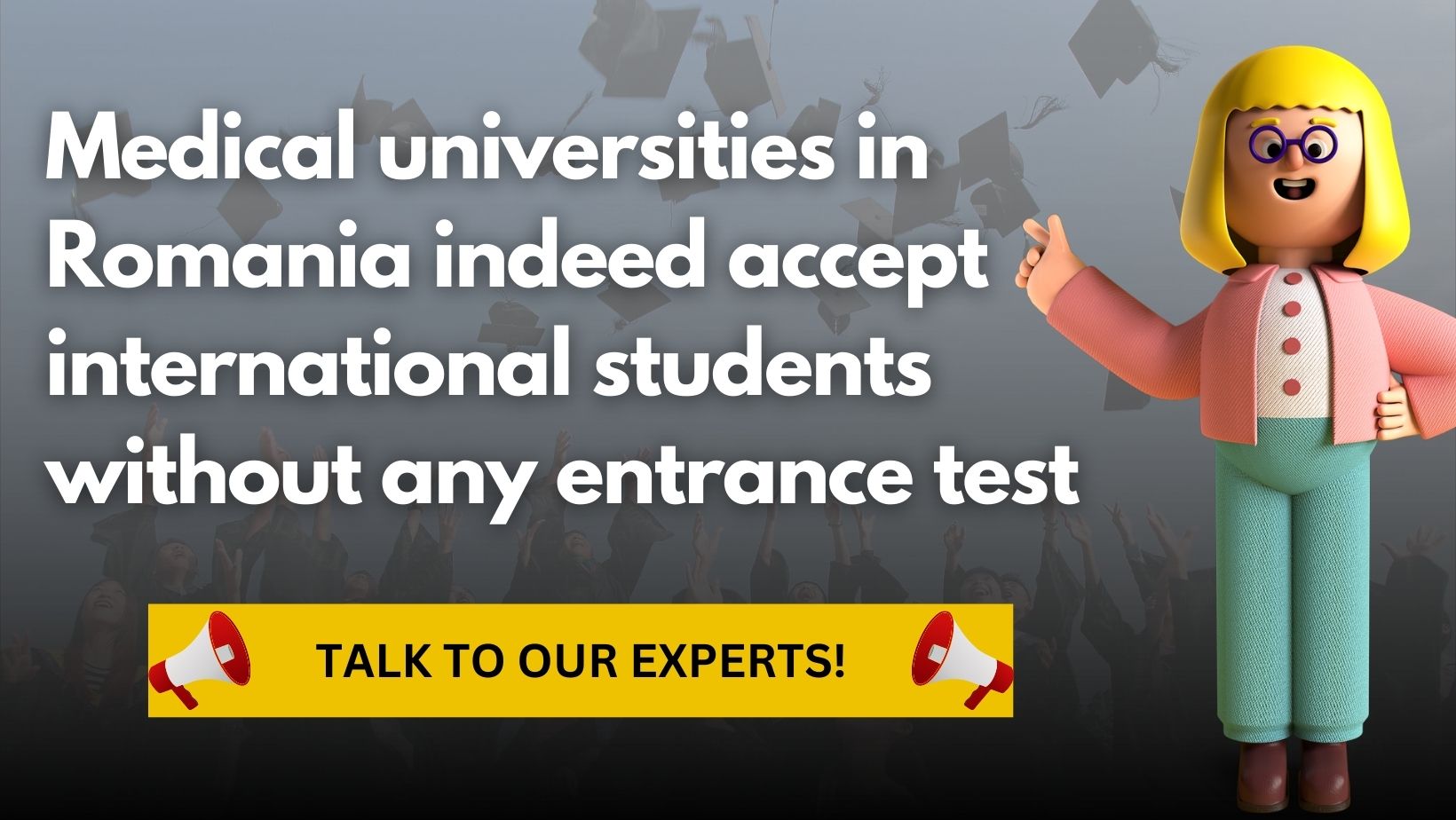 The list of Romanian medical universities offers English-taught medical courses.
The University of Medicine and Pharmacy, Grigore T Popa 
Carol Davila University of medicine and pharmacy – Bucharest.
Titu Maiorescu University of medicine and dentistry – Bucharest

.

The University of Medicine and Pharmacy of Craiova – Craiova (South Western).

 

Luliu Hatieganu University of Medicine and Pharmacy – Cluj Napoca. 
Ovidius University – Constanta  
All the universities mentioned above offer medicine studies as the medium of instruction. All the above universities conduct medicine studies in the English language. 
You may contact KCR CONSULTANTS for more information about medical universities in Romania. 
The experts at KCR are up-to-date with all the study abroad programme-related information.
You may check our other articles;  MBBS in Romania for Indian Students, MBBS in Romania, Studying Medicine in Europe, and MBBS Abroad Consultants.