Introduction to Masters in Data Science in Germany
Data science combines subject-matter knowledge, programming abilities, and math and statistics competence to draw meaningful insights from data.
Regarding commercial digitalisation and digital public services, Germany is one of the most advanced countries.

Is Masters in Data Science Free in Germany?
You can study for a master's in data science in Germany with no tuition fees in government-funded German public universities. (Free education in Germany). You know the answer to how to study in Germany for free. 
How do I meet the miscellaneous expenses while pursuing a data science masters in Germany?
Do a part-time job while studying for your master's course.
You can work for 120 days during the course and earn money through the minimum wage policy in Germany.
Is Masters's in Data Science in Demand in Germany?
Image processing and autonomous driving are becoming more and more important.
You can use consumer data to predict behaviour, market share, or product life cycles.
Cures are created for all types of illnesses and therapies.
The creation of novel algorithms that rely on computer science techniques and processing power has been facilitated by the exponential growth of data and cheap computing power.
Promising outcomes and intriguing domains in social network research have been achieved using translation and natural language processing.
Thus, there is a great need for educated data scientists.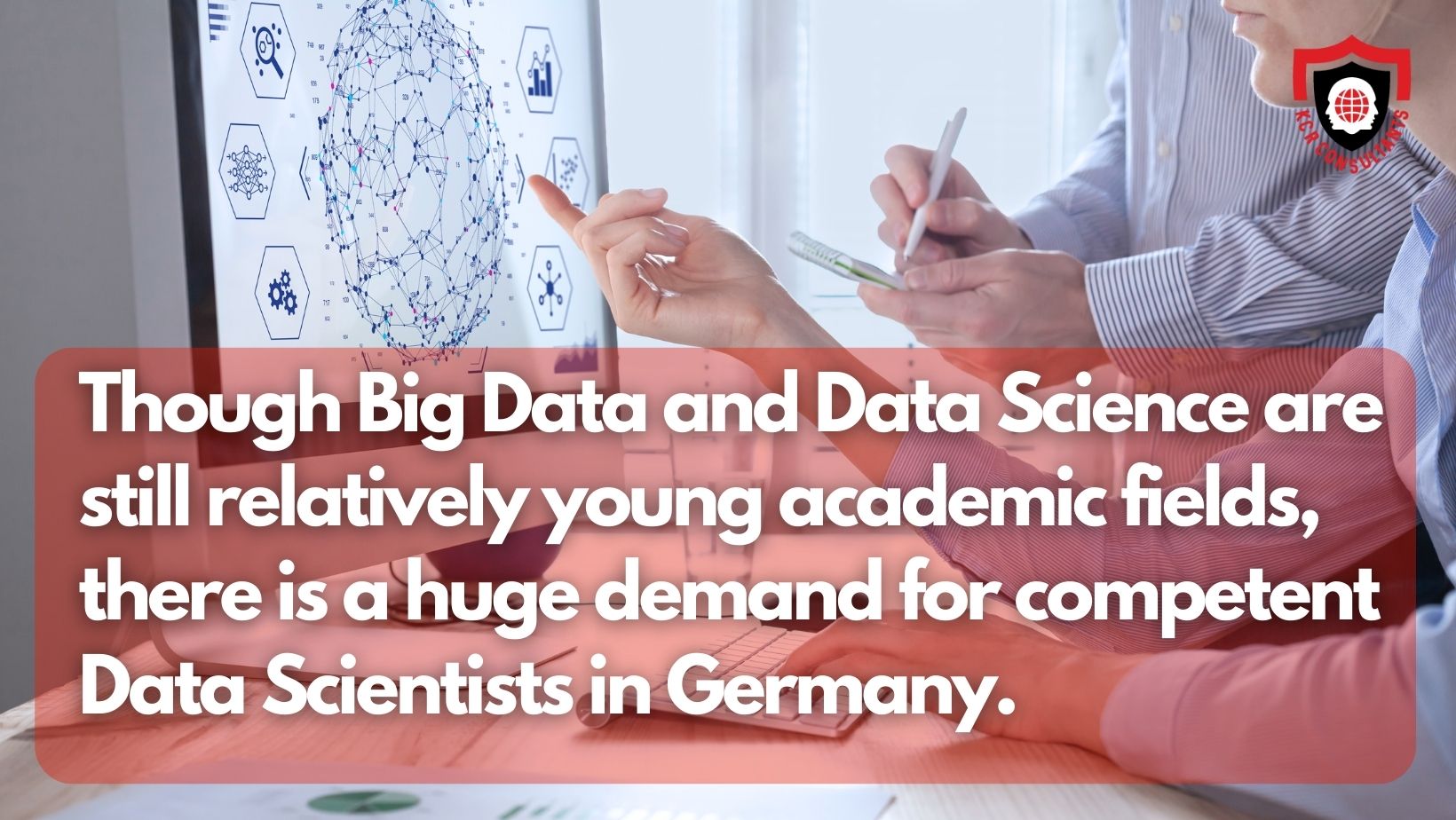 Duration and application deadline for studying for master's in data science in German universities
The length of a German master's in data science stretches for three or four semesters.  
You can either join in the summer semester or the winter semester.
The application deadline for MS in Germany can be tentative, between March to July for the winter semester and between September to January for the summer semester.
You don't need to worry, as you will start your application process early. You will have enough time to decide on which intake to choose. 
Can I study Master's in Data Science in Germany in English?
Yes, you can! Many public universities in Germany for master's in data science teach the course in English.
To be eligible for an English-taught course, your English must be excellent.
Even if you are choosing an English-taught master's course, you need to know German for basic necessities around and outside the German university.
If you do not know German, you don't have to worry. You can learn German in Germany before commencing your course.
You can talk to our educational counsellors to get help and assistance. 
What will I study for the Master's of Data Science in Germany?
You will learn various topics like introduction to data science, machine learning, business analytics, statistical data science, Big Data analytics, computational life science, data management, and more.
You will also have international guest lectures, which will be a great way to communicate with different cultural groups in the data science master's program in Germany. 
What is Germany's cost of living for data science in Germany masters?
The living cost varies depending on the city where you choose to pursue.
For two and three-tier cities, the accommodation costs around 250 euros. The food and living expenses are between 150 to 200 euros. You will require 450 to 500 euros monthly to meet your expenses.
If your master's course university is in Berlin, Hamburg, or Munich, it reaches 800 to 1000 euros per month. 
Is the German language compulsory to study Masters in Germany?
The official language of Germany is German. It would be better if you learn German as it will benefit you in various ways while residing in Germany.
If you have chosen an entirely English-taught course, you might need German to converse with the natives, and if you go outside the university, you will need German to travel around.
We suggest you learn the German language to increase your confidence and progress. 
What is the eligibility for Master's in data science in Germany?
You need a bachelor's degree in related subjects like mathematics, electrical engineering, computer science, and physics (B. Sc. Equivalent degree or BCA degree) to be eligible for a master's in data science.
Suppose you are choosing an English-taught programme to study in Germany. In that case, you must show your English fluency skills through an official certificate, especially if English is not your native language.
If you are going for a German-medium course, you might have to produce a German proficiency certificate if you have one.
If you don't have any knowledge about German, chill!
You have the option of studying the German language in your native country or Germany.
We strongly suggest learning German in Germany as they teach in a professional, systematic, and proper way of the German language. 
What are the job opportunities after MS in data science in Germany?
You can work as a data scientist, DevOps engineer, senior data scientist, principal scientist, financial data scientist, cloud infrastructure engineer, junior data scientist, and more.
You can work for Spotify, Orange quarter, domino's, Michael Page, Thyssen Krupp, Porsche AG, Oracle, Nintendo, Flint Data, and more. 
How much is a Data Scientist paid in Germany?
Depending on your experience and skill, your salary can vary. You might get between 40,000 euros to 75,000 euros.
If you have more experience and are knowledgeable, you might even get a higher salary!
You have the option of getting paid while you study in Germany! Ausbildung is an apprenticeship program where you will be paid a monthly stipend for a specialisation course. 
Conclusion to Master's in Data Science in Germany
Daily data production is estimated to be 1.145 trillion megabytes. Use as picture
You can also get placed in Bayer, Google, Amazon development centres, oxygen digital recruitment, Zalando, vertical scale GmbH and many others.
The need for data scientists in Germany has been increasing exponentially in recent years. You have plenty of jobs and always will have.