Introduction on: How to apply  PG medicine in Germany?
Applying for PG medicine or dentistry in Germany requires careful planning and a thorough understanding of the application process. This guide aims to provide aspiring medical and dental professionals with a step-by-step approach to Applying for PG medicine in Germany. 
From understanding the procedure and programs to preparing application documents and navigating the visa process, this article will cover the essential aspects of the application journey. 
The answer to how doctors and dentists apply for PG medicine in Germany starts with suggesting to gather all your qualifications and supporting documents to process with a German state office. The task is getting all the documents translated by a ' German State Approved Translator and certified to get ready with the application for licensing in Germany, as only a licensed doctor or dentist is accepted for PG medicine (MD/MDS)in /dentistry, referred to as 'Specialisation' in Germany.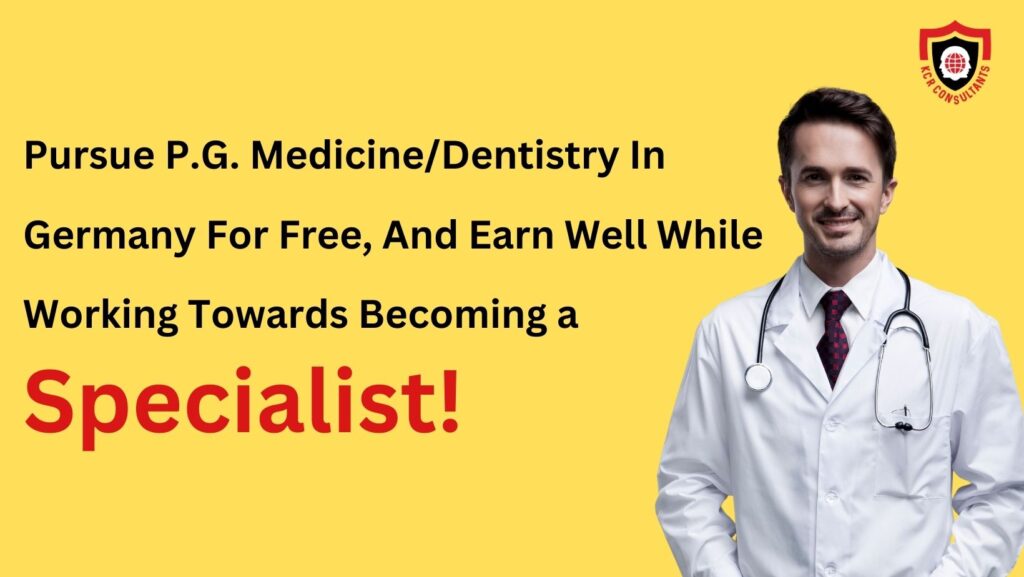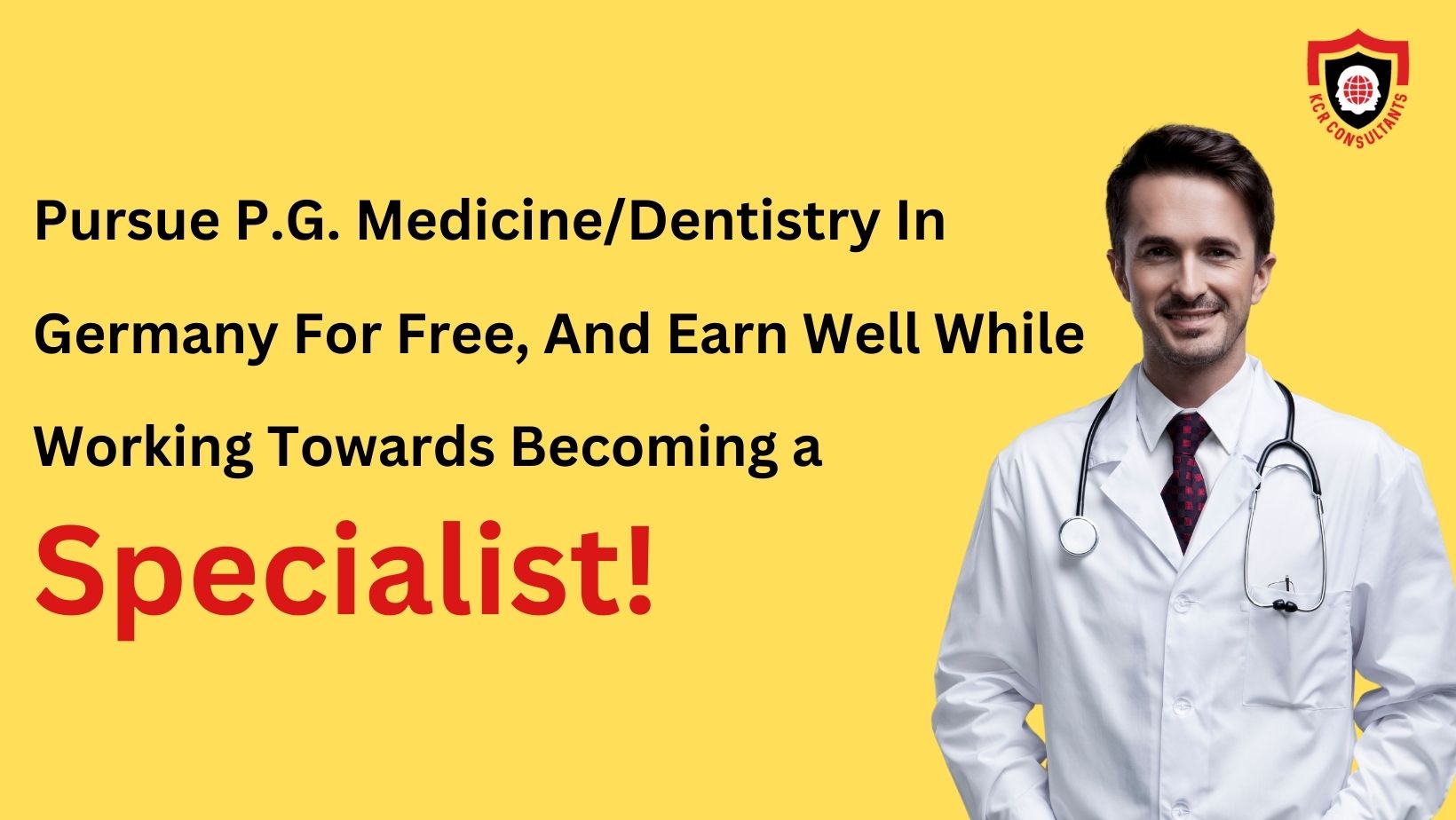 Steps to apply for PG medicine in Germany:
You must provide your medical/dental degree certificate, an updated CV, a Medical/Dental license to practice your profession in your country (if available), and an internship completed letter/certificate (if available). You must be ready to provide further information and supporting documents as and when required to complete your application for recognition and submit it to a German state medical/dental council on your behalf if the application is submitted while you are still in your home country.
How to apply for PG Medicine in Germany through Programme A:
Programme 'A' starts with applying for a Deficit/Assessment letter from a State Medica/Dentist council or a state office responsible for medical/dentistry practice! 
Once the German state issues an assessment/deficit letter, you can prepare to apply for a visa at the German consulate where you currently live.  
You can apply for a visa provided you have achieved at least an A2 level German language and have a test passed certificate to meet the German consulate's condition set for foreign-educated doctors and dentists. 
The German consulate will treat your application that you want to migrate to Germany to get your qualifications recognised, licensed, practice as a physician/dentist independently or pursue a PG/MD/MDS in your desired field of medicine in Germany. 
This is when you need to pay the programme fee to the German institution and get the programme offer, confirmation letter, and other supporting documents for a better visa application result.  
After paying the programme fees and waiting for the German institution's confirmation letter, you must start the blocked account opening process. 
You may open a blocked account directly with an approved German bank or financial institution and choose a value package with German healthcare coverage for a year.   
You may deposit the blocked account money with a home country bank approved by German immigration instead of transferring to a German bank or secured account company. This bank will keep the deposit and issue a confirmation letter for you to apply for a visa. 
When all is done;
The confirmation letter and supporting documents are received, and the blocked account deposit confirmation letter is available to you; you are ready to apply for a visa.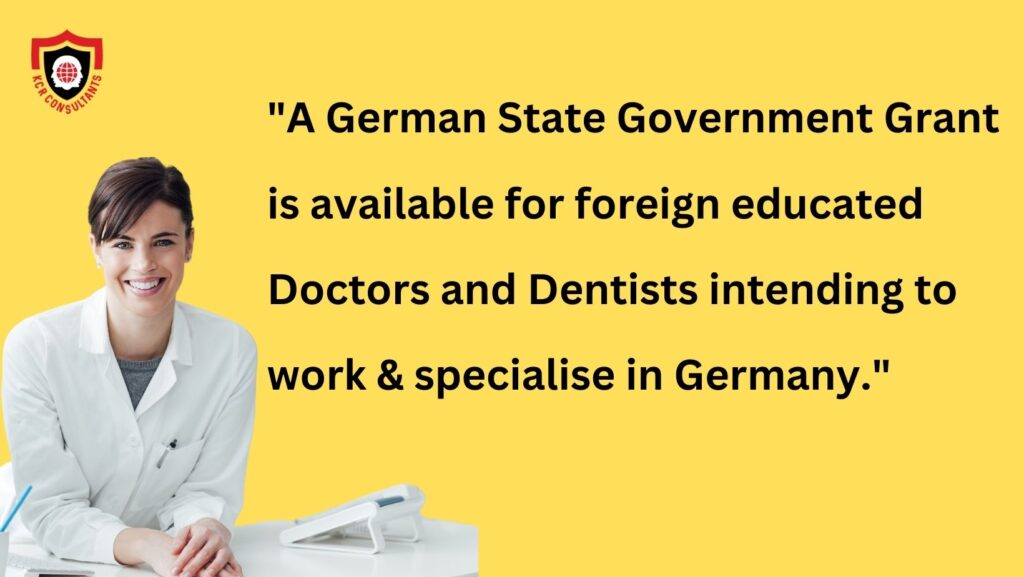 Appointment or a time slot to apply for a visa:

 
You must wait and look for an appointment to submit your visa application before walking into a visa office or German consulate to lodge your application! 
After receiving your visa and arriving in Germany, you must attend the language courses of other levels in person at the programme provider's language centre. 
After attaining a B2 level, you will be offered a medical language course that includes the Fachsprachprüfung(FSP) preparation to help you to prepare, sit, and pass the FSP test. 
Once passed the FSP test, you will be considered qualified, by the German state office, for a provisional license to work in a hospital under supervision. You can work under a temporary permit for full two years. You can use this opportunity to prepare for the knowledge test and pass. 
Once the knowledge test is passed, you can process your application for a  license / Approbation-prüfung in Germany. 
Once licensed, you have two options to choose from;
Continue working as a physician independently. 

Choose your desired field of medicine for specialisation, apply to a hospital where the said specialisation is available and go ahead with that. 
The specialisation in Germany refers to PG medicine or dentistry/MD/MDS, as in Germany, the specialisation is offered in a hospital, not a university. Once the specialisation is completed, you will be called a specialist.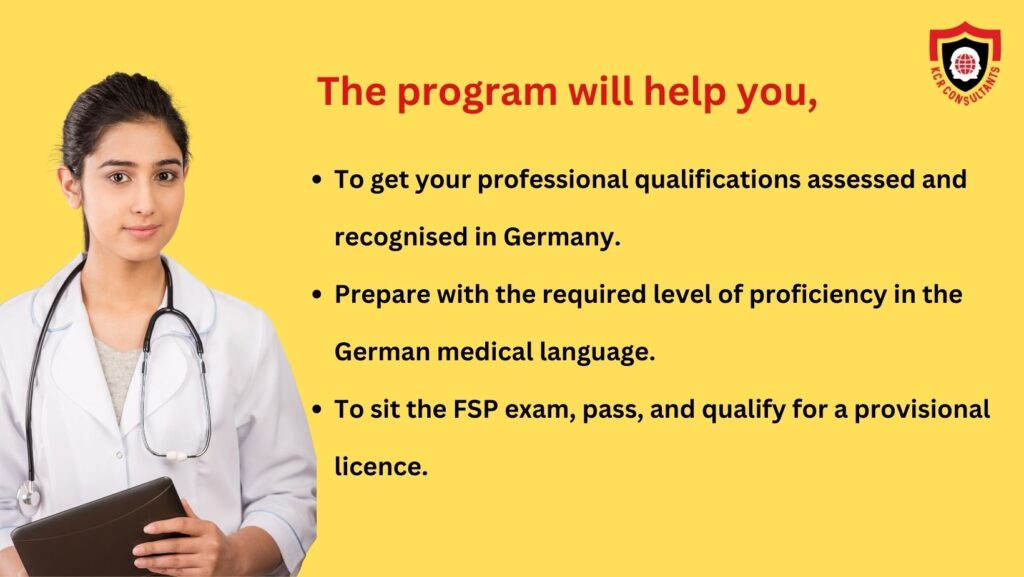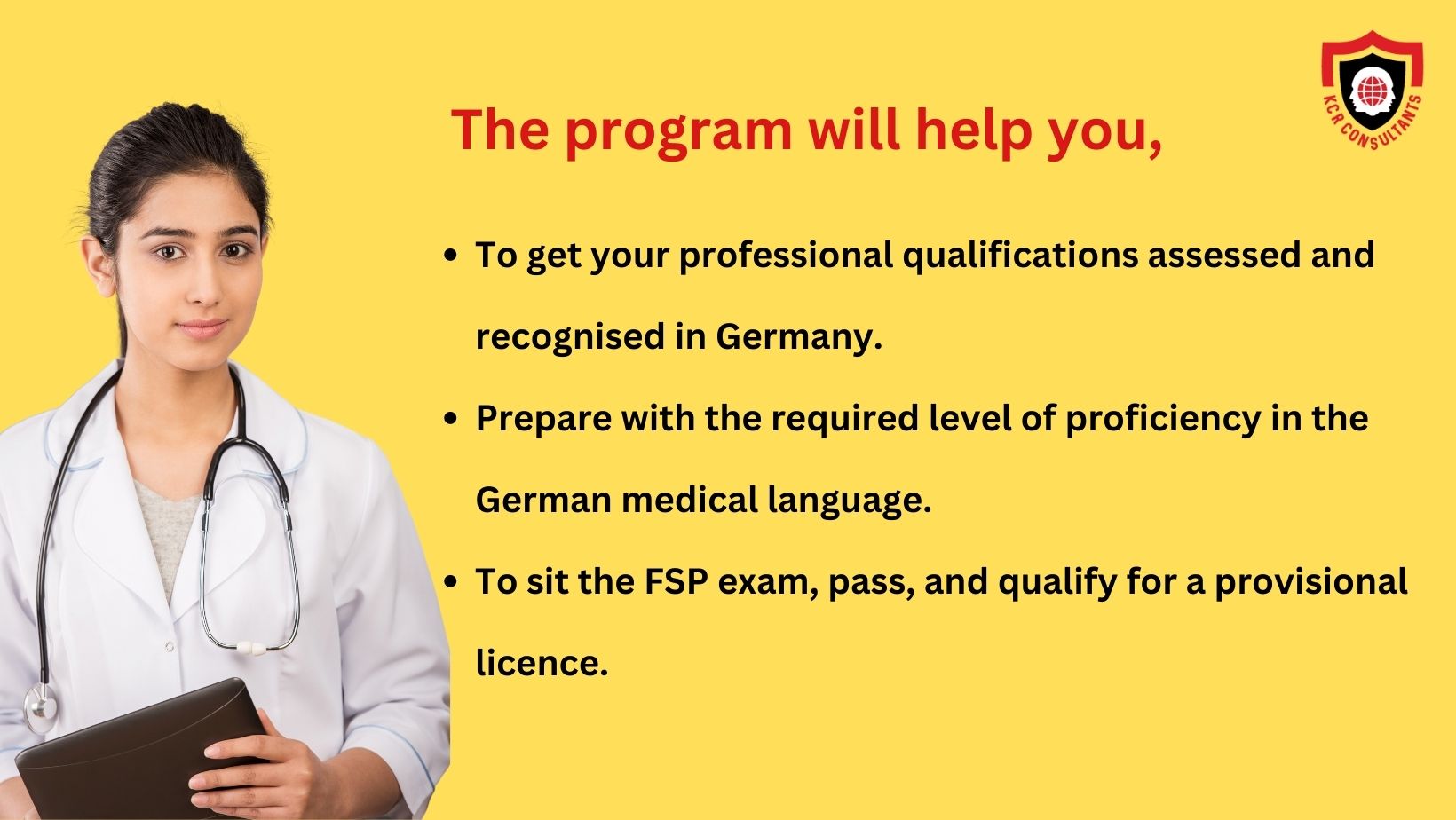 How to apply PG medicine in Germany through Programme B: How to apply PG medicine in Germany?
As soon as you have gathered all your qualifications and supporting documents and sent them to the Preparatory programme provider in Germany. 
To complete your qualifications, you must provide transcripts, marks, and the entire course's rotation details. If you have completed an internship and are eligible for a license or have a right to practice your profession in your home country will add more value to your qualifications! 
The programme provider will send you an offer letter and invoice for payment as soon as they find your qualifications and documents are in order. 
Once paid, you will receive the confirmation letter and other supporting documents required by the German consulate in your home country to consider your application for a language course visa.
At this point, you must open a blocked account and deposit funds to maintain yourself for one year while in Germany.
( Please refer to the information in Programme A as most of the steps apply to you if you choose Programme B and to know how to apply PG medicine in Germany). 
The significant difference is that if you choose Programme B, you will apply for a visa without a deficit/assessment letter and a language course visa. 
If you choose Programme A, you will apply for a visa only after receiving a Deficit/Assessment letter under the Foreign Professional Qualification Recognition! 
Hope that you got much information and know how to apply PG medicine in Germany!