International Doctor's Programme in Germany
Do you know why Germany is one of the most preferred countries for foreign educated doctors and dentists?
Germany has an acute shortage of medical professionals, and hence invites qualified medical professionals from foreign countries.
Doctors are highly respected and also paid in Germany.
Hospital settings and health care services in Germany are considered among the highest standards. 
Work and living conditions of medical professionals are among the best, and safe.
Is it true that foreign educated doctors from countries like India can pursue PG in medicine, in Germany?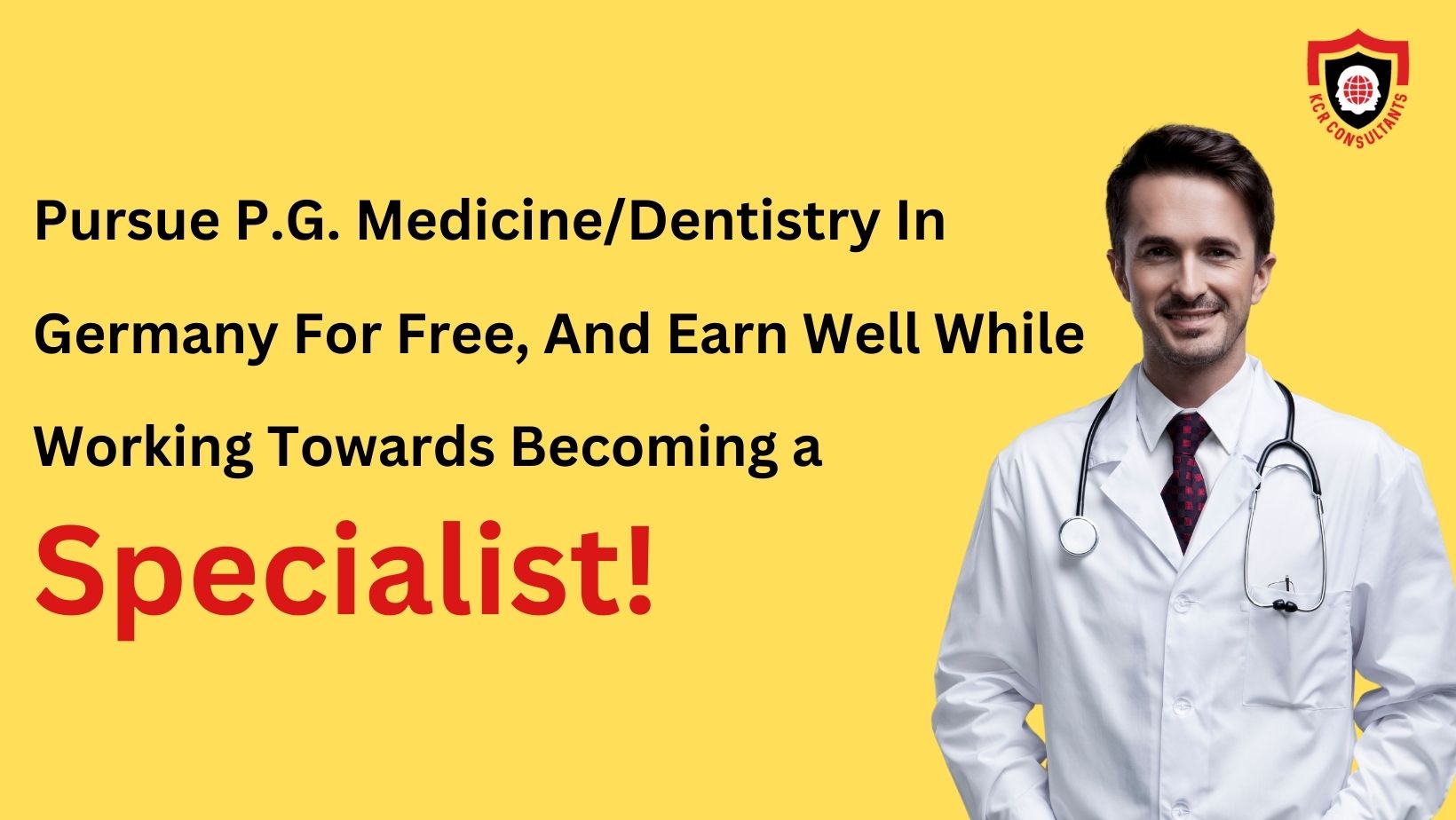 The myth needs to be broken here to answer the above question. 
Medical education in Germany is not divided into bachelor's and Master's degrees, instead, a state licensed medical doctor or physician, and a specialist!
In Germany, after the basic medical education of 6 years including one year internship, one should sit a state examination and pass to qualify for a license to practice medicine in Germany. After getting licensed he or she is called a medical doctor or physician.
Once qualified bypassing the state examination a medical doctor/physician can start working independently in a German hospital or choose to go ahead with a specialisation in his / her desired field of medicine.
The specialisation programme in Germany is referred to PG in Medicine by many from foreign countries like India. It's also called MD or MS in medicine.
The duration of the programme depends on the area of specialisation which is almost the same as in other countries. 
But there is a huge difference here, and that is;
We need to pay a lot of money per year to pursue a PG medicine course in your home country, whereas there are no fees to be paid to the German teaching hospitals – it's free of charge. 
You can choose any specialisation here in Germany and that's not the case in your home country, where you may end up compromising with any field of specialisation which is available.
You will earn well while on your PG Medicine and Dentistry in Germany, approximately 5,500.EUR per month, and that's a huge amount compared to the salary in your home country.
There are many more to point out as PG medicine in Germany is an opportunity to become a world class and high standard specialist who can practice anywhere in the world, as the medical qualifications of Germany are highly recognised across the Globe!
So how to make it, what are the criteria to apply?
First of all you need to be a registered doctor in your home country or the country of training, if you have studied medicine and graduated in a foreign country like, China, Ukraine, Russia, Philippine, Georgia etc. 
Majority of medical graduates make a common mistake of immediately returning to their home country after completing a medical course in one of the above mentioned countries. Why it's been referred to as a mistake is, in a country like India, the passing rate of screening tests conducted for foreign educated medical graduates is just 15-20%! 
Never ever crossed 25% for the last 15 years! 
So those who are still studying for a medical degree in a foreign country, especially in one of the above listed, should try to get licensed there, before returning to the respective home countries. This makes you a registered doctor already even in case you don't make it in your country.
In Germany, you will be required to pass the German medical terminology test as the first and foremost step towards qualifying for a PG medical programme. This test you need to sit at the medical council or the concerned state office acting as a regulatory body in a German state. The test is called Fachsprachprüfung in German and it is popularly known among the foreign educated doctors with its abbreviation, FSP. 
To qualify to apply for this test one should be at B2 level in German. Hence learning the B2 level in Germany is better. In addition to that you may also enroll in an FSP preparatory course offered by an accredited training institution, college, or a university.
Passing the FSP test enables you to apply for a job in a German hospital. In short, passing the FSP makes one qualify for a provisional medical license to work in Germany as a medical doctor.
A provisional license allows a foreign educated medical doctor to work for a limited period – two years maximum, and that too under supervision.
Whereas a licensed medical doctor in Germany can work indefinitely and independently!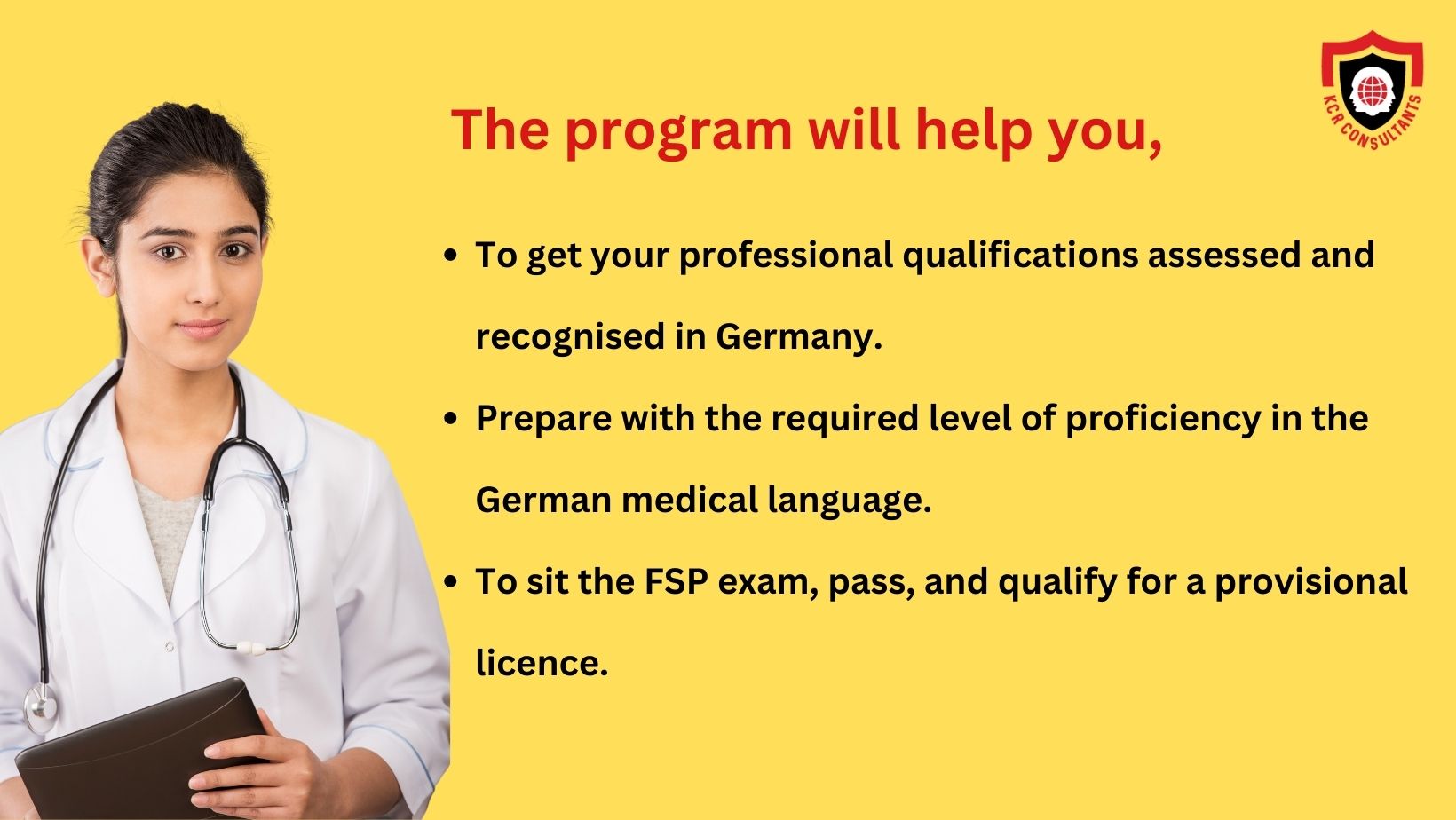 Now, how to get a permanent license to practice medicine independently?
FSP passed means you have proved your proficiency level in the German medical/technical language, and that means you are qualified to start working in a German hospital, under supervision.
But to work as a medical doctor independently, without any supervision, you will also need to prove your knowledge level in medicine as a medical doctor!
A foreign educated doctor needs to prove his / her knowledge in medicine as a medical doctor by passing a knowledge test called Kenntnisprüfung, widely referred to as KP or knowledge test by foreign educated doctors.
To sit this test or to apply for a knowledge test date, one should have already passed the FSP, and also have received an assessment letter from the state medical council called Landesamt in German.
Unless the Landesamt letter suggests that you sit the knowledge test, you won't be able to apply for a date to sit the Kenntnisprüfung.
Therefore while preparing for the FSP or after passing the FSP, you will be required to get in touch with the  Landesamt to get your qualifications assessed and obtain an assessment letter.
Assessment / Landesamt letter
This is an inevitable procedure every foreign educated doctor should undergo, who wishes to get licensed to practice medicine in Germany.
This procedure is required for the Landesamt to know whether the medical qualification of a foreign educated medical doctor matches with the German medical qualification. It helps Landesamt to decide whether to accept the applicant directly for approbation after passing the FSP or ask him/her to sit the Kenntnisprüfung as well.
Before lodging an application to the Landesamt by a foreign educated doctor, all the documents concerned should be translated into German by a state approved translator.
Unfortunately, many foreign countries don't have any such resident translators to do this job, and that leads to no other option left than getting it done in Germany. That, of course, costs a lot of money.
Once the documents are translated, your application could be submitted with the Landesamt.
Naturally, the Landesamt will check your qualifications thoroughly and see if it matches with the medical qualification of Germany before taking a decision and issuing a notification/decision letter.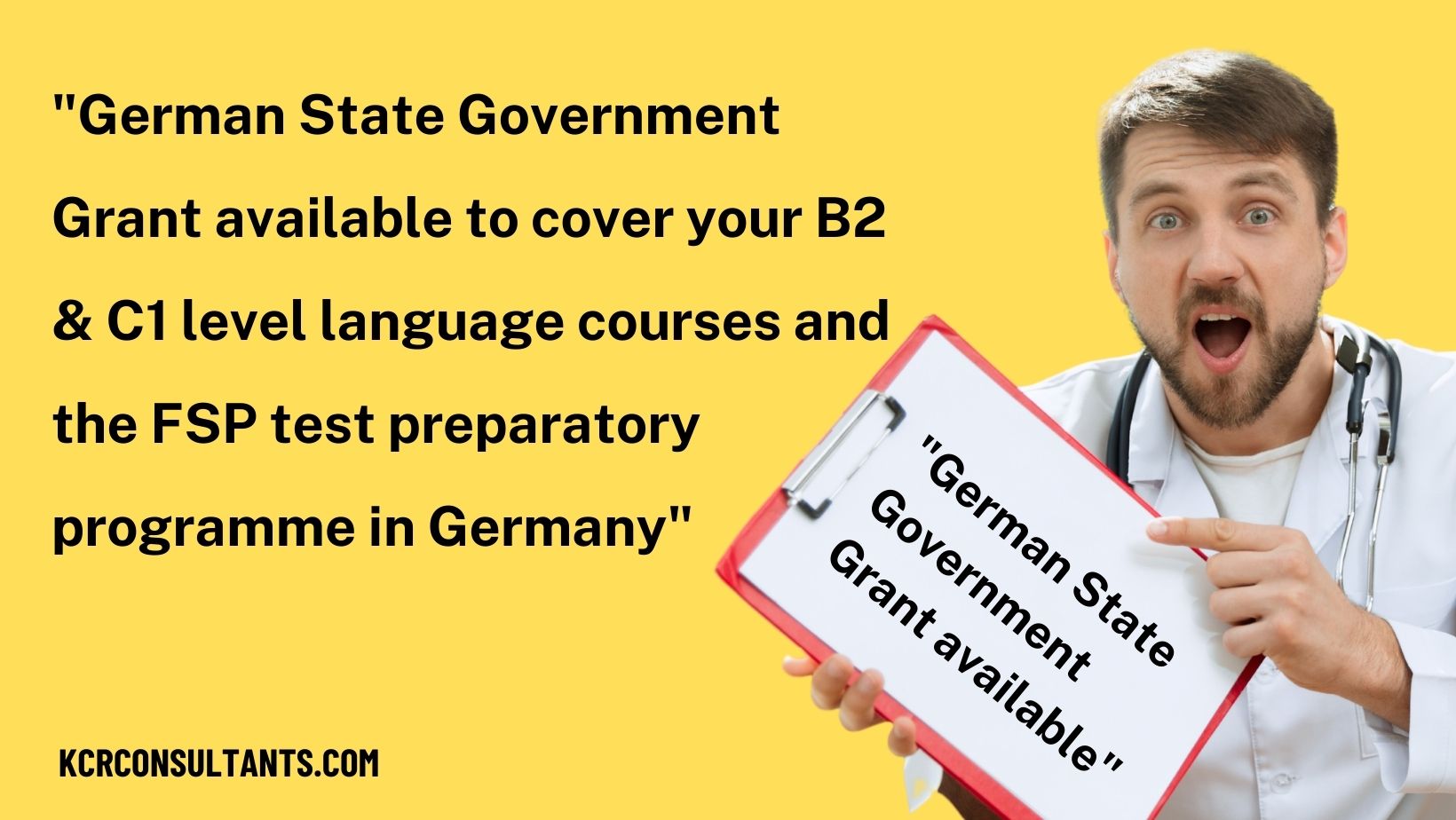 The easiest, simplified, and straightforward process to qualify for a PG medicine programme in Germany!
If you have already decided to pursue PG medicine in Germany, and are looking for a pathway that is not much complicated and easy to follow, then it's worth reading below.
As one should be licensed to practice medicine before applying for a specialisation in a desired field of medicine in his / her home country, the first step in Germany too should be, applying for a medical license in a state medical council / Landesamt.
So that the  pathway and the stages of the process to follow here is;
Contact us and discuss the plan in detail.
Take a decision and start learning German.
Simultaneously, prepare to apply for registration and lodge your application at a German Landesamt still in your home country.
Keep learning German until you are ready to leave for Germany. 
If you can achieve B1 level German would be good, so that you can start a B2 level German course straight away as soon as you have arrived in Germany. 
This will help you a lot in improving your German skills to qualify for your FSP preparation and also to follow the preparatory course successfully.
Please note, German consulates expect foreign educated doctors have at least A2 level language skills while applying for a visa.
Once the application process at the German Landesamt is completed, a decision letter will be issued and sent to your home address. So that you will receive this letter much before applying for your visa in a German consulate in your country.
This enables you to submit the Landesamt decision letter too at the consulate and that may help to establish your intention at the consulate and thus your application is strong.
If the Landesamt decision letter is a deficit letter then it generally will refer to:
 t

he

 doctor applied for a professional license.

the applicant needs to pass the FSP exam to prove your  German skills

to prepare for the FSP exam you can join a preparation course to reach the required language level

you will receive a professional license after passing the FSP exam
Please note: 
If you have graduated from an EU university then the letter will be asked only to pass the FSP for an approbation. 
The knowledge test is waived for those foreign doctors who have graduated with a medical degree from a university based out of a European Union (EU) country.
Here, by following this pathway you will know well in advance about the Landesamt's decision and its suggestions to overcome the deficiency.  
In general, the decision will be either to sit and  pass the FSP test to meet the medical language criterion alone or to pass the FSP and then attend the Kenntnisprüfung ( Medical knowledge test ) known as KP.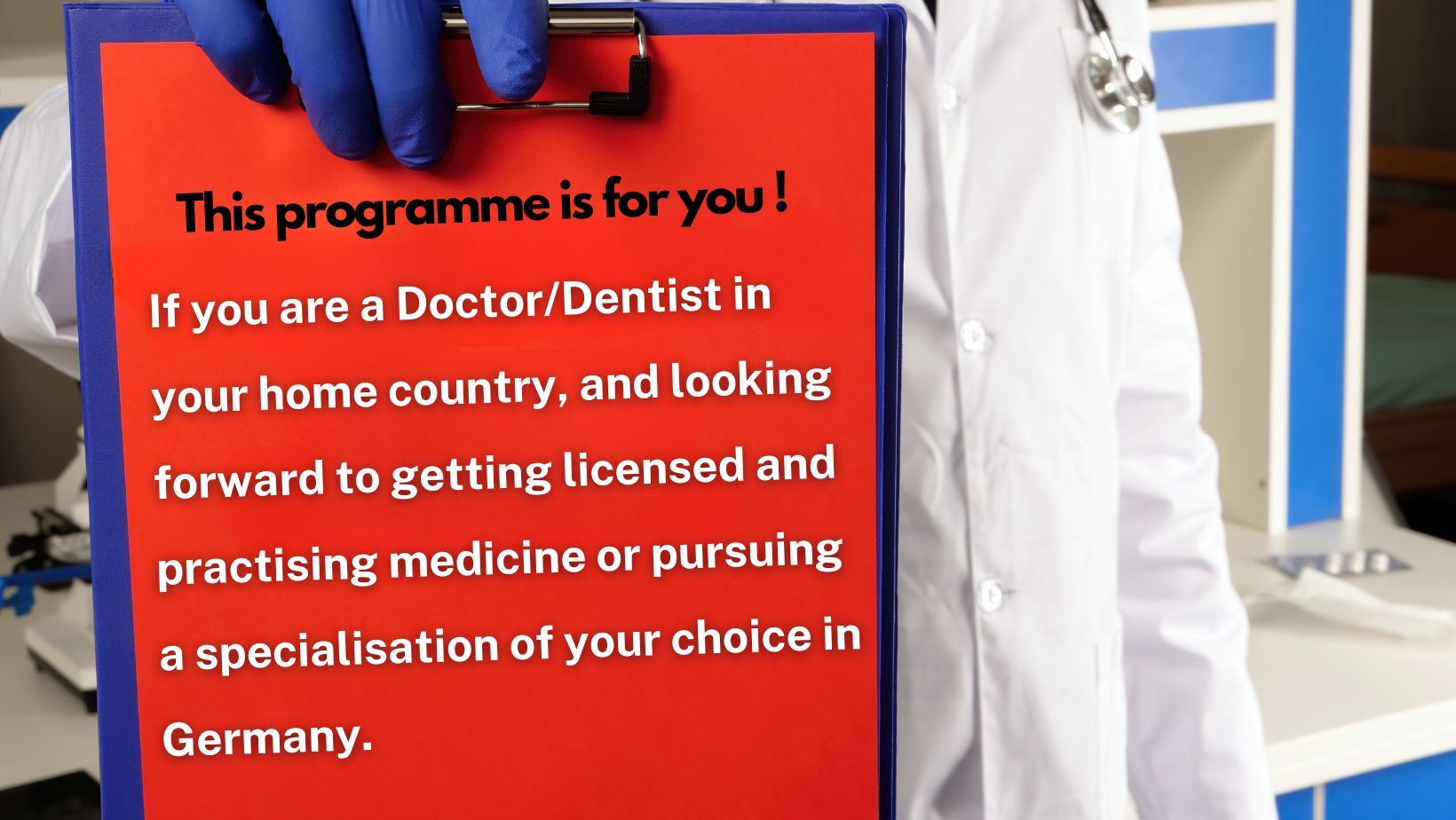 The best package to choose to pursue PG medicine in Germany!
The language learning package here in this pathway could be even starting with A1 level for those with zero levels German. 
But as per the visa conditions in German consulates, many countries foreign doctors should be at least at A2 level to apply for a visa.
If you know German already, then your course starts from the next level, i.e.; those who arrive with B1 level start with B2 level, and then progress on to the FSP preparation. 
What makes this package most attractive is, the major part of the programme's cost is covered by a German Government Grant available for qualified foreign educated doctors, who are interested to work in Germany!
For example, the total cost of the programme, which includes German language courses from  A1 – C1 + the FSP preparatory and other services is approximately 11700.EUR. 
The Grant amount could be approximately  7,700.EUR
That means the net cost, that you need to pay,  is just 4000.EUR
Here again, consider that your German level is A2 Level, and then 800.EUR per level for A1 & A2  are reduced from the above said 4000.EUR.
That makes the actual money you need to pay for the programme to 4000 – 1600, just  2400.EUR!
Don't you think it's attractive?
So what's the delay now, contact us if you have the below documents for a preliminary assessment.
Recently updated CV
Registration 
Proof of internships and practical training
Medical degree and transcripts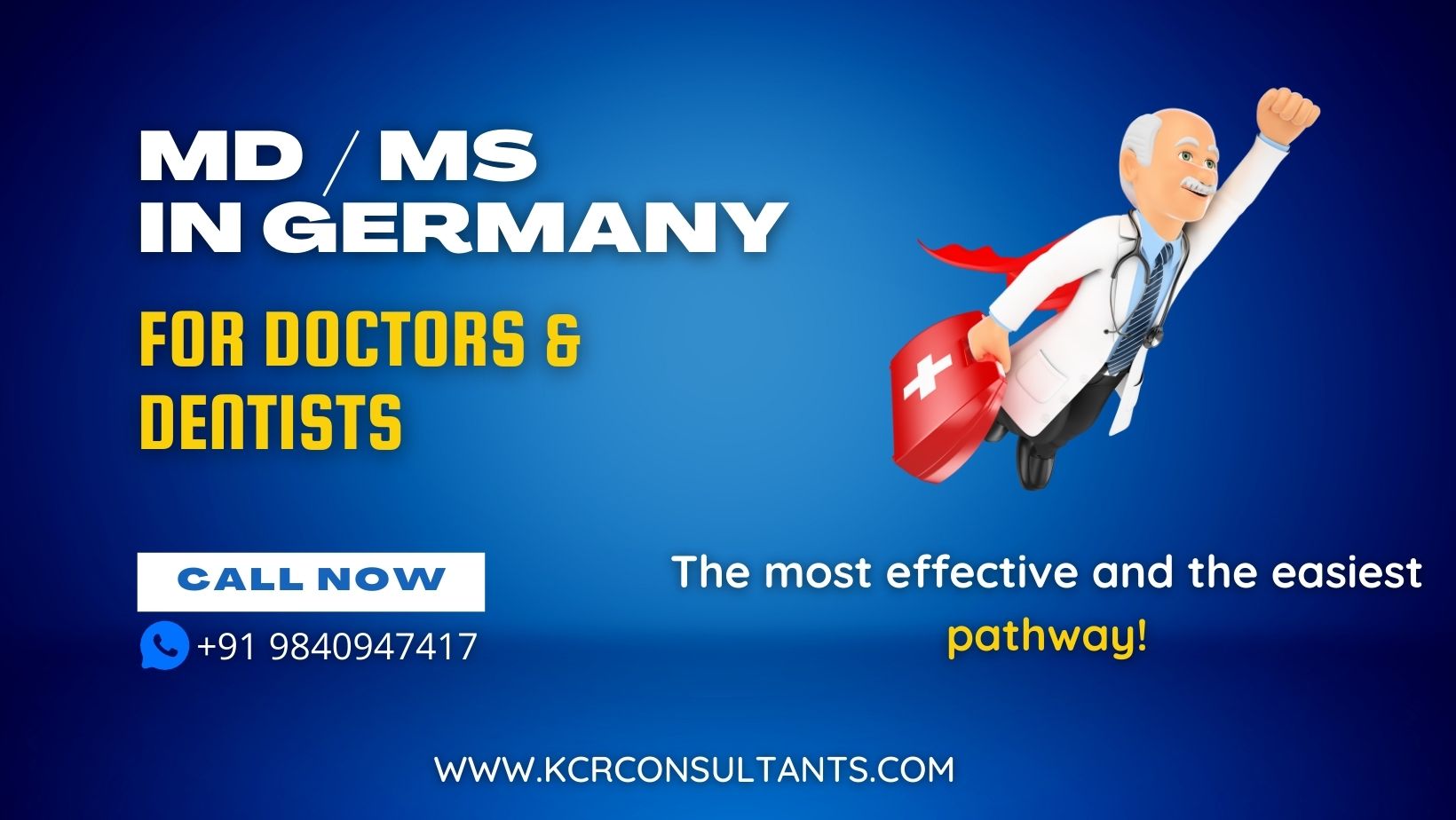 Related Article: PG Medicine in Germany after MBBS 
P.G. Medicine and Dentistry in Germany
This programme is for you if you are a Doctor/Dentist educated in your or a foreign country
Open from 8am - 8pm Monday - Friday
Fill out the form below to receive expert advice and guidance.