INTRODUCTION
The Ansbach University of Applied Sciences, commonly referred to as Hochschule Ansbach is a prestigious institution of higher education is dedicated to providing experiential learning opportunities that enable students to acquire the necessary abilities and information crucial for attaining success in their chosen areas of specialisation.
The University has a student body of more than 3600 individuals who are enrolled in a total of 19 undergraduate and 17 graduate programs.  
MISSION STATEMENT
The aim of Ansbach University is to give students a great academic education that will help them succeed in their future paths. It promised individual attention.
The University believes that education is a creative process that should help individuals develop their talents and gifts by teaching them information, skills and how to act in a responsible way. Creative thinking and knowing how to use it well lead to useful results. It wants to help students reach these goals not only for their own good but also for the good of society as a whole.
It values social variety and diversity and doesn't let any kind of discrimination happen.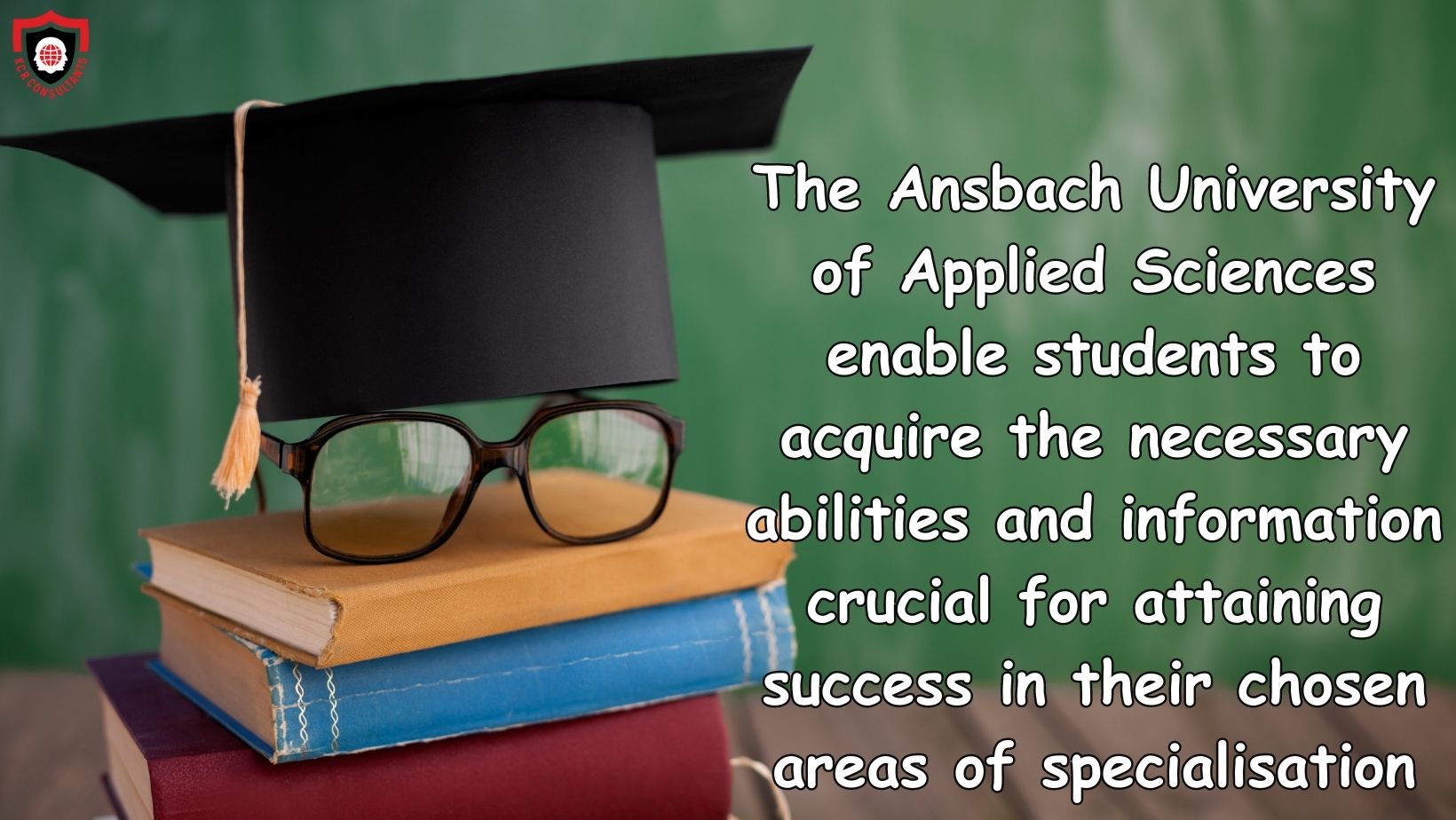 THE FACULTIES AND PROGRAMS OFFERED
Ansbach University of Applied Sciences features three distinct faculties
Faculty of Business
Faculty of Engineering
Faculty of Media
Bachelors
Applied Engineering
Applied Polymer Technology
Applied Business and Media Psychology
Business administration
Biomedical Engineering
Data Protection and IT Security
Industrial Biotechnology
Intercultural Management
International Management (top athletes)
Artificial Intelligence and Cognitive Systems
Multimedia and Communication
Sustainable Engineering
Production Management for Film and TV
Specialist Journalism
Strategic Management
Visualization and Interaction in Digital Media
Value Creation Management
Business Informatics
Engineering and Management
Cooperative study options
 Masters
Applied Artificial Intelligence and Digital Transformation
Applied Biotechnology
Applied Research in Engineering Sciences
Data Governance and Ethics
Digital Learning
Digital Marketing
Energy Management and Energy Technology
Innovation and Entrepreneurship
International Product and Service Management
Creative Management
Leadership
Media effects and media psychology
Multimedia Didactic Design
Multimedia information and communication
Multimedia media production
Public Relations and Corporate Development
Smart Energy Systems
Sustainable Building Systems
Engineering and Management
Cooperative study options
RESEARCH OPPORTUNITIES IN ANSBACH UNIVERSITY OF APPLIED SCIENCES
Ansbach University provides its students with an extensive range of chances for application-oriented research, the learning of new information and the spread of technological advances.
The results of basic research are put to use to identify solutions to specific problems through close collaboration with partners from various sectors, including business, society and politics.
Application-oriented research is said to play a significant part in fostering the growth of technological, economic, social and societal developments, as stated by it.
Research Focus
The university has a Research focus on Smart and Green Engineering, Digital Spaces, Data Science, Data Science and Business Modeling.
Smart and Green Engineering
Efficient energy generation, storage and conversion represent critical concerns within contemporary industrial contexts. Additionally, enhancing surfaces, materials and products for greater innovation is a pivotal research endeavor.
Similarly, the imperative of fostering sustainability within the realm of construction has garnered paramount attention.
Thus the objective of Smart and Green Engineering is to engage in systematic inquiry to address these multifaceted inquiries.
This Research gives profound consideration to devising methodologies for energy optimization, encompassing diverse sources and exploring novel approaches to harnessing, storing and converting energy.
Data Science, Data Science and Business Modeling
The research focus on smart data, AI and data-driven business models spans diverse domains. Significant aspects include embedded systems, robotics, data science and machine learning.
Embedded systems merge hardware and software for intelligent operation.
Robotics investigates autonomous machines, reshaping automation and interaction.
Data science involves rigorous analysis for decision-making.
Machine learning, a subset of AI, enhances systems through experience.
These terms reshape industries via data-centric strategies, optimizing operations and fostering innovation.
Digital Spaces
Today's digital transformation induces societal shifts, prompting inquiries into its implications for individuals, education, labor and recreation. The research focus on Digital Media and Digital Society confronts the intricate challenges and prospects of digitization in our daily existence.
This multifaceted area delves into how digitalization influences societal dynamics, educational paradigms, occupational landscapes and leisure pursuits.
The exploration of this landscape aims to unravel the intricate interplay between technology and society, deciphering the evolving contours of modern life amid the digital era's complexities and transformations.
CAMPUS FACILITIES IN ANSBACH UNIVERSITY OF APPLIED SCIENCES
Studios
The Campus provides well-equipped studios for students, such as a Photo, Recording and TV studios. The Students can do their experimental and practical studies here.
Photo studio serves as a primary visual medium employed in the fields of journalism, documentation, advertising and communication.
The Recording studio is equipped with an advanced facility featuring a structure housing two state-of-the-art control rooms.
The TV studio equipped with the utilization of Chroma key technology enables the creation of visual content against virtual 3D backgrounds.
Libraries
The campus library is equipped with comprehensive collections of scholarly journals and a wide array of other academic resources.
Using eduVPN, students can access digital resources from home, including e-books and databases.
In addition, it provides postal delivery services as well.
Lecture Halls and Classrooms
Ansbach University of Applied Sciences distinguishes itself by providing cutting-edge lecture halls and classrooms that satisfy the changing demands of both students and educators.
Each lecture hall has been carefully equipped with cutting-edge technology, allowing for seamless presentations and engaging discussions. The integration of audio-visual aids ensures that complex concepts are conveyed effectively.
The lecture halls may easily be converted into rooms suitable for workshops, seminars, or guest lectures, encouraging a sense of flexibility that is consistent with the wide range of academic activities.
Professors can interact with students in an environment that encourages successful dialogue and knowledge exchange.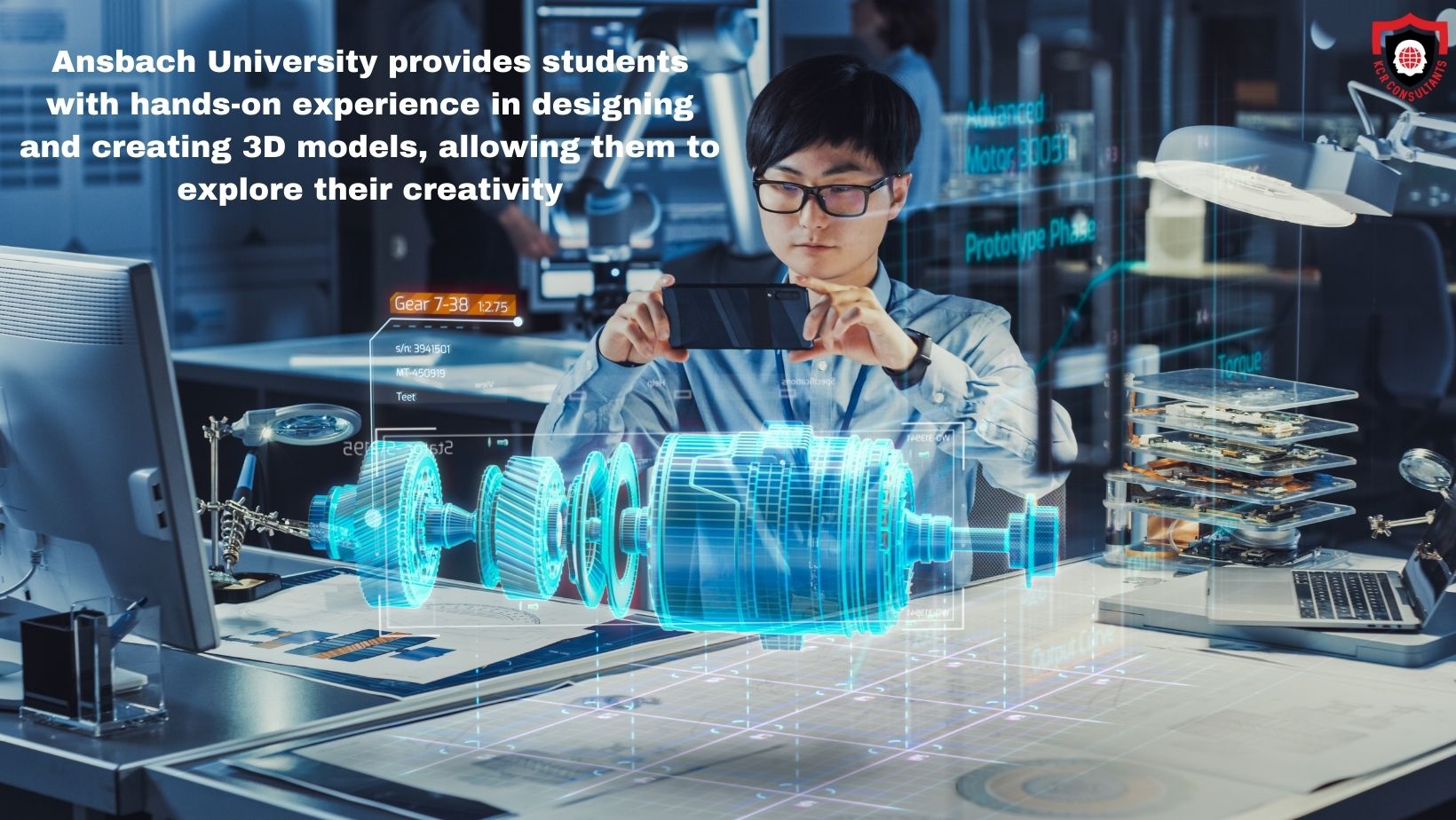 3D Labs
The Campus offers 3D Labs for students. It provides students with hands-on experience in designing and creating 3D models, allowing them to explore their creativity and enhance their technical skills.
Some of the equipment that is in 3d labs are,
Bluebox with ceiling-mounted lighting system and groove
HDRI Equipment's and panorama photography Equipment as well as photogrammetry Equipment
Virtual Reality glasses, 3D printers, video cameras, texture database 360-degree action cams and more
Laboratories
The campus provides an extensive number of cutting-edge laboratories and technical infrastructure, which play an important role in helping both teaching and joint research initiatives in the fields of economics and technology.
Sports Facilities
The university provides sports facilities, such as gyms, sports fields and recreational areas, where students can participate in sports activities and stay physically active.
Some of the Sports facilities are,
Treadmill
Stadiums
All kinds of sports (football, basketball, etc.)
Cafeteria
The ground-floor building has a cafeteria with more than 300 seats. The dining hall of the Cafeteria provides an open view of the university through its expansive glass front.
The university cafeteria offers a diverse range of food options to cater to the food requirements and preferences of both students and staff.
This includes three meals served daily, a salad bar and a choice of local drinks.
Student Services
The institution provides its students with a wide variety of services, some of which are administrative offices, counselling services, start-up counselling and more.
The start-up advisory service offers a variety of services, encompassing various events, advising sessions, educational formats, a diploma programme and the opportunity for a start-up free semester.
Another service offered by the institution is the Career Service, which serves as the primary platform for students to engage with practical experiences. This programme provides assistance to students and recent graduates until they secure their initial employment.
The university offers personal counselling and video counselling as well.
Events
The University often organises a variety of doctoral seminars, Academic celebrations, Events for Women and Girls, Practical days and MINT events, which are a combination of mathematics, computer science, natural sciences and technology.
Some of the events are,
Academic celebrations– The University celebrates honorees of prizes and notable accomplishments during an academic evening.
Some of the honorees are Former Minister of State Dr. Thomas Goppel, MdL, Prof. Dr. Elmar Forster, Dr. Ingo Friedrich, former Vice-President of the European Parliament and President of the European Economic Senate etc.
Practical days- Students will have the opportunity to get acquainted themselves with various companies, establish a personal network and acquire additional practical knowledge.
INTERNATIONALISATION AND STUDENT EXCHANGE PROGRAM
Ansbach University of Applied Sciences has many programs to support Internationalization, some of the programs are mentioned below,
Outgoing Exchange Students
The university provides students with opportunities to get international experience, either through participating in a study visit or engaging in an internship abroad that is relevant to their field of study.
Some of the programs offered,
Study semester at a partner university
Study-related practical training with an international company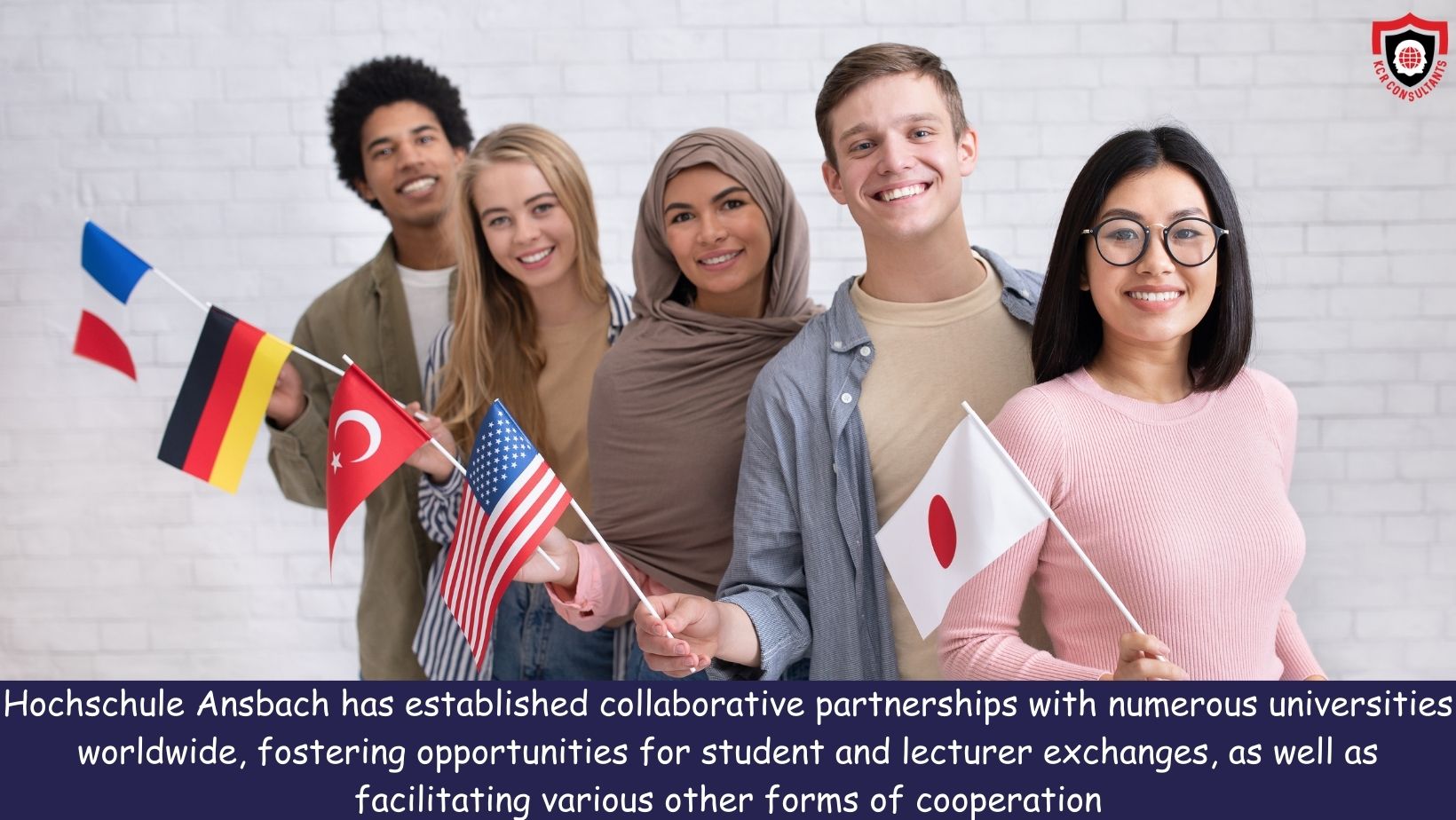 International Partnerships
The University has built partnerships with several universities across the globe. The collaboration encompasses a range of initiatives, including the exchange of students, the exchange of lecturers and the exchange of non-academic staff inside the university.
Some of the partner universities are,
Finland's Seinäjoki University of Applied Sciences (SEAMK)
Russia's Peter the Great St. Petersburg Polytechnic University
India's Anna University
Kazakhstan's Kostanay Engineering and Economics University
Australia's International College of Management
USA's University of North Carolina Wilmington (UNCW)
Canada's Vancouver Island University
Incoming Exchange Students
Ansbach University of Applied Sciences extends a warm invitation to both international students seeking to pursue a comprehensive degree program and exchange students from partner universities worldwide who intend to study at this campus for a limited duration of one or two semesters.
The university welcomes,
International degree-seeking students
exchange students from partner universities
Language support
Ansbach University of Applied Sciences provides language support for international students. The provided support involves language classes and workshops specifically tailored to enhance students' skill in the German language.
Students can find the language courses in PRIMUSS.
The language course has SPC which offers TOEIC, DAAD, and LCCI
Some of the languages offered are,
German
English
Spanish
Chinese
French
Italian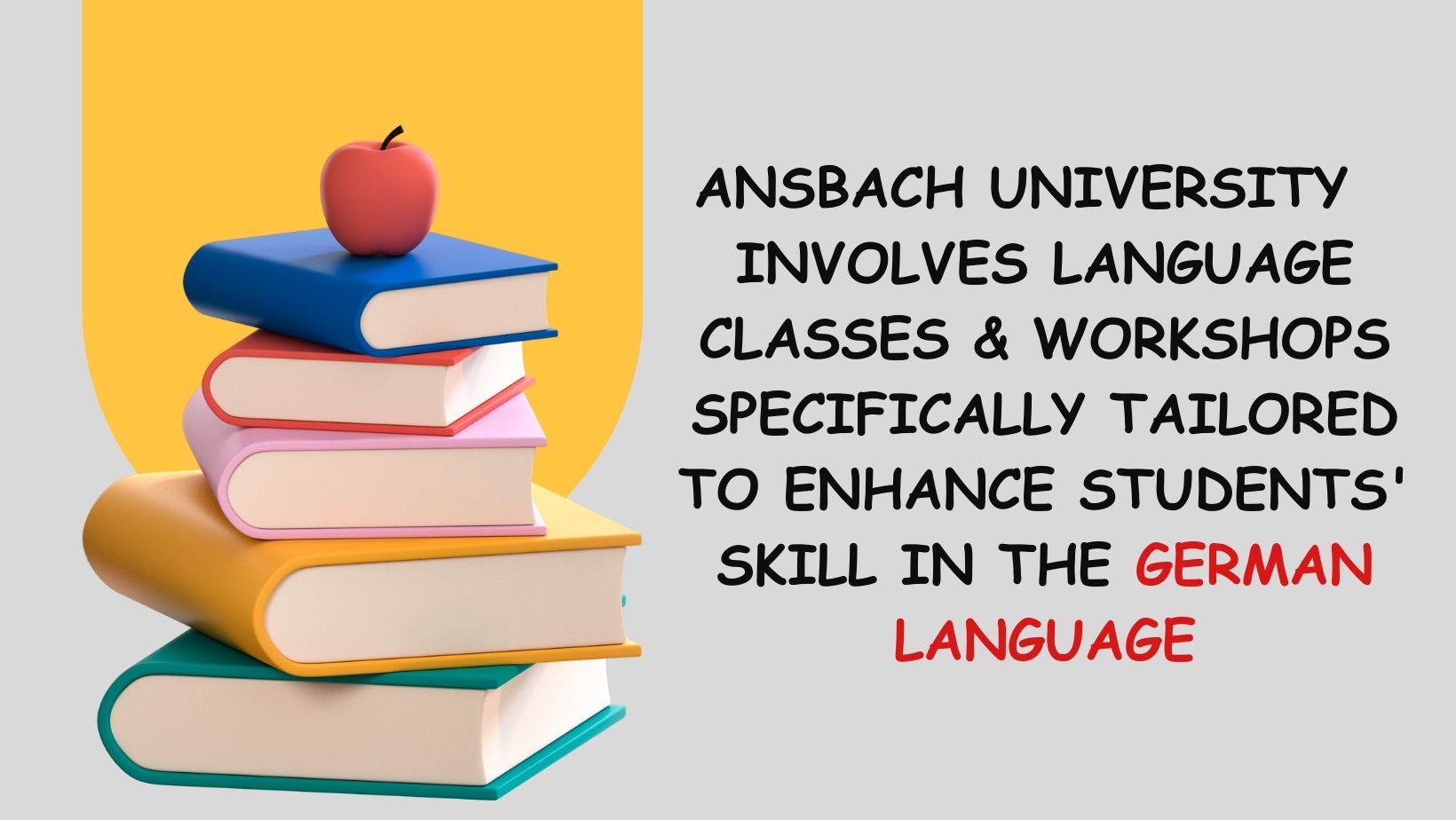 Erasmus+ Program
The Campus also has the Erasmus+ program, which gives students the opportunity to complete their education at one of its partner universities located anywhere in Europe.
Some of the Programs offered are,
Study periods abroad (SMS)
Practical Training (SMP)
Stays for teaching purposes of university staff (STA)
Stays because of further education and for the training of university staff (STT)
Erasmus+ Funding
The University also provides Erasmus+ Funding program to offer monetary support to students who are willing to study abroad within Europe.
The Funding's are provided based on,
Student mobility for studies abroad – The allocation of funding is dependent upon variations in the cost of living across the respective nations.
Student mobility for internships abroad – The allocation of funding is dependent upon variations in the cost of living across the respective nations.
Funding rates for teaching and staff mobility – The allocation of funding is dependent upon variations in the cost of living across the respective nations.
Reimbursement of travel expenses – Travel expenses are dependent upon the actual distances between the origin and destination of the journey, which are uniformly established across Europe through using of a calculation tool.
International Student Advisory Service
The program aims to provide comprehensive support and guidance to ensure that international students feel welcomed and supported throughout their time at the university.
Some of the services offered are,
Online Consultation – The virtual consultation session provided for international students offers them the chance to engage in discussions on the university and seek clarification on any uncertainties they may have.
Glossary – Glossary (a selection) for students comprises a selected collection of important and necessary German terminology related to the academic field, as well as those relevant to the pursuit of education and daily life in Germany.
TO SUMMARISE
The Ansbach University of Applied Sciences, often known as Hochschule Ansbach, is a highly esteemed institution of higher education situated in Ansbach, Bavaria, Germany.
Ansbach University believes that education is a creative process that should help individuals develop their talents and gifts by teaching them information, skills and how to act in a responsible way.
The Campus values social variety and diversity and doesn't let any kind of discrimination happen.
Ansbach University provides a diverse array of chances for conducting research with practical applications, acquiring knowledge and transferring technology.
Using eduVPN, students can access digital resources from home, including e-books and databases on Campus.
The university provides students with opportunities to gain international experience.
Ansbach University of Applied Sciences also has the Erasmus+ program.