INTRODUCTION
Alice Salomon University of Applied Sciences Berlin (ASH Berlin), founded in 1971, honors the legacy of social reformer Alice Salomon. It's a prestigious higher education institution.
The University holds the title of being Germany's oldest and largest institute for higher learning in the field of social work.
The university is generally recognized as one of the prominent universities of applied sciences in Germany, namely in the social sector, and is noted for its significant focus on research. 
The institution places its emphasis on the fields of social work, health, and early childhood education. The institution provides a wide array of programs and is dedicated to delivering hands-on instruction and academic excellence in these disciplines.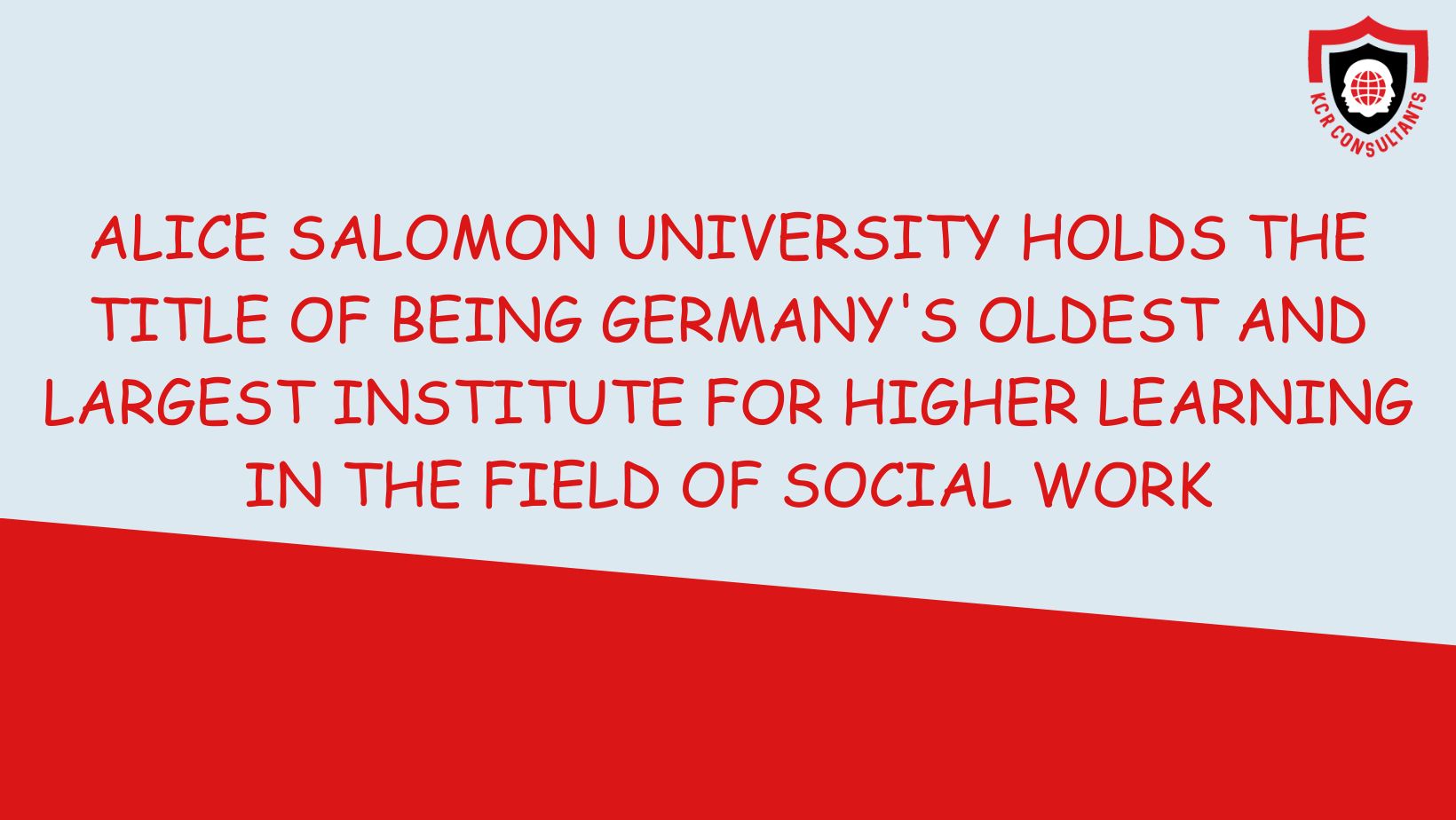 MOTTO OF ASH BERLIN
The primary objective of ASH Berlin is to provide students with the necessary skills and knowledge to pursue fulfilling professional paths within the social and healthcare domains.
This educational institution places significant emphasis on fostering a deep sense of dedication to social justice and community engagement.
MISSION STATEMENT
The mission statement of ASH was formulated by the Commission for planning and Development, which ensured the representation of all status groups.
The aforementioned statement serves as the foundation for the implementation of a comprehensive and future-oriented quality management system at Alice Salomon Hochschule Berlin.
LEGACY OF ACADEMIC EXCELLENCE
The Alice Salomon University of Applied Sciences upholds the legacy of the organizations founded by its founder, Alice Salomon, including the "Social School for Women" and the "German Academy for Social and Educational Women's Work."
The study programs provided now continue to uphold the core components of interdisciplinary, strong integration between theory and practice, and an international focus as the most significant concepts.
THE DEPARTMENTS AND THE PROGRAMS
Department of Social Work
 This department focuses on social work, social pedagogy, and related disciplines, aiming to equip students with the knowledge and skills to address social challenges and promote social justice.
Bachelors
Masters (Consecutive)
M.A. Practical Research in Social Work and Early Education
M.A. Social Work – Critical Diversity and Community Studies
Department of Early Childhood Education
In this department, students receive education and training in early childhood education, emphasizing the importance of early childhood development and pedagogy.
Bachelors
B.A. Early Childhood Education
B.A. Management and Care in Health Sector
B.A. Healthcare and Nursing Management
B.Sc. Physiotherapy/Occupational Therapy
Masters (Consecutive)
M.A. Management and Quality Development in the Health Sector
M.A. Public Health
Master's Program for Further Education
M.A. Child Protection
M.A. Clinical Social Work
M.A. Sustainable Development and Early Childhood Pedagogy
M.A. Social Work as a Human Rights Profession
M.A. Biographical and Creative Writing
M.A. Intercultural Conflict Management
M.A. Social Management
RESEARCH OPPORTUNITIES
Students have access to a wide variety of research opportunities at Alice Salomon University of Applied Sciences. The growth of the institution is largely attributable to the contributions made by the research department.
The University offers financial support for its many research activities. In addition, it also received funding for its research projects.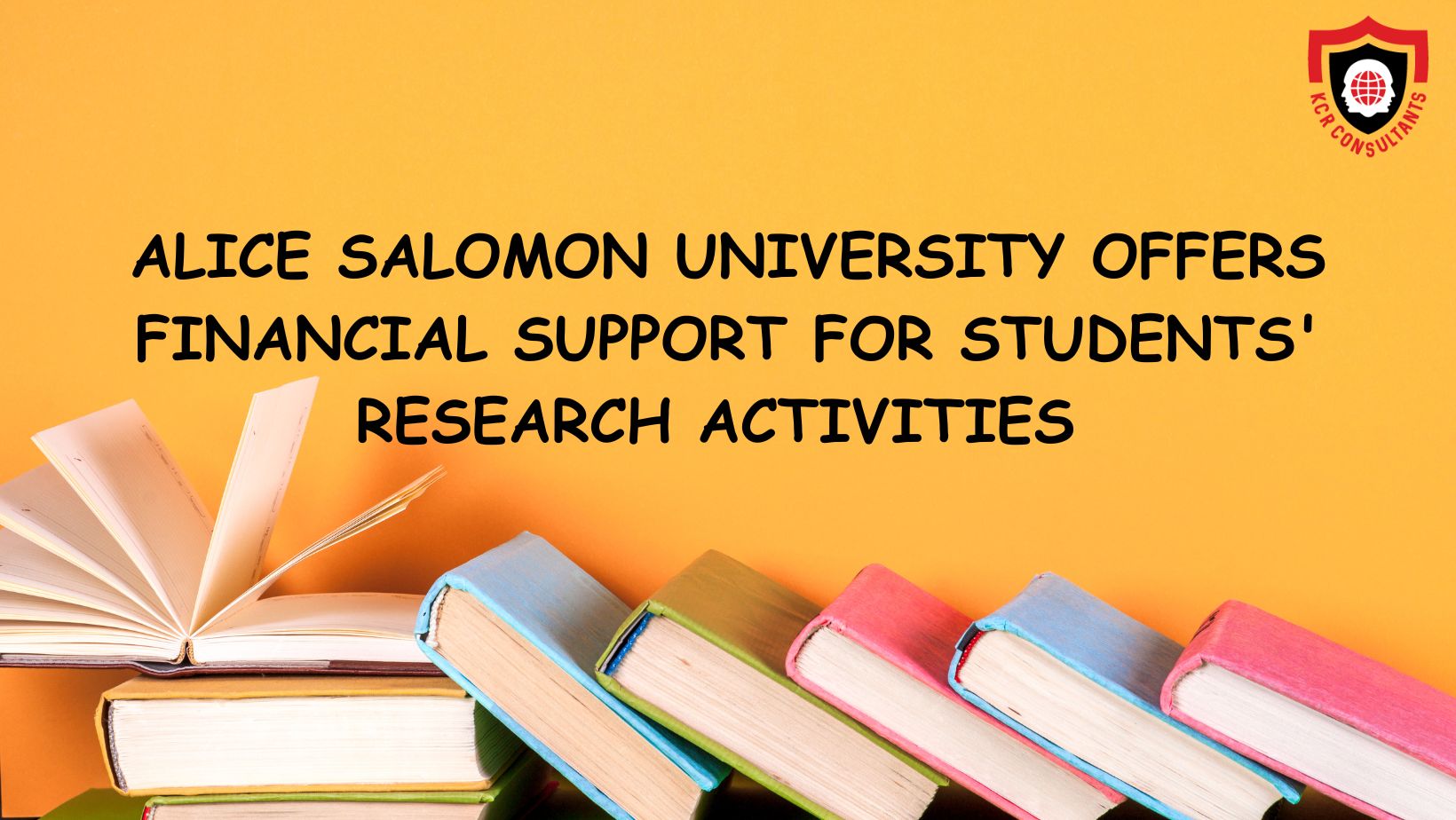 RESEARCH FOCUS
The university conference covers a wide variety of research topics. The following is a list of some of the main fields of research:
Health and Healthcare Research
Research in the field of health and healthcare establishes the scientific groundwork for the progressive advancement and resource-efficient management of the healthcare industry, with a focus on patient and user-focused actions.
This Research Focus analyzes both the structures of everyday life as well as the difficulties that are associated with them, and as a result, it contributes to the offering of high-quality care for the entire population.
Many of the research activities are interdisciplinary or involve people from different professions.
Some of the Research Projects:
Cancer and Poverty- This study aims to examine whether there are variations in the care pathways of oncology patients based on factors such as age, gender, and socio-economic status, and how these variations may impact their overall survival rates.
Another focus is to do an analysis of the socio-economic implications of cancer on individuals who are impacted by it.
EyeTrack4all- The objective of the EyeTrack4all project is to investigate the challenges associated with utilizing gaze control in augmentative and alternative communication, as well as explore potential strategies for resolving these challenges.
Social Work Research
This area of research concentrates on conducting detailed research studies, such as those of assisted apartment-sharing communities for senior citizens in need of care, the transition from permanent institutional living to intensive care for people with disabilities, quality management in child protection, and the effects of war and National Socialism.
The primary focus of social work research is the advancement of the field and profession through theory-based development. This study examines and evaluates the requirements and benchmarks related to understanding others, promoting inclusion, and facilitating involvement.
Finally, the examination of perspectives and methodologies of (self-)reflection is conducted within the framework of professional ethics.
Some of the Research Projects:
DEFA- This study evaluates the democratic orientation of individuals residing in the district by analyzing their level of order, commitment (including political interest and engagement), values, and personality traits. Additionally, it explores the susceptibility of these individuals to engage in anti-democratic behavior.
ElfE- The objective of this study was to investigate differences in health among families, specifically focusing on parents with pre-school children as peers. The overarching aim of promoting health equity in the early stages of life is inherent in the overall objective.
Education Research
Within this specific field of study, the research endeavors mostly concentrate on contemporary breakthroughs in the realm of early childhood education, alongside the professional growth and development of educators operating within a global context.
Some of the Research Projects:
GuT- The objective of this project is to enhance the existing findings by offering experimentally validated data on the health attributes, as well as the specific occupational challenges and resources faced by preschool workers.
This analysis will consider both personality traits and structural factors.
NaBi KiKS- The primary objective of the project is to implement the concept of child-centered natural scientific activity, as influenced by the Kinderforscherzentrum HELLEUM, inside various institutions such as child nursery centers, schools, and child and youth facilities within the region.
CAMPUS FACILITIES AND RESOURCES AT ASH BERLIN
There are many Campus facilities available at Alice Salomon University of Applied Sciences. Some of them are noted below,
Libraries
The institution has a library facility. The main purpose of this facility is to function as an academic library, providing resources for academic activities such as studying, teaching, research, and professional development. 
It provides a quiet and conducive environment for studying and accessing information, with dedicated spaces for group work and individual study.
IT Centre
ASH Berlin has an Information Technology Center. It is responsible for developing all information and communication networks on the campus as well as providing support for those networks.
Its Information Technology Center stands as a pivotal hub for the institution, overseeing the comprehensive development and management of information and communication networks across the campus.
Wifi Facility
The Campus has the wifi facility Education Roaming (eduroam), which has been available at the campus to all members of the university.
Eduroam stands as a beacon of modern connectivity, enabling seamless wireless internet access for students, faculty, researchers, and staff, regardless of their location within the campus.
Observation Laboratory
The observation laboratory at the university serves as a facility for both research and educational activities.
Equipped with state-of-the-art technology and cutting-edge tools, researchers from diverse fields can conduct empirical investigations, gather data, and analyze their findings.
Cafeterias and Dining Halls
It is a popular place for students to meet up between classes and grab a quick bite to eat. Students at the university receive a Campus Card, which lets them buy anything in the Café.
Sports Facilities
Students can engage in sports and maintain an active lifestyle by taking advantage of the university's gyms, sports fields, and recreational areas.
One of the Sports facilities offers a movement room where relaxation and exercise programs happen.
Another facility it offers is sports equipment rental, where students can rent sports equipment that they need.
Support Services
The University provides support services to the students. These support services include academic advising, career counseling, and mental health resources.
Some of the support services are,
Alice Barrier-Free – The University gives support to the people with disability, chronic illnesses and/or mental impairment in Studies and work.
BAfog – It is a German State Student Grant Loan which offers student loan, scholarships and many other financial support.
Workshops
The campus organizes workshops for students, aiming to elevate their learning experience and provide them with essential skills for future pursuits.
The facility boasts numerous classrooms dedicated to hosting workshops. A selection of these workshops includes:
Theater workshop – In addition to hosting workshops, the theater workshop room also extends the privilege to students of borrowing costumes, props, wigs, and an array of captivating objects for personal projects, events, workshops, presentations and set projects.
Aesthetic practice workshop – Here Students can dig into the world of design and artistic work, earning essential knowledge and abilities in the course of their studies.
Learning workshop – Serves as the primary location for seminars and interactive workshops, encouraging information exchange and collaborative learning.
Student Accommodation
ASH Berlin has a student dorm for accommodation. The student dorm provides a convenient and affordable housing option for students.
 It offers various amenities and facilities to ensure a comfortable living experience. Students can also search for private accommodations.
Photo Lab
The photography lab offers a range of services, including camera rentals, and guidance for upcoming projects.
It also provides workshops based on the topic of photography.
This resourceful lab supports students with practical tools and knowledge, enhancing their photography skills and helping them execute planned projects effectively.
Events
The University conducts many cultural events. These events are not only limited to traditional German culture but also include a diverse range of international cultural activities.
From art exhibitions to music concerts, ASH Berlin strives to create a vibrant and inclusive atmosphere for students and the local community to engage in cultural exchange.
Some of the events are,
International day
The SUBWAYS
INTERNATIONALIZATION AND STUDENT EXCHANGE PROGRAM OF ASH BERLIN
English taught programs
Because of this program, international students can study full-time at the Alice Salomon University of Applied Sciences in Berlin.
Some of the English taught programs are,
Social Work
Early Childhood Education
Physiotherapy/Occupational Therapy
Health Care and Nursing Management
Nursing
Inter-professional Health Care online
BASA Social Work online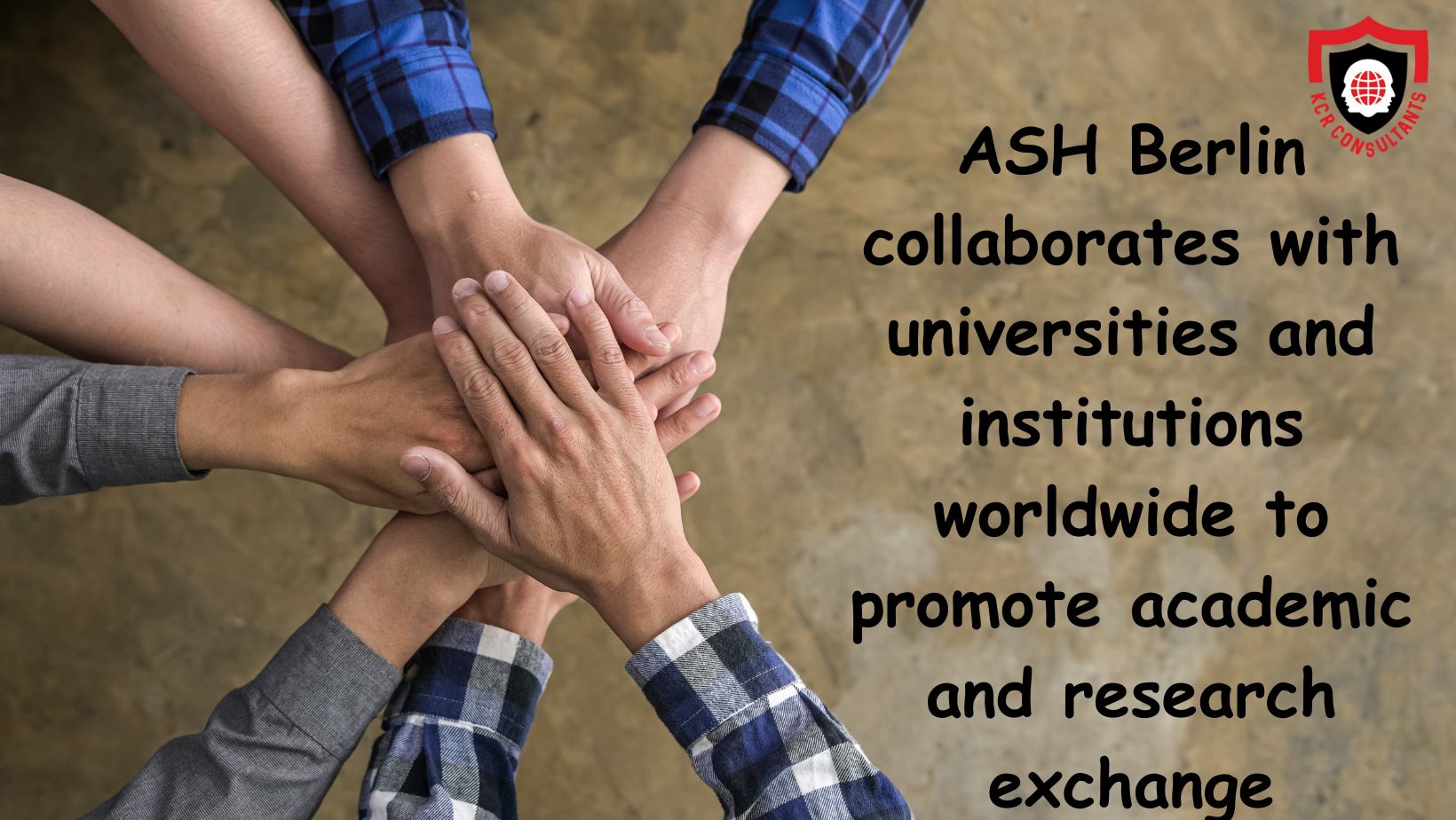 Language support
ASH Berlin provides language support for international students. This support includes language courses and workshops designed to improve students' proficiency in German.
The university offers one-on-one tutoring sessions to address specific language needs and help students integrate into academic and social life at the university.
Some of the programs offered are,
German (beginner to advanced level)
English (beginner to advanced level)
Arabic (beginner to advanced level)
German sign language (beginner to advanced level)
Kurdish (beginner to advanced level)
Spanish (beginner to advanced level)
Turkish (beginner to advanced level)
International Partnerships
ASH Berlin likely collaborates with universities and institutions worldwide to promote academic and research exchange.
Some of the partner universities are,
Argentina's National university Lanús – UNLa
Japan's Meiji Gakuin University
Mexico's Autonomous Metropolitan University (UAM)
South Korea's Soongsil University
Multicultural Environment
The university has a diverse student body and faculty, fostering cross-cultural learning experiences.
Students are exposed to a myriad of perspectives, beliefs, and ideas, fostering open dialogue and a deepened understanding of global issues.
Such interactions transcend classroom boundaries, enriching both academic and personal growth.
Student Exchange Programs
ASH Berlin has Student Exchange Programs. These programs allow students to study abroad and experience different cultures.
They provide opportunities for personal growth and the development of intercultural skills.
Some of the student exchange programs are,
Direct Exchange (Students can study at partner universities that are outside the Europe)
Free Move (Students at Alice Solomon University of Applied Science who want to independently organise a study abroad semester at a university that does not have a cooperation partnership with Alice Solomon University of Applied Science are referred to as Free Movers)
Erasmus (students can study within Europe)
Erasmus+ Program
ASH Berlin has an Erasmus+ program that allows students to study abroad at partner institutions within Europe.
Under this program, Bachelor's and Master's degree candidates who are fully enrolled at ASH Berlin can apply for scholarships to study at one of our partner institutions in other countries.
For this program, the Union's Mobility Program "Erasmus+" will provide the scholarship.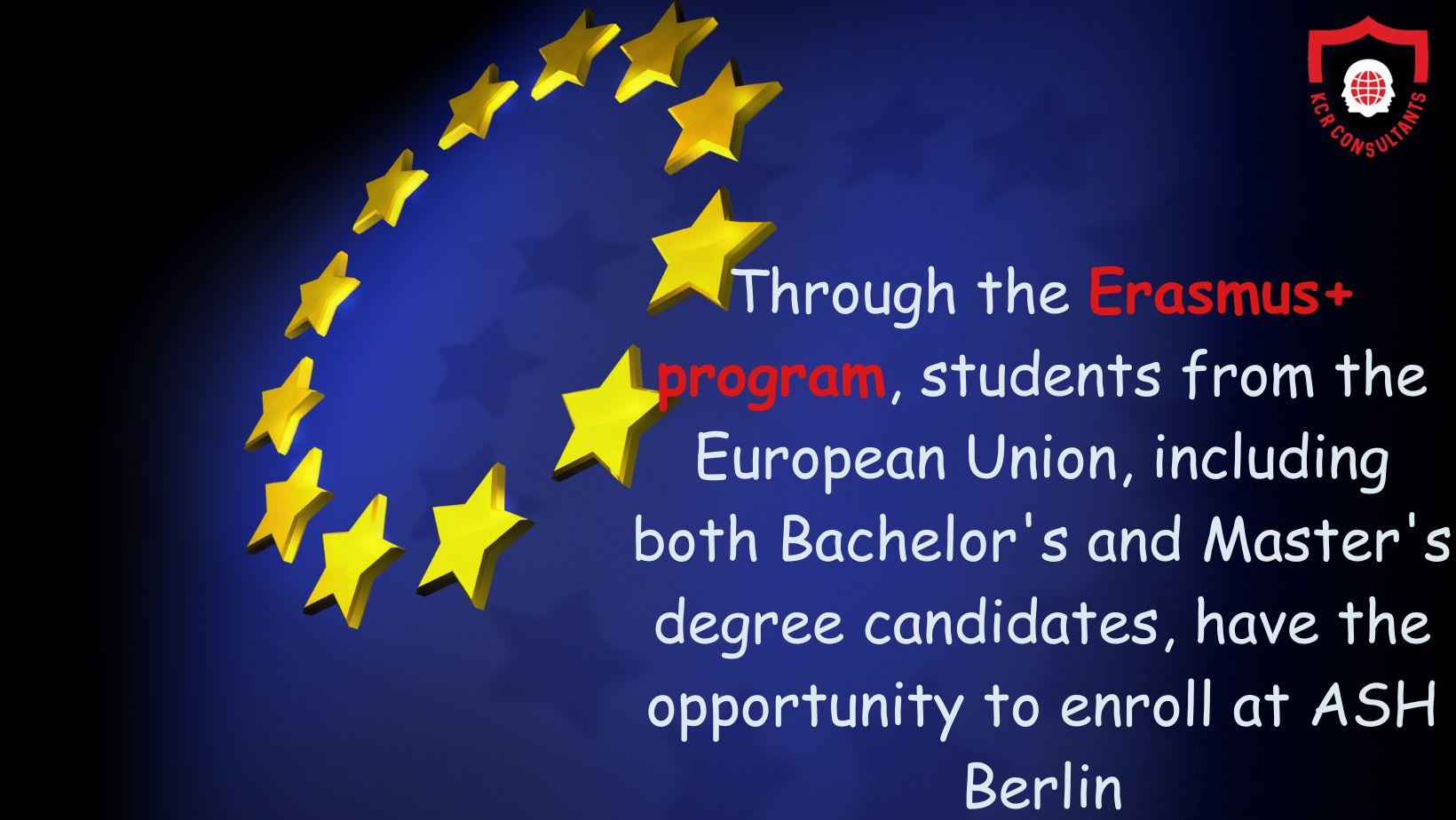 Funding
Students at ASH Berlin have the opportunity to apply for funding to support their internships abroad.
This funding is specifically designed to help cover expenses such as travel, accommodation, and living costs during their time abroad.
One of the Funding programs is PROMOS, which offers many scholarships for international students and for students who are interested in studying abroad.
TO SUMMARISE
Alice Salomon University of Applied Sciences Berlin also known as ASH Berlin, established in 1971.
The University holds the title of being Germany's oldest and largest institute for higher learning in the field of social work.
The study programs provided now continue to uphold the core components of interdisciplinarity, strong integration between theory and practice, and an international focus as the most significant concepts.
The university's conference covers a wide variety of research topics.
The university welcomes International students to study on its campus.
It also provides language support and cultural integration activities to help students succeed in their academic endeavors.