APS Certificate requirements for Indian Students

 
APS Certificate requirement is the latest for students while applying, for a visa to study at a German university, at visa office or German consulate in India. Not an all-new process for German Immigration, as this is an existing requirement in China and Vietnam, but shockingly new to the students from India!
Many thought APS Certificate was only for a few countries in which Germany's visa offices expected to deal with fake certificates and documents from many students while applying for a visa to study in Germany. 
Why APS Certificate?
Suppose you look at it from a different perspective of the requirement for APS Certificate . Why should we bother about it since we don't even think about risking our reputation and future on fake certificates or documents?
Whereas it's learned that by introducing the APS Certificate the workload of the visa offices of Germany is reduced and it helps to take quick decisions! If that's true, then it's most welcoming news to those thousands of young aspirants from India looking forward to studying at German universities.
Again, as per the German consulates and visa offices, half the job is done by APS India by introducing the requirement of an APS Certificate. After the certificate is completed, the German visa offices can act swiftly and decide on the applications in time. That makes the process uniform and transparent and saves everybody's time.

APS Certificate requirements checklist 
The required Documents list for APS certificate looks almost the same for all the levels of studies. Still, a few documents will be waived off or required according to the current qualifications of the applicant and the status of the admission letter received from the German universities. 
APS Certificate fees
The fee for the APS Certificate Germany is the same for all; 222EUR, equal to Rs.18000.00 and a payment report must be enclosed in the application along with other documents.
Documents required for APS certificate
A completed and signed application is the most important among the  APS certificate required documents. The form should be completed properly and duly signed.
But bachelor's degree students should provide additional documents, e.g.;
The pre-university qualifications like JEE primary and advanced if applicable and available.

TestAS passed certificate, core, and subject-based if not yet sat the JEE tests yet.
The introduction of the APS Certificate changes the attitude of Indian students intending to study at an institution in Germany. It makes applying for a visa to study in Germany serious, like how serious the studies and discipline they need to follow while in Germany!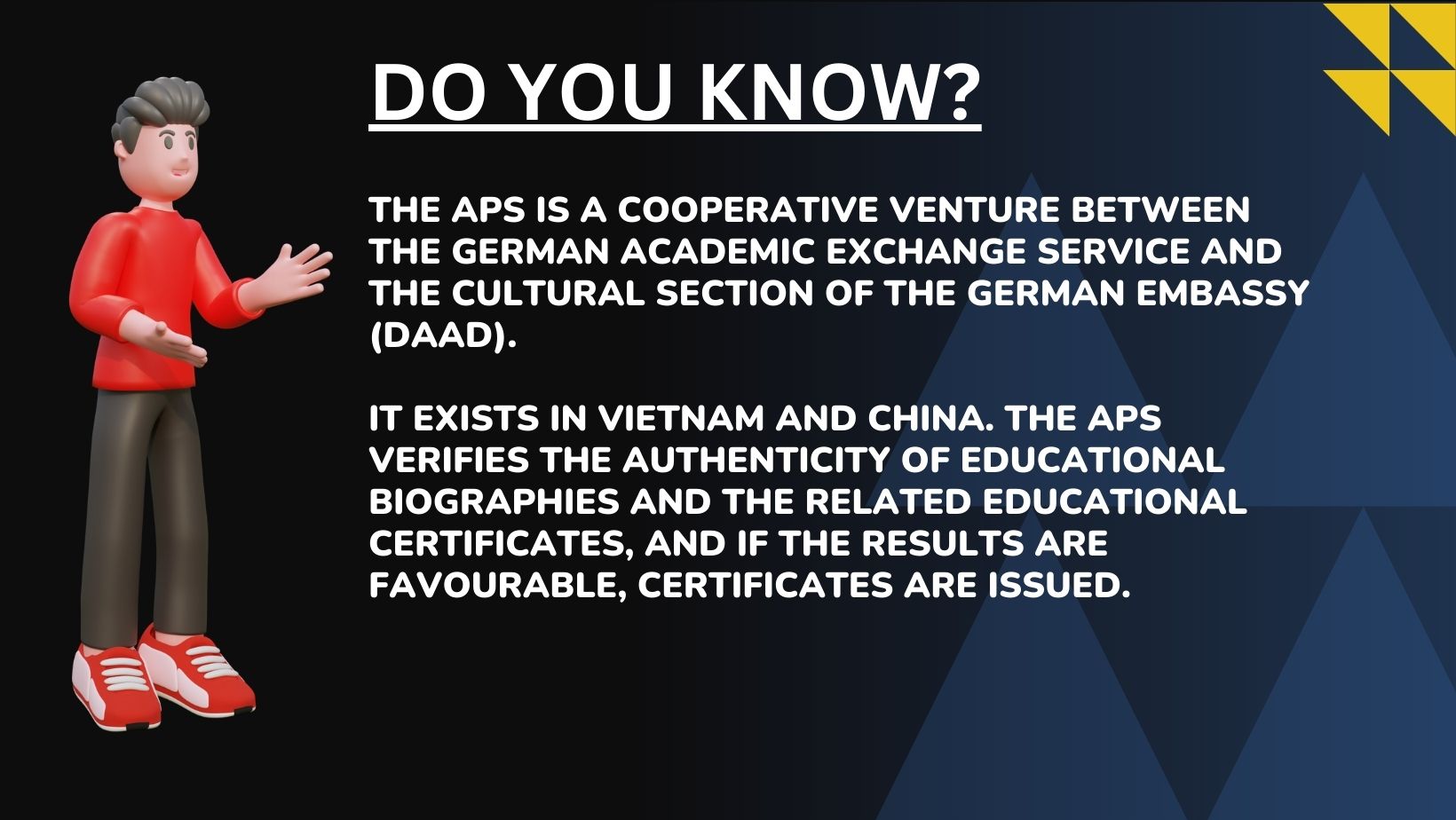 To know more, please read the following article