INTRODUCTION
The Academy of Fine Arts Dresden, situated in Dresden, holds the distinction of being one of the most ancient art academies in the nation. It is alternatively referred to as the Hochschule für Bildende Künste Dresden (HfBK Dresden) or simply HfBK.
Established in 1764, this institution boasts a storied past of furnishing education and guidance across a spectrum of artistic domains, encompassing painting, sculpture, graphic arts, and more.
Its historical significance is underscored by its pivotal role in shaping artistic movements within Germany, fostering creativity and experimentation.
Over the years, it has contributed to the formation of a lot of well-known artists and has had a big impact on the artistic community in Germany and beyond.  
VISION AND MISSION
The objective of HfBK Dresden is to ensure the upholding of artistic freedom and to support educational and research activities in the fields of art and science.
The Academy is dedicated to maintaining a mission that emphasizes liberal-mindedness, internationalism, freedom, creativity, and adherence to scientific methodology. HfBK Dresden aims to foster a renewed awareness of heritage and to conceptualize art and science as distinct yet interconnected systems of knowledge.
The academic institution encourages and fosters collaboration across disciplines in research initiatives involving both creative and scientific domains. At HfBK Dresden, artistic research is primarily seen as a means of artistic advancement.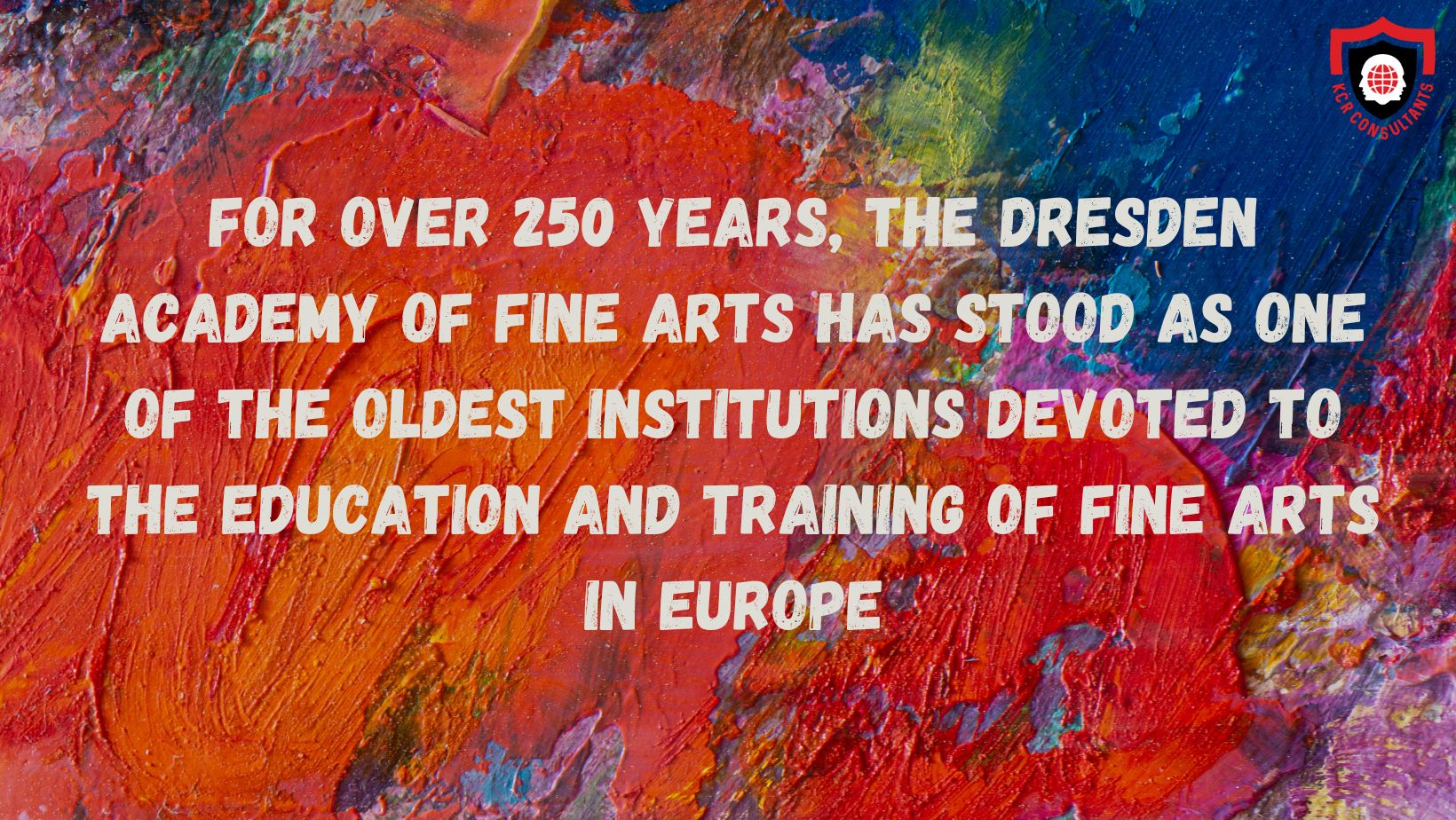 LEGACY OF ACADEMIC EXCELLENCE
The Dresden Academy of Fine Arts, boasting a rich heritage spanning more than 250 years, stands as one of the most ancient establishments dedicated to the education and training of fine arts in the European continent.
It was established by the Wettins in 1764 as the "Haupt-Kunst-Akademie" (Main Art Academy). It emerged as the successor to the "Zeichen- und Malerschule" (School for Drawing and Painters), which had been running from 1680.
The academy consists of three galleries and a highly equipped laboratory theater that can accommodate up to 100 individuals.
Out of the three galleries, The OKTOGON art gallery is widely recognized for its exceptional quality and artistic merit.
They continues to pass out its arts to the next generation.
PROGRAMS OFFERED
List of HfBK Dresden's degree programs are listed below,
Fine Arts
This program focuses on traditional fine arts disciplines, including painting, sculpture, printmaking, and drawing.
Duration of study: 10 semester
Graduation: diploma
Art Technology, Preservation, Restoration of Artistic and Cultural Assets
In this program, structures, paintings, drawings, prints, sculptures, and stuff from the decorative arts are maintained and fixed.
Duration of study: 10 semester
Graduation: diploma
Stage Setting and Costume Design
Students will explore stage and costume design for theater, opera, film and other performing arts. It combines training in both set and costume design into a single degree course.
Duration of study: 10 semester
Graduation: diploma
Theatre Design
This program teaches how to plan and make scenography and costumes, as well as how to estimate costs and run a production, whether it's opera, a musical, a play, or classical or contemporary dance.
Duration of study: 8 semester
Graduation: diploma
Postgraduate program Art Therapy
The goal of the Art Therapy program is to help students develop their own creative energy, their ability to heal themselves, and their sense of responsibility. It brings together the fields of the fine arts with ways to help people.
Duration of study: 4 semesters
Graduation: diploma
RESEARCH OPPORTUNITIES
The Academy of Dresden provides students with well-equipped laboratories that support scientific research and facilitate radiation diagnosis, photography, and digital imaging.
These resources significantly enhance the overall level of teaching and research activities at the institution.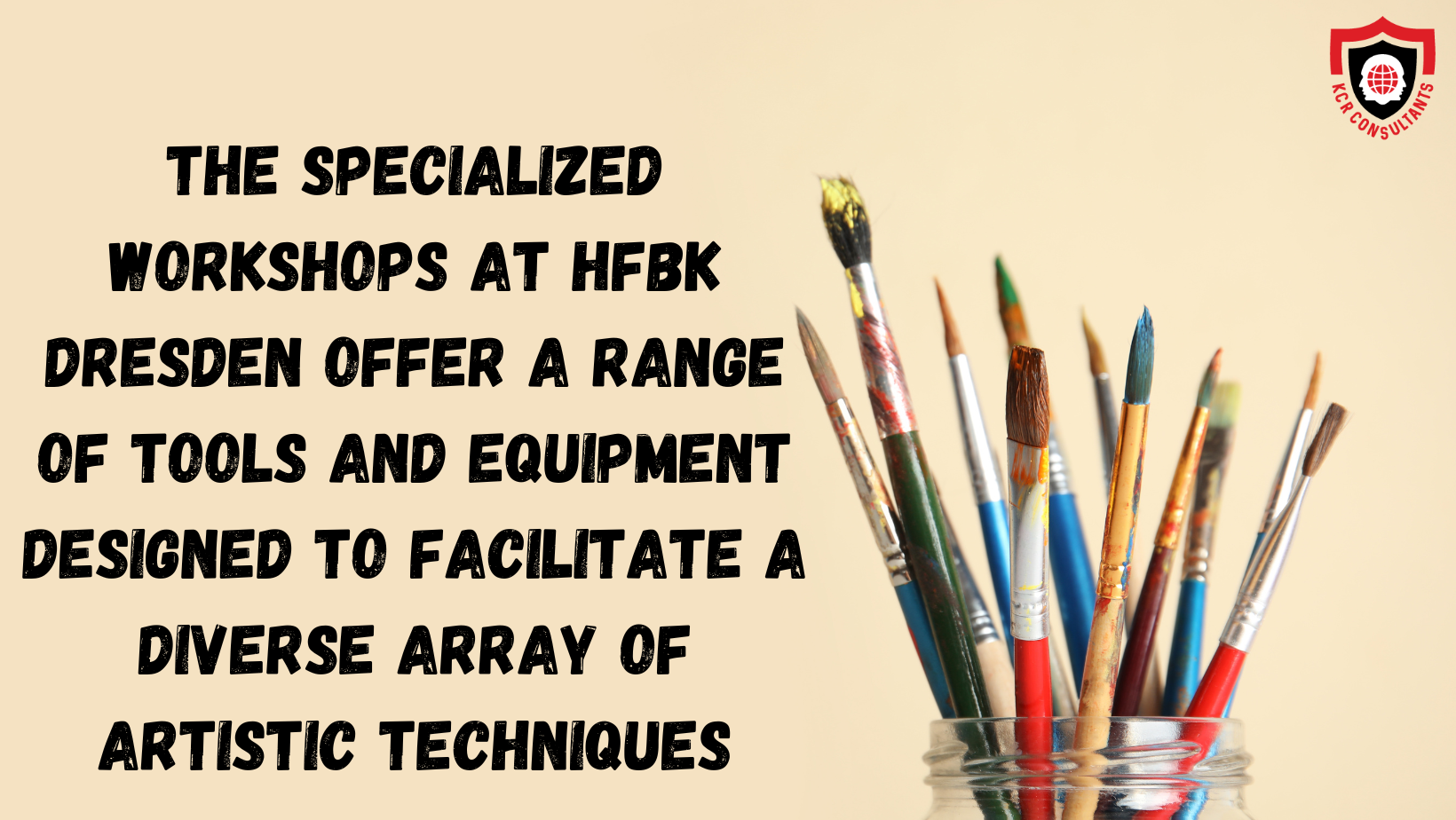 CAMPUS FACILITIES AND RESOURCES
Studios
Well-equipped studios are provided to the students to work on their art projects, whether it's painting, sculpture, printmaking, or other creative disciplines. These studios are equipped with state-of-the-art tools and materials, ensuring that students have everything they need to bring their artistic visions to life.
Workshops
HfBK Dresden conducts specialized workshops with tools and equipment to facilitate various artistic techniques, such as woodworking, metalworking and ceramics. It also conducts workshops for casting, laser cutting, video technology, etc.
Libraries
Libraries with extensive art-related collections, including books, journals, and digital resources, to support research and study.
The library's media collection is always being updated and is well organized. It focuses on art history, media art, painting, graphic art, sculpture, building, conservation, philosophy, costume design, and stage setting.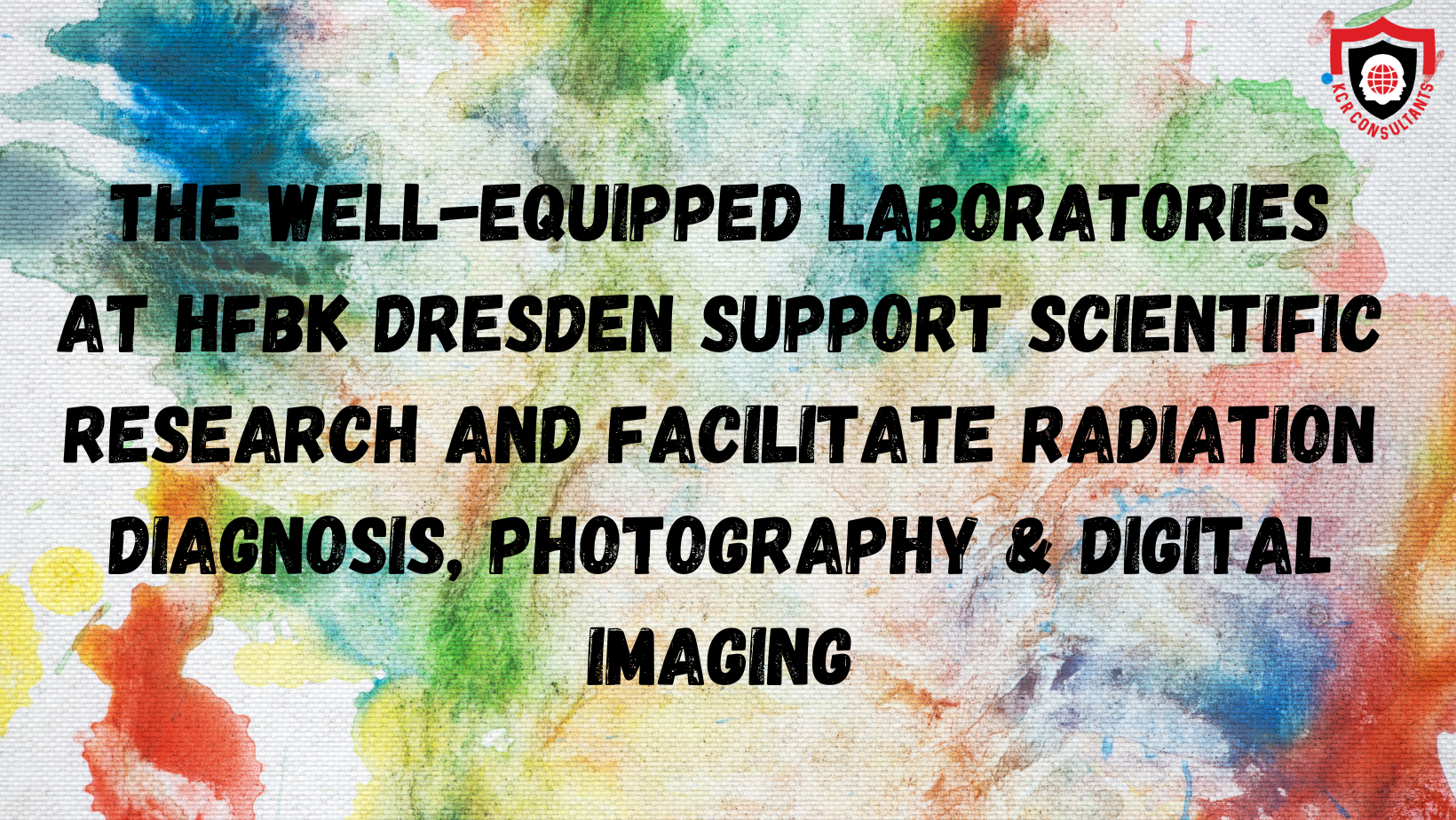 Exhibition Spaces
The HfBK Dresden includes galleries and exhibition spaces where students can showcase their artworks to the public and engage with the art community.
These galleries and exhibition spaces provide valuable opportunities for students to receive feedback and gain exposure for their work.
They often hosts events and workshops that allow students to network with established artists and professionals in the art industry.
The three exhibition halls of HfBK Dresden are the Oktogon Art Gallery, The Brühlsche Terrasse Gallery, and The Senate Hall.
Laboratory Theatre
All students at the academy, yet especially those in the Stage Setting and Costume Design program at the technical college and the Theater Setting program at the academy, can use the Laboratory Theatre as a place to try out different stage settings. It is a fully equipped, flexible space for stage experiments.
Lecture Halls and Classrooms: There are dedicated spaces for lectures, presentations, and classroom-based learning, fostering a conducive learning environment.
Archive and Custodianship
HfBK Dresden has acquired an abundance of teaching materials, including the painting, graphic, costume, plaster cast, porcelain, and anatomy collections. The Academy's art collection and writing records are taken care of by the archive department.
Student Accommodation
HfBK Dresden has Accommodation units in the city, which can also aid a Student in getting a nice stay at a reasonable price. Students can stay in flat shares, home stays, or private houses.
Model Making Rooms
Architecture students have access to rooms for creating physical models of their design concepts. They have anatomy collection
Cafeteria and Social Spaces
The campus provides places for students to relax, socialize, and interact with fellow artists, fostering a sense of community. The HfBK Dresden has Café OHA e.V., which was started in 2014 to help all HfBK members, including students, workers, professors, and teaching staff, connect to each other more. It is popular both inside and outside of the campus.
Open to Public
Some events, exhibitions, and lectures organized by the academy are open to the public, offering a chance for visitors to engage with the art community.
Studentenwerk
Studentenwerk Dresden is a public institution. It helps students with everything from student financing to meals in canteens and cafeterias to providing living space in hostels. From a daycare center for students' children to social, legal, and psychotherapeutic counseling.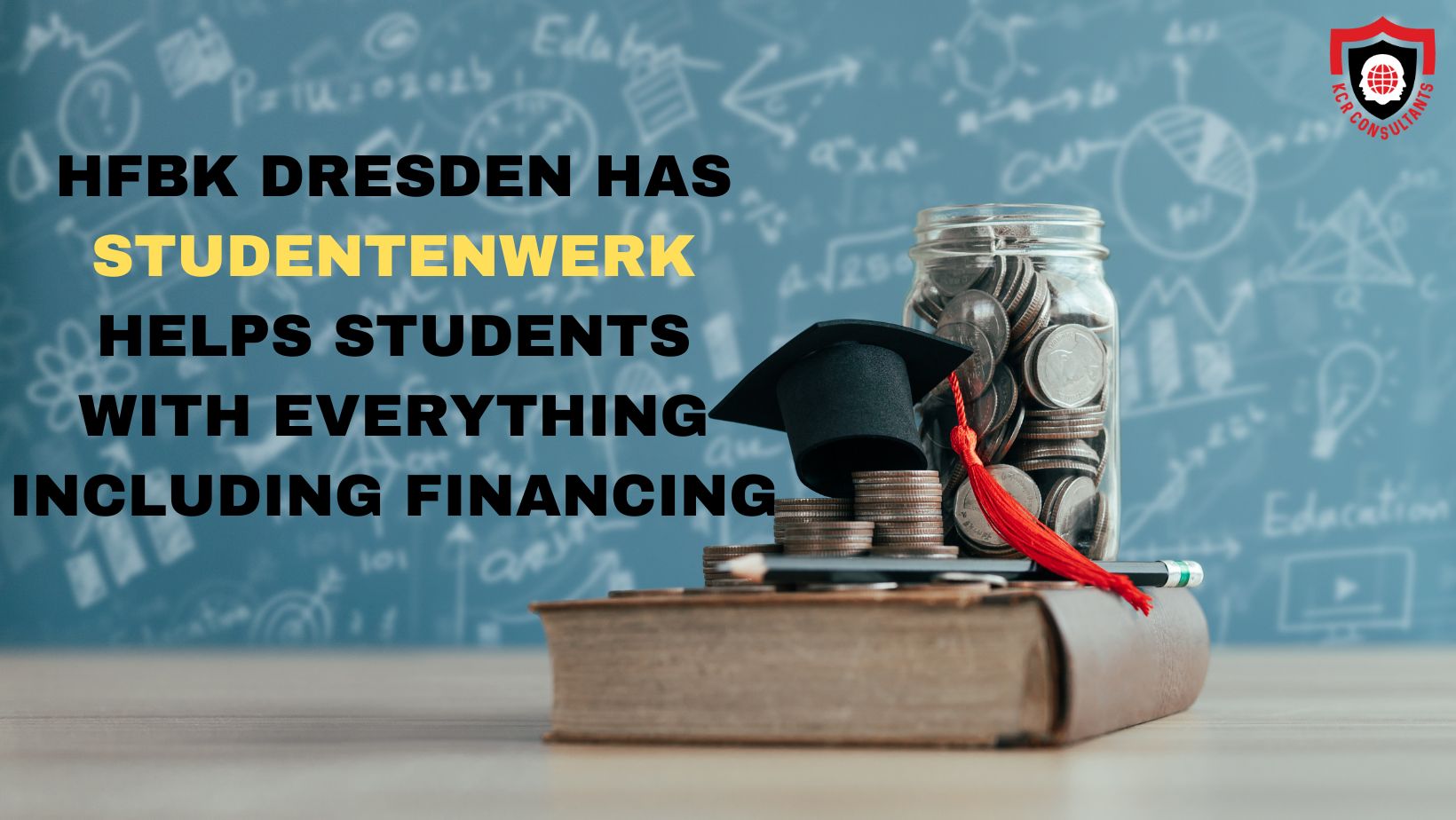 INTERNATIONALIZATION AND STUDENT EXCHANGE
Erasmus+ Program
The Program offers international students the opportunity to study abroad and experience academic and cultural exchange.
Through this program, students can enhance their skills, broaden their perspectives, and build lasting connections.
Student Exchange Programs
The university currently presents students with valuable opportunities to take part in international exchange programs in collaboration with partner institutions around the world.
Study visit lasting three to twelve months at a partner university abroad's art school, gaining exposure to different artistic perspectives and cultures.
Incoming Exchange Students
Students are welcomed from partner institutions as part of its incoming exchange program. This allows international students to study at the academy and experience the German art education system.
International Partnerships
The academy had established partnerships with other art schools and universities globally. These partnerships facilitated collaborative projects, faculty exchanges and joint research initiatives, enriching the academic environment.
International Projects and Exhibitions
The Academy of Fine Arts Dresden participated in international art projects, exhibitions, and events, promoting cross-cultural artistic collaborations and networking opportunities for students and faculty.
TO SUMMARISE
The Academy of Fine Arts Dresden, located in Dresden, is one of the oldest art academies in the country.
HfBK Dresden has played a significant role in the development of art movements in Germany, contributing to artistic innovation and experimentation.
The academic institution encourages and fosters collaboration across disciplines in research initiatives involving both creative and scientific domains.
At HfBK Dresden, artistic research is primarily seen as a means of artistic advancement.
HfBK Dresden has Studentenwerk Dresden which is a public institution. It helps students with everything including financing.
The academy offered opportunities for its students to participate in international exchange programs.
The academy welcomed students from partner institutions as part of its incoming exchange program.