Overview: Ausbildung Course in Germany
Germany's renowned education system caters to academic excellence and emphasizes practical, hands-on training. 
One of the most prominent pathways for individuals seeking both education and practical experience is the "Ausbildung" course. 
This comprehensive guide delves into the Ausbildung course in Germany, exploring its intricacies, benefits, requirements, application process, positions in demand and the top companies that hire graduates. 
By the end, you'll understand why the Ausbildung course is a prized opportunity for German residents and international applicants.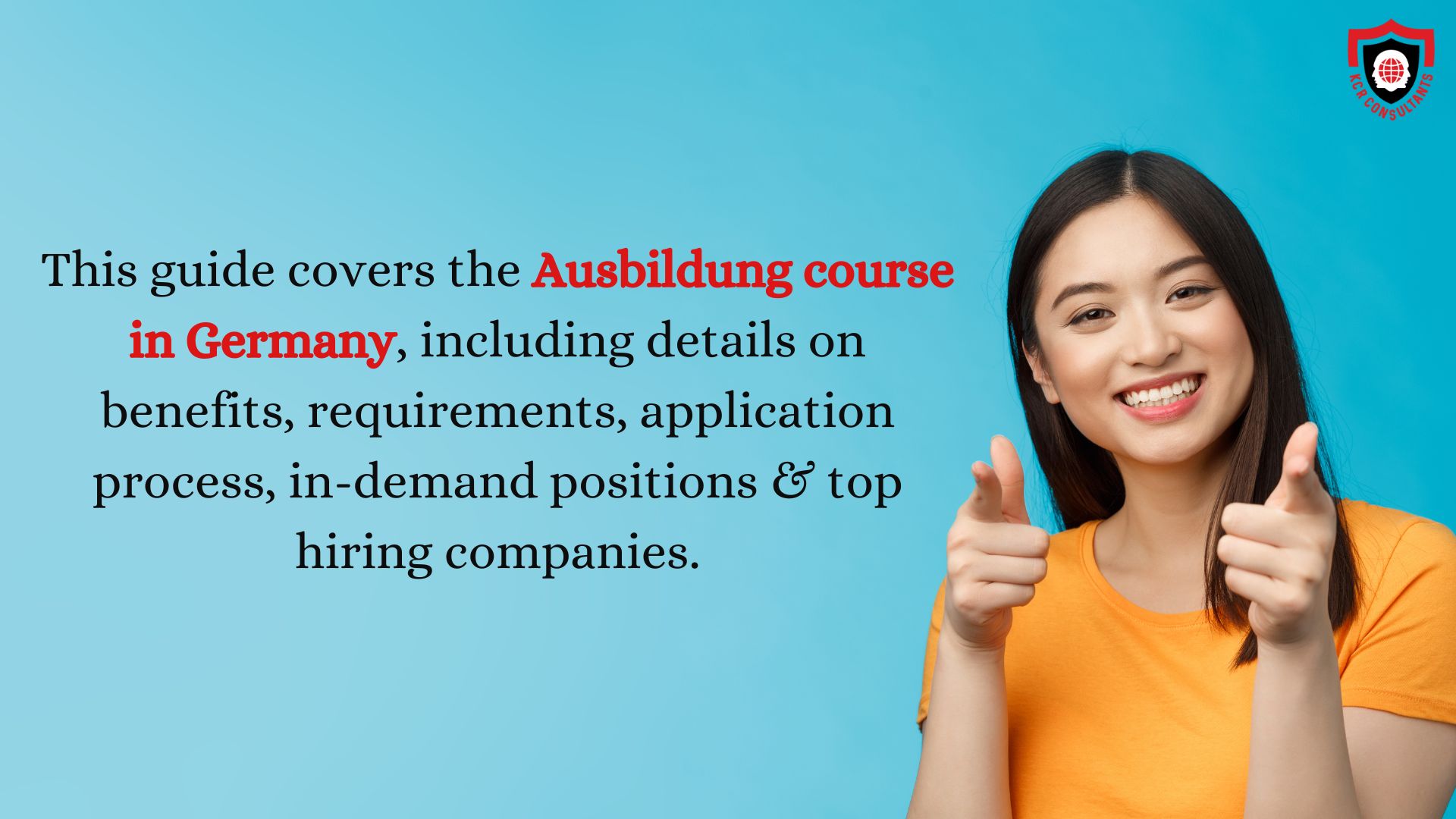 What is the Ausbildung Course in Germany?
The Ausbildung course, often called vocational training or apprenticeship, is a specialized education and training program that equips individuals with practical skills and knowledge in a specific trade or profession. 
It is a structured program designed to prepare participants for careers in various industries, ranging from healthcare and hospitality to information technology and retail sales.
Benefits of Doing Ausbildung Course in Germany
The Ausbildung course offers a multitude of advantages, making it an attractive option for those looking to kickstart their careers:
Combination of Learning and Earning: Participants can earn a modest income while undergoing training, reducing financial burdens.
Hands-on Experience: The program provides valuable hands-on experience in the chosen field, fostering real-world skills.
Recognized Qualifications: Successful completion of Ausbildung leads to recognized vocational qualifications, enhancing employability.
Diverse Career Opportunities: Graduates can explore various career paths within their industry of choice.
Smooth Transition to Employment: Many companies hire apprentices upon course completion, ensuring a seamless transition to full-time employment.
Requirements to Apply for Ausbildung Course in Germany
While the requirements may vary depending on the specific course and region, here are the general prerequisites for applying:
Educational Qualifications: Applicants typically need a minimum of a secondary school leaving certificate or equivalent.
Age: Most Ausbildung programs are open to individuals aged 16 to 30. Some programs may have specific age restrictions.
Language Proficiency: A certain level of German language proficiency, B1/B2 Level, is usually required. This ensures effective communication in the workplace.
Genuine interest in the chosen occupation: Applicants are often required to justify their claim in the selected discipline.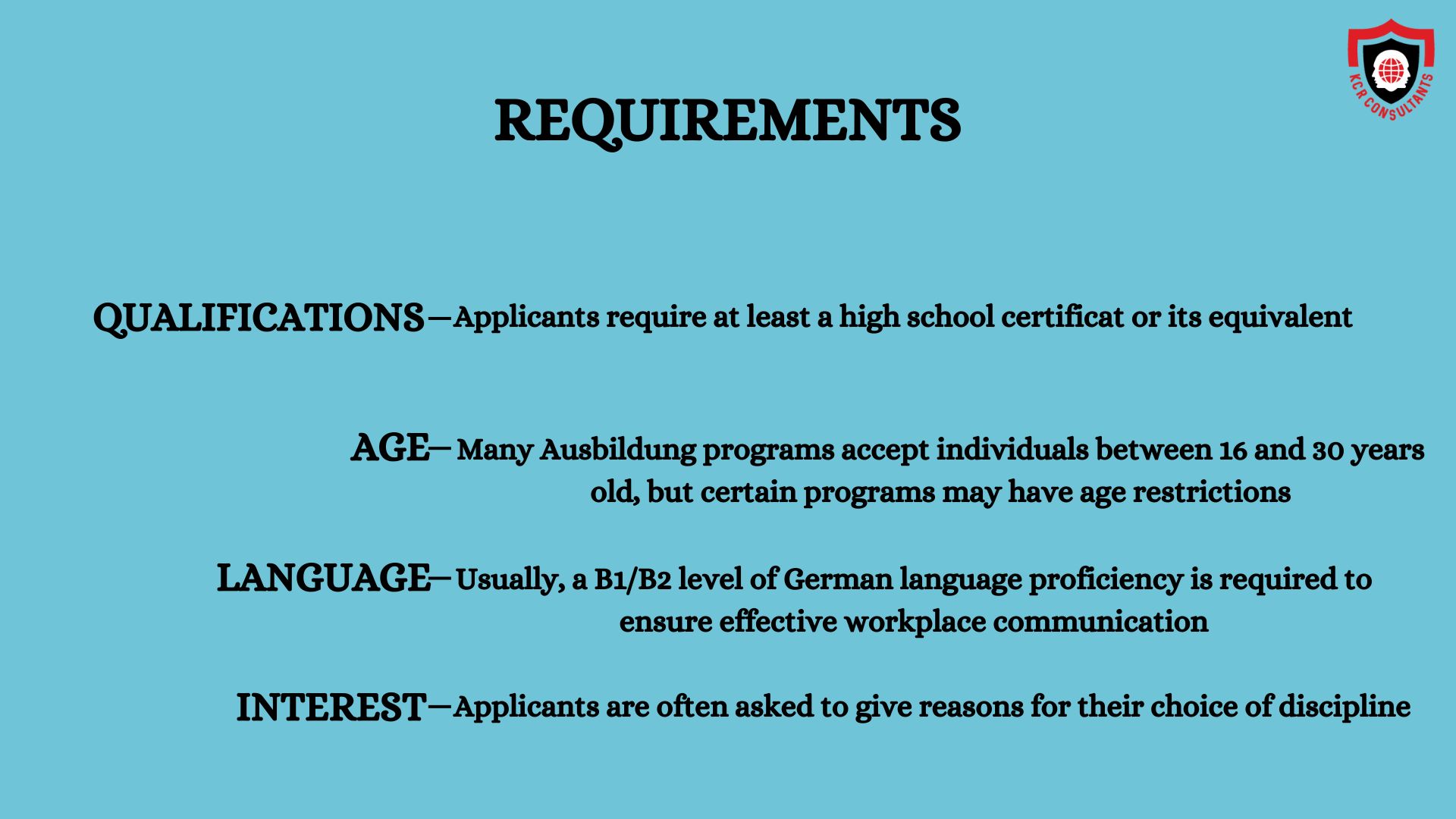 Documents to Apply for Ausbildung Course in Germany
To initiate the application process, you will typically need the following documents:
Educational Certificates: Copies of your school leaving certificate and any relevant academic transcripts.
Language Proficiency: Proof of German proficiency, such as language test certificates, if any, or a solid plan to start learning
Curriculum Vitae (CV): A well-prepared CV highlighting your educational background and any relevant work experience or internships.
Motivation letter: A personalized letter explaining your interest in the Ausbildung course and the specific industry.
Identification: Valid identification documents, such as a passport or identity card.
How to Apply for the Ausbildung Course in Germany?
The application process for the Ausbildung course typically involves the following steps:
Choose a Field: Identify the field or industry you are interested in and the specific course.
Prepare Documents: Gather all the necessary documents, ensuring they meet the program's requirements.
Confirm the possibilities to be accepted: Confirm with the consultant (You may avail of KCR's services) the opportunities of places and program providers.
Apply: Submit your application, including your CV, cover letter and relevant documents, to the prospective employers or educational institutions offering the Ausbildung program.
Interview: You may be invited for an interview or assessment if shortlisted.
Acceptance: Upon receiving an acceptance offer, complete the documentation, Criminal check, medical test, etc.
Commence Training: Begin your Ausbildung program, combining classroom learning with on-the-job training.
Available Positions in the Ausbildung Course in Germany
The Ausbildung course covers a wide range of professions and industries. Some standard fields include:
Healthcare: Nursing, medical laboratory technology, dental technology and pharmaceuticals.
Hospitality: Hotel management, Tourist specialist etc.
Catering: Chef and restaurant specialist.
Construction: Carpentry, plumbing, electrical installation and masonry.
Information Technology: IT specialist, software developer and network administrator.
Sanitary, Heating and Ventilation Engineering: HVAC technician and plumber.
Retail Sales: Retail salesperson and management assistant.
Bakery: Baker and confectioner.
These are just a few examples; numerous other options are available in various sectors.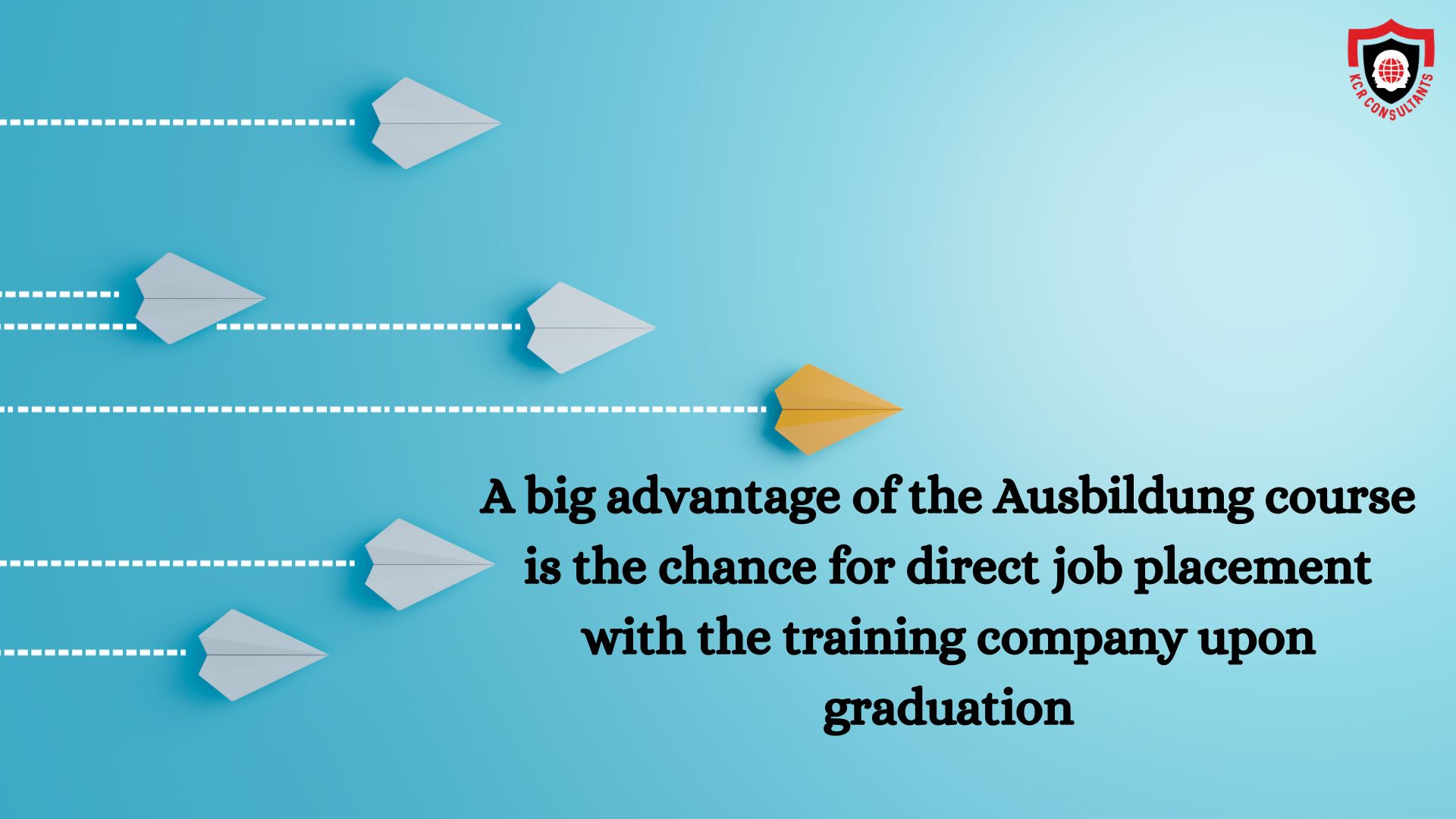 Top Companies Hire after Ausbildung Course in Germany
One of the notable advantages of the Ausbildung course is the potential for direct employment with the training company upon successful completion. 
Here are some top companies in Germany known for hiring graduates from Ausbildung programs:
Hospitals, Clinics and various other healthcare settings across Germany.
Four Star and Five Start group of Hotels.
Leading Restaurant chains and restaurants in four-star and five-star hotels
Engineering and technology companies in various positions
Top companies in automotive technology, electronics and more.
Large financial institutions and banks
Leading aviation companies in aircraft maintenance and related fields.
Hundreds of automotive companies- large and medium size
 Transportation and logistics sector
Conclusion
The Ausbildung course in Germany is a valuable pathway to acquiring practical skills, recognized qualifications and meaningful employment opportunities. 
Its combination of classroom learning and on-the-job training ensures graduates are well-prepared to enter their chosen industries. 
With diverse fields to explore and the potential for direct employment, the Ausbildung course is a testament to Germany's commitment to vocational education and nurturing a highly skilled workforce. 
Whether you are a German resident or an international applicant, the Ausbildung course offers a promising start to a successful career.