Germany, known for its exceptional healthcare system and high-quality education, offers excellent opportunities for aspiring nurses. 
Pursuing nursing courses in Germany provides comprehensive theoretical knowledge and hands-on clinical experience, preparing students for a rewarding healthcare career. 
This article will delve into the various aspects of nursing courses in Germany, including program options, requirements, and career prospects.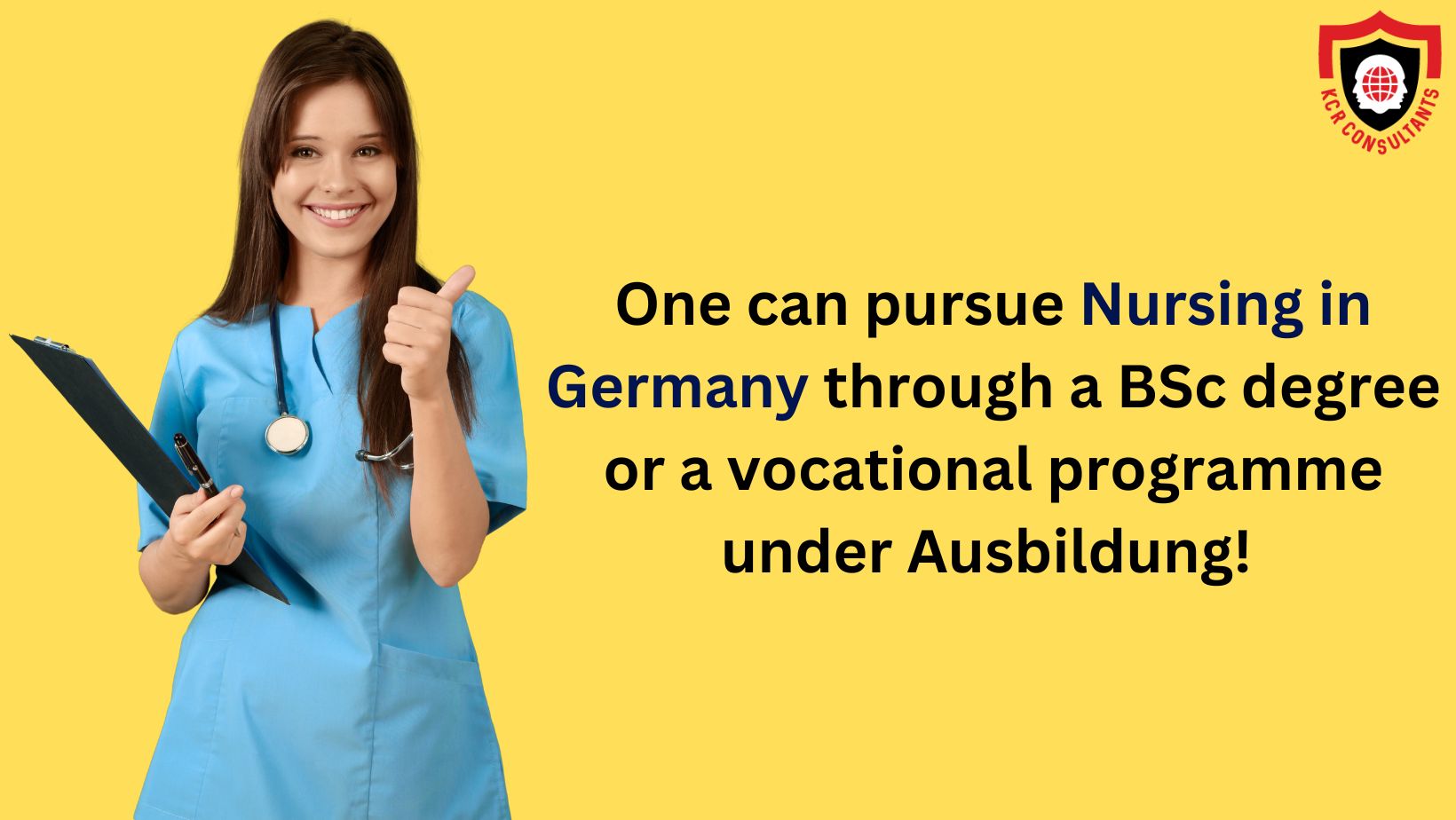 Comprehensive Nursing Programs
Germany offers comprehensive nursing programs that cover various aspects of patient care, healthcare management, and specialised areas within nursing. 
These programs provide a solid foundation in theoretical knowledge and emphasise practical training to develop essential clinical skills.
Bachelor's Degree Option
Nursing courses in Germany are typically offered at the bachelor and Vocational levels. 
The Bachelor of Science in Nursing (B.Sc. Nursing) is a standard undergraduate program that prepares students for general nursing practice. 
For those seeking advanced specialisation, master's programs such as Master of Science in Nursing (M.Sc. Nursing) offer opportunities to focus on specific areas of nursing, such as advanced practice nursing or nursing leadership.
Nursing Ausbildung/Vocational training option
Nursing Ausblidung courses in Germany emphasise hands-on clinical experience. 
Students in this nursing option, called trainees, gain practical skills through on-the-job training through work placements in various healthcare settings, including hospitals, nursing homes, and community health centres. 
These placements provide valuable exposure to real-life patient care scenarios and enable students to develop critical thinking and problem-solving abilities.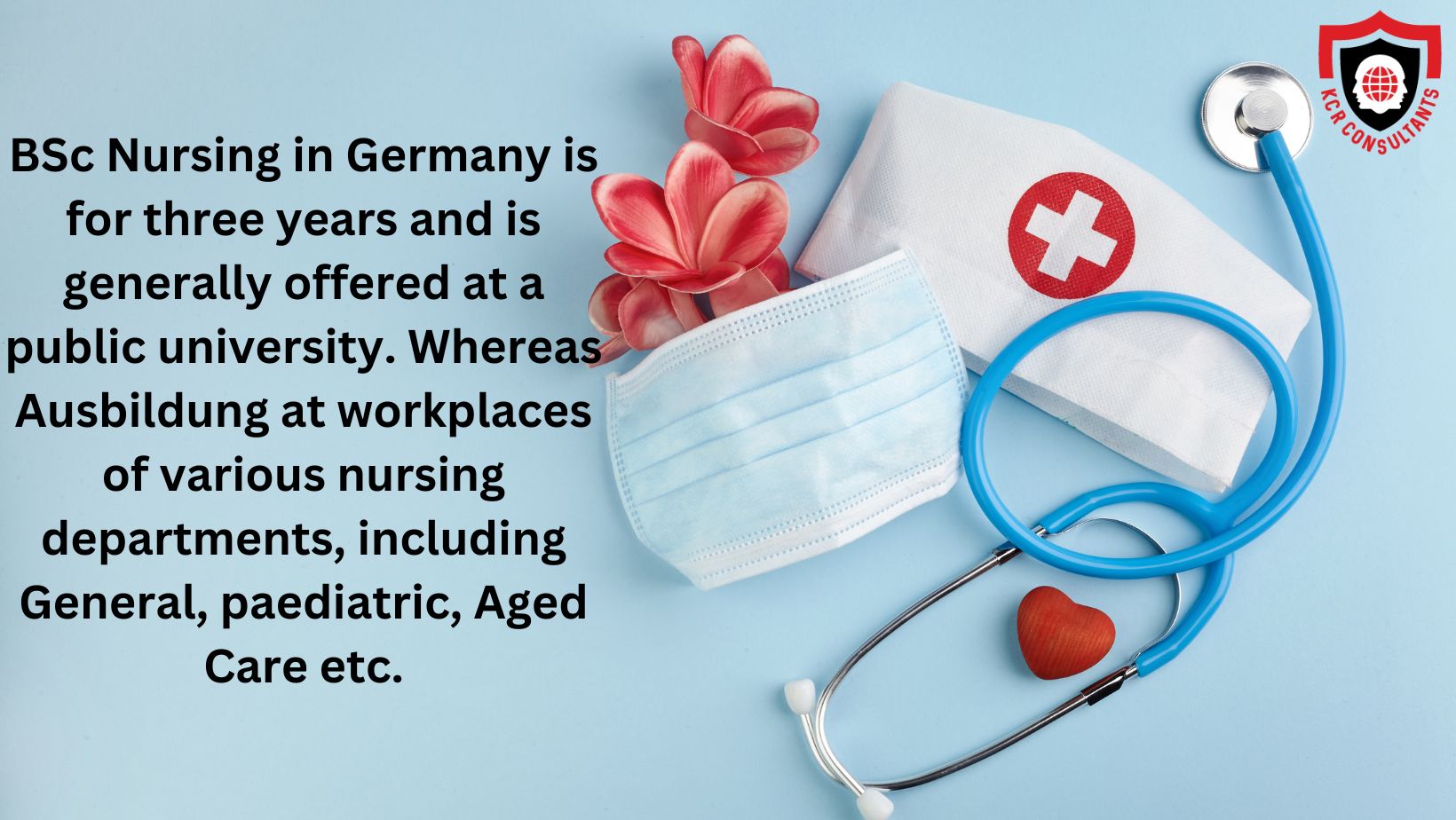 Language Proficiency Requirements
Fluency in German is crucial for nursing practice in Germany, as effective communication with patients and healthcare professionals is vital. 
Nursing courses in Germany are taught in German, and applicants are typically required to demonstrate a certain level of German language skills and proficiency. 
Depending on the program and university, language proficiency tests such as B1/B2 level for nursing Ausbildung or DSH for a BSc may be required.
Career Prospects and Job Opportunities
Completing nursing courses in Germany opens doors to many career opportunities. 
Graduating from a nursing Ausbildung or BSc programme can find employment in hospitals, clinics, nursing homes, community health centres, research institutions, and other healthcare settings. 
Germany's ageing population and the growing demand for healthcare professionals ensure a stable job market for well-trained nurses.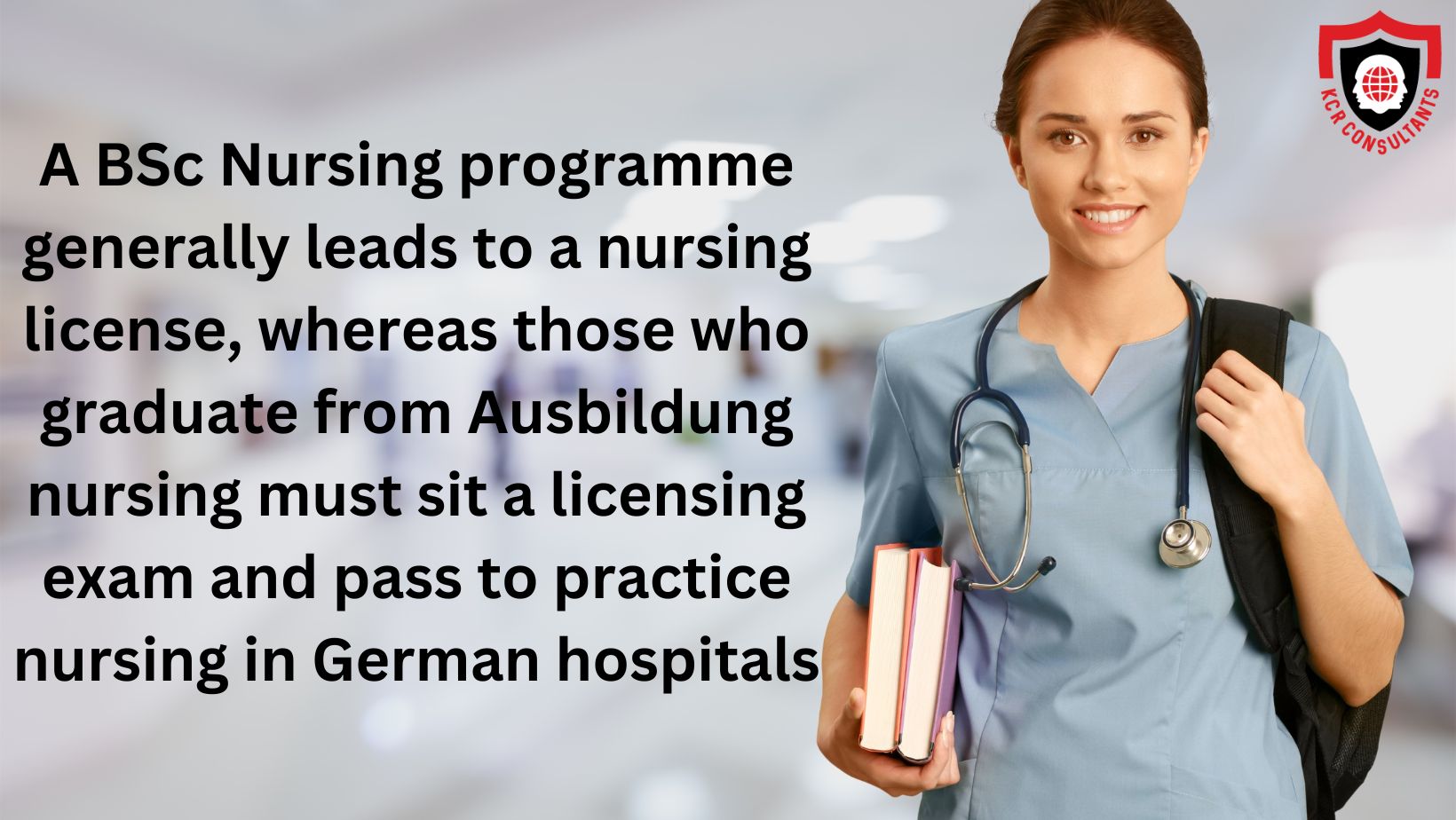 Application Process
The application process for nursing courses in Germany may vary between universities. 
The critical components of the application include academic transcripts, language proficiency certificates, a motivation letter, letters of recommendation, and a resume or CV. 
It is essential to review each program's specific requirements and deadlines carefully.
BSc nursing offered at a university demands to attend an M Course in Foundation at a Studienkolleg if the school qualification of the applicant is a national certificate of 12 years of school education.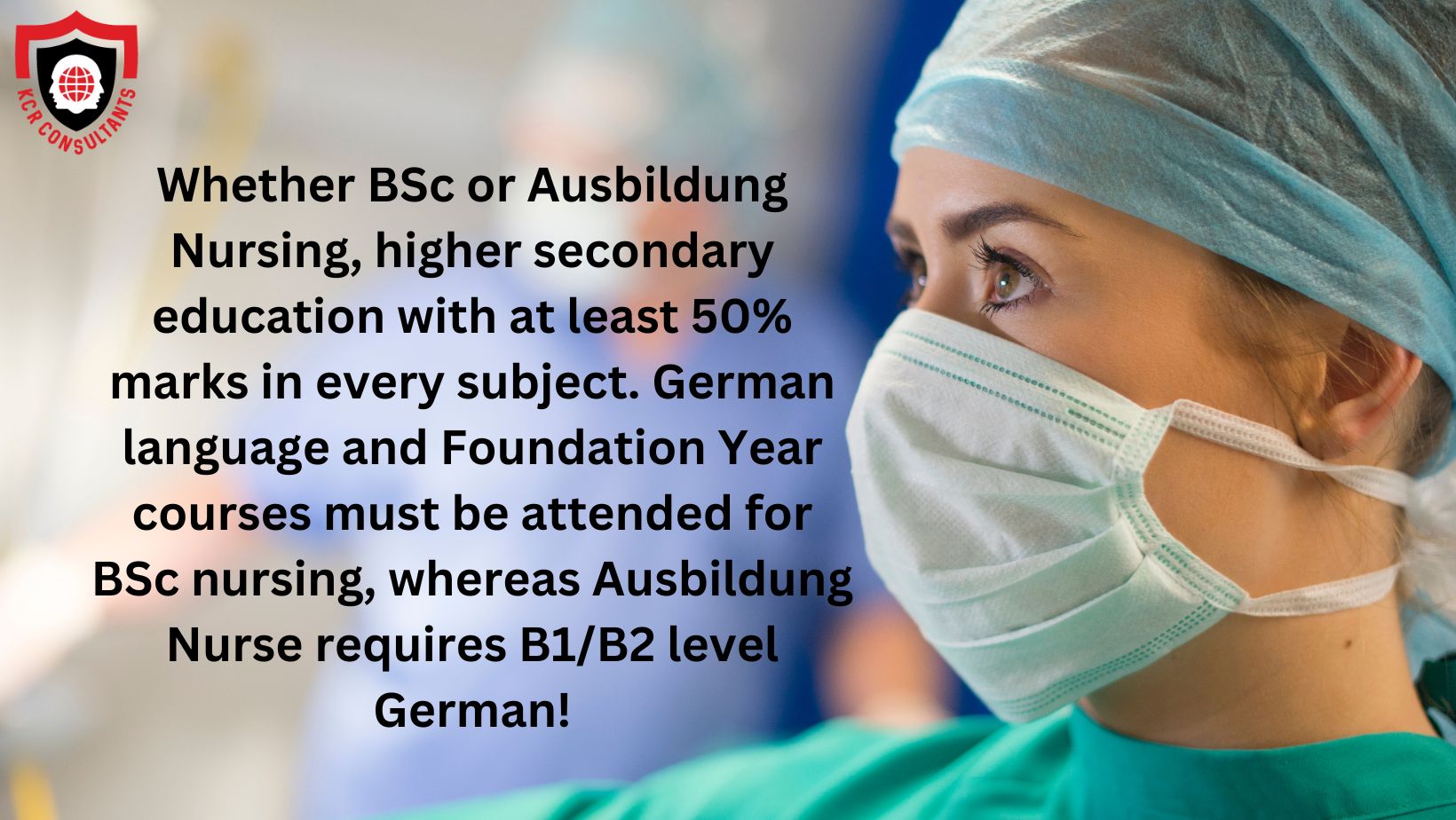 Since the Foundation Year and BSc programmes are offered in the medium of German, the conditionally accepted students start with a German Language course in Germany.
For Nursing Ausbildung training, applicants must learn the German language up to B1/B2 level. They also must have obtained at least 50% marks in all subjects in 12th-grade school education.
To conclude, pursuing nursing courses in Germany provides a solid foundation for a rewarding and fulfilling career in healthcare. 
With comprehensive programs, practical training opportunities, language proficiency requirements, and abundant job prospects, Germany offers an excellent environment to develop the necessary skills and knowledge to succeed in nursing. 
Aspiring nursing students should explore the available program options, meet the prerequisites, and embark on a transformative journey towards a rewarding nursing career in Germany.
KCR CONSULTANTS has several years of experience processing applications for nursing studies in various countries, including Germany and other European Union countries!