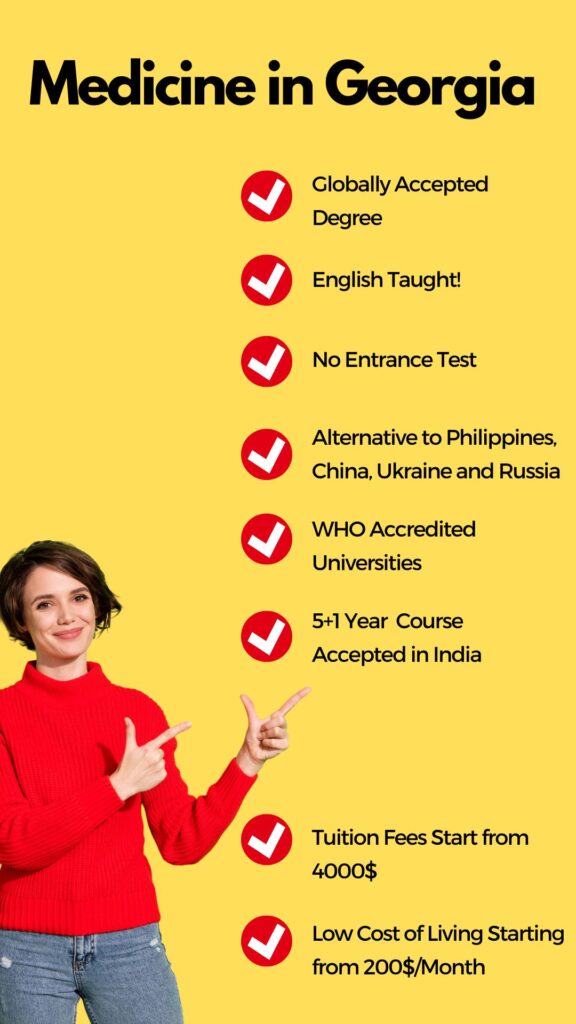 Medical Colleges in Georgia List – 2023
People are searching for Medical Colleges in Georgia list because Georgia is a fully literate country where education is free and compulsory for all residents between the ages of six and eighteen! 
Tuition fees for medical studies in Georgia are far lower than at private universities and home countries of many international students!
Students of other nationalities studying for an MBBS degree in Georgia cross the 20% mark.
Now let us see the list of medical colleges in Georgia!
High Medical College Ayeti.
Georgian National College.
Georgian American College.
Euroregional Teaching College.
European Medical College.
East European College.
David Tvildiani Medical College.
David Agmad Henebeli College of Georgia.
Batumi Shota Rustaveli State College.
Akaki Tsereteli State Medical College.
AIETI Medical College.
The College of Georgia.
Teaching Medical College Geomedi
Tbilisi State Medical College.
Tbilisi Public College Metekhi.
Tbilisi Open Teaching College.
Tbilisi Medical College Hippocrates&.
Petre Shotadze Tbilisi Medical college.
New Vision Medical College.
LLC Caucasus International College.
Kutaisi Medical College of Kutaisi.
Ivane Javakhishvili Tbilisi State Medical College.
Since 18 Georgian medical colleges have met the international standards for a medical degree (5+1 years), the courses and the colleges are being recognized by the World Health Organization (WHO).
In addition, there are no entrance exams and language tests like  IELTS to study MBBS in Georgian colleges.
Relevant Articles: MBBS in Georgia & MBBS in Georgia Fees.