MBBS in Romania Fees – Complete Details 
MBBS in Romania is popular among all international students due to the low-cost universities and tuition fees.
But the anxious part is: what is the cost of MBBS in Romania?
MBBS in Romania Fee Structure
Many Romanian universities charge tuition fees of 6,000 EUR per year.
A university in northwestern Romania charges 4360 EUR per year without an entrance exam. Still, the universities decide on the applications by grades based competition.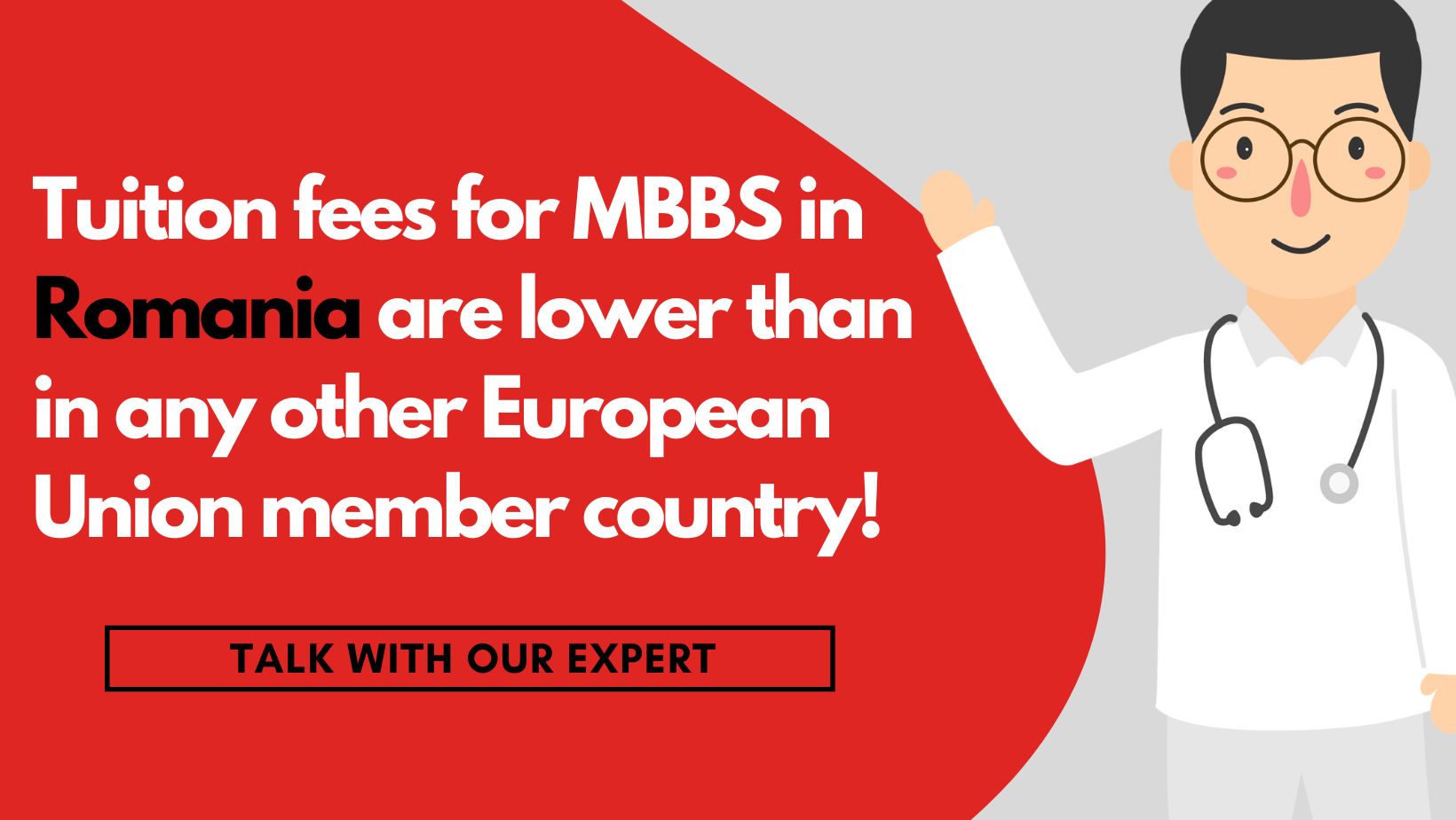 Some universities in southwestern Romania charge 5300 to 6000 EUR per year for a 6-year medicine programme in Romania; another offers an MBBS programme for 5507 EUR per year.
Most Romanian universities charge medical studies from 6,000 to 7,500 EUR per year based on the clearance of science subjects and the NEET exam in 12th standard without entrance exams.
Only a few Romanian universities charge more than 7500 EUR per year.
The cost of MBBS in Romania for Indian students' fees is low comparing the other EU universities.
The low tuition fees and low cost of living make Romania an excellent nation for international students to get their MBBS.
For one's medical studies programme in an EU country, and that too in Romania, lifestyle is also a matter. So, let us look at the cost of living.
Romania MBBS Fees, Accommodation and Living Expenses
Lifestyle and living standards in Romania are HIGH but less expensive. Students studying medicine in Romania may have to spend more than 400 EUR per month on home rent and other living expenses.
International medical aspirants can choose private residences on the college campus. Students can also live separately as the university provides separate rooms.
A Romania Medical university hostel is affordable, and it starts from 50 EUR per month and varies, depending upon the universities.
Food will cost more than 200 EUR per month in Romania.
Many international students' flats, hostels, and other residences contain every convenience for a pleasant stay.
Considering MBBS in Romania fees for Indian students, A student wishes to study medicine, pharmacy, etc.
International students are required to apply for a student residency permit. They can study in Romanian universities as long as they have a temporary resident visa.