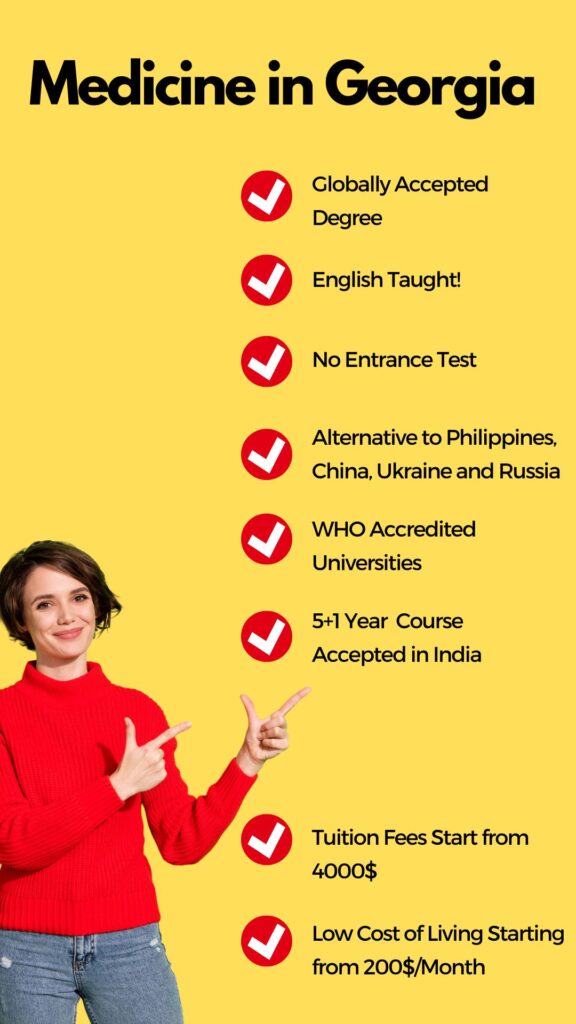 MBBS in Georgia Universities for International Students
Georgia is a country with full of literate and qualified people, thanks to the better education system in the country whic is situated at the intersection of Europe and Asia.  
All the 18 Georgian medical universities accredited by the world health organisation (WHO), aking the degrees accepted worlwide. Georgia's medical universities are considered providing excellent education.   
Some of the accredited MBBS in Georgia universities are mentioned below.  
The University of Georgia.   

 
Georgian National University.   

 
Tbilisi State Medical University.   

 
Euroregional Teaching University.

 
Tbilisi Open Teaching University.   

 
East European University.   

  
Petre Shotadze Tbilisi Medical Academy.     

  
David Agmad Henebeli University of Georgia.     

  
LLC Caucasus International University.     

  
'AIETI' Medical School.   

 
Ivane Javakhishviti Tbilisi State University.     

 
High Medical school 'Ayeti'.      

Teaching University Geomedi.   

 
Georgian American University.   

 
Tbilisi Public University 'Metekhi'.   

 
European University.       

 
Tbilisi Medical University 'Hippocrates'.     

  
David Tvildani Medical University.   

 
New Vision University.   

 
Batumi Shota Rustaveli State University.   

    
Akaki Tsereteli State University.   

 
Kutaisi Medical Institute 'Kutaisi'.  
Georgia universities have state-of-the-art facilities, expert faculty, and stimulating classroom settings to provided qualify education. 
MBBS in Georgia university follow easy admission process in accepting international students. They generally don't conduct any entrance exams etc.  
Those who have studied biology and chemistry in their senior secondary school and passed with 50-60% marks are generally accepted.