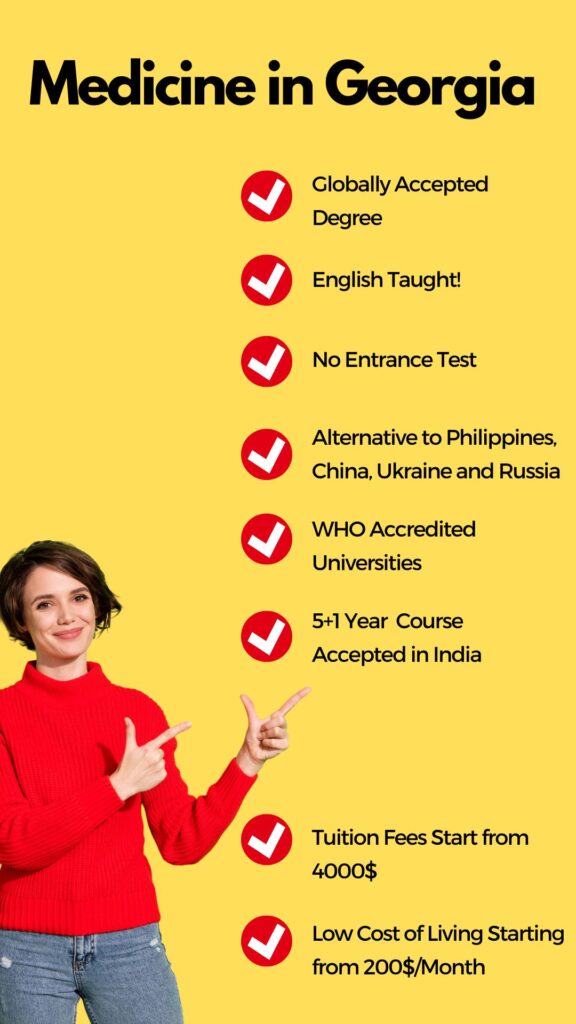 Why MBBS in Georgia for Indian Students?
The National Medical Commission (NMC) of India, the World Health Organization (WHO), and other prestigious
medical bodies approve Georgia's medical universities and their degrees. For Indian students, MBBS in Georgia is a safe bet. Georgia's universities are known for their student-focused, cross-cultural education.
Medical Education in Georgia and the degrees meet the expectations of the National Medical.
Commission (NMC) of India, and hence thousands of Indian medical students migrate to Georgia every year to study MBBS at Georgian medical universities.
Medical courses are taught in English in Georgia, making them more accessible and attractive to  Indian students.
All Georgian medical universities follow the Indian NMC conditions set for the medical colleges in India by default. After they finish their internship in Georgia, the graduate Indian nationals are qualified to sit the licensing exam in India on their return to their home country.
MBBS Universities in Georgia for Indian Students
More than 4,000 Indian students already study at Georgia's top-ranked, following NMC conditions, and the 
best medical universities and that figure is expected to grow substantially in 2022-23.
National Eligibility cum Entrance Test (NEET) and High school diploma or its international
equivalent from an accredited institution or board is compulsory for Georgian universities
to accept an Indian student to pursue an MBBS degree in Georgia.
Duration of MBBS in Georgia for Indian students
Regarding the overall education system in Georgia, education is compulsory for those from 6-18 years old.
In Georgia, it takes six years to get an MBBS for Indian students. 
The first five years are spent on pre-clinical and clinical studies, and the sixth year is on a mandatory internship.
It's not surprising that Indian medical students are flocking to Georgia.
Some of the best universities for MBBS abroad are in this small, developed country between Europe and Asia.