Why and how Germany is the country for immigration in 2022/23?
Before I write about why and how Germany is the country for immigration in 2022/23, let us touch on the base of immigration and the remaining world.
Immigration is the norm of life nowadays for many and in many countries!
Immigrate to study, work, do business or live; people worldwide immigrate to various countries as per their likeness and needs. 
Some countries welcome new immigrants under a well-regulated immigration framework and policies. Many other countries are not that open but still allow for limited purposes like higher studies, short stay for work experience etc.
Why Germany is the country for immigration in 2022/23?
Why Germany is the country for immigration in 2022/23, is it easy to immigrate to Germany? please read on…
Almost all the countries welcome people to invest and start a new business in their countries. The idea behind it is to create new jobs for the local citizens. 
Many other countries allow and welcome foreigners to buy real estate and properties and settle in the country on a permanent resident permit. The aim is to get more foreign investment to create new wealth.
Immigrants call Canada, Australia and New Zealand countries of immigrants. True and correct in all meanings. These countries have a well-established immigration framework and are well maintained and updated. 
All the above said three countries have schemes of immigration under-investment, skilled immigration that covers from tradespeople to professionals in various sectors and areas, graduate route to permanent residency and many more.
All these countries follow a point-based system to identify applicants qualifying to be accepted. 
The points come from;
the applicant's age, 
education level and subject (local and foreign), 
the number of years of work experience (local and foreign), 
proficiency level in the English language, 
qualification of the spouse if married, 
other languages are known by the principal applicant or spouse 
and many other factors are considered. 
Germany is the country for immigration in 2022/23
Why Germany is the country of immigration in 2022/23 and an excellent option over the other countries, including the three popular nations mentioned above?
Germany is a great nation, as we all know. A country of scholars, Nobel laureates, Philosophers, Fine arts, Artists, engineering, and technology. 
Germany is systematic, has a robust industry, a strong economy, and exports even know how to the whole world.
A significant stakeholder in accepting a large share of refugees whenever there is a crisis anywhere, getting them settled through various options, including providing occupational training and making them employable and independent.
Germany's immigration policy is simple and transparent; 
A skilled worker in any occupation can look for an employer, get an offer for a job and contract, and apply directly to the German consulate in your home country or country of current residence.
OR
One can also apply for a job seeker's visa with the required qualifications and relevant work experience. Immigrate to Germany after receiving the permit and start looking for a job.
In either case, after working for five years continuously in Germany, one can apply for a permanent residency permit.
Thousands of students are migrating to Germany now to study in a German university, be in that environment, and graduate employable as Germany has a thriving job market.
Germany's international student-friendly immigration system allows German university graduates to work in Germany and qualify to apply for a P.R. permit visa after working for two years in Germany. 
There are many degree programmes one can choose from as per their desire and plans and study free, by not paying tuition fees, in approximately three hundred universities in Germany! 
It could be engineering, technology, health sciences, medicine, business or fine arts. 
One can also study a dual programme offered by a German public university in partnership with industries if they meet the entry criteria. 
They deliver it at 50:50 or 70:30. The student will be on a work placement most of the time; the programme is offered simultaneously, and the industries pay the students for their participation in the work placement as per the minimum wages law of Germany.
Why Germany is the country for immigration in 2022/23 and the Ausbildung programme?
The Ausbildung, the apprenticeship training in English, is a new and groundbreaking addition, and making it again, Germany is the country for immigration in 2022/23.
Employers across the industries and sectors in Germany can hire non-EU citizens with minimum education qualifications. A higher secondary/12th-grade pass is eligible to apply to get trained in their desired occupation on the job in Germany.
The programme is the highlight of Germany now, attracting youngsters between18-30 worldwide to Germany to meet its skilled workers shortage. 
The foreign nationals find multiple advantages in it; they don't need to pay any tuition fees but earn a monthly stipend from the work placement for the entire three years of the programme.
As usual, qualify and continue working, complete two years of work and apply for a permanent resident permit!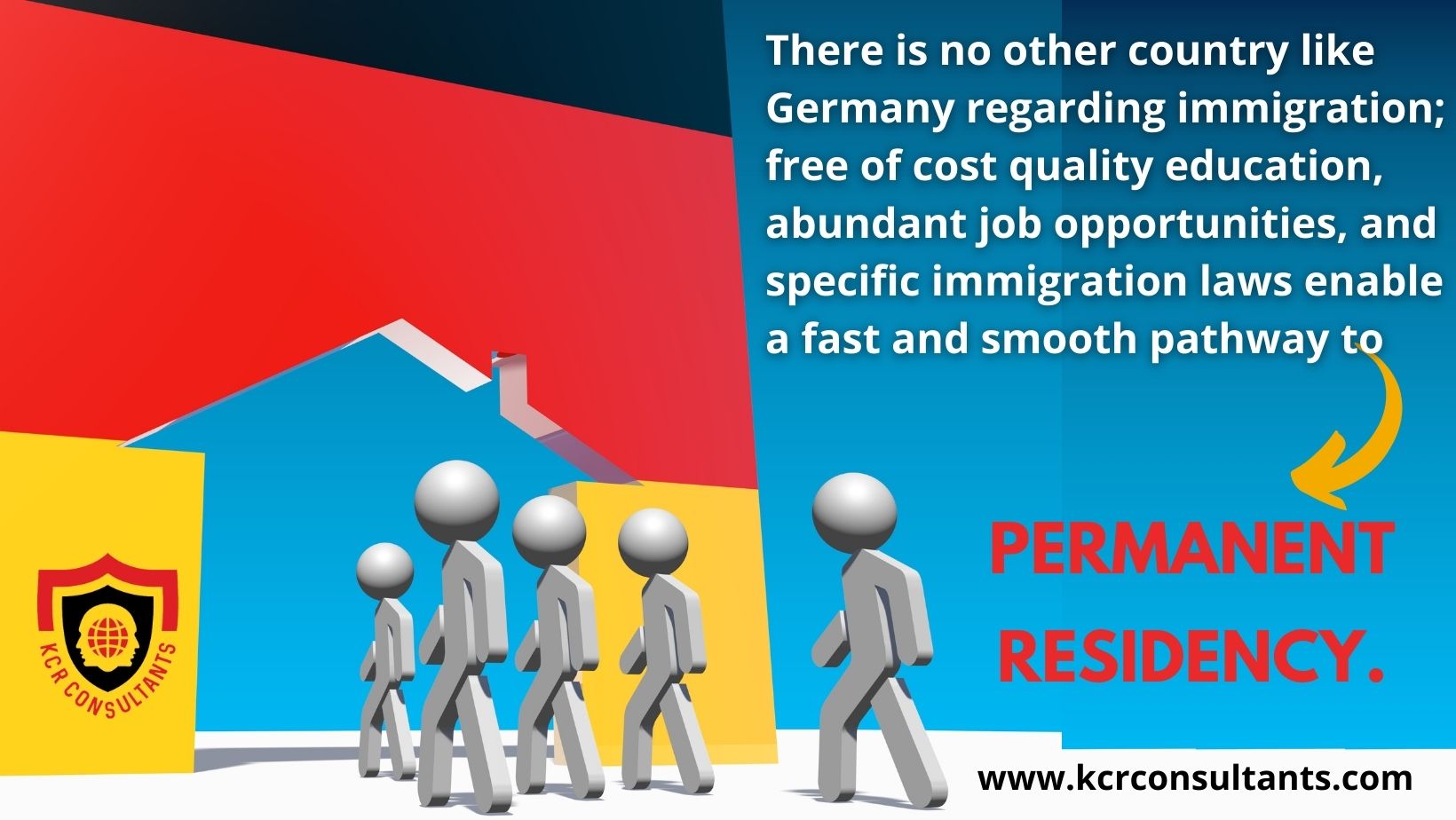 There is no other country like Germany regarding immigration; free of cost quality education, abundant job opportunities, and specific immigration laws enable a fast and smooth pathway to permanent residency. 
Germany is the country for immigration in 2022/23.