Engineering Studies in Germany: the most recommended
Undisputedly, Germany has a global reputation for its excellence in engineering education, making it a top nation for aspiring engineers seeking a world-class education!
With state-of-the-art facilities, cutting-edge research, and a strong focus on practical application, engineering studies in Germany offer many opportunities for students to embark on a fulfilling and successful career.
Let us look into the critical aspects of engineering studies in Germany, including the benefits, programmes, admission process, and the unique German engineering culture;
Why Choose Germany for Engineering Studies?
Germany's engineering prowess is unrivalled, boasting a rich history of technological innovation and breakthroughs.
The country is home to renowned institutions and research centres, providing students access to world-class faculty and state-of-the-art laboratories. 
Germany's engineering degrees are globally recognised and highly regarded by employers worldwide, opening doors to exciting international career prospects.
One can choose from Diverse Engineering programmes offered at 350 public universities in Germany!
German universities offer various engineering programs to cater to multiple interests and specialisations. 
From traditional disciplines such as mechanical, electrical, and civil engineering to cutting-edge fields like aerospace, renewable energy, and automotive engineering, students can find the perfect program to match their passions and career aspirations.
Universities in Germany offer Practice-Oriented Education, especially at almost 200 publicly funded universities of applied sciences
German engineering education emphasises a practical learning approach, hands-on experience, and real-world applications. 
Students often engage in long internships, industry projects, and practical training, providing valuable industry exposure, hands-on experience and networking opportunities.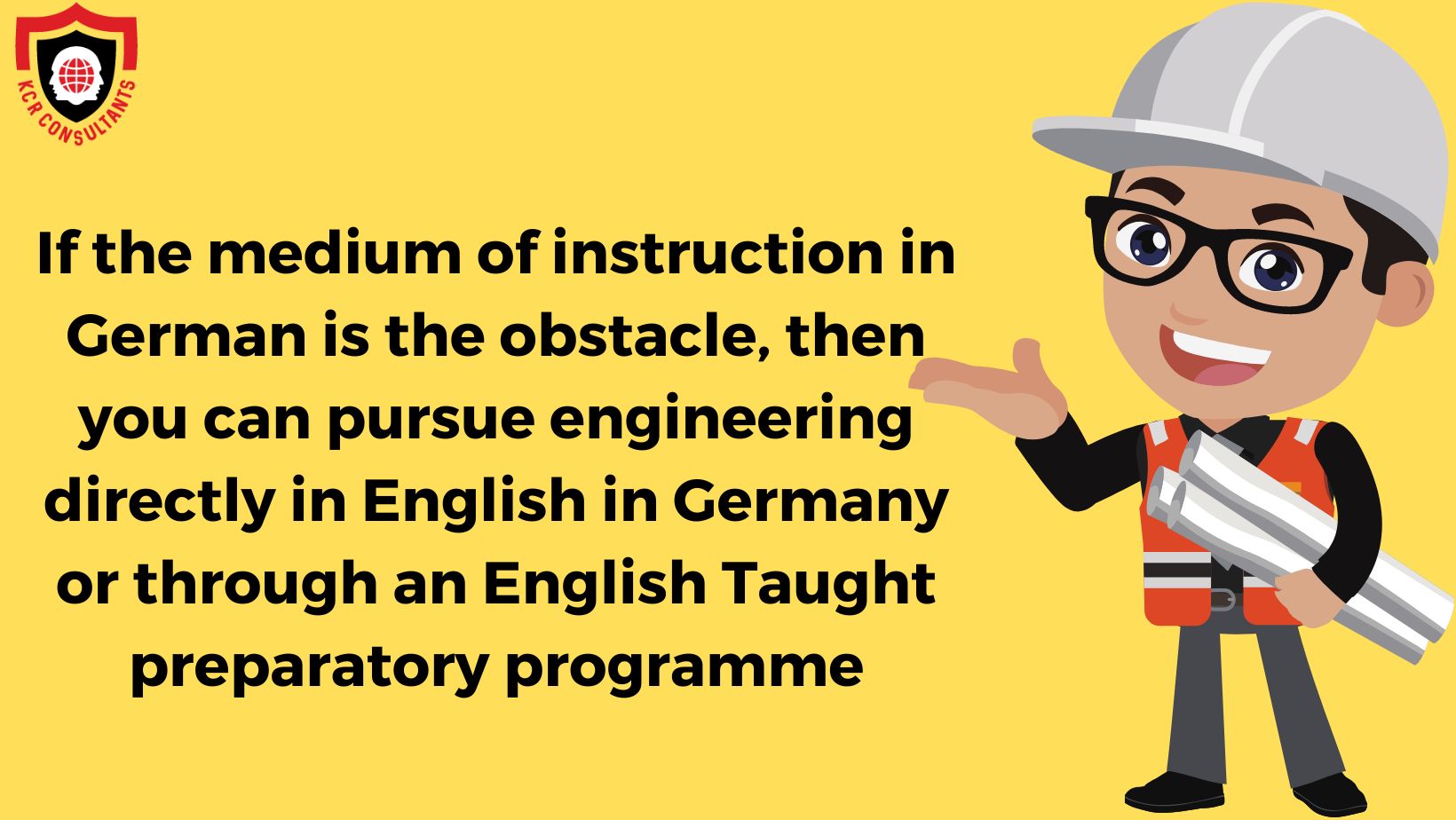 One can choose English-Taught Engineering Programmes against the general assumption that the studies in Germany are only in German!
Many German universities now offer engineering programs in English to attract international students.
This makes it easier for non-German speakers to pursue their dream of studying engineering in Germany and ensures a diverse and multicultural learning environment. 
German public universities charge low or almost nil for Engineering studies in Germany, and Scholarship opportunities are many!
One of the most appealing aspects of engineering studies in Germany is that public universities charge low or no tuition fees. 
While private institutions may charge tuition, it is often more affordable compared to other countries. 
Additionally, various scholarships and financial aid options are available to support international students during their studies.
International students can work for a limited period while studying in Germany!
International students have plenty of research Opportunities while and after their engineering studies in Germany
Germany is at the forefront of cutting-edge research and technological advancements. 
Engineering students can participate in ground-breaking research projects, work with leading scientists, and contribute to innovative solutions that address real-world challenges.
German public universities offering Engineering programmes in Germany have strong Industry Connections- domestic and international!
German universities maintain strong ties with industries, offering students numerous opportunities for internships, collaborations, and job placements. 
The country's robust industrial base allows engineering graduates to secure internships and employment in leading German companies and multinational corporations.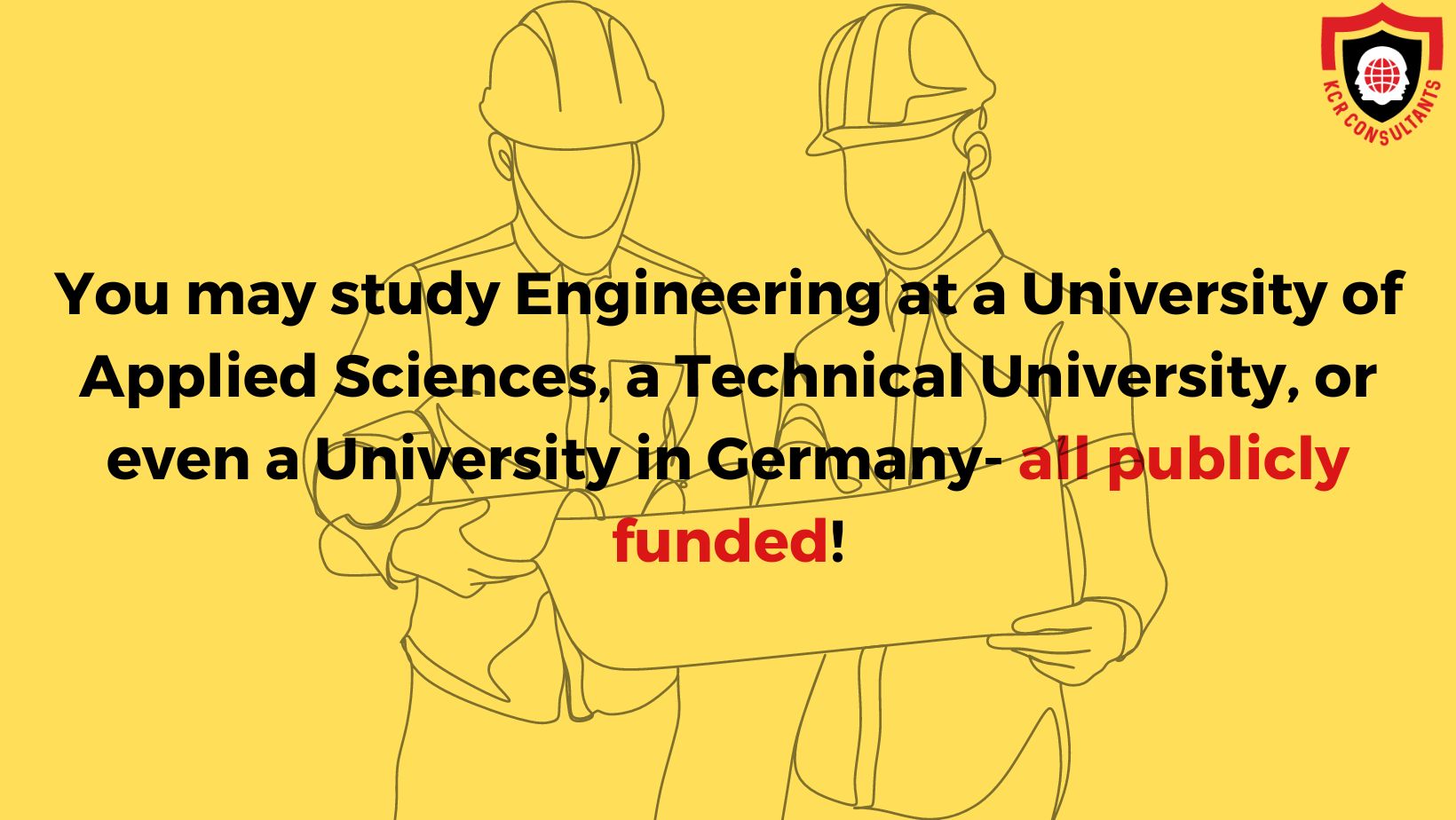 International students experience a rich Cultural and Student Life while pursuing their engineering degree in Germany!
Beyond academic excellence, studying engineering in Germany provides a unique cultural experience. 
Students can immerse themselves in Germany's rich history, vibrant cities, and diverse landscapes. 
The country's student-friendly environment and active student clubs ensure a well-rounded experience beyond the classroom.
Germany for engineering studies is a wise decision indeed!
Choosing to pursue engineering studies in Germany is a decision that opens doors to a world of excellence, innovation, and professional growth. 
With a focus on practical learning, diverse programs, strong industry connections, and a reputation for engineering excellence, Germany provides an ideal environment for aspiring engineers to fulfil their academic and career aspirations.
From state-of-the-art research facilities to a vibrant cultural experience, Germany offers the perfect blend of academic rigour and personal enrichment, making it an attractive place for students seeking an exceptional engineering education.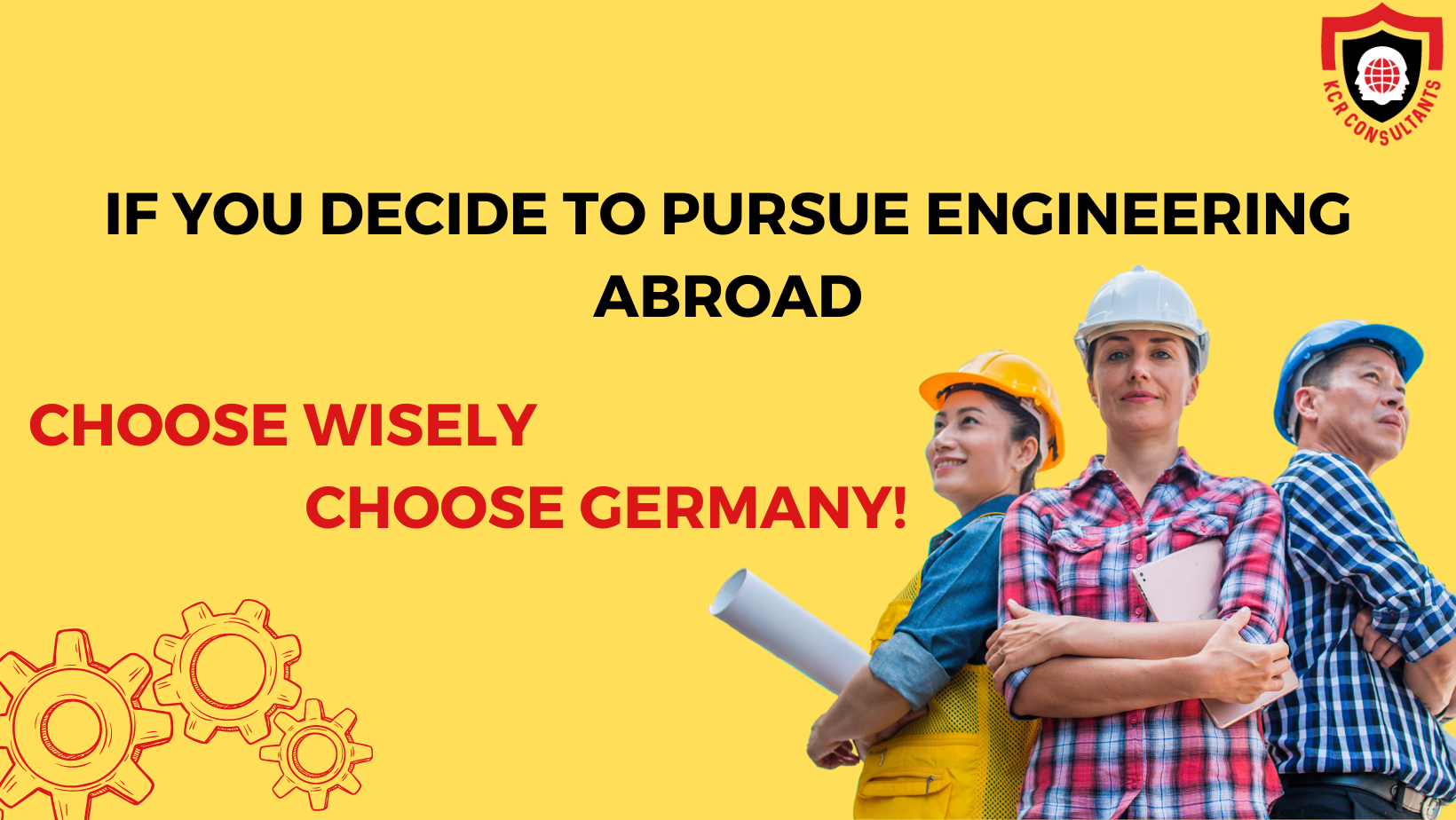 FAQ
What are the eligibility criteria to study engineering in Germany?
German universities work independently and decide how to conduct the institutions, including the admission conditions.
But generally, most German public universities accept applications with a minimum of 50% marks in the A levels for direct admission to a bachelor's degree.
Or
A 50% in national higher secondary school education of 12 years through a Foundation Year.
For a Master's degree, 50% and above marks in a bachelor's degree are enough to apply!
What IELTS scores are required to study an Engineering programme in English in Germany?
German universities ask for an overall score of a minimum of 6.0 for a bachelor's level course, whereas it must be at least 6.5 for a Master's degree course!
The test must be attended at an academic module!
What are the Engineering streams offered by the universities in Germany?
Architecture
Automation and Industrial Internet of Things
Business and Engineering
Biomaterials
Bioengineering
Communication and Information Engineering
Electrical Engineering
Electrical & Computer Engineering
Electrical Engineering
Health Informatics
Information Engineering
Industrial Engineering/Maintenance and Operation
Industrial Engineering
Logistics and Mobility
Logistics
Mechatronics
Mechanical Engineering (International)
Marine Engineering
Management & Technology
Power Engineering & Renewable Energies
Some of the engineering streams are
What are the costs involved in Studying Engineering in Germany?
Most public universities in Germany, almost 300 of them, offer free education- don't charge a tuition fee except a semester contribution of 200-330.EUR and for which students receive a semester ticket to use in state transport facilities and various other state and private establishments for free access or discounts!
Other universities charge 1500.EUR per semester!
International students can work while studying.
Still, as per the visa conditions, they must have enough money for maintenance in the first year, which must be submitted as a blocked account deposit confirmation while applying for a visa.
Which is 11,208.EUR from 2013!