South Korea, also called the Land of the Morning Calm, is a fantastic synthesis of nature and technology, old and new, ancient and modern. With the added benefit of viewing a significant tech and entertainment hub in Seoul, you may experience a lengthy historical landscape rich in natural beauty. 
South Korea is increasingly well-liked among overseas students and for a good reason! International students worldwide can pursue their Master's and Bachelor's degrees at various colleges and universities in South Korea. Additionally, South Korea is a reasonably affordable place for most people to live and study. South Korea would guarantee beautiful surroundings, intriguing friends, and excellent value while studying for a degree. 

Why study in South Korea?

 
Top-rated system of education
South Korea has some of Asia's and a few world's top universities. South Korean students are among the top 3 for International Student Assessment Survey results, and its schools are frequently listed among the best higher education institutions. 
The fact that South Korea does not distinguish between domestic and foreign pupils is remarkable. The same fees apply to both groups. Furthermore, these costs are reasonable compared to what you may pay in the US, Canada, or Australia. The most expensive academic specialities are engineering, medicine, and the humanities. 
Numerous scholarship opportunities
Many South Korean colleges offer scholarships to international students. Each scholarship has its standards. However, many awards are frequently given based on your prior semester's GPA or academic record. 
South Korea is a leader in information and communication technologies (ICT)
Companies and nations can only come near the tremendous success and contribution of prominent South Korean firms like Samsung, LG, or SK Hynix in ICT. Hyundai and Kia are also significant players in the automotive sector. 
Discover the fascinating culture and history of South Korea
South Korea has incredible landmarks and locations, such as the Gyeongbokgung Palace, N Seoul Tower, Bukchon Hanok Village, Lotte World Adventure and water park, Nami Island, Everland, Seongsan Ilchulbong, etc., to experience and learn about its distinct culture and history.

Eligibility Criteria to Study in South Korea
Whether you intend to continue your education in South Korea after high school or after your undergraduate degree education, there are a few prerequisites for admission that you must meet. The following are the principal requirements for international students to study in South Korea:
Education
In South Korea, applicants for undergraduate programmes must have completed 10+2 or 12 years of primary and secondary schooling. For postgraduate programmes, you must have a bachelor's degree and a master's degree to apply for a PhD. 
Language Proficiency Tests
For programmes taught in Korean in South Korea, you must take the Test of Proficiency in Korean (TOPIK) and submit the results with your application. If you apply for English-taught courses, you must provide a TOEFL/IELTS score. 
The process to apply for a university to study in South Korea 
Documents required to study in South Korea
The following records will be required to apply to a university in South Korea:
Birth certificate

Recent Photograph

Passport

Letter of Recommendation 

Academic transcripts

Letter of Intent/Statement of Purpose

Curriculum Vitae

Some evidence is that you can afford to sustain your stay in the nation while you are studying.

You might also be required to submit the results of other exams like the GRE, GMAT, or LSAT, depending on the topic or specialisation of your selected degree. Check whether any of these or others are necessary for your programme.

You can be requested to provide further documents if the list doesn't meet the requirements of a specific South Korean university. You may also be required to submit certified English translations of your documents or translations into the regional tongue.

 
Show off your English language skills.
You'll need to show proof of your language proficiency to study for an international degree in English. IELTS, TOEFL, or C1 Advanced language certificates are some common choices for overseas students. 
 Your test results shouldn't be over a year or two old, and you must achieve the university's minimum language score. You must take an English preparatory course to raise your skills and scores if you still satisfy the minimal language criteria. 
South Korea's admission deadlines for applications
In South Korea, the application deadlines for Master's programmes are often in the summer (June–July) or the winter (January–February). Remember that some colleges and institutions don't have application deadlines, so you can submit your application whenever you are ready.
Send your necessary paperwork well in advance to minimise delays or missed deadlines.

The process to apply for Student Visa to study in South Korea
Documents Required for Study Visa in South Korea
Complete an application to a Korean university.

Recommendation letter

CV/resume statement of purpose

Passport copy

Verifying your identity

Academic certificate of previous educational institution

Proof of language proficiency in English or Korean (depending on the method of study)

Certificate of work experience

Work portfolio
Procedure for Student Visa in South Korea
Before leaving for South Korea, you must get a Student visa (D-2) from the South Korean Embassy in India, New Delhi / Mumbai / Chennai.

You must first send the Korean University Admission Centre (KUAC) the completed application form, education certificate, leaving certificate (from your former school), copy of the student code of conduct, copy of your passport, and language certificate.

To verify whether your identity is authentic and appropriate for your programme of study, KUAC will examine your supporting evidence.

If your profile is accurate after evaluation, you will receive the Offer Letter and Invoice from KUAC.

Gather supporting materials such as a letter of purpose, study plan, financial aid or sponsorship documentation, parent-child connection paperwork, a bank statement for the past six months, and a medical examination report.

Send the required paperwork and payment to the Korea University Admissions Office.

You will receive a letter of official admission from the university or college.

You can submit a visa application once you receive an official acceptance letter.

After receiving your acceptance letter, you can apply for a visa at the South Korean Embassy in India.
Best academic programmes in South Korea
South Korea is renowned for being open to media, technology, and entertainment. It is a location where you can produce and give fresh, original ideas to the world. However, it also has a lengthy, fascinating, and complex political past, which makes it a prime location for historians and social scientists. 
The following are the courses offered for Indian students to study in South Korea:
Mechanical Engineering

Electrical Engineering

Business Administration

Environmental and Civil Engineering

Information Technology

Medical Sciences

Language degrees

Arts and Literature courses

MBA
Top Universities to Study in South Korea
Some of the best universities in South Korea for Indian students are listed below: 
Korea Advanced Institute of Science and Technology, Daejeon

Yonsei University, Seoul

Chonbuk National University, Jeonju

Korea University, Seoul

Seoul National University, Seoul

Dongguk University, Seoul

Haiyang University, Seoul

Kyung Hee University, Seoul

Pusan University, Busan

Sogang University, Seoul

Pohang University of Science and Technology, Pohang

Sungkyunkwan University, Seoul

Gyeongju University, Gyeongju

Konkuk University, Seoul

Catholic University of Daegu, Daegu

 
Tuition Costs in South Korea
South Korea divides its colleges into public (supported by the government) and private institutions, similar to most other nations worldwide. However, one of the distinctive features of South Korea is that local students pay the same tuition rates as international students; this is in contrast to many other countries.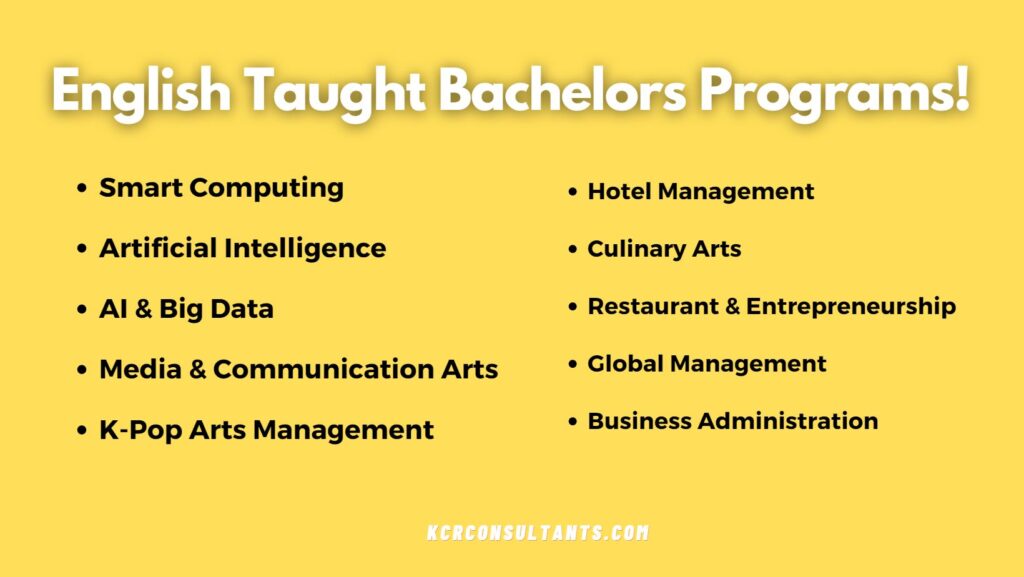 | | |
| --- | --- |
| Types of Degrees | Approximate Annual Tuition Fee |
| Associate Degree | $1,500 to $1,700 |
| Undergraduate Degree | $1,600 to $13,000 |
| Postgraduate Degree | $1,500 to $10,000 |
Living expenses for study in South Korea

 
Basic living costs for overseas students in South Korea
| | |
| --- | --- |
| University meals include food and cost roughly. | $300 each month (An average meal costs $3 to $5) |
| Monthly rent outside of university housing | $300 (with a $5,000–$5,000 advance insurance) |
| Monthly cost of a student hotel | $300–$500 |
| Cost of monthly health insurance | $20 |
| Monthly pass for public transportation | $45 |
| Monthly Internet Charges | $30 |
| A meal at a budget restaurant | $7 |
| Average monthly utility bill | $170 |
Note: 
International students from outside Korea can also get health insurance through the Korean website for National Health Insurance. The customer support line for English-speaking healthcare is 033-811-03.

 
Opening a bank account is possible for all international students studying in Korea, regardless of whether they are citizens of South Korea. In Korea, creating a bank account for a student is typically cost-free.

 
Additionally, it would be best if you enrolled in Korean language classes. You can choose between taking a 3-week course for $800 or 10 weeks for between $1,300 and $1,600.

 
Scholarships for International Students to study in South Korea 
Top Scholarships for Indian Students
We will introduce you to the top scholarships for Indian students interested in studying in South Korea in this area.
The Undergraduate Korean Government Scholarship

GIST Scholarship

UST Scholarships

Seoul National University Scholarship 

Global Korea Scholarship

Yonsei University Scholarship for Undergraduate Program

Korean Government Scholarship Program

GKS for ASEAN Nations

Korea University Scholarship

 
The Korean government's most notable scholarships are the Global Korea Scholarship (GKS) the Ministry of Education offers. Public organisations and charities also award scholarships to students from particular nations and academic subjects. Scholars are provided by the Ministry of Culture, Sports, and Tourism and the Ministry of Foreign Affairs, among others.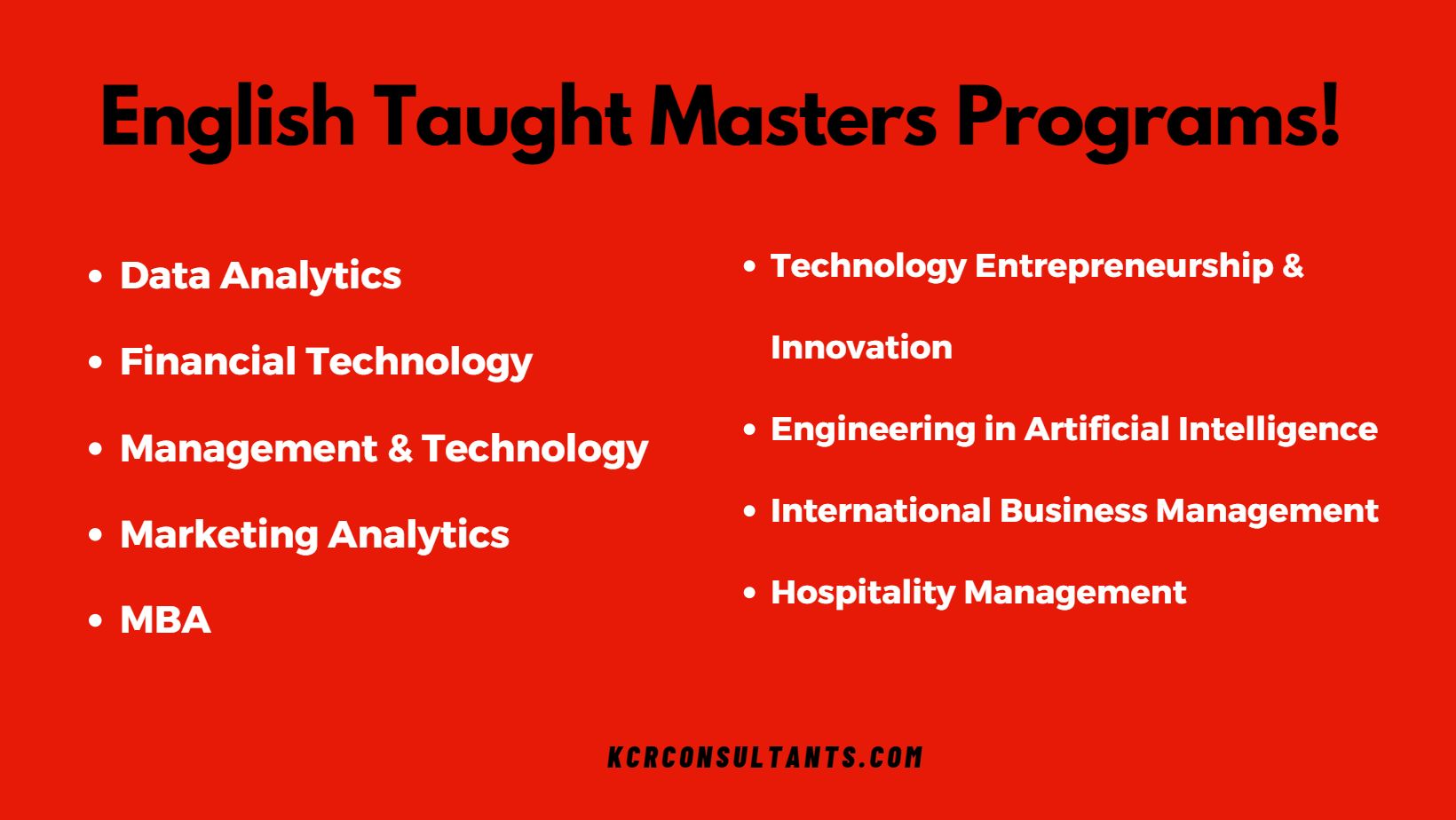 Scholarships at universities
While funding for language studies or study abroad courses in Korea can be challenging, many universities provide financial aid to overseas students enrolled in their degree programmes. These scholarships are typically determined by academic achievement. For instance, in the first semester of their degree programmes, our partner Konkuk University offers scholarships based on your TOPIK score. If you have completed TOPIK level 3, you are eligible for a 30% tuition cost scholarship. The scholarship increases by 10% for each subsequent TOPIK level, reaching 60% of the tuition fee for TOPIK 6. Students with a GPA between 3 and 4 from their previous semester are eligible for scholarships ranging from 20% to 100% of the tuition starting in the second semester. 
Learning and working in South Korea
International students with student visas who wish to work part-time in South Korea must request immigration agency approval for specific extracurricular activities. After six months of study, language students are eligible to apply. You must have official school approval before applying for a work permit. 
Students may work up to 20 hours per week (or 30 hours per week for postgraduate programmes) with a permit. University students with TOPIK levels three or higher find jobs more quickly and can work unrestricted hours during school breaks. 
Working at restaurants and shops is the most popular part-time occupation, but you can only find work there if your Korean is excellent. A modest profession, like a server or cashier, pays between 9000 and 10,000 won per hour, or around $8. Tutoring and teaching positions in English are more lucrative and well-liked by overseas students. The hourly compensation ranges from 25,000 to 40,000 won ($25 to $33). You cannot have particular employment while on a student visa. For instance, you cannot work in the manufacturing sector.
Employment Opportunities and Salary Growth in South Korea
South Korean marketplaces are cutthroat, but your international experience and degree in Korea may give you an edge if you speak the language fluently. The IT industry is the most sought-after among Indian students. Indian students can find improved work possibilities with the country's expanding political relations. The average yearly salary for an IT or computer engineer is USD 46,980 (or INR 38.67 Lakhs). At the same time, a business graduate may earn as much as USD 74,500 (about INR 61.33 lakhs).  
Leading employers in South Korea 
Indian students have access to fantastic chances in numerous South Korean businesses. Here is a list of such companies, the majority of which have locations throughout the globe, including India: 
Samsung

IL Jin

LG

Posco

KIA Motors

Cheil

Hanon

Shinhan Financial Group

Hyundai
With more than 370 official institutions, South Korea offers a variety of possibilities for those interested in higher education. Your resume will soar to the top job markets in the world if you earn a degree from a South Korean university.