"Study in Romania: Where Culture, Education, and Global Perspectives Converge!"
Romania, a hidden gem nestled in the heart of Eastern Europe, offers international students a rich tapestry of academic excellence and cultural diversity, seeking a unique and rewarding educational experience. With its vibrant history, stunning landscapes, and renowned institutions, Romania has emerged as an enticing country for those aspiring to broaden their horizons and achieve academic success at a nominal cost of study and living!
Why Study in Romania?
The educational system in Romania supports students in obtaining a more promising future, and it helps them to secure a bright future in a great career and profession. Let's explore why considering Romania studying is worthwhile for international students.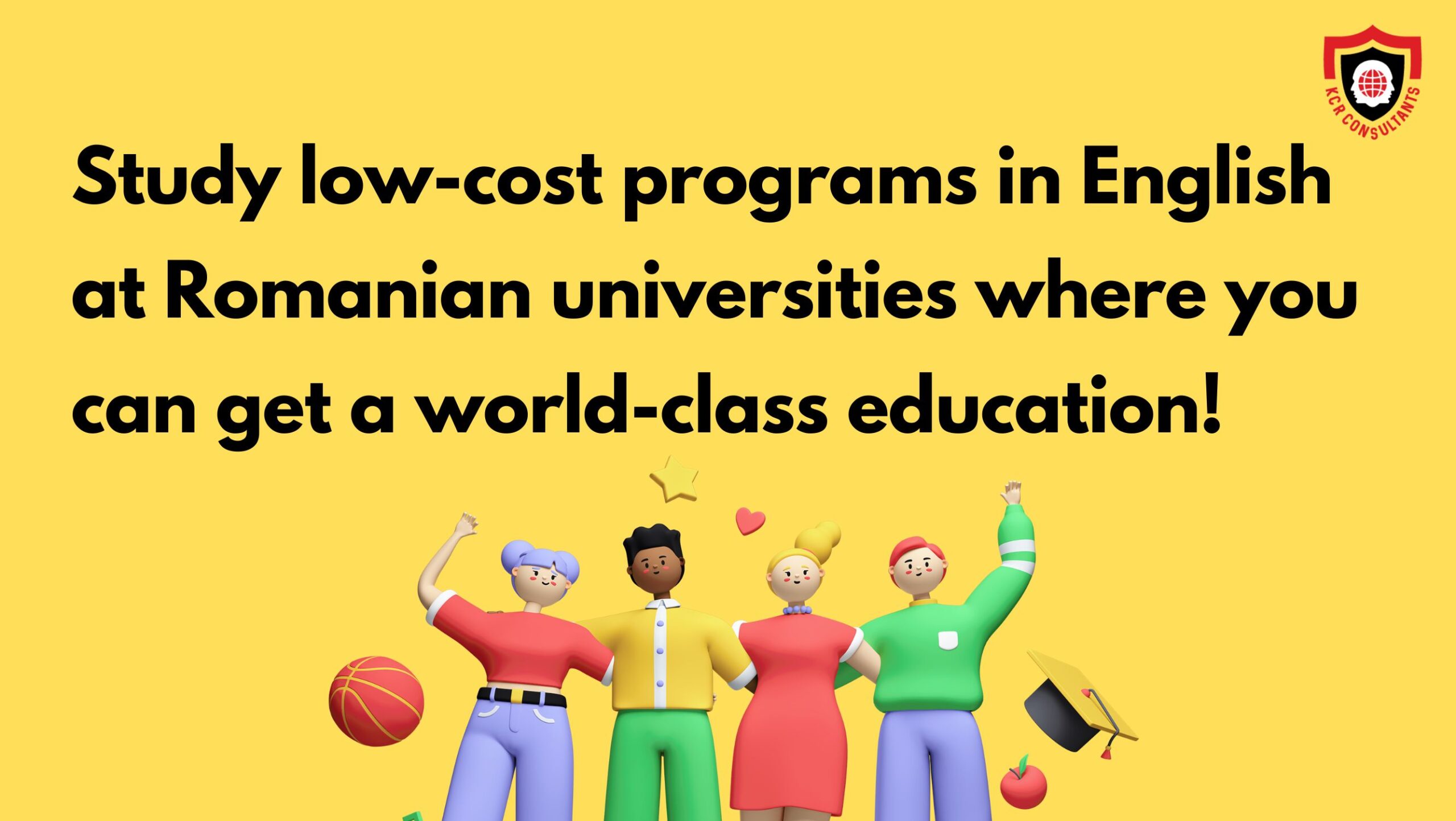 Academic Excellence:
Romania boasts a long-standing tradition of academic excellence, with a strong emphasis on academic studies and research. The country has many universities and research institutes offering various analysis and research programs. From humanities and sciences to engineering and medicine, Romanian institutions provide high-quality education that meets international standards. The degrees awarded by Romanian universities are recognised across Europe and the rest of the world, enabling graduates to pursue successful careers within Romania and worldwide.
Affordable Tuition Fees:
One of the significant advantages of studying in Romania is its affordable tuition fees compared to many other European countries. International students can benefit from quality education at a fraction of the cost, making it an attractive option for those seeking a budget-friendly education that includes low-cost accommodation facilities and living. Scholarships and grants are also available for outstanding students with financial difficulties, thus opening doors to academic and future career opportunities.
Multicultural Environment:
Romania embraces cultural diversity, welcoming students from all corners of the globe. Studying in Romania allows international students to immerse themselves in a multicultural environment, interacting with peers from various backgrounds and building lifelong friendships. This exposure not only broadens perspectives but also fosters intercultural understanding, enriching the overall educational experience.
English-Taught Programs:
Language barriers can often pose a challenge for international students, but in Romania, many universities offer programs taught in English. This ensures that students can pursue their desired fields of study without requiring Romanian local language proficiency. However, learning the local language can be an added advantage, as it allows one to fully engage with the culture and integrate into the local community.
Rich Cultural Heritage:
Romania is a country brimming with a rich cultural heritage that spans centuries. From its medieval castles and churches to its traditional folk dances and music, Romania offers a fascinating glimpse into history and tradition. Students can explore the country's architectural wonders, visit ancient ruins, and participate in local festivals, all while pursuing their studies. This unique blend of academic pursuits and cultural immersion creates an unforgettable experience for international students.
Central Location and Travel Opportunities:
Situated at the crossroads of Central, Eastern, and Southeastern Europe, Romania serves as a gateway to explore the diverse landscapes and cultures of the region. Its strategic location offers convenient travel opportunities to neighbouring countries such as Bulgaria, Hungary, and Serbia. Whether visiting the enchanting Transylvania region or exploring the picturesque Danube Delta, students can embark on unforgettable adventures in Romania.
Safety and Quality of Life:
Romania is known for its warm hospitality and safe environment, providing students peace of mind while studying. The cost of living in Romania is relatively low compared to other European countries, ensuring a comfortable lifestyle for students on a tight budget. The country's efficient public transportation system and well-developed infrastructure further contribute to a high quality of life.
Vibrant Student Life:
Romanian universities offer a vibrant and active student life, with numerous extracurricular activities and student organisations. Whether participating in sports clubs, joining cultural associations, or engaging in volunteer work, students can pursue their passions outside the classroom and develop valuable skills. This lively atmosphere fosters personal growth, networking opportunities, and lifelong memories.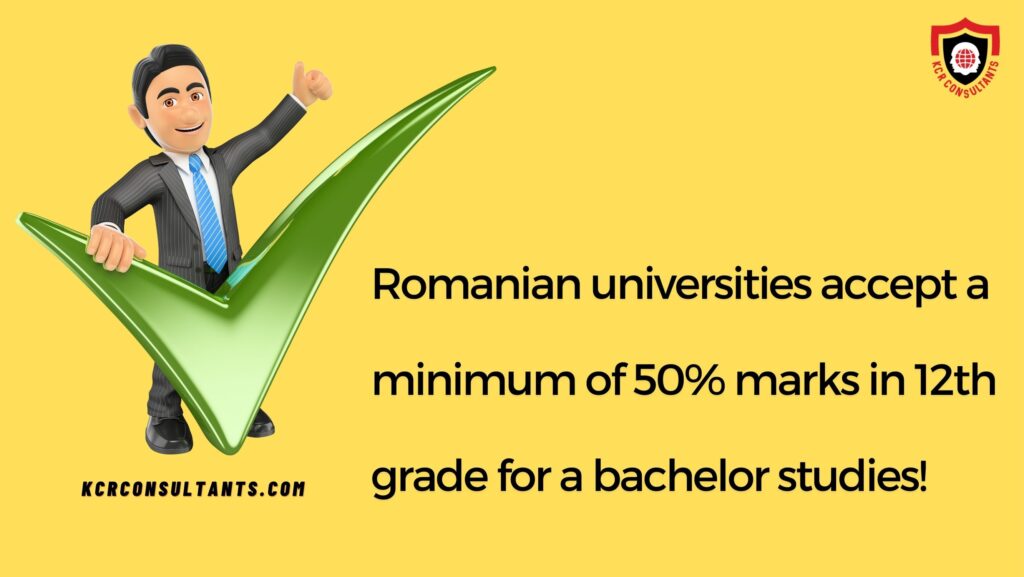 Romanian Educational System
The educational system in Romania is constantly changing. The Ministry of Education and Research governs the educational system. The prerequisites for higher education are comparable to those in Europe. Students are encouraged to pursue their studies at the University of their choosing. The most famous study fields are veterinary medicine, architecture, education, music, and the arts. Students can study for a year or several years, depending on the level they want to reach. Once students graduate, they can use their credentials to find employment in Romania or abroad.
Studying at a European university is an unparalleled experience, which is why students from all over the world aspire to immerse themselves in the European educational system. Want to study at a top-ranked European university without breaking the bank? Then Romania is the ideal destination for you. The cost of living and learning here is lower than in any other European country.
Top Universities to Study in Romania
The higher education institutions in Romania comprise universities, institutes, academies, conservatories, and university colleges. If you want to study in Romania, keep in mind the following major universities:
Transylvania University of Brasov

University of Bucharest

Bucharest Academy of Economic Studies

Babes-Bolyai University

Technical University of Cluj-Napoca

Alexandru Ioan Cuza University

Gheorghe Asachi Technical University of Iași

Bucharest Business School

ASEBUSS Romanian-American Business School

West University of Timisoara

University Politehnica of Bucharest

University of Medicine and Pharmacy "Carol Davila"
"Romania: Where Education Meets Adventure for International Students!"
Best courses for international students to study in Romania
International students at Romanian institutions can choose from various classes in each discipline. Whether you come from a scientific, commercial, or artistic background, Romania will undoubtedly offer the best thing for you. The following are the most popular courses to pursue in Romania:
Bachelor of Science in Computer Science

Bachelor in Geography of Tourism

Bachelor in Management

Bachelor in Robotics

Bachelor of Building Installations

Bachelor's degree program in Finance and Banking

Bachelor in Navigation and Waterborne Transport

Bachelor in Automotive Engineering

Trade, Tourism and Service Economy

Bachelor of Science in Hospital Management

Bachelor of Science in Finance

Bachelor of Science in Economics and Business

Bachelor of Science in Supply Chain Management and Logistics

Bachelor in Environmental Engineering

Bachelor in Multimedia Systems Engineering

Bachelor in International Relations and European Studies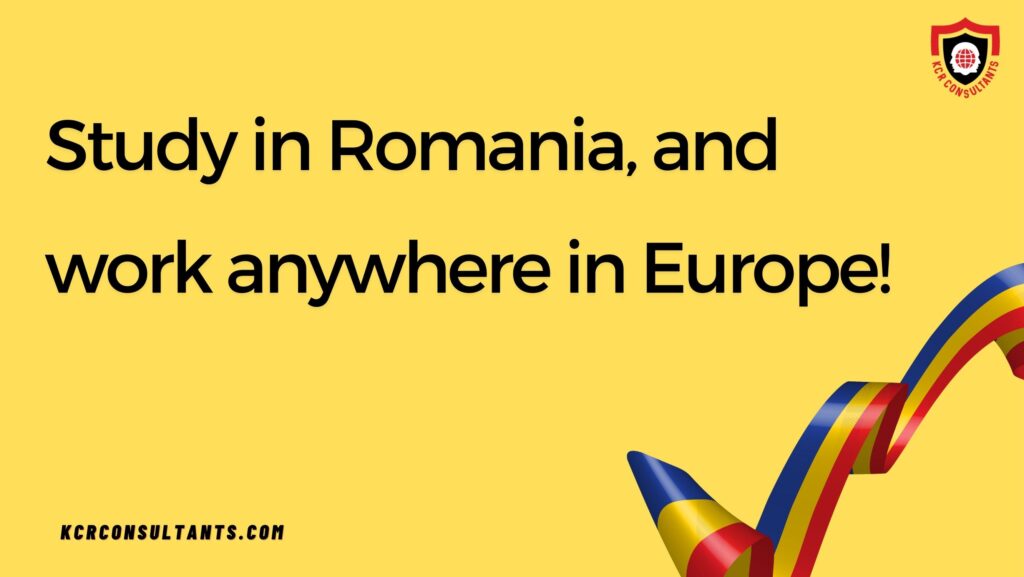 Cost of Study in Romania
Tuition costs vary depending on the type of programme, faculty, nationality of international students, and other factors.
Types of Degrees Approximate Annual Tuition Fee
Doctorate Degree $5,000 to $6,000
Undergraduate Degree $3,000 to $5,000
Postgraduate Degree $4,500 to $6,000 
Romania Scholarships for International Students
You can apply for scholarships if you cannot afford to study in Romania. Governments and universities in Romania provide many sorts of scholarships to international students. Here are a few examples:
CEEPUS Program

Scholarships to International Citizens by the Ministry of Economy, Energy and Business Environment.

Transilvania Academic Scholarship

The Romanian State offers scholarships to foreign citizens through the MFA.

Excellence Scholarships Offered by Romanian State to International Students.

University of Bucharest – CEEPUS Program

The L'Oréal – UNESCO National scholarship program "For Women in Science."

Nicolae Titulescu Scholarships

Pârvan and N. Iorga Scholarships

STARR-UBB Institute Fellowship
Do you want to study in Romania or another European nation but need help knowing where to begin? KCR's consultants and counsellors will assist you in planning your study abroad trip, from application to visa documentation.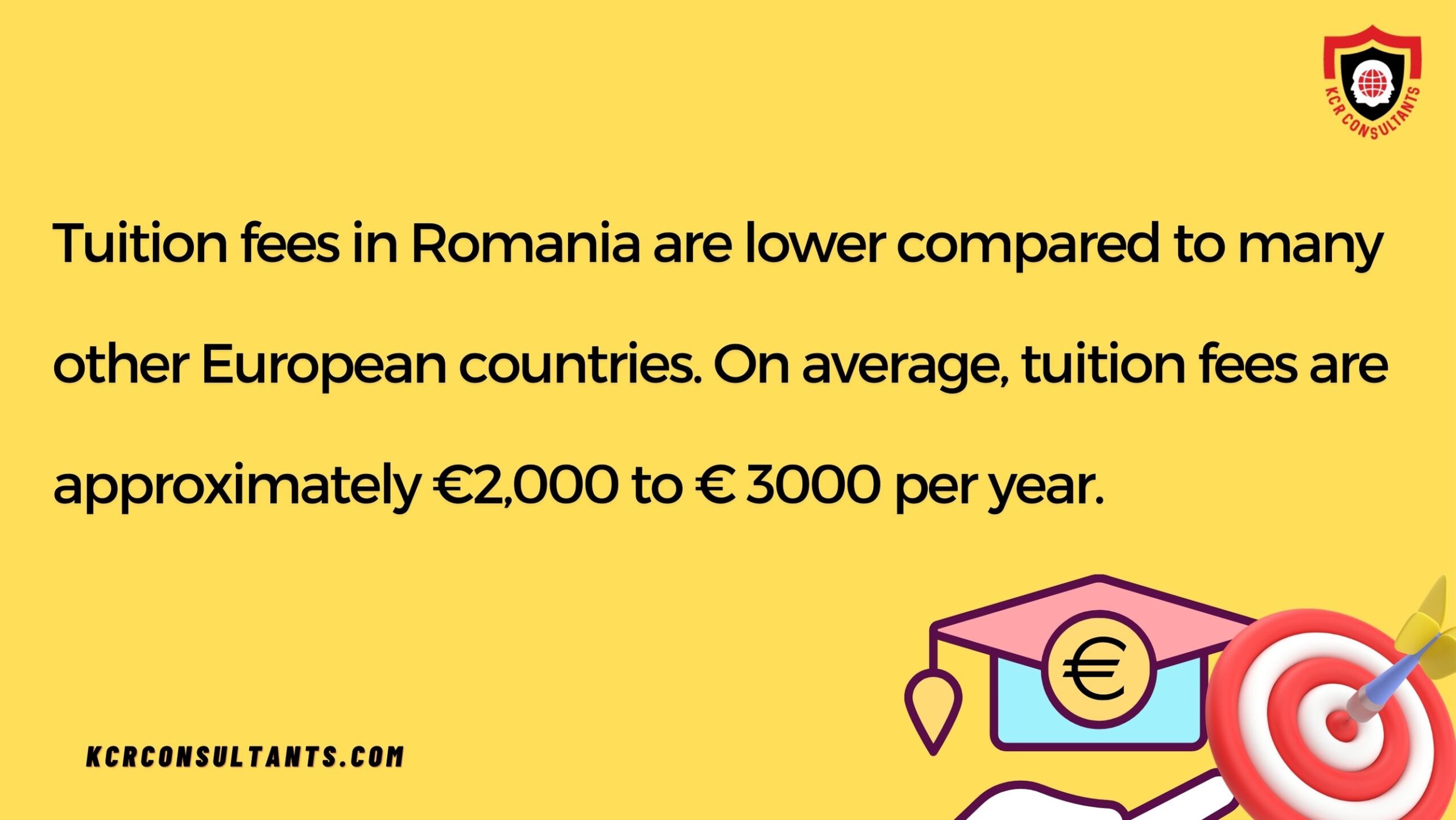 Admissions Procedure
In Romania, there is no centralised application portal. Instead, you should submit your application to specific universities separately. KCR CONSULTANTS could be the best place to get their services ready and process your application to pursue higher education in your desired field of study!
You may need the documents below to proceed; the final list will be known only after you choose your programme and University.
High school grade (you'll need to do the same for your undergraduate Degree for postgraduate study)

Copy of Birth Certificate

Four passport-sized photographs

Copy of Passport

Medical certificate (this must demonstrate that you have obtained all of the mandatory immunisations for entry into Romania)

CV/Resume

English Language Proficiency Test Results (IELTS, TOEFL, etc.)

Letter of Recommendation

Statement of Purpose
Romania Study Visa for International Students
Students from the EU or European Economic Area (EEA) and Canada, Japan, Switzerland, Moldova, Croatia, South Korea, the United States, and Serbia do not require a visa to study in Romania. Others must get a student visa before arriving in Romania. To apply to a Romanian institution, you must first get an admission letter from a university approved by the Ministry of Education of Romania.
The following paperwork must be submitted to obtain a student visa:
Acceptance Letter (from the Romanian Ministry of Education)

Proof of one-year tuition fees.

Proof of sufficient funds to support the duration of the permit.

Certificate of criminal history.

Health coverage.
If the student is a minor, a letter of approval from the parents will be required in connection with the student's stay in Romania for study reasons.
International students must pay the first-year tuition fees in full before submitting their visa application. Payments can be paid in up to three instalments for students who do not require a Romanian student visa. ; Visa processing can take up to two months. You will need to obtain a residency permit after you reach the country.
Accommodation costs
Most institutions provide dormitory-style student housing, with fees starting at about 15-35 USD monthly for a shared room. Could you check with your preferred University to see what's available and how to apply for housing?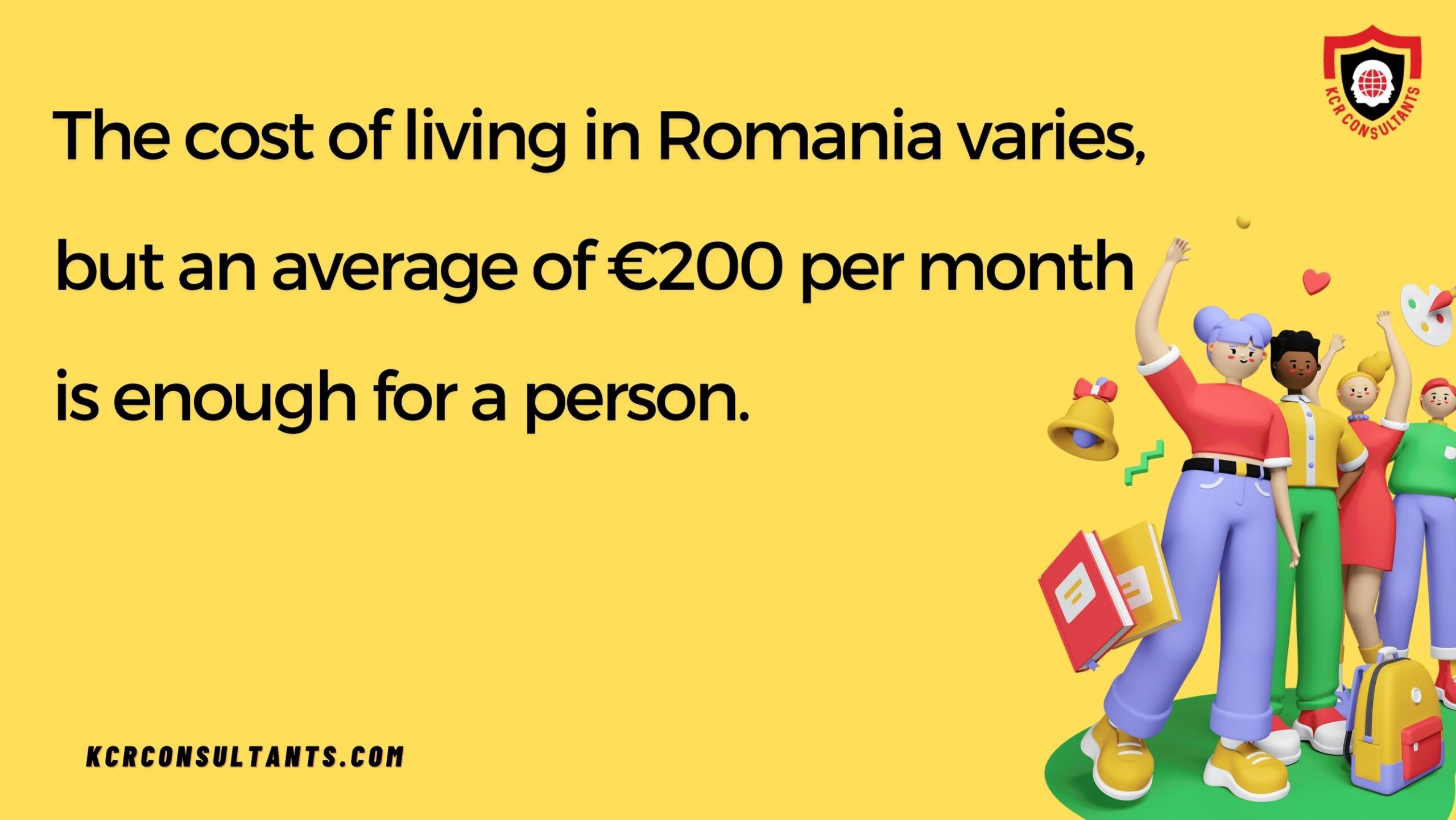 If you plan to stay in private lodging, the International Relations office at your University can make recommendations. It is essential to realise that private accommodations are generally expensive compared to university hostels!
Cost of living
In general, the cost of living in Romania is meagre. Overall, pupils will require a monthly budget of 65 to 100 USD. This is divided into 30-60 USD monthly for a private flat and around 30 USD for groceries. According to Numbeo, the Romanian capital, Bucharest, is almost 50% cheaper than London's, with rents 87% lower than in New York. In addition, all students in Romania receive a free transport permit, making student living even more economical!
Work and study in Romania
"Elevate your journey: Work and Study in Romania, Where Ambition Finds Its Home."
An international student in Romania only needs a work permit if they have residency permission to study there. Non-EU students are permitted to work for four hours every day. You must apply for a work visa to work over this limit.
In essence
Studying in Romania offers international students a gateway to excellence, combining academic rigour, affordable tuition fees, a multicultural environment, and a wealth of cultural experiences. With its esteemed universities, diverse educational programs, and welcoming society, Romania provides a nurturing and stimulating environment for students to thrive and excel in their chosen fields. By choosing Romania as their educational destination, international students embark on a journey that not only shapes their professional careers but also broadens their perspectives and enriches their lives.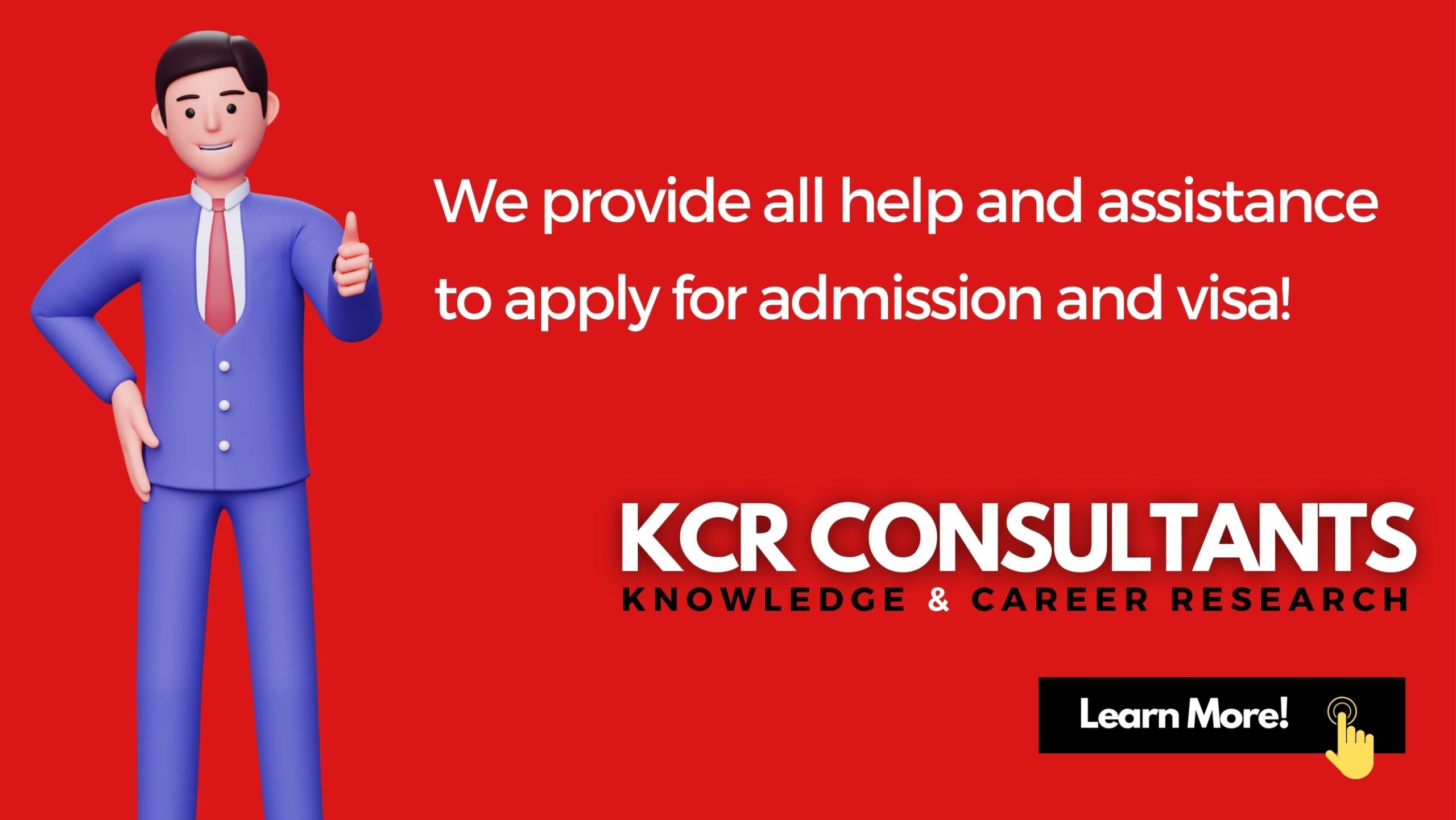 Subscribe for our monthly newsletter to stay updated
MBBS in Romania
Study MBBS in Romania in English – A Detailed View