Do You Want To Study In Canada Without IELTS?
Is it your dream to study in Canada?
Is IELTS (International English Language Testing System) acting as a roadblock? 
Is the exam criteria stopping you from pursuing your dream?
Well, Let's look at the possibilities!
Don't worry! We are not preaching or following anything against the law. There are other options to choose from instead of IELTS as some Canadian universities do not require demand to show the IELTS scores to prove a student applicant's proficiency in English.
So, What are the other options?
Is it possible to study in Canada without IELTS?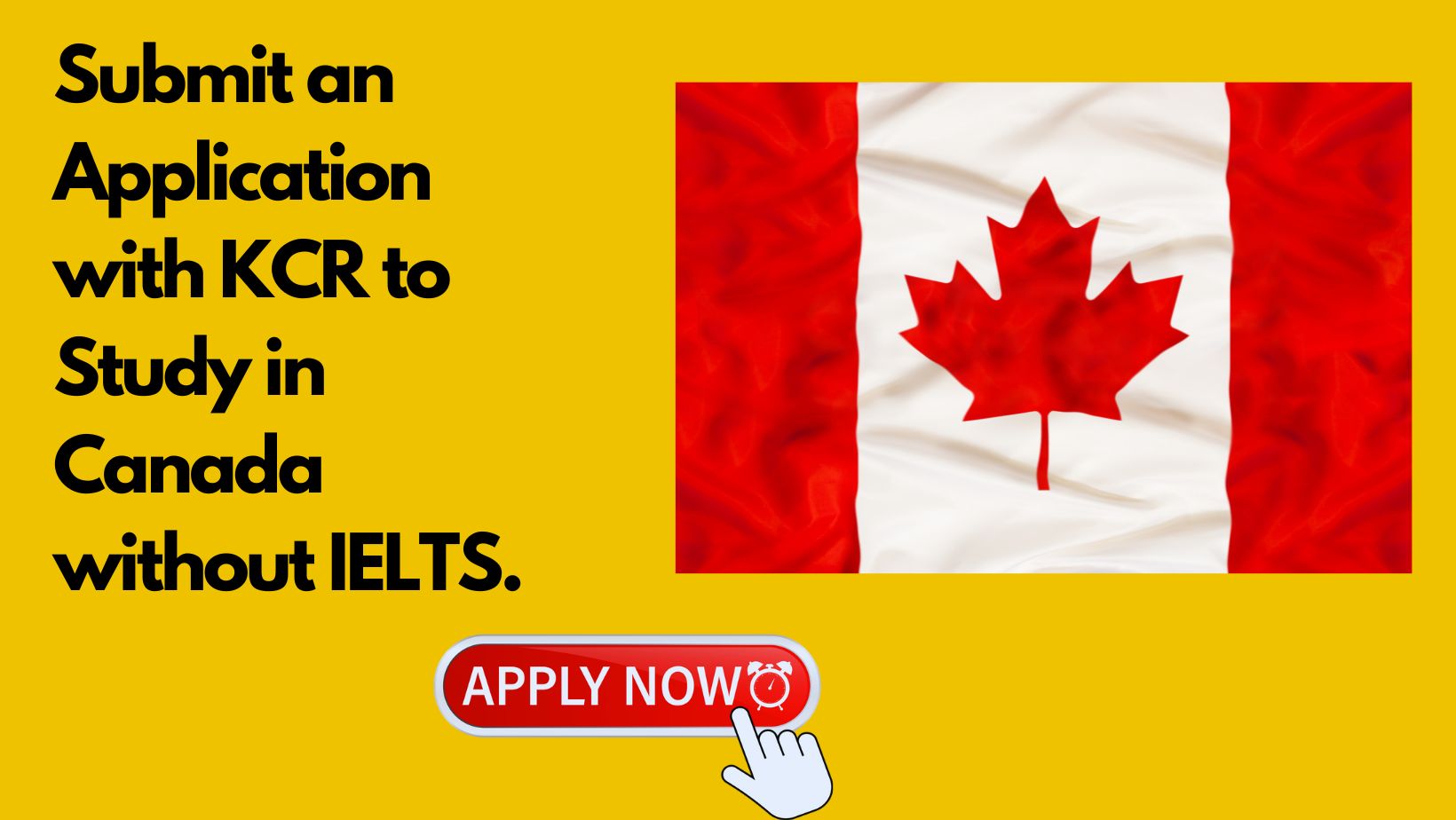 It is possible and many foreign students have taken admission to Canadian colleges and Universities to study in Canada without IELTS.
But before getting into the details of that, let' discuss the root of the issue here.
Why don't foreign students want to take up IELTS?
What are the major problems faced in taking up IELTS in comparison to other exams?
Expensive For Students
IELTS's examination fees are approximately between US$215-250, depending upon the city and country and the module of test you'll wish to appear.
This can be intimidating for some aspiring students.
Also, sometimes a student can come across a situation in which he/she is unable to give the exam, or a student is unable to achieve the desired results.
Re-registration for the test and paying this price again can be unsettling for some Indian students.
Inconsistent Time Duration
The speaking section with the instructor is different from the other parts of the exam in IELTS.
It can be very frustrating for some aspiring students as it might sometimes take more than a day for an individual to give the exam.
Exam structure
IELTS involves testing students on their reading, writing, and speaking skills.
Some students are not confident enough about their writing skills, but they have to write short and long essays within a given time interval.
Or when it comes to the speaking test, some students feel nervous while having a one-on-one interaction with the jury.
These factors can result in low scores of aspiring students, which ultimately results in crushing their dreams of studying in one of the Canadian universities.
We believe in your right to pursue higher education, especially when you aspire to study abroad. So here are some alternatives that you can choose if you want to study in Canada without IELTS scores.
These alternatives will work as your English proficiency proof for studying in Canada without IELTS.
If you can meet one or more of these criteria listed below, you will be eligible to study in Canada without IELTS.
Take another tests to prove your good hold in the English language like TOEFL(Test of English as a Foreign Language), PTE (Pearson English Language Test), CAEL (Canadian Academic English Language), CanTEST (Canadian Test for English for Scholars and Trainees)
Provide proof that you have studied in an English-medium school. A minimum of four years of English proficiency
Provide proof that the official language of your country is English
The last option for you is that you can attend a Canadian English language school for a semester or a year
But is Canada the only country for you to study without IELTS?
Or is it the only easiest and best country to study a degree course in a university without IELTS?
Let's find out.
Which country is best for study without IELTS?
UK 
At present, the most popular country where a number of universities accept Non-European  foreign students without IELTS to study for a Bachelor's or Master's study programme is undoubtedly the UK.
Here some universities consider 65% marks in English in the 12th grade school examination of the aspiring student and some, 70% as the minimum criteria to waive off the IELTS requirement.
GERMANY
Most of the English taught international programmes require a test certificate like IELTS as an evidence for proficiency in English from students who are not from an English speaking country.
Some Universities accept low scores 6.0 or even 5.5 in an IELTS test conducted in the academic module.
One can apply for Courses like Master in Computer Science in some universities even without an English test certificate. Evidence for an English taught, relevant bachelor's degree in computer application (BCA), Computer Science or B.E. I.T. with at least 65 -70 % marks is considered acceptable.  
Here are the following countries that international students can apply at:
Holland
Malaysia
Singapore
Latvia
Lithuania
Estonia
In the universities and colleges in these countries have their own rules and regulations so before applying to any of these, check out their requirements.
Now that you know you have many options to choose from, let's get back to the country famous for maple syrup and see which universities can be your ideal destination to study without IELTS. 
Which university in Canada does not require IELTS?
Options are a few and also so tricky but still one can get an admission to study in Canada.
There are different procedures and requirements for every individual university in Canada. There is no predefined SOP (standard operating procedure) for admissions in all the Canadian universities.
But here is a list of a few of the best universities in Canada that you can opt for without having to give IELTS, the English proficiency test.

The University of Saskatchewan

To take admission in this university, you need to show your stronghold in English. Besides IELTS, you can prove that by TOEFL or CanTEST.
If you don't want to go through any English proficiency test, then you can take up the university's ELT(English Language Training) program.
Or if you still don't want to choose this option, then the last option for you is to show them the proof that you have studied full-time with a school with a curriculum in English. This school can be from Canada or outside of Canada.
Some of the acceptable English language curricula;
Canadian English-medium schools
Overseas schools offering a Canadian education system curriculum in English
International Baccalaureate Program
India – IGCSE (International General Certificate of Secondary Education) and CBSE (Central Board of Secondary Education) only
GCSE (General Certificate of Secondary Education) O (Ordinary) Level and GCE (General Certificate of Education) A (Advanced) Levels.
Brock University
IELTS is not a compulsion to get admission in this university. Although if you have it, it's good.
However, if you have already completed an International Baccalaureate Diploma where English was the instruction mode, your chances of getting selected in the university will be reasonably high. Here, your proficiency in English is your added advantage.
Or if you have studied in English with good grades for the past three years, you can show those grades instead of your IELTS, and you get admission into this university.
The University of Winnipeg
Another university that doesn't consider IELTS as a compulsory requirement is the University of Winnipeg.
But you have to prove your expertise in the English language, which you can also do by taking up an ELP (English Language Program) which is available at their university.
Memorial University of Newfoundland and Labrador
This university has over 18000 students and has a 67% acceptance rate, offering business management, medicine, and engineering courses.
It is one of the top-ranked universities in Canada and is well known for its outstanding education, and IELTS is not a requirement here.
If you don't have IELTS, you can submit your CanTEST certifications.
You can also show the results of your CAEL (Canadian Academic English Language) test.
Or, if you don't want any of this, you can get yourself enrolled in the university's English language program (ELP) or English as a second language (ESL) classes as well.
One last commonly asked question that comes across every now and then from and many others, about Canada is:
Can I travel to Canada without IELTS?
Of course, you can.
It totally depends on the purpose of your visit. If you want to travel as a tourist then there is no question about IELTS. You can easily travel to this beautiful and peaceful country with your family or friends.
Or if you are going for a job and you have a work permit, even then you don't require any IELTS score.
Note: Clarify this with your company first. Some companies may not align with this.
And for studies, you have two options, either you can give an IELTS exam, and in case you don't want to give it, we have discussed the solution for that above in this article.
But if you want to apply for the permanent residency of Canada, The IELTS requirement is mandatory. 
So whether IELTS scores are required or not depends on the purpose of your visit to Canada.
No IELTS, Still Want to Make It? Not a Problem!
You may contact one of our consultants for a chat, let us know the purpose of your visit, we may be helpful to assist you. If the above mentioned education providers and their limited programmes are not your choice of schools then we will suggest colleges and universities in other countries that suit your requirements.