Germany APS Certificate has now become the mandatory document!
APS India is an evaluation centre of the German Embassy in India. Its principal aim is to assess the documents of new student applicants intending to apply for a visa to study in Germany.
For those who intend to study in Germany and the course duration is more than three months,  an APS certificate and their visa application need to be submitted.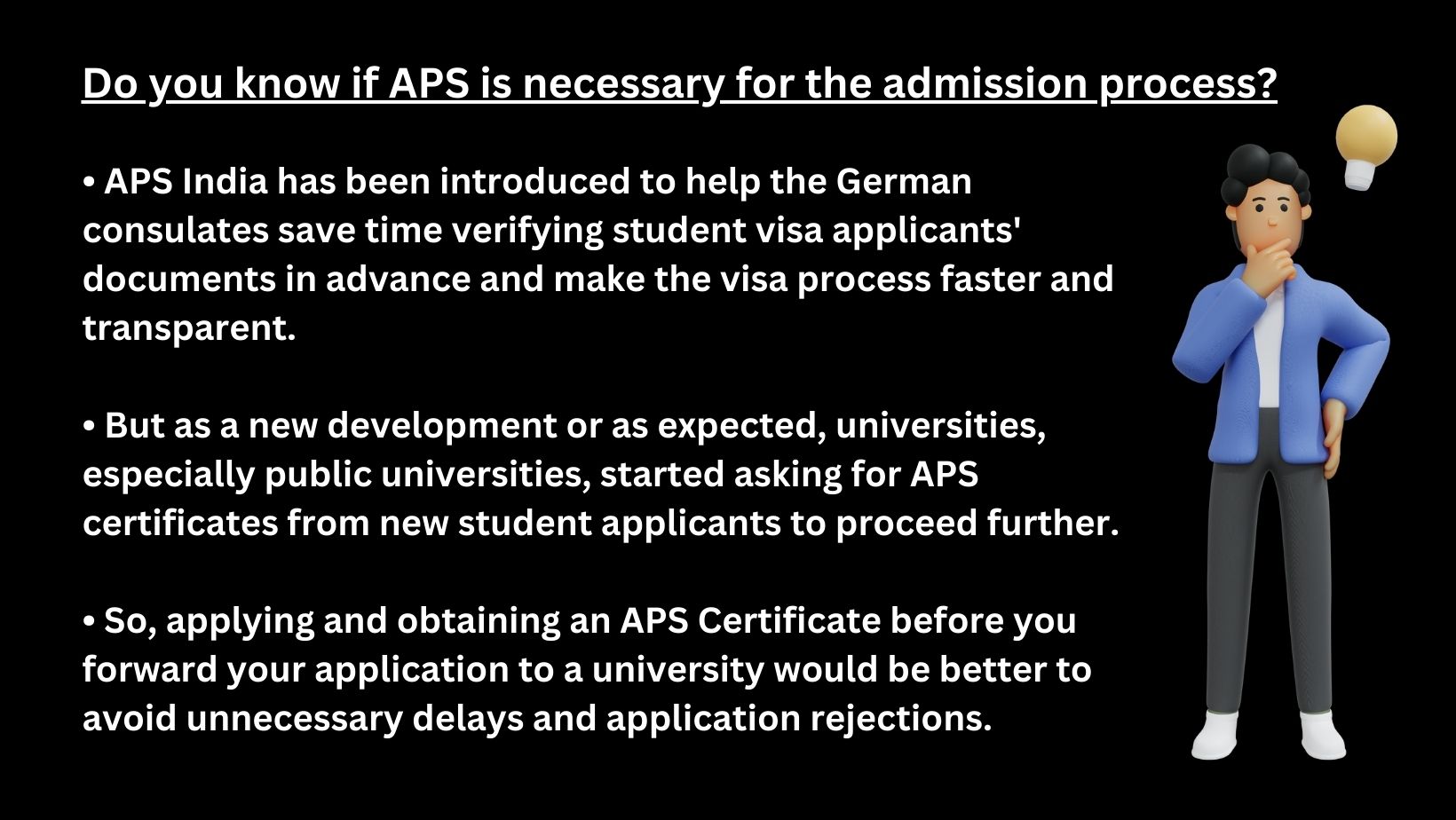 This may not be troublesome for master's degree students, who must send their documents to the APS India office and pay the processing fee. The APS office will check with the concerned departments to confirm that the documents and qualifications are genuine.
Whereas those who intend to pursue a bachelor's degree need to book for a TestAS exam, sit and pass with 100 points and above and submit the pass certificate along with the APS application.
As per the current update, those who have already sat the JEE main and advance and can provide the test pass certificates can skip the TestAS exam.
There is a chance for those who completed at least two semesters of a relevant bachelor's degree course after their 12th to be considered for exemption from the TestAS exam.
APS is introduced in India as an evaluation centre for the German consulates to assist in verifying the visa applicants' documents and certifying them as genuine.
Now, the universities have started asking for APS Certificates to process the applications for admission!
A couple of public universities have already started asking the applicants whose applications are under process.
That makes it clear to apply for the APS Certification much in advance if you plan to study at an education institution in Germany!
As per the APS India office, the assessment certificate issued by the APS India office the validity of the APS Certificate is indefinite!
You may only need to update in case you use it after a long time from the date of issuance of the certificate.
To know more, please read the following article
APS Certificate Requirements for Indian Students