University of south wales reviewed and quick notes are provided for the prospective international students in this article.
University of South Wales Reviews for International Students
University of South Wales Reviews based on the available facts and credible information: the University of South Wales, also known as USW, is a Government university in Wales. The university was formed after the merger of the University of Wales and the University of Glamorgan in 2013 and the university became the second-largest university in wales. And the university of south wales ranking rose to among the ten most prominent in the UK.  
The university had approximately 30,000 students, which included 3000 international students! 
USW is affordable for international students; the average annual tuition fee is 11,000-12,000 GBP. The cost of accommodation is the lowest in the UK.  
All non-EU students qualify for an international student scholarship of 1500-2500 GBP, irrespective of which country they are from. 
Is the University of South Wales Accredited?
The University of South Wales is an approved higher education institution for the Graduate route, which allows international students, after completing a bachelor's or master's degree, to stay back in the UK, work, or look for jobs in any skill level for two years. A doctoral degree will qualify the graduates for a three years visa.  
The university of south wales courses go beyond 500 programmes, and most programmes prepare students for jobs upon graduation. 
The main faculties of the university are; Computing, Engineering, and Science; Creative Industries, Business, and Society; and Life Sciences and Education. 
USW offers courses in various subjects; 
Arts & Humanities – Art, Performing Arts & Design, Archaeology, History, Philosophy & Theology
Business & economics – Business & Management, Accounting & Finance
Computer science – Computer Science
Engineering & Technology – Civil Engineering, Mechanical & Aerospace Engineering, Electrical & Electronic Engineering
Education – Education
Life sciences – Sports Science, Agriculture & Forestry, Biological Sciences
Law – Law
Psychology – Psychology
Physical sciences – Chemistry, Mathematics & Statistics, Geology, Environmental, Earth & Marine Sciences 
Social sciences – Communication & Media Studies, Sociology
The top-up degree programmes attract many international students with a three-year diploma or an HND to convert their qualification to a UK bachelor's degree in a Year! 
One can make it if one wants a bachelor's and master's degree in two years, with an additional scholarship of  6000.EUR from the total tuition fees.  
The National Cyber Security Academy, launched in 2016, is a joint venture with the Welsh Government and industrial partners. The university has been continuously awarded as the Cyber Security University of the UK for the last three years!
USW Review – Alumni Overview
Artist Roger Cecil, Filmmaker Asif Kapadia, and Science fiction author Gareth L Powell are a few USW alumni among many notable media personalities, politicians, and other notable artists. The university is famous for the Royal Welsh College of Music – the national music and drama conservatoire. The famous School of Creative Industries has produced many renowned personalities who run photography schools, animation facilities, Film schools, and broadcasting studios, for few to name.
Hope the university of south wales review would have provided you an insight, if you have decided to pursue at the university of south wales, talk to our expert counselors at KCR Consultants.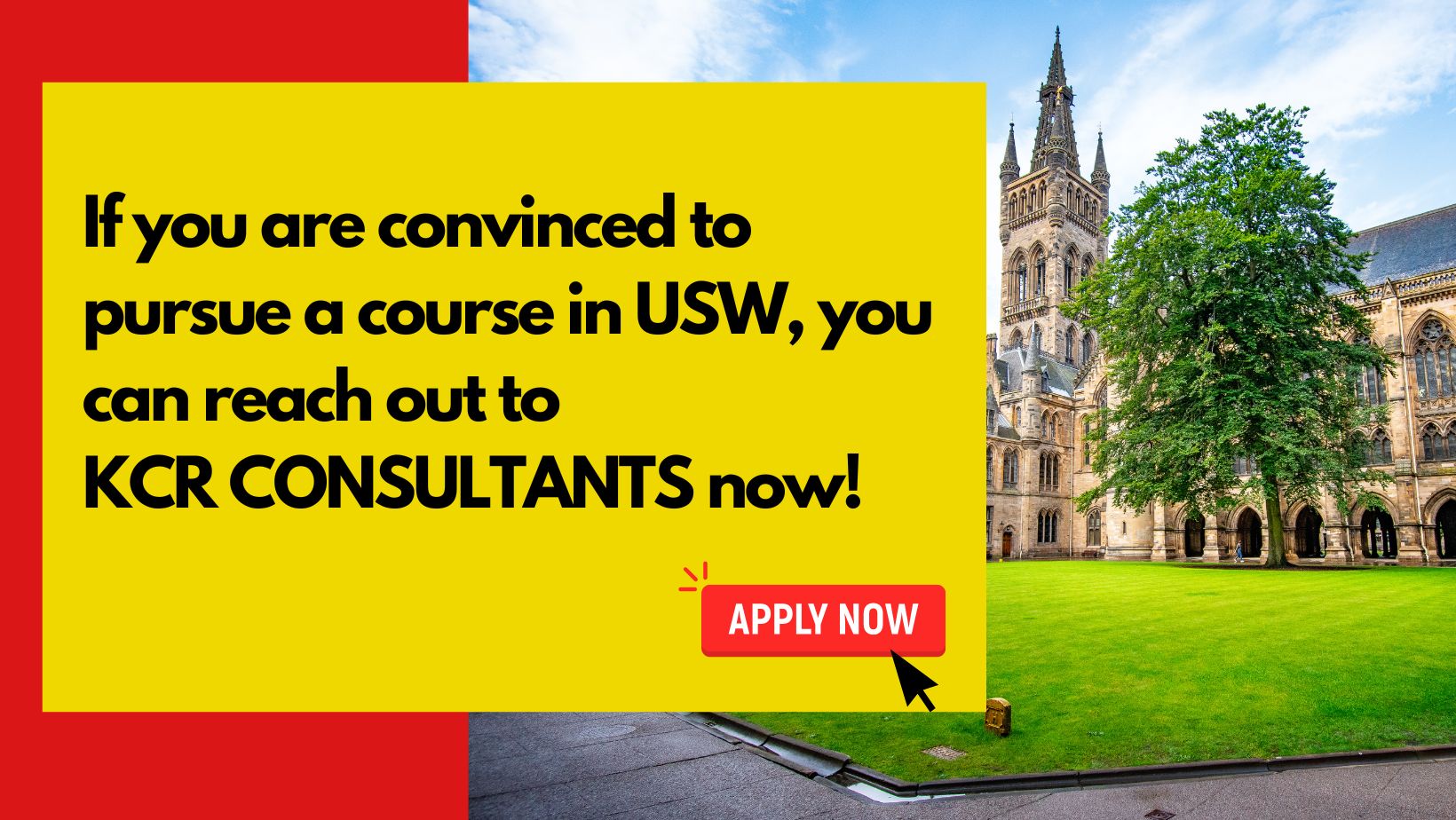 Also please check the articles for more details
University of south wales fees for international students,