India is among the most significant sources of immigrant nurses and physicians for many foreign countries, especially Europe and other western countries.
As a result, Indians studying nursing in Germany can secure well-paying positions in government and private hospitals, healthcare facilities, or private clinics based on their training and abilities.
How to Study Nursing in Germany for Indian Students?
Hence, this is the most popular program among those considering studying nursing in many countries, including Germany.
There are two options in which you can opt to study nursing in Germany for Indian students.
One is, Ausbildung in nursing, an apprenticeship program, and the second is BSc nursing in Germany, a dual degree programme.
The following passage will have a brief overview of the programme, 
Ausbildung in nursing
It is a job training programme where participants primarily learn on the job. They will therefore be qualified for a monthly stipend.

They will participate in the work and, at the same time, they receive training from existing employees.

A monthly stipend is given to each trainee, at least 1200 euros in the first year.

They receive state-accredited occupational qualifications after this three-year programme.

The State Nursing Council accepts the qualifications for the state nursing license exam and become registered nurses.
Requirements to attend Ausbildung in nursing.
You must submit your 10th and 12th senior secondary certificates.

You need to learn the German language up to B1/B2.
Let's consider the other possibility, too.
Dual Degree – Bsc Nursing in Germany
German public universities offer this degree.
BSc Nursing is a dual study programme in Germany that enables students to complete both academic requirements for a degree and gain real-world nursing experience at partner hospitals.
Why Dual-Degree?
The health sector is constantly growing because the public benefits most from health care.

You have access to a lot more opportunities in the nursing field if you have a dual degree.

Employers value your practical work experience, and you possess the technical skills required in your field.

The demand for nurses is very high, especially for managerial positions at extensive medical facilities.
Requirements to study nursing in Germany for Indian students ( Dual Degree )
You must graduate high school with a science major and at least 50% marks.

You should be prepared and eager to take a medical foundation course in Germany after learning German up to level C1 there.
What makes the Dual Degree differ from Ausbildung?
One of Germany's renowned hospitals will be the employer for the dual degree programme.

Unlike Ausbildung, passing the licencing exam is not required to become a registered nurse.

Once a Bsc nursing is obtained, the candidate will be qualified for direct registration with the nursing council as a nurse.
Here are a couple more things to wrap up this short essay. Indian students have many options for career advancement and improvement in the nursing field. To encourage qualified students to study nursing in Germany for Indian students, Germany has streamlined the visa application procedure.
This provides a more significant opportunity for them to develop their global perspective and nursing experience.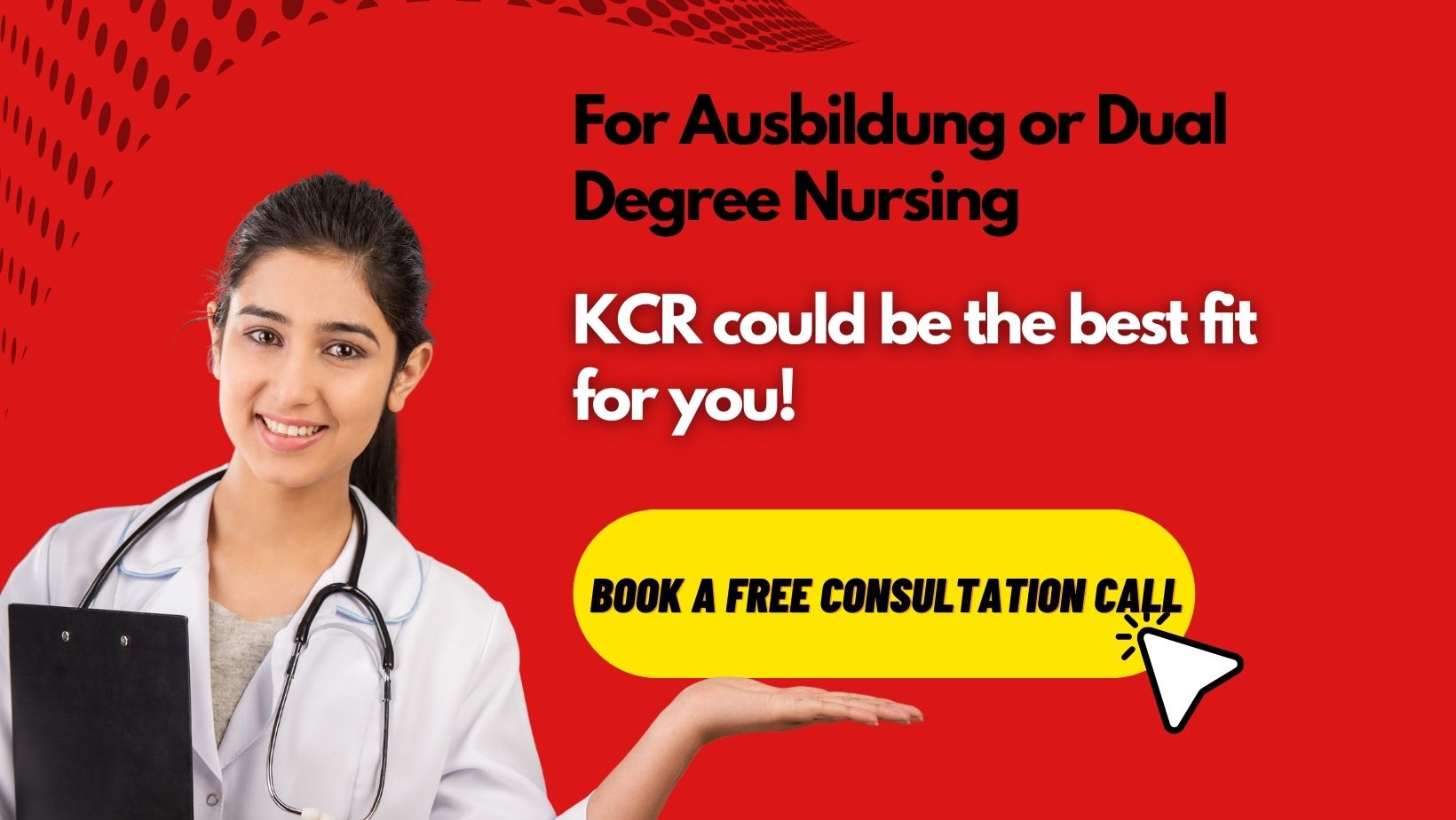 Click here to know more about Study in Germany, Free Education in Germany, How to study in Germany for free? ,BSc Nursing in Germany – Dual Degree, Nursing Ausbildung in Germany.
Frequently Asked Questions
German employers are in constant need of foreign nurses. We predict that this will even rise.
You receive a monthly wage while doing your two to three-year nursing apprenticeship in Germany. The amount depends on the company, the location of Germany, and how well your pay talks go. 
Nurse apprentices are paid between 1200 euros per month for their first year of training. The monthly payment in the second year will be more than in the first year. It will be much higher throughout the third year.
In all major cities of Germany, nurses are employed by hospitals, senior living facilities, mobile care services, private and public clinics, surgery centres, and several other specialised organisations.