Poland is a European nation that provides affordable and high-quality higher education. And this country has a remarkably long academic tradition with roots in the Middle Ages and a thousand years of cultural history. International students are always warmly welcomed at Polish universities. Additionally, the Polish cities provide appropriate conditions for worldwide learners to study in Poland.
Why Study in Poland?
Students are interested in studying in Poland for a variety of reasons. One significant factor is that, unlike other European nations, Poland offers public and private schools that provide education at the third level in nearly every major city. Institutions and schools consistently increase the range of courses they provide to meet consumer demand. As a result, you can choose your desired course from the numerous options. Additionally, the European Union and other countries worldwide recognize the degrees awarded by Polish universities. You can obtain a solid foundational education in Poland that will prepare you for employment in the EU and beyond.
Intakes in Poland
| | | |
| --- | --- | --- |
| Major intakes | Starts in | Ends in |
| Winter | September or October | February or March. |
| Summer | February | July or August. |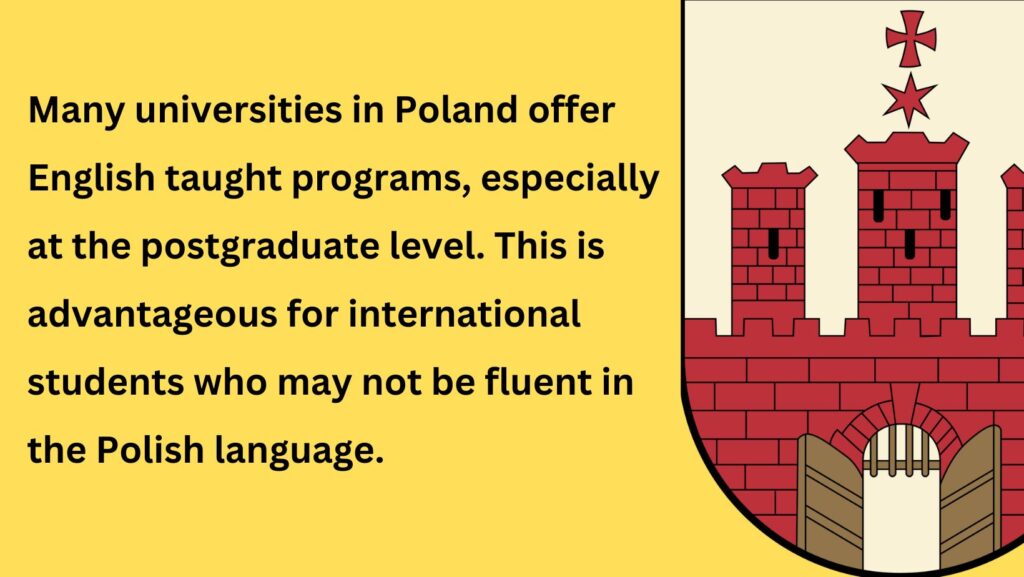 Benefits of Studying in Poland
International students opt to study in Poland for a variety of reasons. Some of the world's oldest, best higher education institutions are located in Poland. The following perks are available to international students who look forward to enrolling in various programmes at one of the Polish universities.
Most students from salaried class families would benefit from low tuition fees and living expenses.

Simple & straightforward visa application processes.

Other European nations like Germany, Denmark etc., are easily accessible because Poland belongs to the Schengen group of countries within the European Union.

Opportunities for internships and transfers to other European universities without additional cost through the Erasmus+ programme.

Low Crime Rate Worldwide.

Every significant city in Poland has a university.

Scholarships options for non-EU students!
Education System in Poland
Most of Poland's tertiary-level programs are formed of two cycles: a three-year bachelor's degree and a two-year master's degree. All universities follow the Bologna model, which makes the qualifications from other member countries equal and acceptable. At the same time, Polish institutions offer doctoral programs that can be completed in generally three years.
Many Polish universities provide two- to three-year diploma and vocational programs in addition to these courses.
The major Polish institutions overseeing quality assurance in higher education periodically monitor and assess the quality of education at the higher education institutions in Poland. Poland's Quality Assurance Committee members include the General Council for Science and Higher Education, the Polish Accreditation Committee, and the Conference of Rectors of Academic Schools.
Lifestyle in Poland
Poland is one of the nations in Europe with the lowest crime rates. While visiting Poland, you can observe the civilizations where the East and West converge. Because of its location, it is a destination that most explorers find interesting. Poland is ideal for you if you want to combine your studies with other exciting interests like travelling. Poland has affordable living expenses when compared to other European nations. Therefore, student life is less expensive in Poland.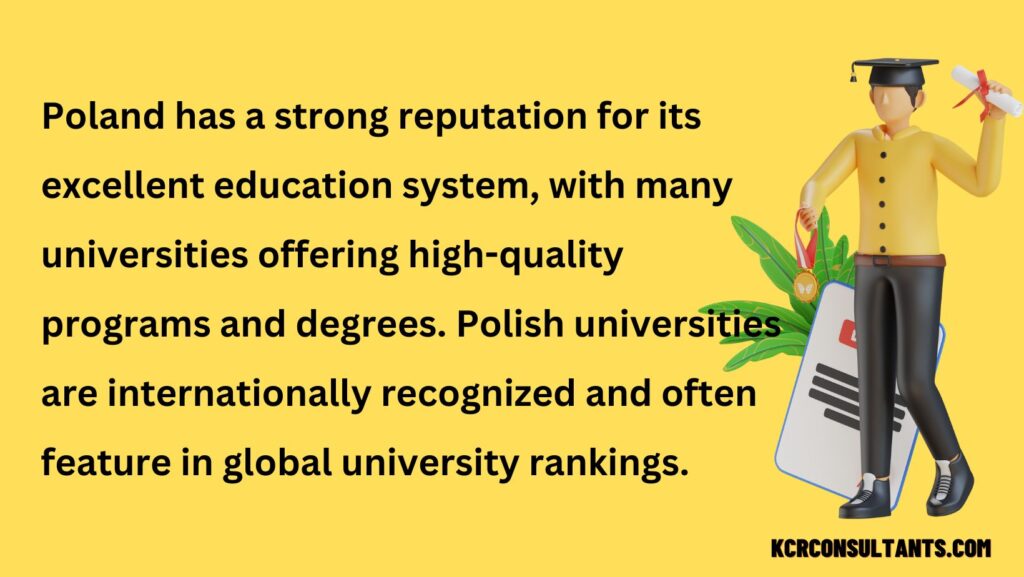 Poland's Top Universities
Polish universities always extend a warm welcome to students from other countries. The country is always proud of its former students, who include Nicolaus Copernicus, a renowned astronomer, and Marie Curie, the first woman ever to win the Nobel Prize. Poland is the only country where Jagiellonian University, one of Europe's oldest universities, is located.
List of Best Universities for International Students to Study in Poland
The University of Warsaw.

Jagiellonian University.

University of Wroclaw.

The University of Lodz.

Collegium Civitas

Coventry University Wrocław

Jagiellonian University

Medical University of Bialystok

Medical University of Lodz

WSB Gdansk.

Maria Curie-Sklodowska University.

Poznan University of Economics.

The Catholic University of Lublin.

Silesian University of Technology

SWPS University of Social Sciences and Humanities

University of Agriculture in Krakow

University of Information Technology and Management

University of Silesia in Katowice

University of the Fine Arts Poznan

University of Warsaw

University of Wroclaw

Vistula University

Warsaw School of Photography and Graphic Design

Warsaw University of Life Sciences

Wroclaw University of Economics

Wroclaw University of Environmental and Life Sciences

Warsaw University of Technology.

Wroclaw University of Health and Sport Sciences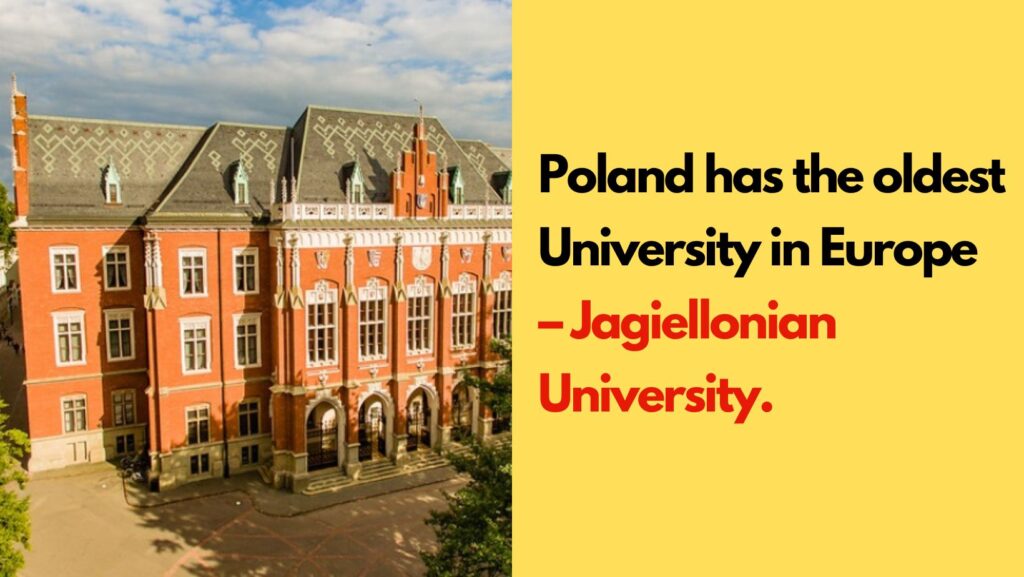 Educational Qualifications to Study in Poland
No entrance exams like the GRE or GMAT must be taken to be admitted to any higher education programme in Poland. After completing their upper secondary school studies, one will qualify to apply to higher education in Poland to study for a diploma or degree. One must have obtained a valid school-leaving certificate of 12th-grade academic education and be qualified for higher education studies in their home country. In addition, applicants must pass an English Language Test to provide evidence to meet the minimal language competency set by the individual Polish university.
To meet the language skills requirement, a minimum score of 6.5 and 6.0 is a must to attend a Master's or Bachelor's degree course, respectively, at a Polish university. The Cambridge Certificate of Proficiency Grade C, Cambridge Advanced Certificate Grade B, and TEEP are also recognized by Polish universities. Every university has its requirements, so one should decide on the university and course first and look at the language requirements later to make it easy.
Poland University Fees:
Only local students are eligible for free tuition at Poland's state colleges in Poland. For students outside of Poland, especially non-European citizens, the Universities charge tuition fees. There are private universities, too, and the costs vary with courses and the Universities providing the systems. Public Universities have lower prices compared to private universities, but they are very competitive to get into.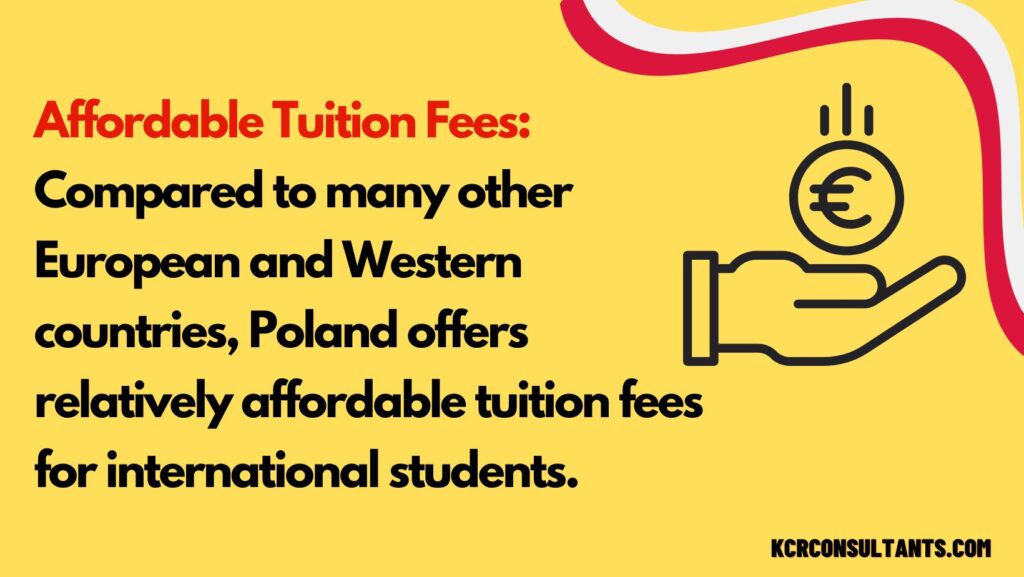 Courses Tuition Fees in Poland
Bachelor and Masters 2000 – 4000 Euro / Year
PhD 3000 Euro / Year
Medicine and MBA 8000 – 12000 Euro / Year
Vocational Studies 3000 Euro / Year
Language and Foundation Courses 2000 Euro / Year
Living Costs for International Students to Study in Poland
Living costs in Poland largely depend on where you study and live. You will always pay more to live in a city like Warsaw than in a rural location. International students' living costs in Poland range from 350 to 550 euros per month. There will be differences in the amount based on your accommodation type, lifestyle and social expenses in Poland, which is just an average number.
Accommodation
In Poland, there are two kinds of lodging—those at the university and those for private students. There are few university dormitories in Poland, although they are less expensive and naturally closer to the universities. The requirements and rents are higher in private renting units.
Private Rental Apartments for Students 350 to 400 EUR / Month
Campus Accommodation 170 to 200 EUR / Month
In locations like Warsaw, the cost of living for international students is higher in Poland. One-bedroom apartments typically cost between 360 and 500 euros per month to rent.
Food Expenses
The average monthly cost of meals for an international student in Poland is between 100 and 150 euros. Several affordable grocery options for international students can help you lower the cost of living in Poland. The prices at the restaurants are reasonable. A three-course meal costs about 23 euros, while drinks typically cost 2 euros.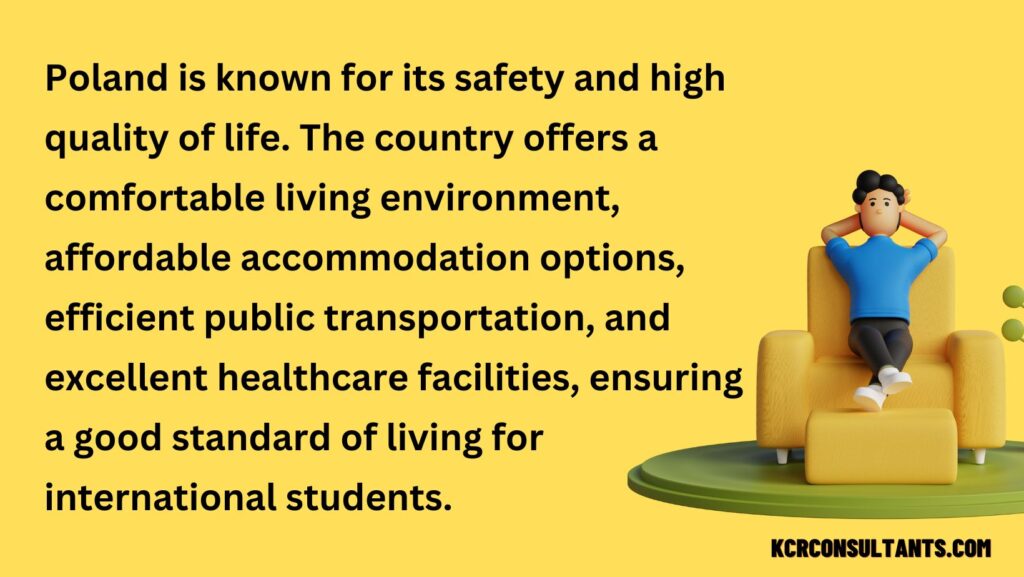 Transportation
The prices of gasoline keep changing. However, the average is 1 euro a litre. If the place students are staying is nearby the University, Poland is a very Pedestrian friendly country. A semester pass from the Universities costs around 50 euros for students in Polish Universities.
These are some of the regular living costs in Poland for international students. There are some miscellaneous costs of stationary, internet and other expenses that will be added, and again, the averages will change basis the places you are staying at.
Types of Visa in Poland
The Republic of Poland's Consulate General in Poland offers two different types of visas. The long-stay National Visa in Poland is known as Type D Visa, and the short-stay Schengen visa is known as a Type C visa.
Type C Visa
The Schengen Type C visa is for travellers intent to stay in Poland for up to 90 days. The visa permits multiple entrances and a stay of 90 days in Poland within 180 days. Most students will, however, need to apply for a Long Stay Type D Visa because this visa is inappropriate for them.
Type D Visa
A long-stay visa exists for students planning to stay in Poland for over 90 days. We will go through specific prerequisites for the Poland National Visa in more detail. The visa application process includes an interview too. The requirements for the Poland Student Visa and Interview Process are listed below.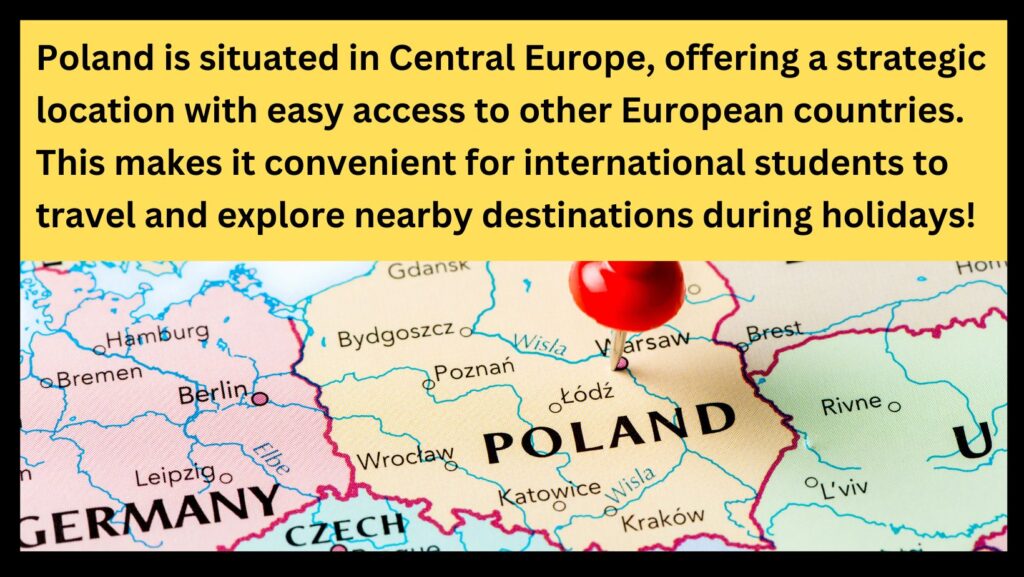 Documents Required for Student Visa to Study in Poland
The Ministry of Foreign Affairs, Poland website offers a free download of the application form for the Poland National Visa. You must fill out the form, including all required fields.

Active Passport and a copy of the data page.

In a cover letter, you should explain why you wish to study in Poland and state your plans to return after course completion)

Letter of Acceptance from a Recognized Polish university.

Air Tickets to Poland.

Accommodation- a contract or a booking confirmation.

Medical Insurance coverage up to 30000 euros.

Academic Documents (Degree Certificates, Transcripts, and Mark Sheets)

Monetary Fund Proofs: See Requirements below.

Payment Receipt of Visa Application Fees (99 EUR, based on the country of origin)

The Original Documents must be delivered individually to the Polish Embassy's consulate in your nation that is the closest by making an appointment with them. Your application and documents will be reviewed, and the interview stage of the procedure will then begin.
Poland Student Visa Interview
After submitting the required paperwork and the Poland Student Visa Application at the embassy, you will be given a token for the interview. However, the discussion is pretty simple. The questions will be about your previous travels, the college you'll attend, your lodging and employment plans, and your educational sponsors. Students must respond truthfully, and if they have all the necessary paperwork, the visa application procedure moves along quickly.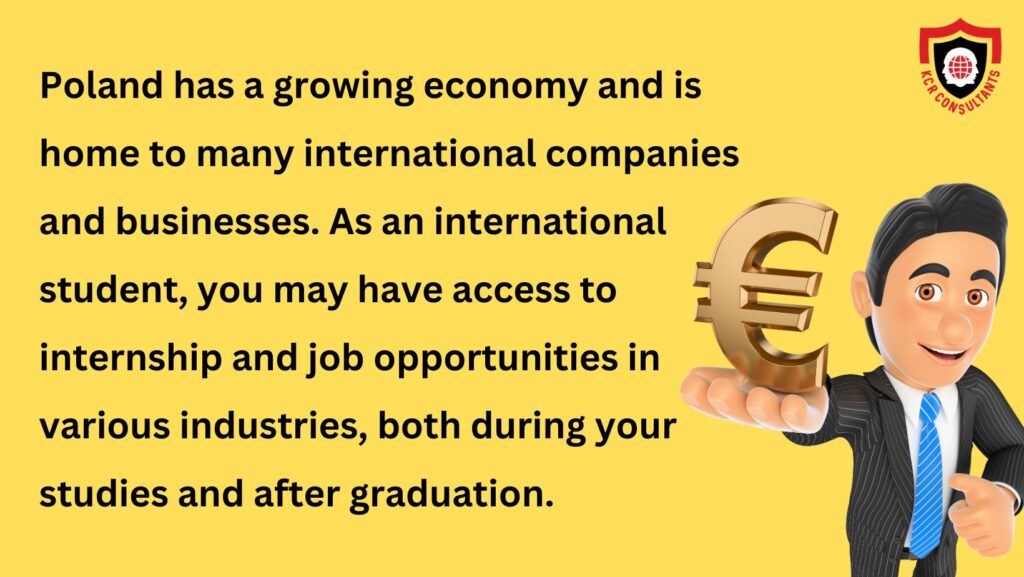 Scholarships for non-EU Students to study in Poland
There are multiple scholarships in Poland to choose from, offered by the Polish government, private foundations or universities. Some of them are:
The Gen. Anders Scholarship.

Poland My First Choice Scholarship.

The Bilateral Cooperation Exchange Scholarship.

The POLONISTA Scholarship and Fellowship.

The Stefan Banach Scholarship.

The Visegrad Scholarship.

The Eastern Partnership Scholarships (for post-soviet countries).
For more scholarship opportunities and relevant information about the exact cost of your chosen program based on your citizen status, contact the University of your Choice directly.
Work while you Earn
In Polish Cities, getting part-time work is extremely simple. There are a ton of options for international students to work part-time. Hence, students might work part-time jobs during their free time to generate money that will be helpful to their academic endeavours. These part-time employees also have a consistent growth in pay. However, the working hours in Poland vary depending on where you are from.
Polish universities also provide grants and scholarships to help students with tuition costs. Students can therefore study in Poland without any concerns owing to all these amenities.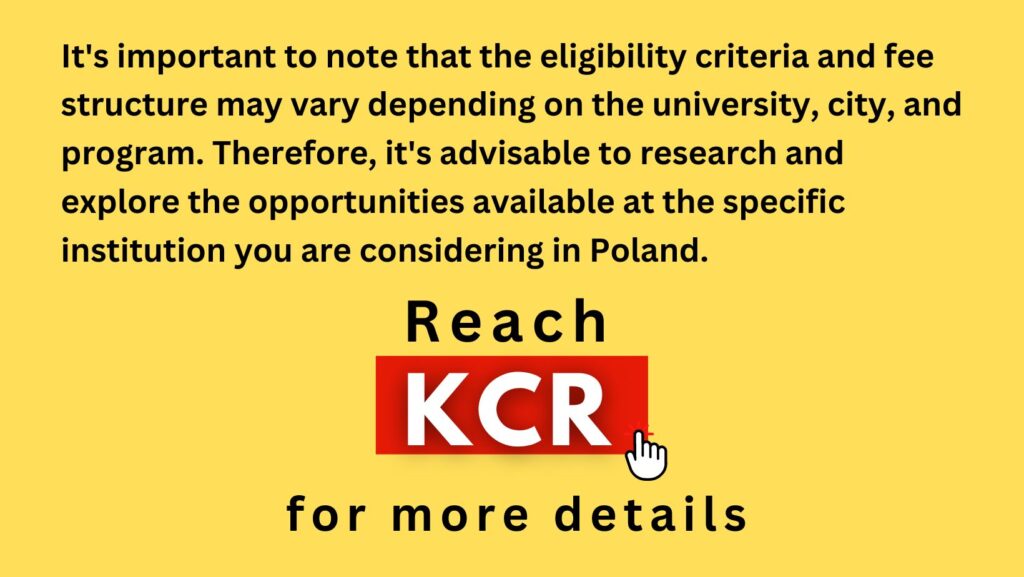 Yes, international students can work in Poland while attending their college studies. Non-EU students can work 20 hours maximum in a week. Once your study program is completed at a Polish university, the conditions change, and you will be required to obtain stay-back permits.
Polish language proficiency is optional to study in Poland. You can enrol in most Polish universities with English language skills. However, learning a few fundamental Polish phrases will make your trip pleasurable.
Poland has a high level of development in public transit. There are bus and tram lines, and the nation's capital also has a metro system—all modes of transit run on time.
MBBS in Poland
Interested in pursuing MBBS in Poland? Here's everything you need to know about it!