'Study in Greece' may be new and has never been heard before among the countries known for higher studies!
Greece was never promoted before by any university, education body, Greek Government, or university groups private or Government. 
But now, the Greek Government has thoughtfully devised a plan to promote higher education in Greece from this year, 2022 onwards. The Government plans to project Greece to the students worldwide, a country of ancient philosophers and mathematicians, as a prominent place for higher education. 
Studying in Greece is the brainchild of the Greek Ministries of Foreign Affairs, Education and Religious Affairs, Tourism, Culture and Sports in association with the Greek Embassies and Diplomatic Authorities worldwide.
As per the Study in Greece project, Greek universities and other higher education Institutions are self-administered legal entities. Each university is administered by its governing bodies and acts under particular legislation and Education systems in compliance with its obligations as demanded and controlled by the ministry of education and the Greek Government. 
Study in Greece project and the aim of the higher education sector in Greece
The higher education sector aims to establish, produce, and develop science and technology to achieve the country's future graduates' most increased quality training while promoting and developing scientific research.
To make the Study in Greece project a success for all concerned Greek Universities emphasize high-quality education and invest in innovation to meet the demands of the ever-evolving international academic landscape, making 'study in Greece' a sensible choice.
The qualifications awarded in Greece and the study in Greece project
The Greek universities offer postgraduate courses under international programmes in the below subjects;
Humanities and social sciences, including literature, law, sociology, art etc.,

Science; mathematics, physics, chemistry and biology.

Health Science; medicine, dentistry, and pharmaceutics.

Technology; architecture, polytechnic etc.,

Economics and Administration; economic, financial schools and so on.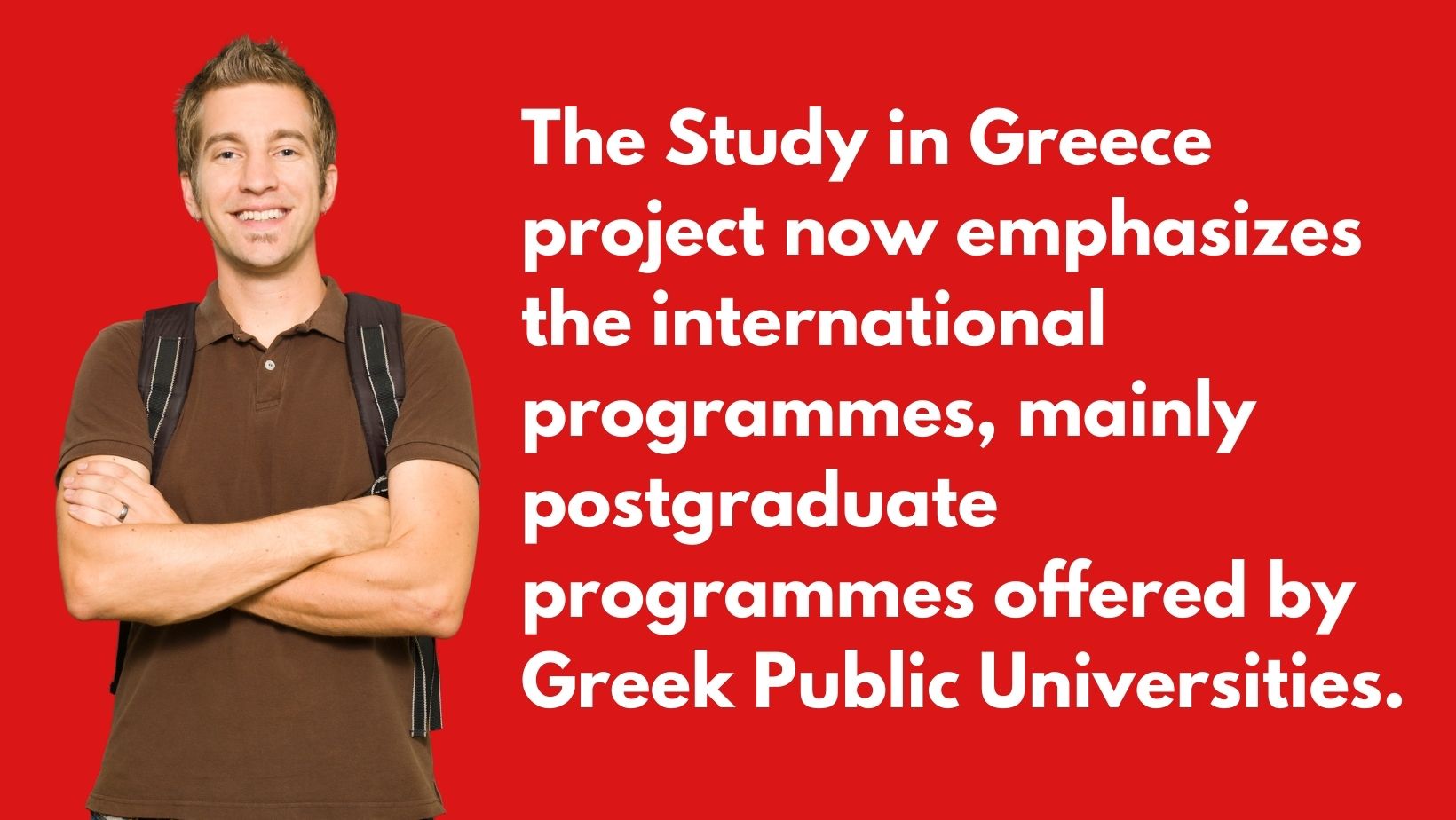 Those with an undergraduate degree have a wide variety of topics for a master's degree course in a Greek university, e.g.; 
Anthropology,
 Archaeology,
Business; Economics, Management,
Classical history,
Communication; Mass Media,
Computer Science,
Education,
Engineering,
Foreign Languages; Turkish, Modern Asian etc.,
Greek; Literature, etc.
Health Sciences; Dentistry, Medicine, Nursing, Pharmacy,
Law,
Music and arts,
Philosophy,
Political Sciences; Public Administration,
Sciences; Biology, Chemistry, Physics, Mathematics,
Social sciences; sociology, psychology, etc.,
Sport Sciences,
Theology and Religion.
As per the 'Study in Greece' project, Greece has 24 public universities accredited and fully funded by the State Government.
The duration of the postgraduate degree programmes as per the 'Study in Greece' project of Greece.
Master's degree programmes are offered in one or two years with the opportunity to pursue a doctoral degree in the same university.
The undergraduate degree programs in Greek universities last for four years.
Some programs are taught in 5 years; 
architecture,
 engineering, 
dentistry, 
pharmacology, 
agronomic, and 
forestry.
Medicine is for six years like in many other countries. 
The Fine Arts programmes require special exams and five years of classroom studies.
Greece has several private Colleges operating in the higher education sector by collaborating with foreign universities. 
Under the current law, holders of academic degrees awarded by the universities by the countries in the EU area, including through studies at a college in Greece, have their professional rights fully recognized.
The 24 Universities participating in the Study in Greece Project of the Government of Greece in 2022/23
All the Greek Government universities are participating in the Study in Greece project. 
And offer various postgraduate programmes taught in English.
The universities are;