Study In Germany                  
I am sure there is one thing we all can agree to:

Studying abroad is an opportunity of a lifetime!
It can be the most rewarding decision you can ever make for yourself.
Because studying in a foreign country is not just about attending classes.
There is so much more to it:
You get to experience a culture that differs completely from your nation
It will push you out of your comfort zone while learning to adapt to new situations
It will be your chance to get a top-quality higher education and have a plethora of study options to choose from
Apart from studying, you'll get the chance to explore new boundaries, region and test your capabilities
You will get to learn new languages and meet people from diverse backgrounds
And the most important part, you will get to improve your career prospects which can help you land your dream job
Now, some of these points may appear like a challenge when read.
But these are the challenges everyone has to face when they study abroad.
And it's all part of the fun and experience!
Now that we know the importance of studying abroad…
… It's time to think about the country you should study in!
Because the country you choose will make your study abroad dream come true.
And one such country, ideally you can choose is Germany.
Studying in Germany comes with a lot of benefits.
With a multicultural and diversified atmosphere, Germany has made it to one of the topmost study abroad destinations in the world.
Filled with a rich and vibrant lifestyle and a history known by all Germany is the place you will love spending every second in.
Now, if you plan to study in Germany, then obviously your mind will be full of questions and doubts: whether studying in Germany is really the best way to reach your career goals? What about job prospects in Germany, after the studies are completed? And more importantly – if Germany is so renowned for its high-quality education, what about the fees? Can everyone afford it?
Before we get onto that let me tell you, universities in Europe, and more specifically universities in Germany believe proper education is the way forward to achieve anything in life. Most of the Public universities in Germany offer free of cost higher education to Germans as ell as to foreign nationals.  
Thinking about studying in Germany, and even if you are  as an international student, let us address some of the most commonly asked questions when contemplating study in Germany.
How Much Does It Cost To Study In Germany?
Tuition fees are generally the most important factor for international students when looking for a country to study abroad.
In Germany, every citizen is entitled for quality education from elementary level to PhD level from public institutions and universities. Education is invaluable for German states. This is clearly established by extending tuition fees free post secondary education to foreign nationals as well.
So does that mean your higher education will be absolutely free?
Do you not have to pay a single dime to study there?
The simple answer to it is, YES, except the semester contribution, for which a semester ticket is given in return to students.
But there is more you should know than just the notion of 'Free higher education'.
It is only true if you are going to a public university. 
And it doesn't count in the cost of living.
So let's get into the details of things and see how much study programmes in Germany costs and what are the most popular courses in Germany one can study and if you are qualified to study for free based on your studies:
Tuition fees

The state finances most of the higher education institutions in Germany.
Although it is important to know that one state in Germany has got reintroduced in 1,500.EUR per semester.
If you wish to study a degree course in any one of the public universities in this state then you should be prepared to pay fees as mentioned above.
But this is not very expensive if you compare them to the tuition fees in other countries around the world. Germany is truly a very cost-effective country to study in.
Now, despite there being no tuition fees, you are supposed to pay a 'semester contribution' every semester as mentioned above. These are minimal charges which range somewhere from €100 to €350.
Here is an example of winter semester fee of University of Hamburg:
€12 under constitutional student body regulations
€177.60 for the semester public transport pass
€3.40 for the semester public transport pass hardship fund
€85 for the Student Affairs
and an administrative fee of €50
Total amounting to: €328
Now, this was all for the public universities.
The fees for private German universities are decided by the universities themselves.
And if your plan is to study in a private university, then be ready to pay somewhere from €10,000 to €35,000 annually.
Cost of living

While international students are always worrying over tuition fees, they usually forget to factor in the cost of living.
You need to think about accommodation, food, daily transport, health insurance, getting studying material, etc when planning to study abroad.
On average, expect your monthly expenses to be somewhere at €853/month.
So, every international student must have at least €10,236 in their bank account before coming to study in Germany to support their living for at least one year.
Here is the quick breakdown of average monthly expenses:
Rent (including utility costs): € 353
Food: € 170
Clothing: € 42
Transportation costs (car/public transport): € 94
Health insurance, doctor's fees, medications: € 80
Telephone/Internet/radio and TV licence, postage: € 32
Working materials (books etc.): € 20
Recreation, culture and sports: € 62
Total: € 853
These expenses can be more or less depending on how you prefer to live.
For example, If you are planning to live in a shared flat and cook your own food, then the living cost will be significantly lower.
Scholarships

Are you still worried about the living expenses?
Is it more than what you can spend?
Well, you don't have to worry because there are a variety of scholarships available in Germany.
And these scholarships, some of which are offered by the universities and the German Government, can further help you reduce your living expenses.
There are different scholarships available like partial scholarships, merit-based scholarships or state-specific scholarships students from all backgrounds can opt for.
Or If you're doing exceptionally well in your academics, then German universities can provide you several scholarships too.
You can look through this list to find a scholarship suitable for you.
Since now we are clear with the costs. It's time to look at the next question:
What Are The Requirements To Study In Germany?

Moving to a new country for the first time is already a daunting experience.
And on top of that, you have thousands of things you need to take care of before you can study in a different country.
The same is the case with Germany.
Understanding the process of studying in Germany can seem difficult.
Like the usual things like applying for a student visa or looking at university enrollment… Here are the 3 most important requirements you need to look after:
1. University Requirements

To select a study program and get admission in the university of your choice, universities in Germany require you to meet a certain criterion.
But the criteria can differ depending on the university you are aiming for.
The usual requirements for international students looking for an Undergraduate course are:
Entrance Qualification
Transcript of Grades
Proof of Language Proficiency
ID or Valid Passport Copies
Recommendation Letter
Not much changes if you are looking for a Master's degree as these are the requirements for it:
Recognized Bachelor's Degree
Transcript of Grades
Proof of Language Proficiency (German or English)
Recommendation Letter
Important References
Work Experiences (Optional)
2. Financial Requirements

If you are a student of a country that requires a 'student visa' for studying in Germany, then you need to provide financial proof.
Just like we discussed in our first question, they require international students to have a balance of at least €10,236/ year. This shows that the students that are coming to study have enough resources to sustain themselves in Germany
And that they won't require any public funds to cover their monthly needs.
3. Health Insurance

Health insurance is important if you want to study in Germany.
International students studying in Germany must be insured in the healthcare system.
The students who are part of the EU/EEA already have health insurance in their countries.
But for the students coming from countries that are not a part of EU/EEA, health insurance will be a new thing.
They require you to provide your proof of health insurance for your visa applications and university enrollments to study in Germany.
Also, be ready to pay a monthly charge to your health insurance providers.
Now that we are settled with the requirements, it's time to understand if you are qualified to study in Germany.
What GPA Do You Need To Study In Germany?

The requirements for GPA depends on what course level you are aiming for.
And some universities set superior standards for admissions for master's degree courses.
For some Undergraduate courses like for medical studies, they might expect you to have scored as much as 90% to get admission with no backs.
But, generally students can apply for a degree course, bachelor's or master's, to a public university, with just 50% marks in their previous and eligible course completed in the home country.
Students from countries like India, holding a national qualification should attend a foundation year course before commencing their bachelor's degree course in a public university.
To be accepted to a Bachelor's degree course directly one should have already completed at least one year of the college / university studies and be able to provide 1st & 2nd semester examination passed mark sheets.
For PG courses, some universities they expect you to have scored at least 70% from a recognised university.
Also, some universities might require you to clear the GRE exam with a minimum score of 300.
So check the eligibility requirements on the university's site before you are going to apply at any German University.
Besides all these qualification requirements, you are also required to show your proficiency in the language.
The proficiency is to be shown in the language you choose for your study program.
Which brings us to our next question.
Do I Need To Learn German To Study In Germany?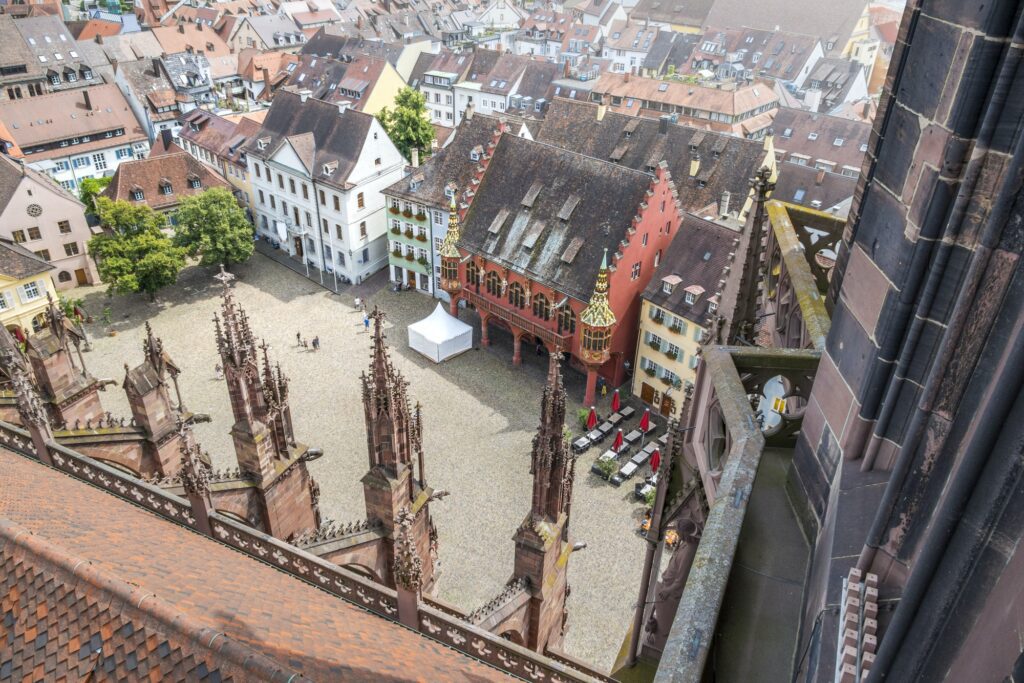 This might seem like a straightforward question, but most of the answers you might find on the internet are incomplete or not true at all.
You should know that most of the undergraduate courses offered in German universities are not in English.
But there can still be some undergraduate courses found in English.
If you are looking for a postgraduate course, then you will find a lot of programs in English.
Now, if you are going to choose a study program that is taught in German, then you need to demonstrate a firm grasp of the language.
We can do this through either giving a language test or by taking a German preparatory course.
This are the list of the accepted proficiency tests:
TestDaF
DSH
If you go with choosing a course in English, then you need to show your proficiency level by giving IELTS or TOEFL test.
However, even if you choose an English course, it is still advisable to learn the basics of German for effective communication with locals.
Conclusion

There is a reason Germany is the largest economy in the world and a heaven for higher education in Europe.
Unlike other countries, in Germany you can study in top ranking universities while paying barely any tuition fees.
And not to count the inexpensive living costs.
You have countless courses to choose from with a promise of high employability.
So no wonder why there are nearly 400,000 international students studying in Germany's finest institutions.
Be one of these students, study in Germany and make your dreams come true! contemplating study in Germany1,500.EUR per semester.
After +2, Bachelor's Degree in Germany
Are you looking forward to studying for a bachelor's degree in Germany?
Open from 8am - 8pm Monday - Friday
Fill out the form below to receive expert advice and guidance.