Can one pursue PG Medicine in Germany without passing FMGE?
Many international medical graduates aspire to pursue PG (Postgraduate) medicine abroad to advance their medical careers and gain specialised knowledge. 
With its renowned healthcare system and high-quality training and education, Germany is an attractive country for medical studies. 
However, for Indian nationals medical graduates who studied medicine in countries such as Ukraine, Russia, Georgia, Kyrgyzstan, Kazakhstan, Armenia, Moldova etc., the question arises: Can I do PG Medicine in Germany without passing FMGE (Foreign Medical Graduate Examination)?
We will look into this matter here; please have a good read!
Understanding FMGE and Its Relevance of Foreign Educated Indian Nationals!
The Foreign Medical Graduate Examination, famously known as FMGE or the Medical Council of India Screening Test, is a mandatory examination for Indian nationals who have obtained their medical degrees from foreign countries. 
It is conducted by the National Board of Examinations (NBE). 
It serves as a qualifying exam for Indian medical graduates to obtain registration with the Medical Council of India (MCI), now National Medical Commission (NMC) and practice medicine in India.
FMGE and PG Medicine in Germany concerning Indian nationals who studied medicine in foreign countries mentioned above!
It is well known among the Indians who study or complete their medical studies abroad while seeking to pursue PG medicine in India typically need to clear the FMGE. 
The FMGE score is often a crucial requirement for applying to postgraduate medical courses in India,
However, it is essential to note that passing FMGE is not a mandatory requirement of the German state offices of medical boards.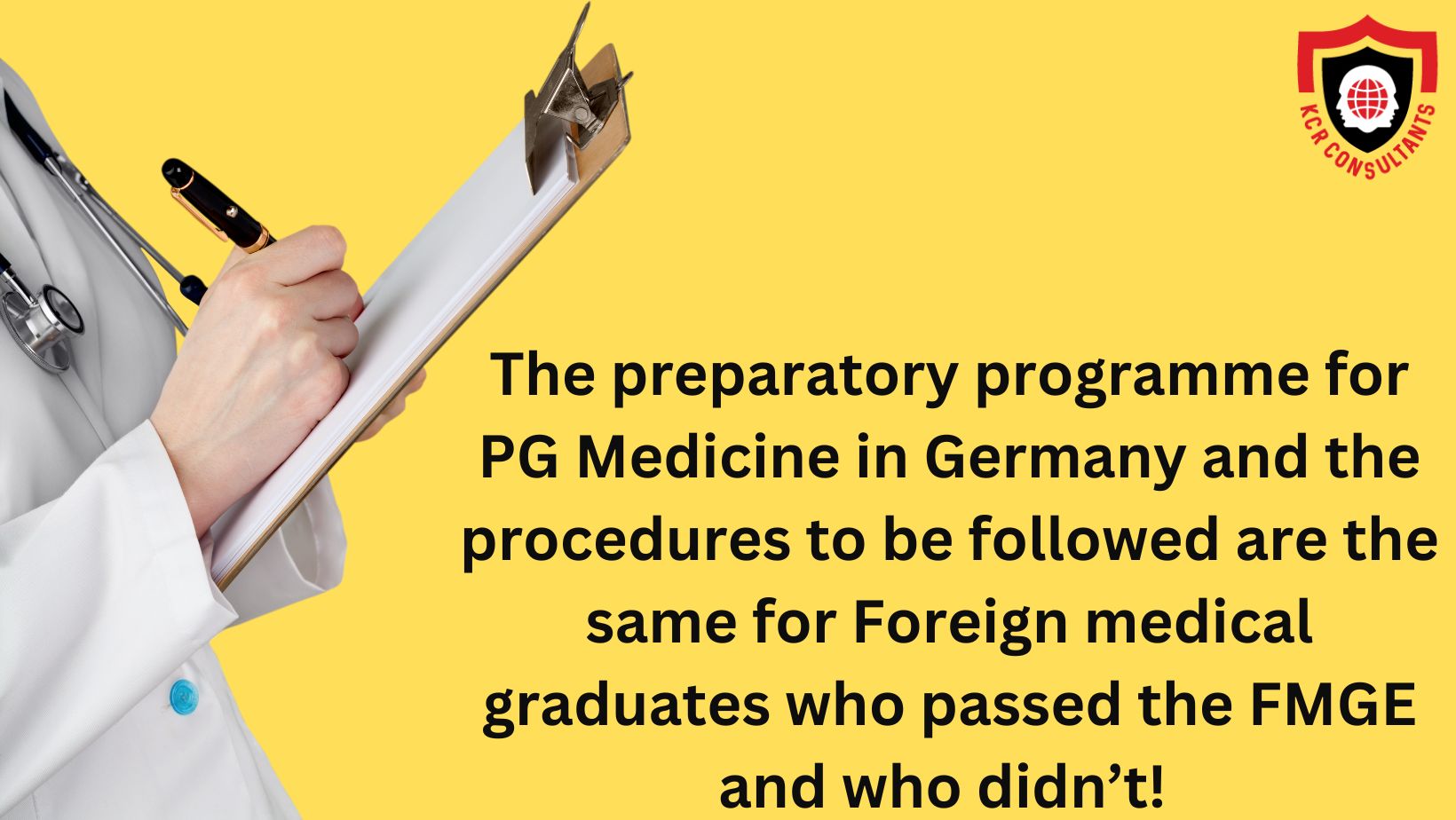 Are the procedures to qualify for PG Medicine in Germany the same for foreign-educated Indian medical graduates who passed FMGE and those who haven't attended the FMGE test?
The Pathways for PG Medicine in Germany:
While FMGE is commonly required for Indian national foreign medical graduates to practice medicine and pursue PG medicine in India, there is no change in the assessment process of the medical qualifications at the German medical boards. 
All foreign medical graduates from non-European countries will be thoroughly checked before accepting directly for a German medical license, considered with conditions, or rejected! 
Some may be asked to sit a knowledge test and pass for a license, while others might be asked for specific short-term studies. The best way must be to present their application correctly with all the required information and wait until the case officer or team decides. 
The decision comes through a letter asking the applicant to proceed with the licensing formalities or a Deficit letter asking to sit a knowledge test and pass. 
They rarely reject an application with a medical degree from the abovementioned countries!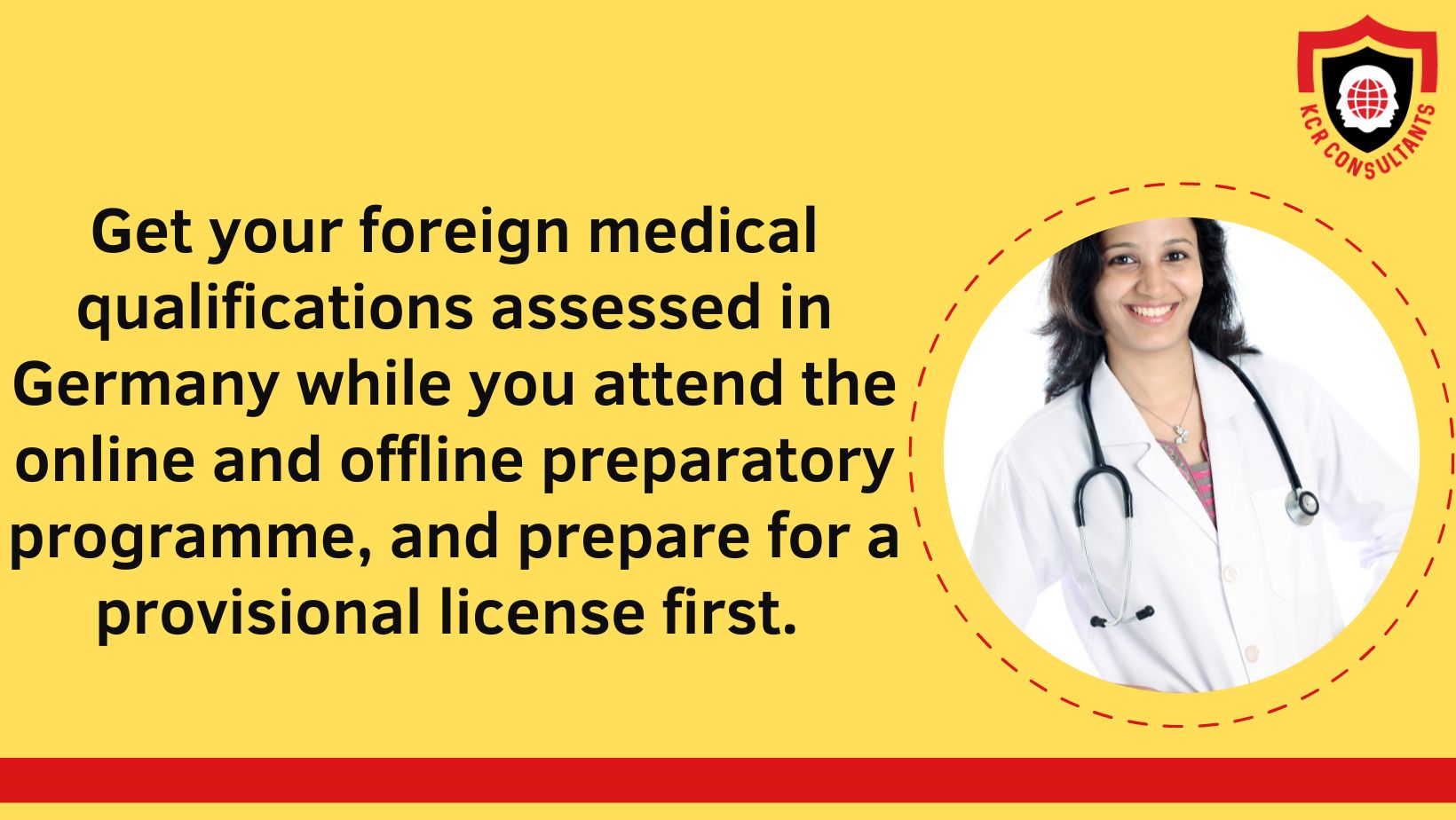 How does an Indian national with a foreign medical degree without attending an FMGE proceed with PG medicine in Germany?
Once you decide to proceed with the preparatory programme that leads to qualifying for a provisional/temporary license in Germany, the first and foremost is to get your qualification assessed. 
While the assessment process is at a German state medical council, you must attend and progress in the preparatory programme. 
The first part of the programme is German Language Learning, and you can start attending it online from the programme provider based in Germany and continue it until you arrive in Germany. Once in Germany, you can continue following the personal programme.
How foreign-educated Indian medical graduates will qualify for a provisional or temporary license in Germany?
The Doctors' programme starts with academic German language courses. 
It progresses to a medical terminology course for 8-12 weeks which eventually prepares you to sit the medical German language/FSP test and pass.
Those who pass the FSP test qualify for a provisional/temporary license which allows them to work in a hospital as an assistant doctor or a doctor under the supervision of licensed doctors. 
The license could be extended for one more year before you prepare, and it is the state examination for licenses/approbation to practice medicine in Germany independently!
Consulting the relevant consultants
Due to the dynamic nature of medical education policies, aspiring PG medical students must seek updated information from experienced career counselling professionals and consultants.  
For the most accurate and up-to-date information, for those with a foreign medical degree and who have yet to attend the FMGE test, it is crucial to communicate and proceed with relevant consultants. 
KCR CONSULTANTS could be the best suggested!