PG Dentistry in Germany
Pursuing PG dentistry in Germany allows dental professionals to advance their careers and gain valuable skills and knowledge in a renowned educational and healthcare system.
With comprehensive dental programs, renowned institutions, research opportunities, and strong career prospects, Germany provides an ideal environment for furthering your expertise in dentistry. 
Postgraduate in Dentistry in Germany makes a dentist a specialist in their desired field of dentistry and practice.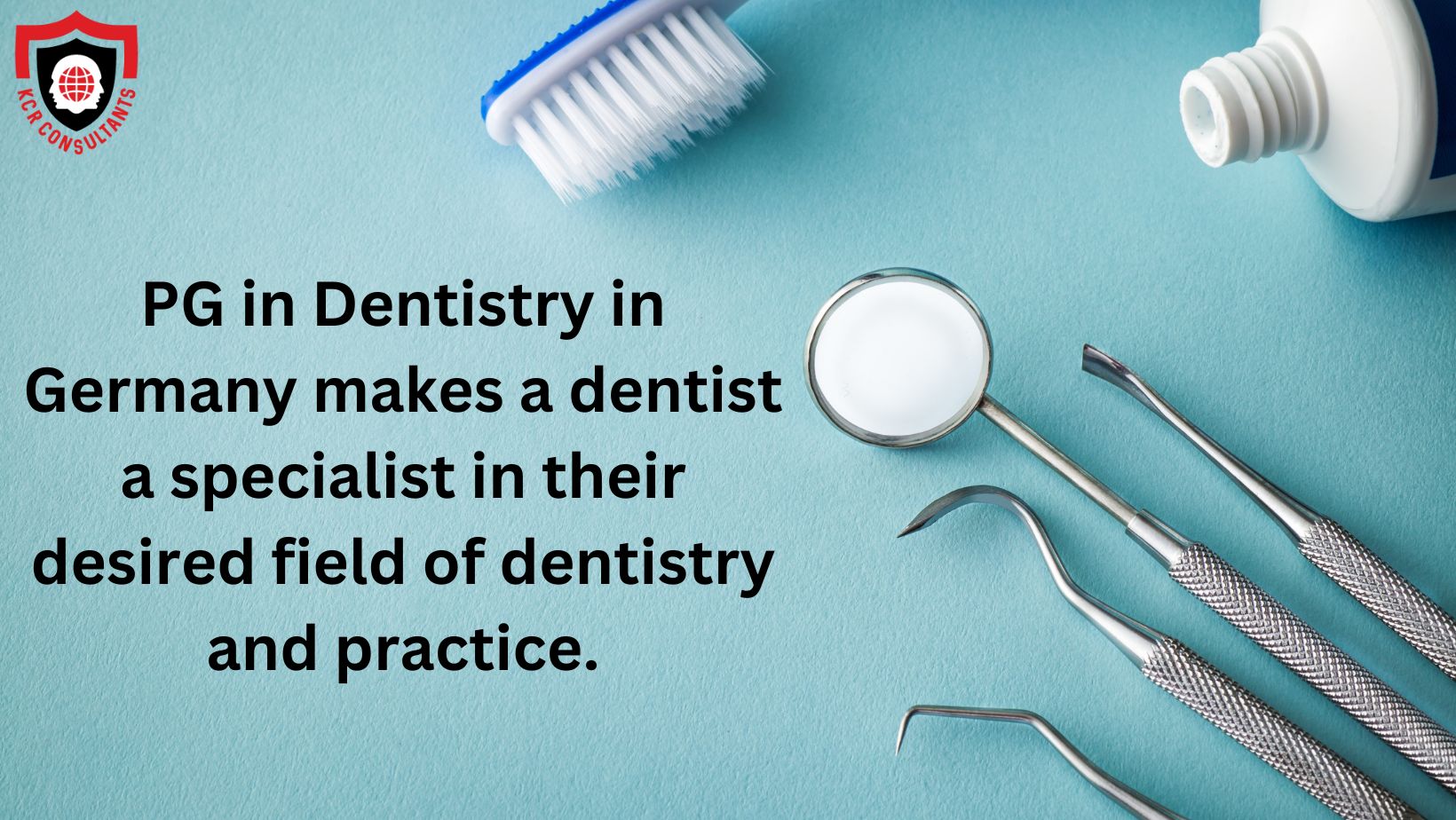 Begin your journey towards a successful dental career by exploring the PG dentistry programs available in Germany and taking the necessary steps to join this vibrant dental community.
Dental Post-Graduation in Germany
Dental post-graduation in Germany offers a remarkable opportunity for dental professionals to acquire specialised knowledge in prestigious hospitals, clinical education, and clinical settings. 
With comprehensive programs, renowned institutions, abundant research and promising career prospects, Germany is an ideal country for dental post-graduation.
MSc dentistry in Germany
Germany boasts comprehensive MSc Dentistry programs that provide advanced education and training in various dental disciplines. 
These programs offer in-depth theoretical knowledge, hands-on clinical experience, and research opportunities to enhance dental expertise.
MSc Dentistry programs in Germany often allow students to specialise in specific areas of dentistry. 
Whether it's oral surgery, orthodontics, prosthodontics, or another speciality, these programs allow you to delve deeper into your chosen field and develop advanced skills.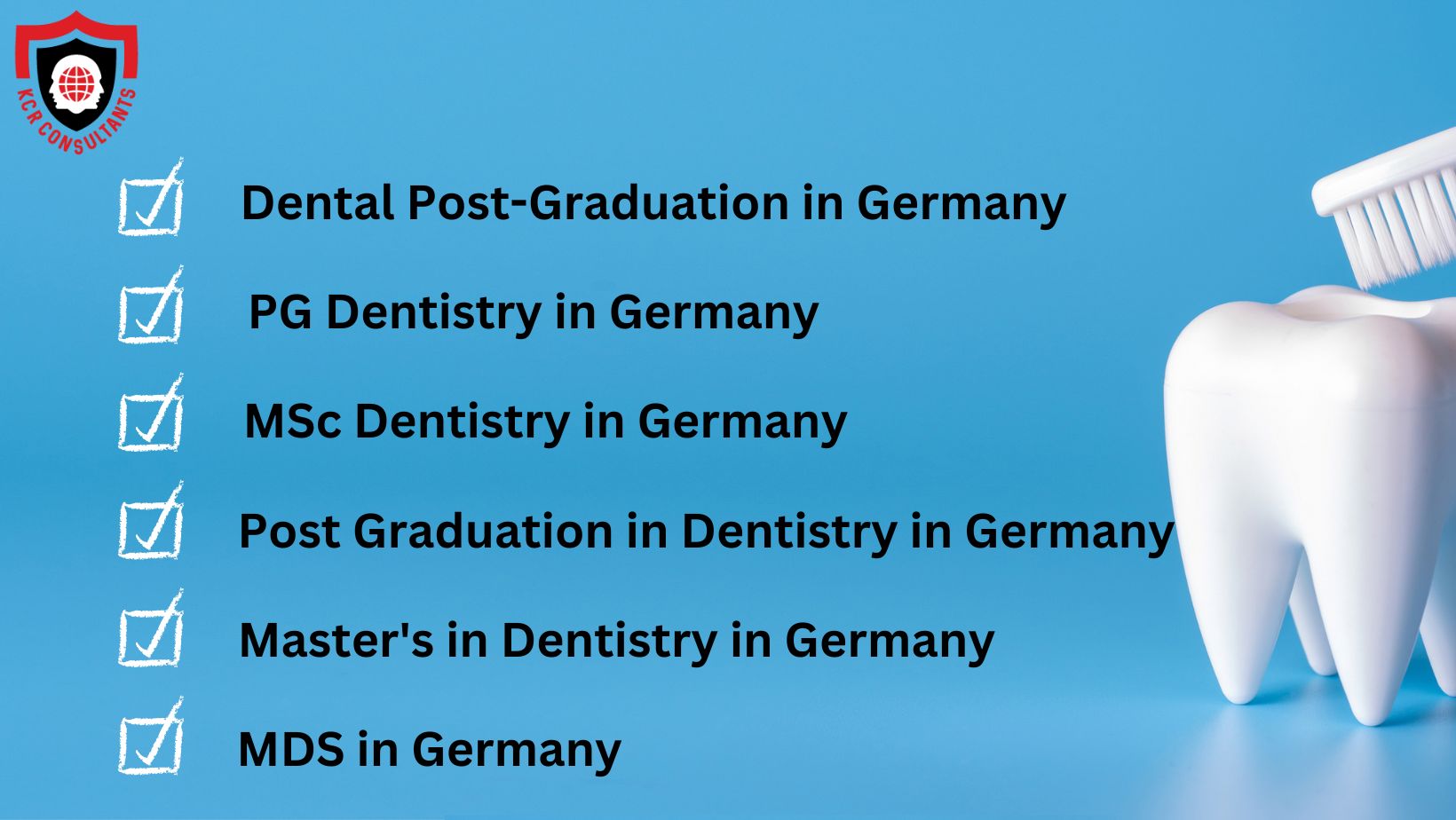 Completing an MSc in Dentistry in Germany opens doors to enhanced career opportunities and professional advancement. 
Germany's well-established healthcare system, advanced technology, and emphasis on evidence-based practice provide a strong foundation for a successful dental career in Germany and internationally.
Post-Graduation in dentistry in Germany
Post-graduation in dentistry in Germany allows for specialisation in oral surgery, orthodontics, periodontics, prosthodontics, and more. 
These specialised programmes provide in-depth knowledge, advanced clinical training, and opportunities to work with renowned specialists in the field.
Germany fosters a strong culture of research and innovation in dentistry.
Post-graduation students have access to state-of-the-art research facilities, collaborations with leading researchers, and the opportunity to contribute to advancements in dental science.
Master's in Dentistry in Germany
Master's programs in Dentistry in Germany often allow students to specialise in specific areas of interest, such as oral surgery, orthodontics, periodontics, or prosthodontics. 
These specialised programs provide in-depth knowledge and practical training to develop advanced skills in the chosen field.
German dental institutions are highly respected globally for their state-of-the-art facilities, experienced faculty, and high-quality education. 
Universities such as the University of Freiburg, Ludwig Maximilian University of Munich, and Charité – Universitätsmedizin Berlin offer prestigious Master's programs in Dentistry.
How to apply for MDS in Germany?
Applying for MDS (Master of Dental Surgery) in Germany involves several steps.
Review the specific eligibility criteria for the MDS program(s) you are interested in. 
Requirements may include completing a relevant bachelor's degree, language proficiency (German or English), academic transcripts, and proof of clinical experience. Make sure you meet the necessary prerequisites before proceeding with the application.
If the program requires proficiency in the German language, consider enrolling in language courses and sit the necessary tests and pass to provide evidence of your German language skills level and enhance your application.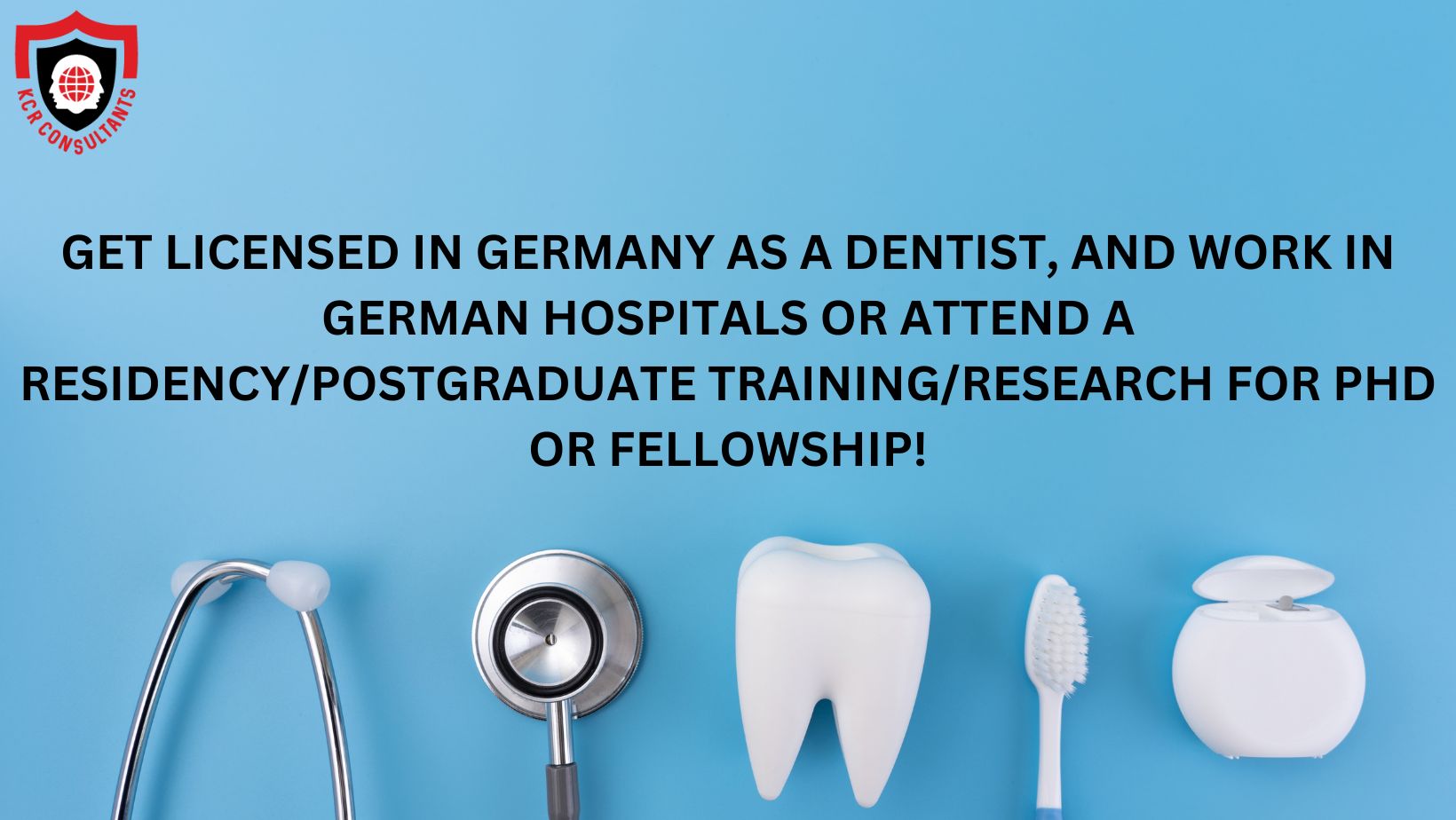 How to become a dentist in Germany?

 
Becoming a dentist in Germany involves many stages and requirements. 
A general overview;
Academic Qualifications: 
Ensure that your degree is recognised by the competent authorities in Germany.
Language Proficiency: 
Acquire proficiency in the German language, as it is crucial for effective communication with patients and colleagues. Depending on the state, you may need to provide proof of German language proficiency by passing the medical language test conducted at the dental board of the concerned German state.
Recognition of Dental Qualification: 
Those with a foreign degree in dentistry must have it recognised by the competent German authorities.
 The recognition process involves submitting your degree and related documents, transcripts, and relevant certifications to the appropriate authority, such as the State Examination Office for Medicine (Staatsexamen für Zahnmedizin). 
The purpose is to evaluate the equivalence of your dental qualification to the German dental education system.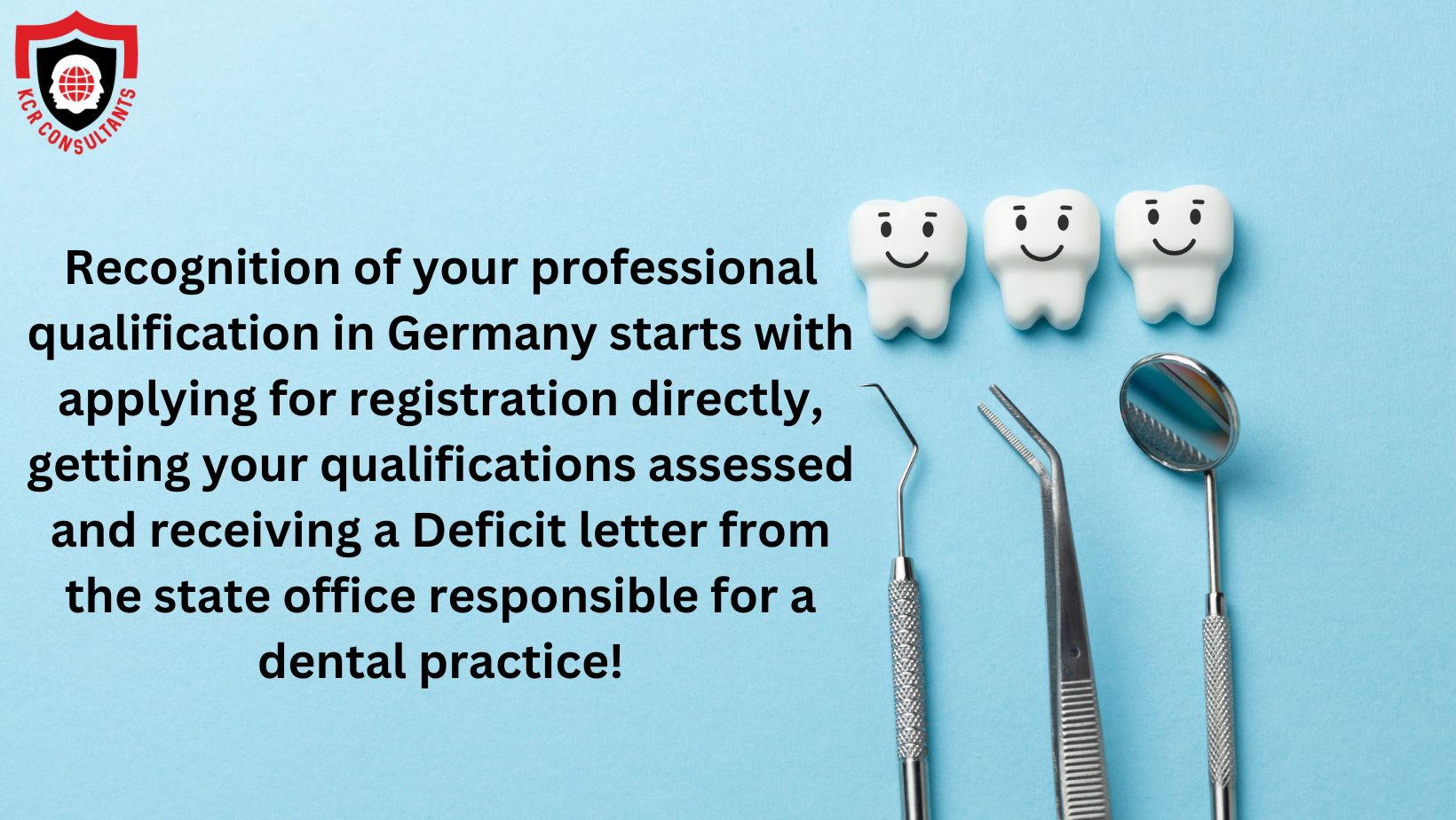 Examination and Licensing: 
Once your dental qualification is recognised, you must pass the German Dental Examination (Zahnärztliche Prüfung) to obtain a license to practice dentistry in Germany.
The examination typically consists of written and practical components, assessing your theoretical knowledge and clinical skills.
Postgraduate Training: 
After obtaining your license, you may pursue further specialisation or postgraduate training in a specific field of dentistry. 
This can involve enrolling in postgraduate programs, such as Master's or Doctoral programs, offered by German hospitals, universities or specialised dental institutions.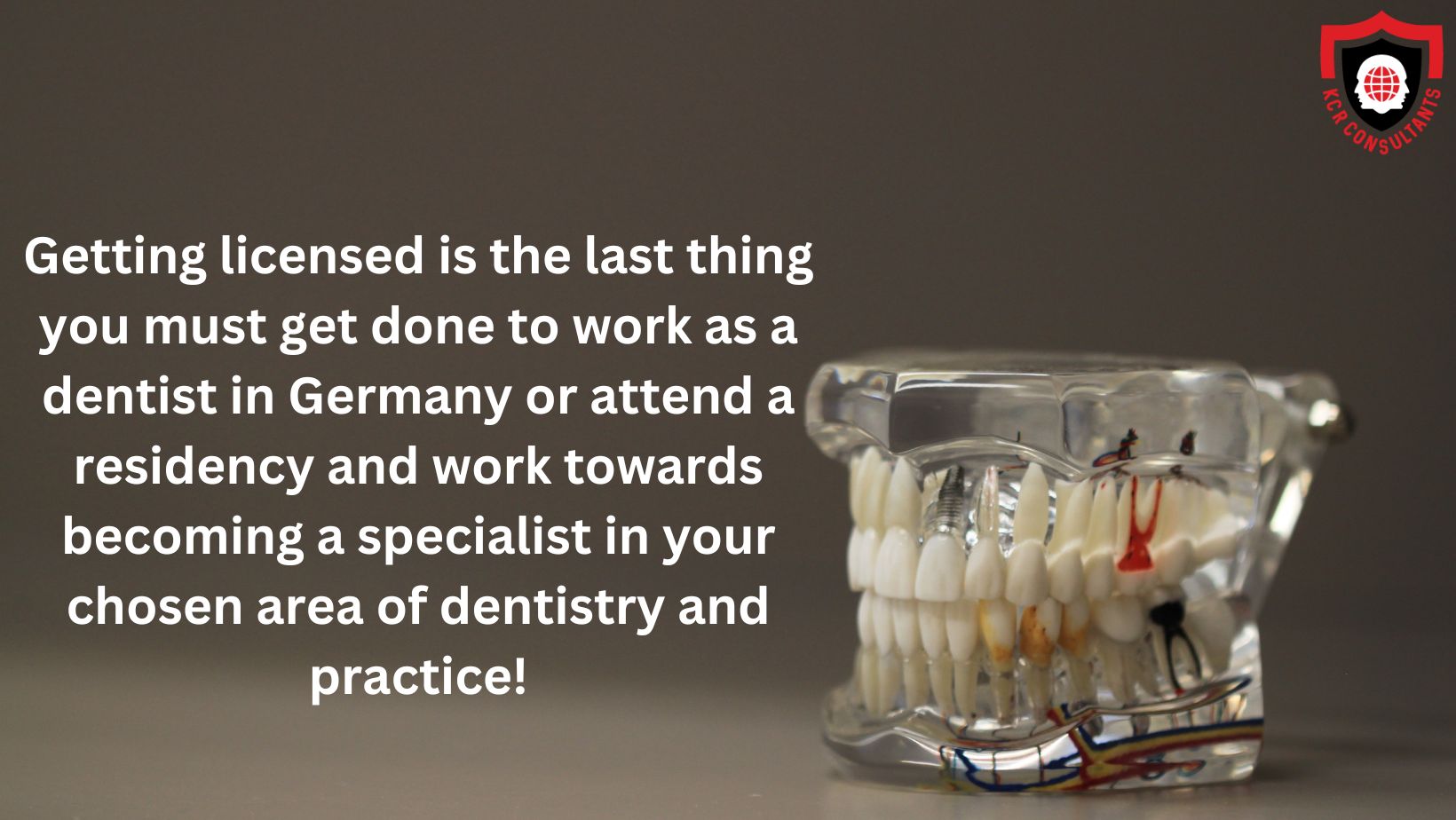 Registration: 
Once you have completed your postgraduate training or specialisation, you must register with the relevant dental regulatory body in the state where you wish to practice. 
Registration involves submitting the necessary documentation, including proof of qualifications, identity, and good standing in dental practice.
It's important to note that specific requirements and procedures may vary depending on the state in Germany where you plan to practice dentistry.