A recommended Guide For MBBS in Germany
Are you looking forward to becoming a doctor or planning to pursue medical education at a university abroad? Do you want to study medicine at one of the best universities in the world? Studying MBBS in Germany is the best answer, as few viable options exist!
Germany is undoubtedly one of the few developed countries that provide the best medical higher education globally.
The country has world-class universities with state-of-the-art medical infrastructure for students pursuing MBBS in Germany.

German public universities are highly recognized for their high standard of teaching medicine and other professional courses in various subjects and streams.

All the public universities providing the opportunity to study MBBS in Germany are recognized by the

World Health Organization (WHO)

,

European Credit Transfer System (ECTS), United Nations Organization (UNO)

, and

Foundation for Advancement of International Medical Education and Research (FAIMER)

German public universities provide significant exposure and clinical practice to their MBBS students.

Highly qualified professors teach medicine at public universities at par with the international standard.

More than 30 public universities provide MBBS studies in Germany for free to international students, and the rest charge just 1500.EUR per semester.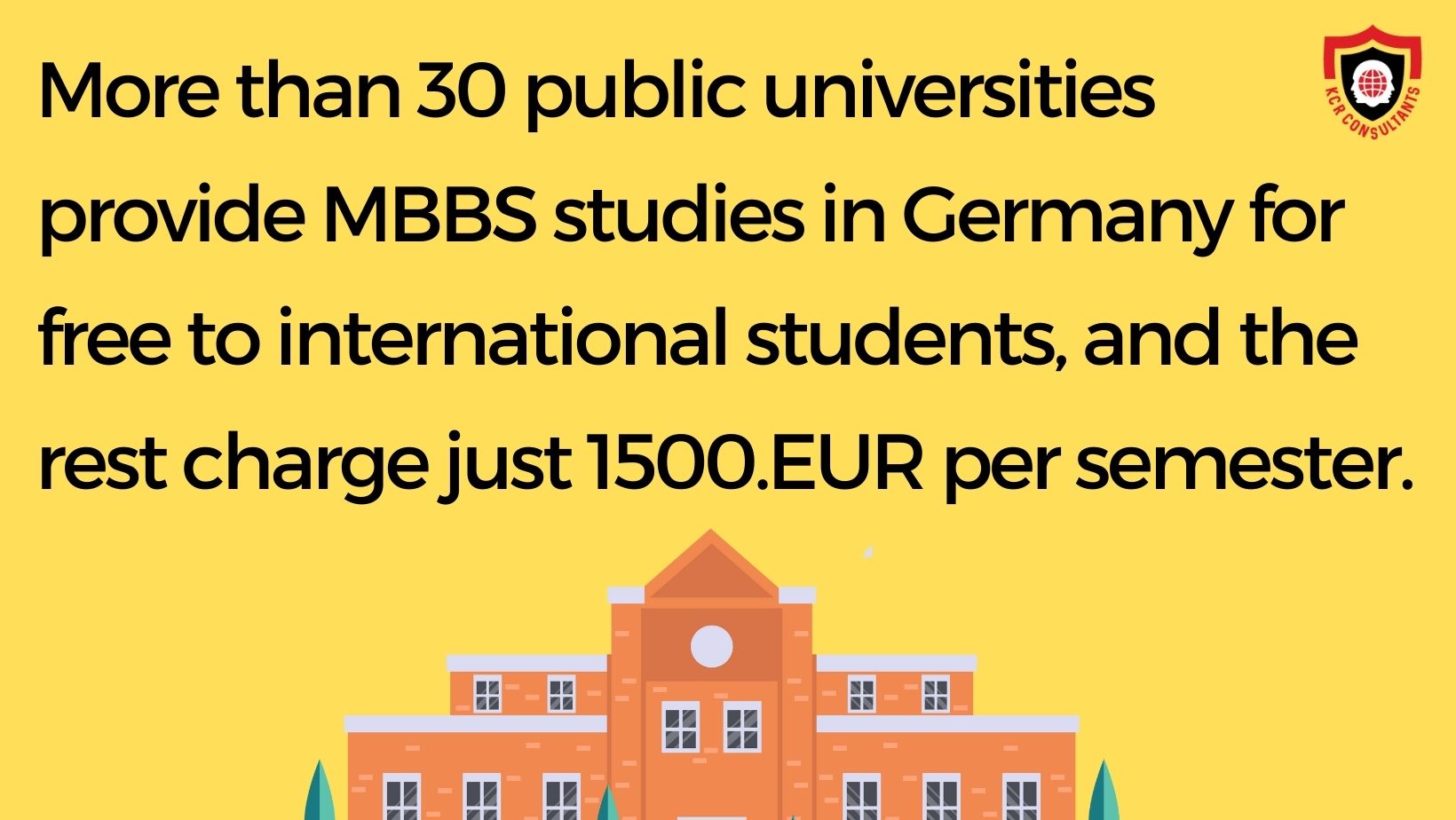 Pursuing medicine at a public university in Germany will also lead to many opportunities;
After completing the course and clearing the final state examination, one can start working as a general doctor in Germany, earning the best salary for doctors compared to other countries. 

The medicine degree is accepted across Europe for licensing; the only requirement is proficiency in the local language.

You will have a globally recognized medical degree.
Who would miss a chance to pursue an MBBS in Germany going through these enticing benefits?
Germany is constantly emerging and maintaining its position as one of the favourite countries for higher studies; Medicine, other health science fields, Engineering, technologies, Fine Arts, Business etc. 
With so many benefits, who wouldn't want to study medicine at one of Germany's highly-esteemed universities? 
Thousands of international students aspire to study MBBS in Germany at Germany's world-class public universities.  
This has resulted in rigorous competition to get admission to Germany's medical universities and colleges, as students from all over the world want to get into those world-class universities to study MBBS in Germany so that their future can be secure and bright.
As usual, some 5-10% of places are reserved for international students to pursue MBBS in Germany.
Counsellors at KCR CONSULTANTS are well experienced and can guide and assist you in getting prepared and progressing to an MBBS course. There are multiple pathways to learning the language in Germany and preparing with a medical foundation course to qualify one to get a place in this coveted medical professional course and study at such an international-level university.    
But before you make your next move, you need to be clear about a few basic things you might have in mind while planning for your MBBS studies in a foreign country like Germany. 
Firstly as an international student, you must be prepared to follow the rules and regulations of the university.
Let's discuss how you can study MBBS in Germany and the prerequisites to pursue medical courses in Europe's most recognized country for higher education.

Is MBBS free in Germany?
 "Education is invaluable and shouldn't, therefore, should not charge a fee for providing it". Germany doesn't aim to derive commercial benefits from teaching!
Therefore post, secondary education at state-funded universities are accessible to all. The public universities funded by non-governmental organizations and churches also follow suit. 
This is one of the primary reasons why many international students aspire to pursue an MBBS in Germany.
The benefit of studying MBBS in Germany is that international students get the value of money in terms of their efforts and hard work clubbed with the time spent on their medical education.
Compared to the expensive education in other countries, studying MBBS in Germany is easily accessible!
The infrastructure in German Universities and hospitals is comparatively better than in other foreign countries.
Studying MBBS in Germany costs you almost nothing in tuition fees except the cost of a foundation course offered by a studienkolleg, privately owned or managed.
Let's discuss the details of your expenses for pursuing medicine / MBBS in Germany.
Cost of MBBS, medicine course in Germany
Studying for MBBS in Germany depends mainly on the cost of living for the entire duration of your stay till you get licensed as a medical doctor in Germany.
In addition to that, the cost of the foundation course that you may need to attend depends upon your latest qualification while applying for a medical course in Germany.
For example, suppose your higher secondary qualification is international, like an American IB or a Cambridge Diploma (A-Levels). In that case, you may be accepted to study MBBS if you meet other requirements.
You may qualify to apply for a medical course directly, with at least one year of University/college experience (in the relevant subject) clubbed with a state or central board 12th-grade school education. 
With just 12th-grade school education passed under CBSE or state board, you will be accepted to the course only conditionally; you must attend a foundation (M) course.
I want to discuss these aspects separately.
Tuition Fees for MBBS in Germany
As discussed above, a medicine course in Germany is offered free of cost in most of the 35 public-funded universities. If at all any university charge, then that will be less than 1500.EUR per semester.
Don't believe us; check it yourself.
| Basic Medical Science (Pre-clinical) | Clinical Science | Clinical Year Total |
| --- | --- | --- |
| | | |
| Tuition fee : Nil / 1500X4 EUR | | |
Living Costs for studying MBBS in Germany 
Your living cost depends on how you live and spend: you may stay on-campus or off-campus at your German university.
Let's discuss the cost if you live on/off campus. Generally, your overall accommodation and food for your 5-year medical course will cost you approximately:
| Hostel & Food | Year - 1 | Year - 2 | Year - 3 | Year - 4 | Year - 5 |
| --- | --- | --- | --- | --- | --- |
| | | | | | |
To be able to study in Germany is a dream come true for many! In addition, Living with a host family is an excellent way to know their culture and way of living.
If you wish, you may live off-campus.
And since studying in Germany and living within the university's premises is very affordable, as an international student, you may face many challenges as everyone wants to avail of that option, but the places are confirmed only on a first-come-first-serve basis.
So on receiving an admission letter, you can apply for a university's hostel accommodation.
We at KCR CONSULTANTS help our student applicants with their accommodation to make their new life experience pleasant and hassle-free.
So, check out the average monthly expense of living away from your medical university in Germany.
Average monthly expenses for international students studying MBBS in Germany
| Rent and utilities | € 325.00 |
| --- | --- |
| | |
| | |
| Working/learning materials | |
| Travel costs (car and public transport) | |
| | |
| | |
| | |
Note: These prices may vary according to your lifestyle, so you need to adjust accordingly while planning your budget for Germany.
This is to give you an idea so you can prepare an estimated budget because everybody wants to take some time off from their MBBS studies in Germany to refresh themselves.
If you want to handle these expenses independently, you can work part-time; this will help you take all the expenditures, excluding tuition fees for the language course and the studienkolleg.
There are some other miscellaneous expenses that most of the students ignore; Check out the details: 
Other Expenses while studying MBBS in Germany.
These other expenses include your Health insurance covering medical costs and medicine, textbooks, Resident permit extension, exam fees, etc.
Health Insurance is one important thing you must have compulsorily while pursuing MBBS in Germany.
It is a must for international students to have accepted local health insurance while in Germany. Health insurance benefits a lot as you are covered since you live away from home.
The travel and health insurance issued by a home country company you may have while applying for a visa needs to be improved to meet the criteria in Germany. You may need to pay EUR 80 monthly for local health insurance in Germany until you are 30 and EUR 160 a month after you are past 30. 
This concludes our expense section for your stay in Germany while you work for your medical qualification to become a medical doctor after pursuing MBBS in Germany.
It will be easy for you to plan a budget now.

How many years is MBBS in Germany?
As mentioned in the above section, we'll talk about the duration of the MBBS in Germany.
You might know how long it will take to complete the medicine program in Germany from the tables listed in the cost segment of MBBS in Germany.
Now we can talk about that.
A regular MBBS in Germany lasts five years plus one year of internship or house surgency, which is up to the student. Still, one will qualify for the final licensing examination after one year of completing five years of MBBS studies at a German university.
But being a non-German, you need to have a firm hold in German because the MBBS course in Germany is taught mainly only in German at public universities.
The German language preparatory course (only if you didn't take a German language proficiency test of C1 level before coming to Germany) will add almost a year to your total time duration. Thus taking the entire course duration to 5+1+1=7 years.
But once you complete this duration of your MBBS in Germany, you'll unlock all the gates of opportunities in the medical field all around the globe.
Come under the category of students who must attend a foundation course before medical studies. The duration could be six months (for the German language) + 1 year (foundation course) + 5-year medical course + 1 (licensing examination preparation/internship/house surgency).
In the case of a fast track intensive course of language and foundation, then – 1 year (language & foundation) +5year medical course + 1-year licensing examination preparation.
Leaving aside the language and preparatory stage in Germany, the MBBS course in Germany  is divided into four stages; let's discuss them one by one:
Stage 1: Pre-clinical section 
Once accepted after completing the foundation course, you can begin your education for MBBS studies. This stage includes two years or four semesters of your introductory medical course.
Being in the elementary stage of your medicine course, you'll be introduced to basic but essential concepts and topics regarding human anatomy and other fields of study. That's why it is termed the Pre-clinical stage of MBBS studies in Germany.
Apart from that, you'll also be taught all the basic terminologies required for your entire degree, and you'll be made aware of what do's and don'ts you must follow as a medical aspirant.
After the basics are taught, at the end of this stage, there will be an exam known as Ärztliche Prüfung or Examination for Physicians (the first licensing examination), which you must clear.
Stage 2: Clinical stage
It is an upgrade from the previous stage; you'll become more professional as a medical expert during the whole duration of this stage.
This stage lasts up to 3 years from your 5th semester, leading to your second round of the Physician's examination test.
This is the core stage of your medical studies in Germany; you'll be taught the essential concepts and topics with plenty of hospital visits to get practical experience. This stage will nurture you for the actual hands-on experience that you'll experience in stage three.
Stage 3: Practical year
You can term this stage as an internship. This stage is for one year to prepare for the third and final licensing (Physician)  examination.
Most of the graduates used to work under a supervisor to gain real experience and exposure to hospital settings and medical practice; you can do the same.
Besides gaining much future career experience, the knowledge and skills gained will help you attend the final licensing exam and pass.
Stage 4: State Examination and Approbation
Approbation/state examination of medical students consists of the above-mentioned three-stage examinations. After passing the 3rd stage and final licensing exam, a medical graduate will be called a Medical Doctor or Physician in Germany.
Those who do a thesis or dissertation will gain the title of Dr.med.
Only some intelligent students choose to do the thesis or dissertation in the 3rd or 4th year. Those who follow this will have the Dr.med title upon getting licensed as a medical doctor.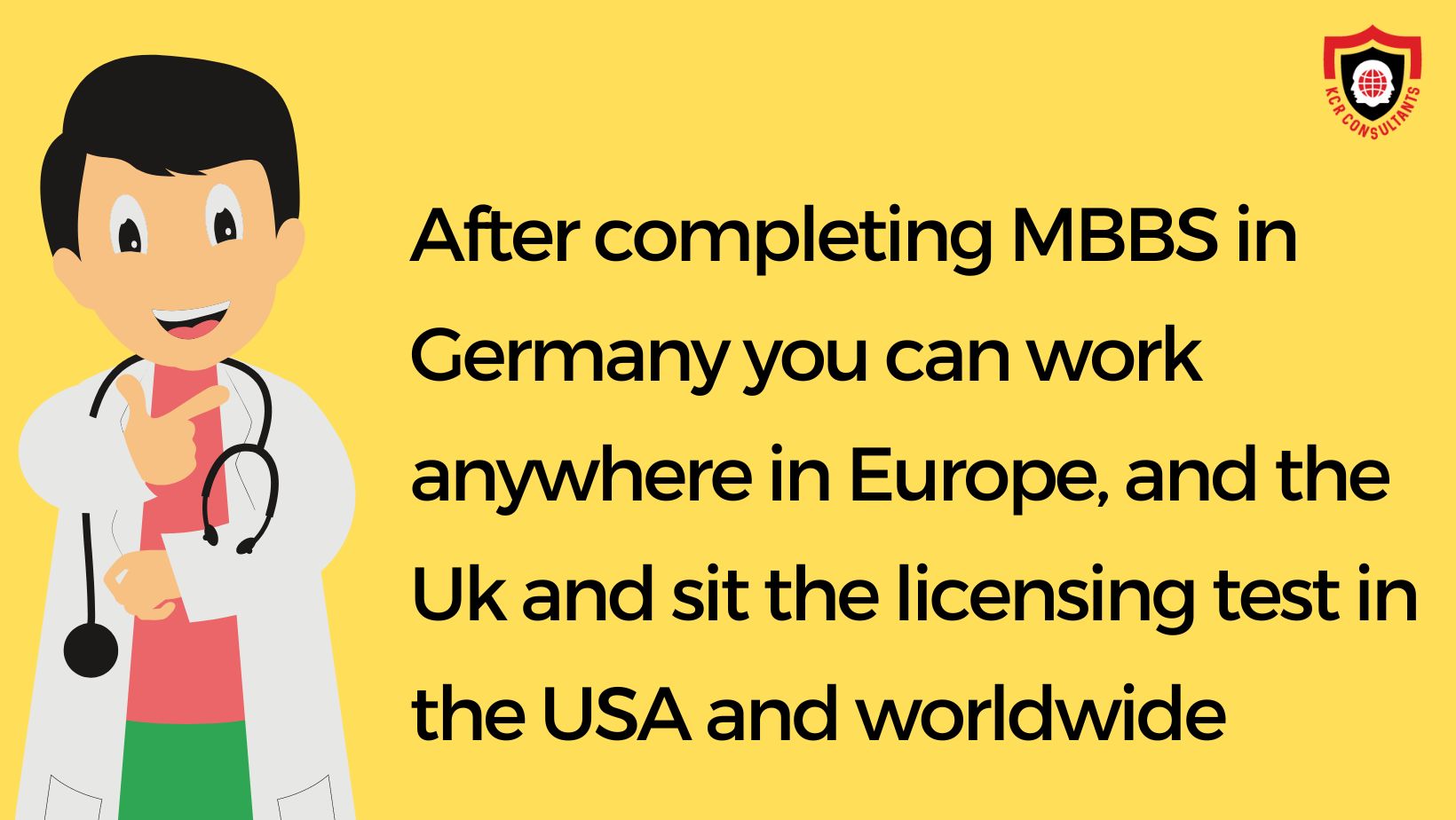 What is MBBS called in Germany?
There is no specific name for medicine courses in Germany, like MBBS or MD in other countries.
But people sometimes call the aspirants by the name 'Medicine students.'
As an international student, you have a golden opportunity to become a medical professional in Germany at a minimal expense; you need good grades and a good hold in English and German.
We at KCR CONSULTANTS are motivated to help potential applicants achieve their dream of studying medicine in Germany and becoming recognized medical practitioners in Germany.
Now, we've arrived at the most intriguing question ever Indian medical student may have:
Is NEET required for MBBS in Germany?
We have saved the best question for the last.
This is one of the essential and most asked questions by Indian aspirants who want to pursue their medical studies / MBBS in Germany.
Passing NEET is highly recommended as a NEET test is evidence that you can show anyone / anywhere that you have already proved that you are qualified to study medicine in your own country.
The significance of the NEET test to be attended and passed before your medical study abroad is that if you wish to go to your home country and practice medicine in the local hospitals.
You will not be considered qualified to sit the national licensing test (screening test) conducted by the National Medical Commission of India (NMC) unless you can provide a NEET test passed certificate.
In addition to that, you would have attended the said NEET test before you started your medical course abroad.
You're just one step away now.
You want to pursue your higher medical education at a world-class university.
This information will help you assess your desire to pursue medical studies at a high-quality German university.
Germany's excellent healthcare system has produced world-class doctors over the past decades. This is your opportunity to join German's top-notch universities providing a medicine course.
And now you know how you should do a medical course in Germany.
So, you can contact KCR Consultants to kick-start your journey of becoming an outstanding professional doctor from one of the best medical schools in Germany.
If you still have doubts regarding MBBS in Germany, please don't hesitate to contact KCR CONSULTANTS so we can solve your doubts as soon as possible.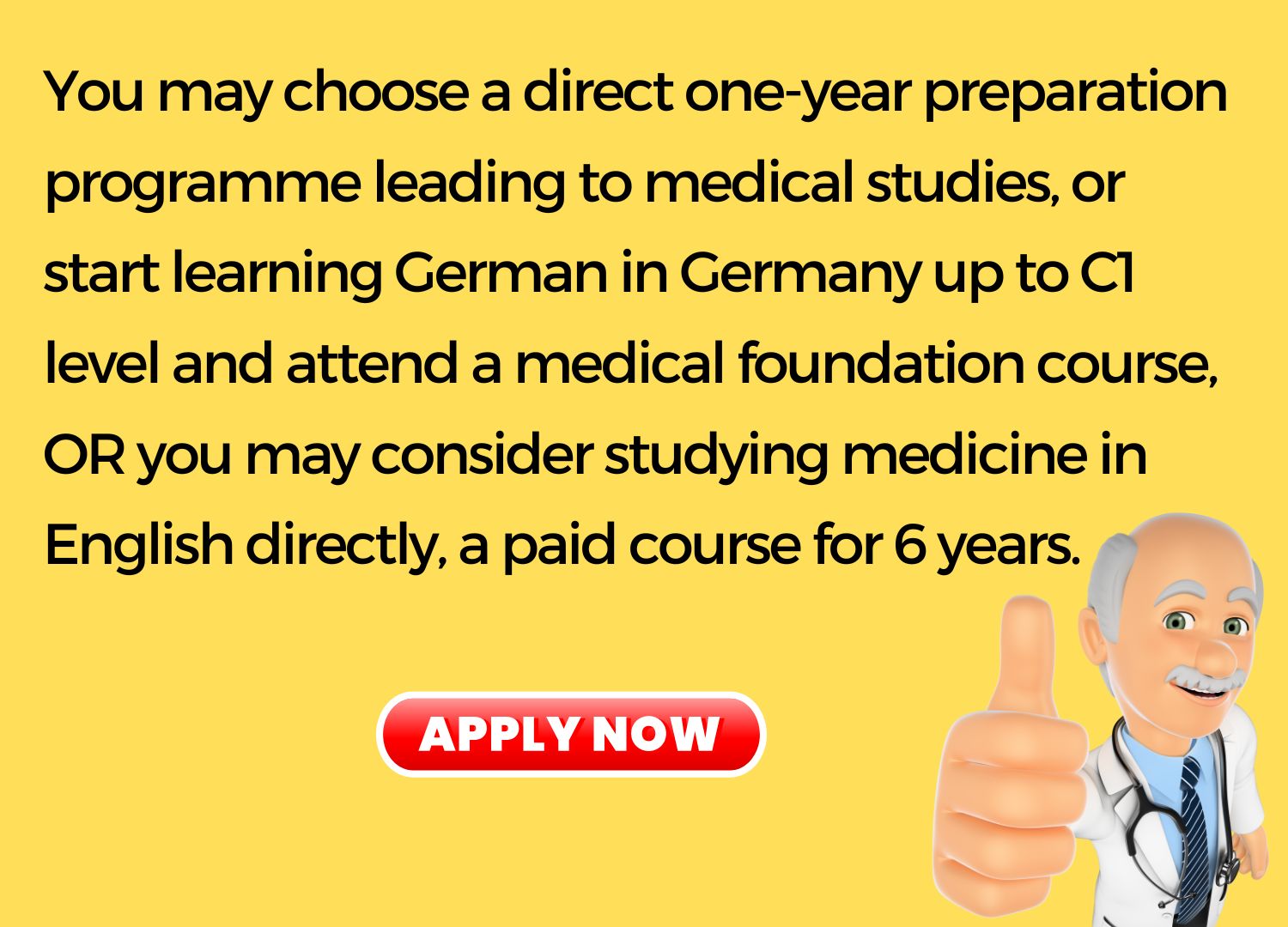 Open from 8am - 8pm Monday - Friday
Fill out the form below to receive expert advice and guidance.