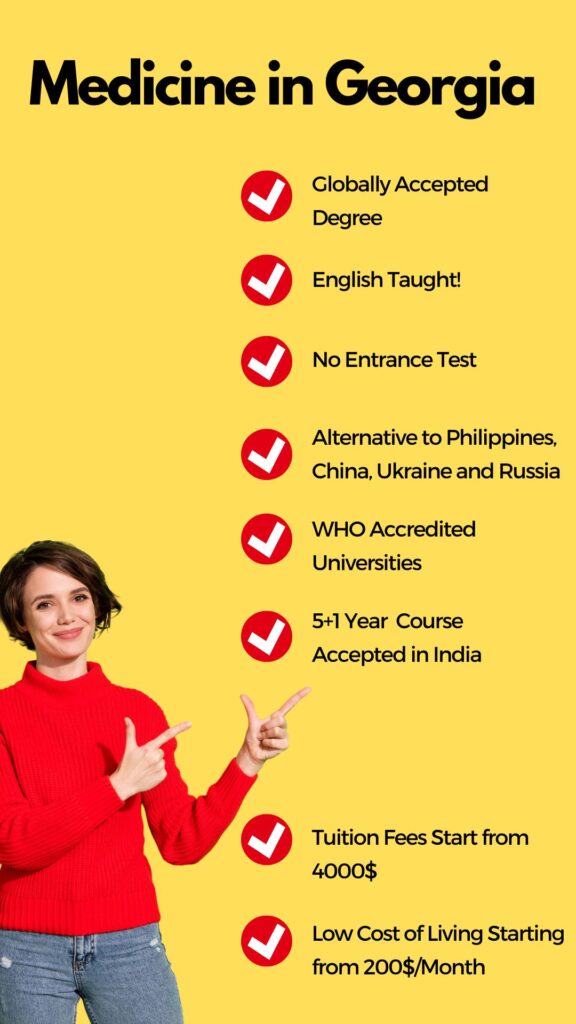 MBBS in Georgia Fees for Indian Students
Indian students prefer Georgia because of its low-cost education, which includes tuition, hostel accommodation, food, and other living expenditures.
Since Georgia is a literate nation, Indian students can anticipate a high degree of education in medicine and other health science courses.
MBBS in Georgia Tuition Fees and Accommodation for
Indian Students
The annual tuition fee for Indian students may start from USD 4,000. A little less or more depends on which college or university you choose to study!
Indian medical students who wish to stay modestly and cover their living expenses, including their stay in a hostel and their meals, can do it with approximately $200-400 per month.
Six years of an MBBS programme in Georgia would set students back between $38,000 and $51,000, depending on how much they spend on their stays and other miscellaneous expenses.
Millions of Indian medical students hope that the cost of an MBBS in Georgia will be about the same as in their top three alternative countries— Russia, Ukraine, China, or the Philippines.
Students from India can be confident that the quality of education in Georgia, especially in
the medical and health sciences will remain high.
MBBS in Georgia duration for Indian Students
MBBS studies take 5 + 1 year in `Georgian universities—all five years of pre and clinical studies and the one-year internship. The training must be done in a hospital in Georgia to meet the requirements and are recognized worldwide.
As stated above, Georgia is the best for Indian students seeking a low-cost but quality medical degree abroad!
To know more about MBBS in Georgia, Read our articles – Medical colleges in Georgia list, MBBS in Georgia fees, MBBS in Georgia.