How will you find MBBS Abroad Consultants in Chennai?
Aspiring to study medicine is an appreciatable intention, but the apprehension is how far it is possible in the home country! The situation of too few places available in the country and the massive number of aspirants registering to sit the NEET test yearly need to match. Hence the significance of Tamilnadu residents looking for MBBS abroad consultants in Chennai for genuine opportunities to study medicine in a foreign country.
How can MBBS Abroad Consultants in Chennai help you?
Suppose you want specific information about foreign medical universities and their requirements. In that case, the MBBS abroad consultants in Chennai must be able to provide information for actual chances of getting admission. 
For example, according to the 'National Medical Commission (N.M.C.) of India, any medical education completed below five years is not accepted to attend a medical licensing examination to practice medicine back in India!
The MBBS abroad consultants in Chennai should be able to present the options to the aspirants and their parents from Chennai and Tamilnadu and should not market the only university they represent or like to promote.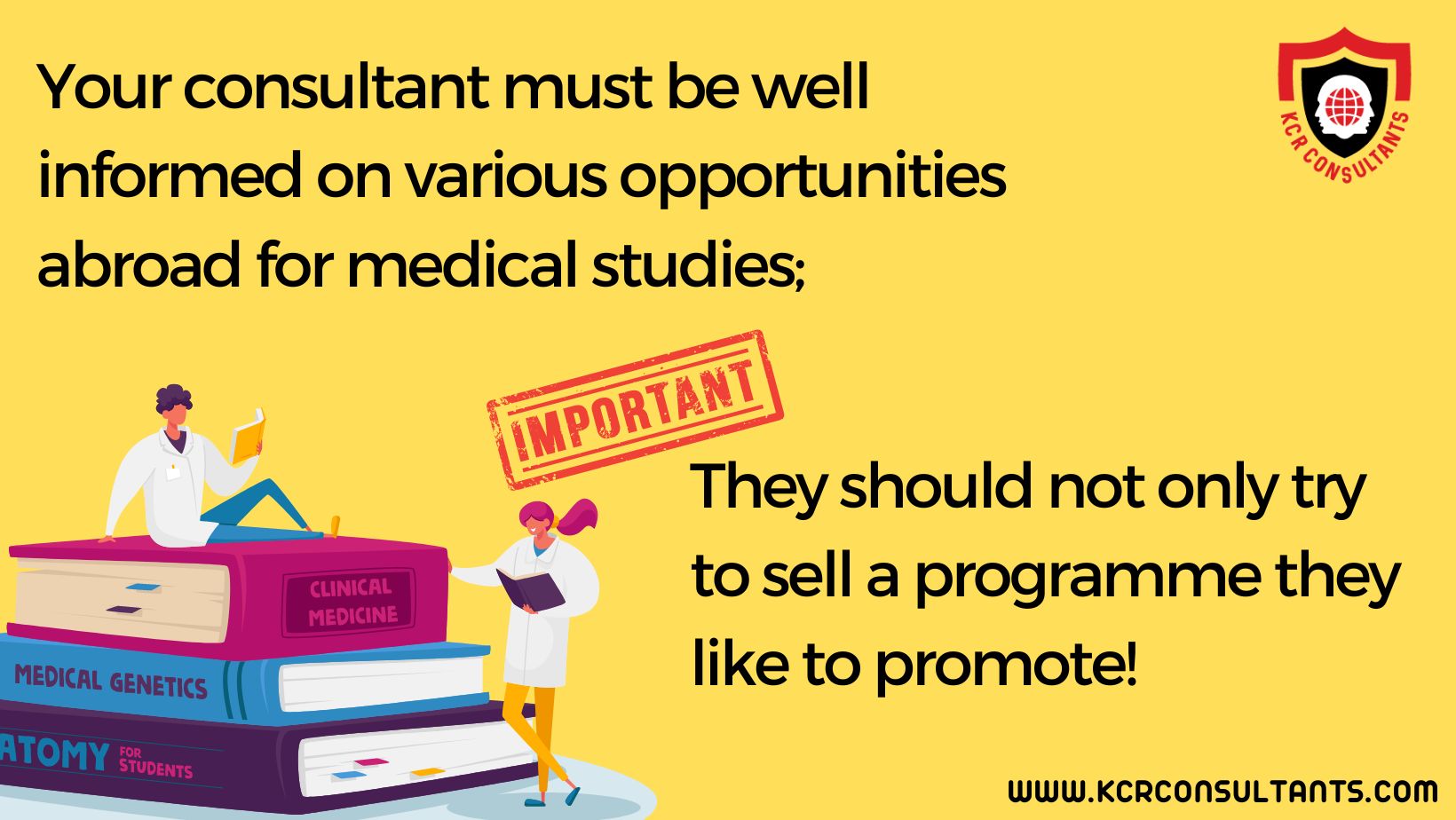 The U.S.A. and Canada have four years of medical degrees. Is that mean a degree from here is not acceptable in India?
One should understand it in detail, e.g., a student in the U.S.A. will apply for a medicine programme only after completing a bachelor's degree in a science subject. 
After completing their medical degree, they will do the United States Medical Licensing Exams and pass to get licensed to practice medicine in American hospitals. 
These medical graduates are accepted here to sit the licensing exam in India. Whereas in many countries where the local medical colleges and universities follow the above American 4-year medical education compromises the bachelor's degree in science requirement. Instead, they offer six months to 2 years course and call it "B.S."!
As per the N.M.C. of India, after completing a medical degree in these countries, staying back and completing local licensing formalities, getting licensed locally, and returning, there is a point to consider it for at least an assessment!
Most international students from countries like India return to their home countries immediately after completing the course. Sometimes many will have just a provisional medical degree!
So, where to go for medical education, and what do the MBBS Abroad consultants in Chennai suggest?
Europe is the best-suggested continent to study medicine for international students looking for an opportunity to learn medicine in a foreign country for an acceptable medical degree, even in their home countries.
Looking for an opportunity in a European Union country would be wise. There are around 41 countries in Europe, and only 26 are in the European Union. You may expand your opportunities to European Economic Area (EEA) by adding three or more countries to make it bigger. 
Suppose you are in Chennai or any other part of Tamilnadu. In that case, I suggest meeting the MBBS abroad consultants in Chennai who are well-informed and updated with the various requirements of the universities in each country.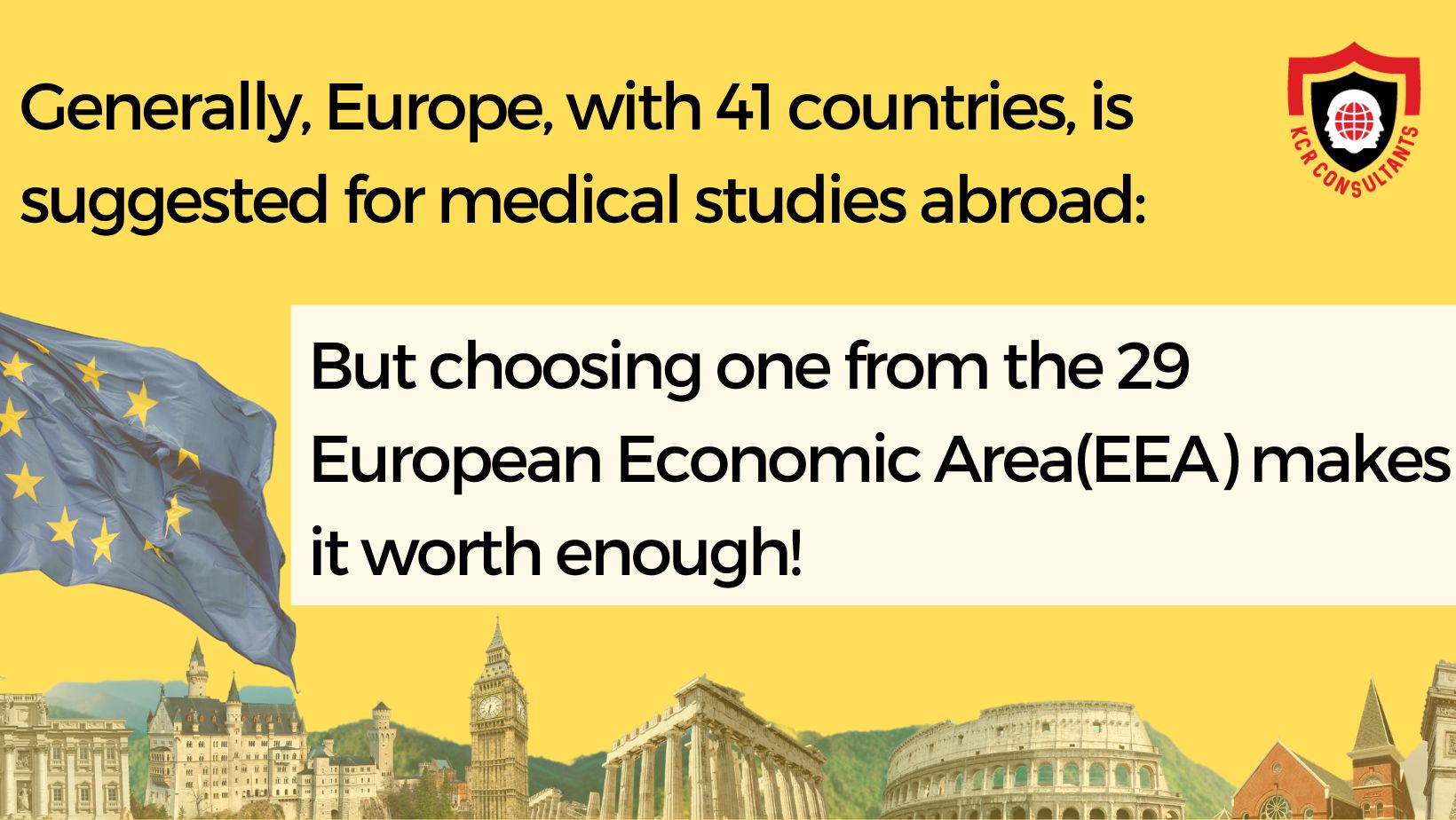 How can one identify abroad consultants in Chennai which have the above qualifications?
KCR CONSULTANTS, based at No.3 McNichols Road in Chetpet, Chennai, is run by a qualified team in the founder's and C.E.O.'s leadership who is well travelled, and experienced in recruitment, career counselling, admissions, visa matters etc.
It started in 2001 as a foreign workforce recruitment firm licensed by the then Labour Ministry of India and diversified into career counselling and student recruitment in 2005. 
Registered for education management and other educational services, KCR CONSULTANTS is a private limited company now.