Germany is renowned for its high-quality medical education and advanced healthcare system, attracting international medical graduates and aspiring doctors worldwide. 
One common question is whether medical postgraduate (PG) education is free in Germany.
Let's delve into the topic to comprehensively understand the cost of pursuing medical PG studies in Germany.
Tuition

Fees for Medical PG Programs
The good news for medical graduates from non-European countries like India considering medical PG education in Germany is that PG Medicine is generally hospital-based and does not charge tuition fees!
Moreover, they earn a monthly salary while working towards becoming a specialist in the area of medicine they chose to specialise in. 
Germany needs more qualified medical and other healthcare professionals.
Hence, the country welcomes internally studied doctors to come, prepare and get licensed, work or specialise (PG) or attend a residency after working for a few years to understand Germany's health care system and medical practice. 
Semester Contribution and Administrative Fees
While tuition fees are generally waived, it is essential to note that there may still be certain costs associated with pursuing medical PG studies at university through research leading to a PhD.
Students are usually required to pay a semester contribution, also known as "Semesterbeitrag," which covers administrative costs and contributes to student services. 
The semester contribution varies between universities and can range from a few hundred euros to around a thousand euros per semester.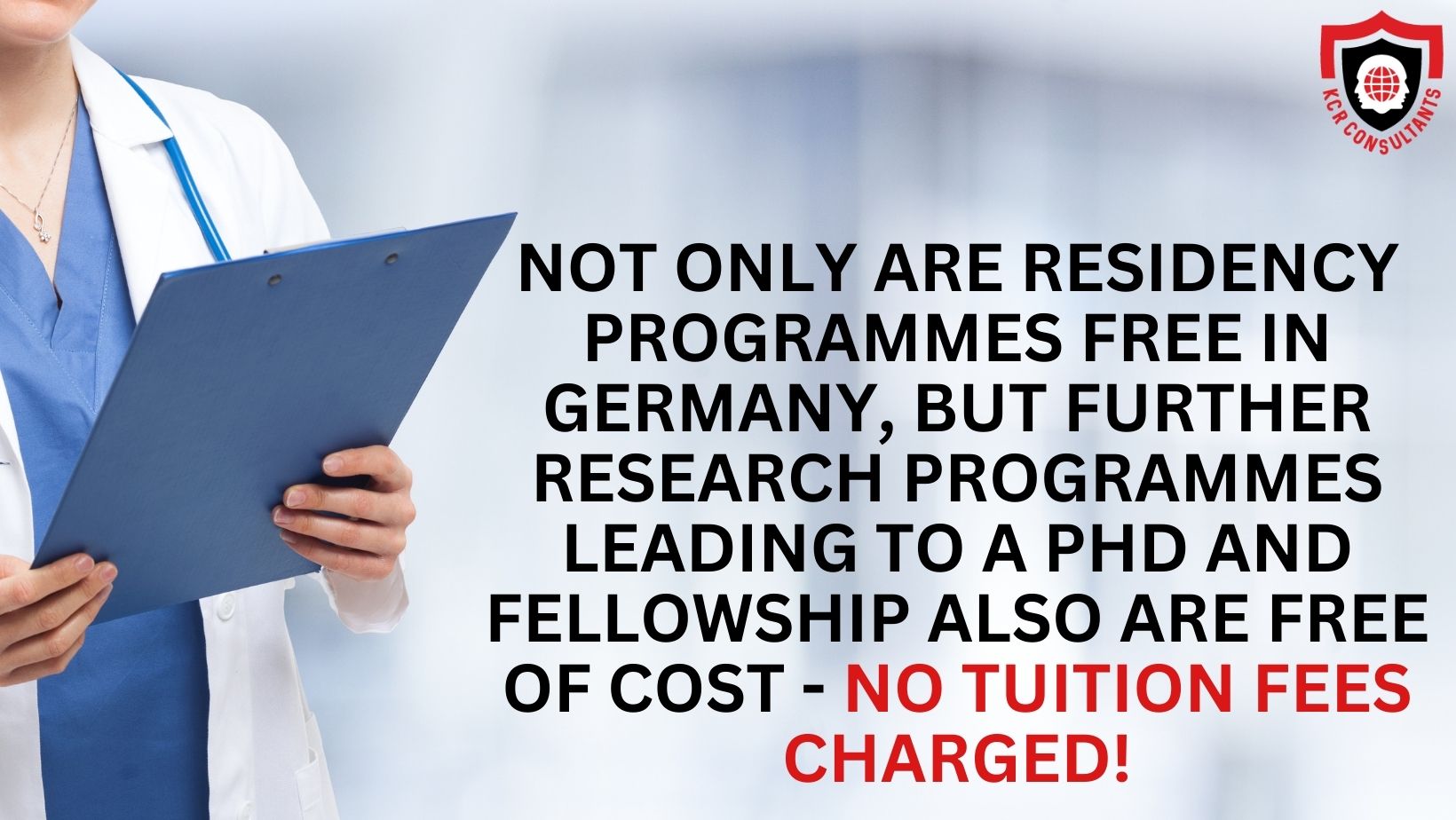 Not only are Residency Programmes free in Germany, but further research programmes leading to a PhD and Fellowship also are free of cost- No tuition fees charged!
Living Expenses and Health Insurance
While the education itself may be free or significantly subsidised, it is essential to consider the cost of living in Germany. As an international student pursuing medical PG studies, you must budget for accommodation, food, transportation, and other daily expenses. 
The cost of living varies depending on the city and personal lifestyle choices.
Additionally, all students in Germany are required to have health insurance coverage. 
International students typically need to obtain health insurance, either through a public or private provider, to meet the visa requirements. 
Health insurance premiums vary based on the provider and coverage options.
Funding and Scholarships
To help offset living expenses, students pursuing medical PG studies at a university in Germany can explore various funding options and scholarships. 
But research studies are salaried or earn a monthly stipend; therefore, further funding is optional.
Doctors at residency hospitals earn a better monthly salary, approximately 5000-6000.EUR.
To summarise, while medical PG education in Germany is generally accessible, there are still certain costs to consider, such as semester contributions if attending a PhD programme, living expenses, and health insurance. 
However, compared to many other countries, pursuing medical PG studies in Germany can be more affordable due to the absence of tuition fees.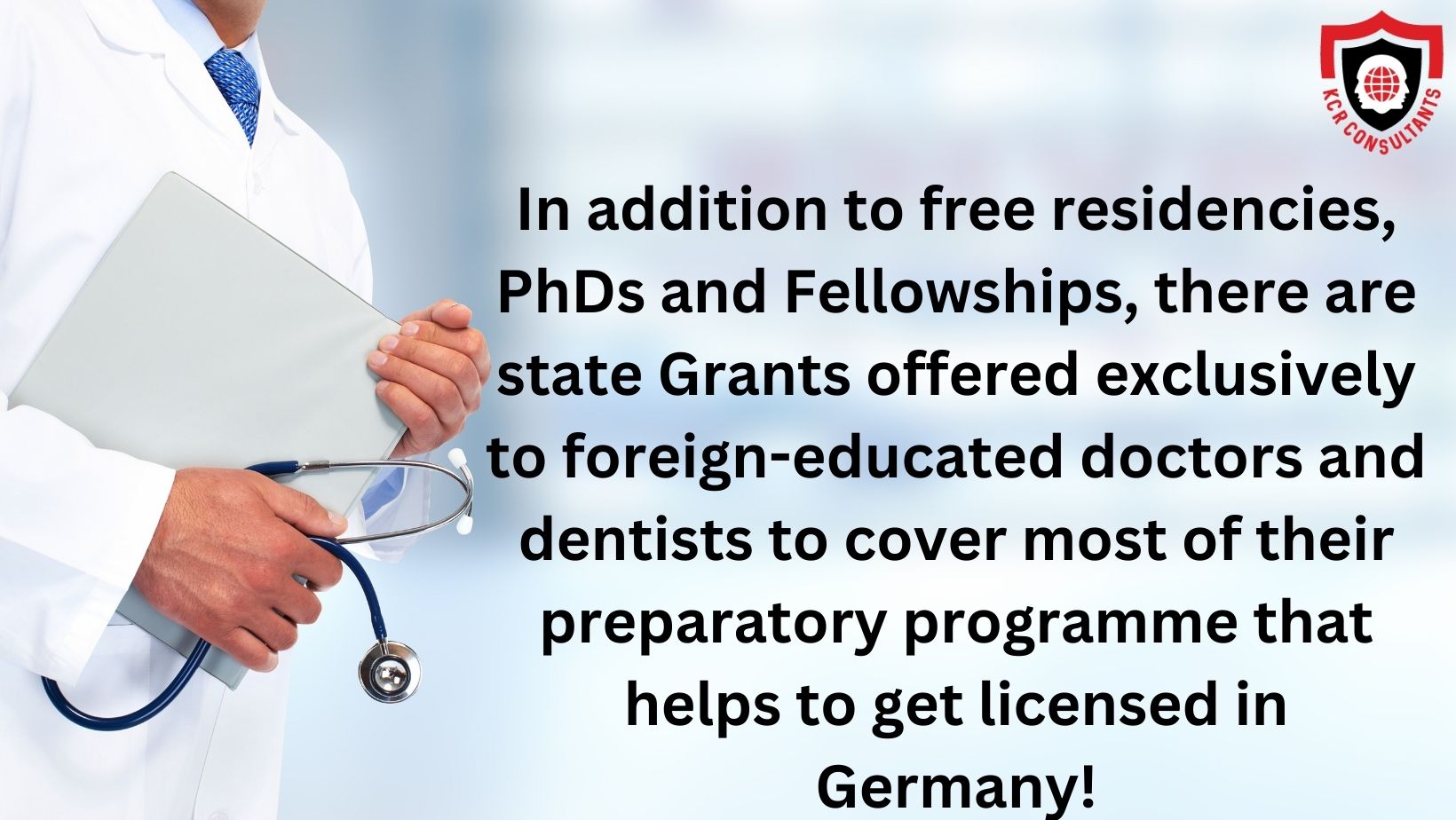 In addition to free residencies, PhDs and Fellowships, there are state Grants offered exclusively to foreign-educated doctors and dentists to cover most of their preparatory programme that helps to get licensed in Germany!
In addition, there are German state Grants to cover the cost of the preparatory programme in the beginning, makes aspiring doctors can pursue their medical PG studies in Germany without incurring significant financial burdens, making it an attractive destination for furthering their medical careers.
The Grant covers language studies from the B2 level onwards and includes medical language called FSP preparation and proficiency level studies.  
           Is the Grant available for all foreign-educated doctors and dentists?
The Grant is available for those who process their application for registration with a German State medical board while still in their home country and obtain a letter of 'Deficit' issued by the medical board. 
Licensed doctors and dentists who have also completed a one-year internship are considered qualified for a 'Deficit' letter and therefore qualify for the Grant.