Hotel Management Courses in Germany for international students.
Germany, renowned for its tourism and hospitality industry and exceptional service standards, offers excellent educational and training opportunities for those aspiring to pursue a hotel management career.  
With a combination of theoretical knowledge, practical training, and industry exposure, hotel management courses in Germany prepare students for dynamic roles in the thriving hospitality sector. 
Several hotel management courses in Germany are highly regarded for their quality education and industry relevance.  
Here are some of the well-known hotel management study programs in Germany: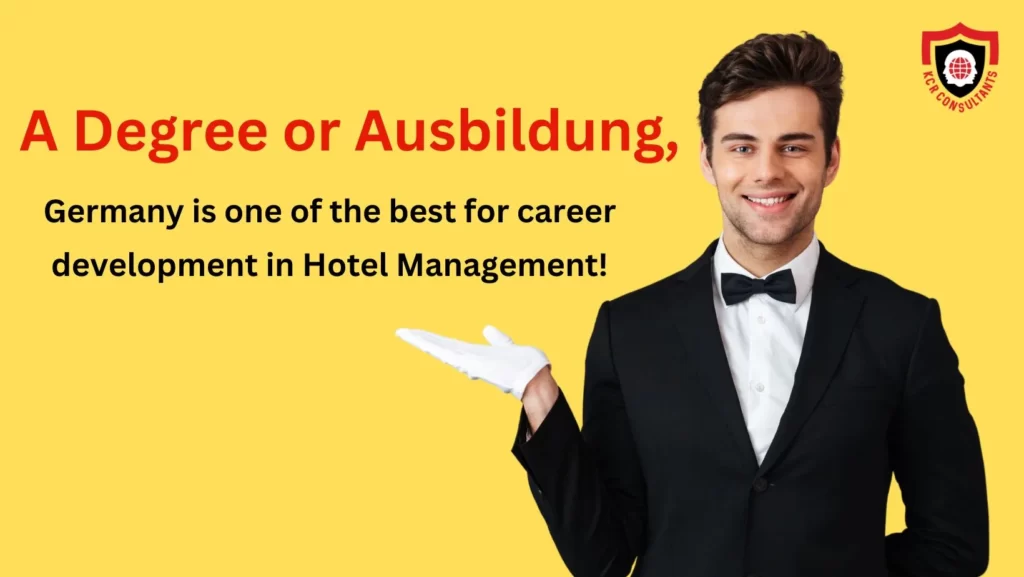 Bachelor of Arts in Hotel Management
A BSc programme in hotel management comprehensively explains hotel management principles, operations, and business administration. 
It covers various areas such as front office management, food and beverage operations, event management, marketing, and financial management. 
International Hotel Management
A bachelor of degree programme focuses on the global aspects of the hotel industry, preparing students for international careers.  
It covers cross-cultural management, international marketing, hospitality law, and strategic hotel management.  
Students gain insights into managing hotels in diverse cultural and business contexts.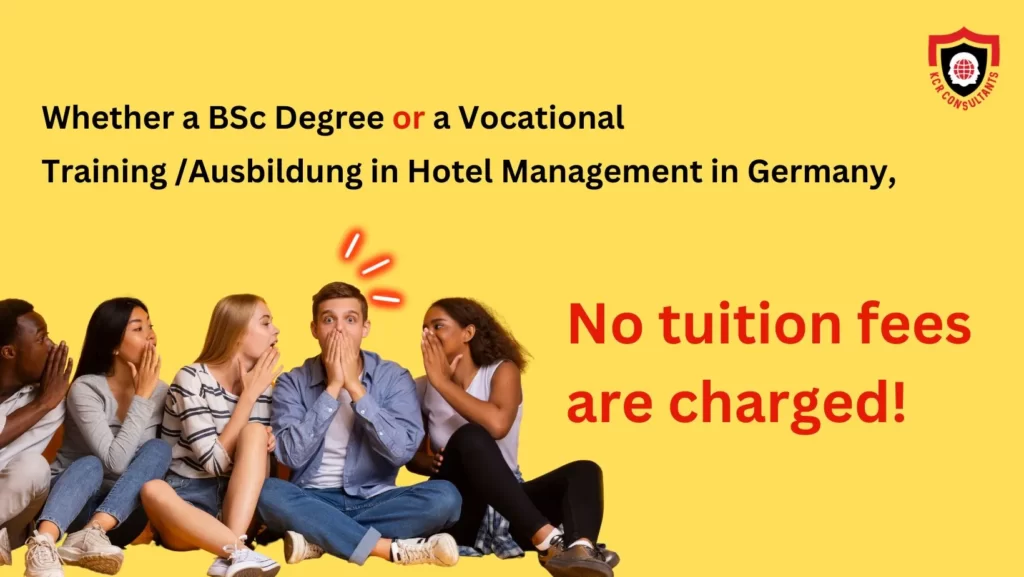 Vocational Training or Hotel Management Ausbildung in Germany
A Vocational training programme in hotel management is Germany's most famous course in these areas of study.
Like the BSc degree studies at most public universities are free of cost, vocational training known as Ausbildung is also offered free- no tuition fees charged.
Most hotels in Germany that need new staff create apprenticeship positions and invite young people with a minimum high school education worldwide on a job training contract. 
The hotels train them most on a work placement; therefore, the programme is famously known as an on-the-job training programme! 
Thus these future managers are trained in the hotel facilities and various hotel management areas, including front office, housekeeping, room services etc., for three years.  
Graduates with a degree qualify to apply for a permanent resident permit after working for two years, and graduates from vocational training called Ausbildung also qualify for a P.R. permit if they want after working for two years! 
Ausbildung Hotel management graduates also qualify for a job seeker's visa like the hotel management degree graduates! 
Hospitality and Tourism Management
This study program combines hotel management with a broader tourism and hospitality industry focus. It explores tourism marketing, sustainable tourism development, destination management, and hospitality entrepreneurship. 
Luxury Hotel Management
This specialised program focuses on the luxury segment of the hotel industry. 
It covers luxury brand management, customer service excellence, exclusive guest experiences, and high-end hotel operations.
Students gain insights into the unique requirements and expectations of luxury hotel clientele. 
Event and Convention Management
This program focuses on planning, organising, and managing events and conventions in the hospitality industry. 
It covers topics like event marketing, event logistics, event technology, and strategic event management. 
Students develop skills to create and execute successful events in the hotel and hospitality sector.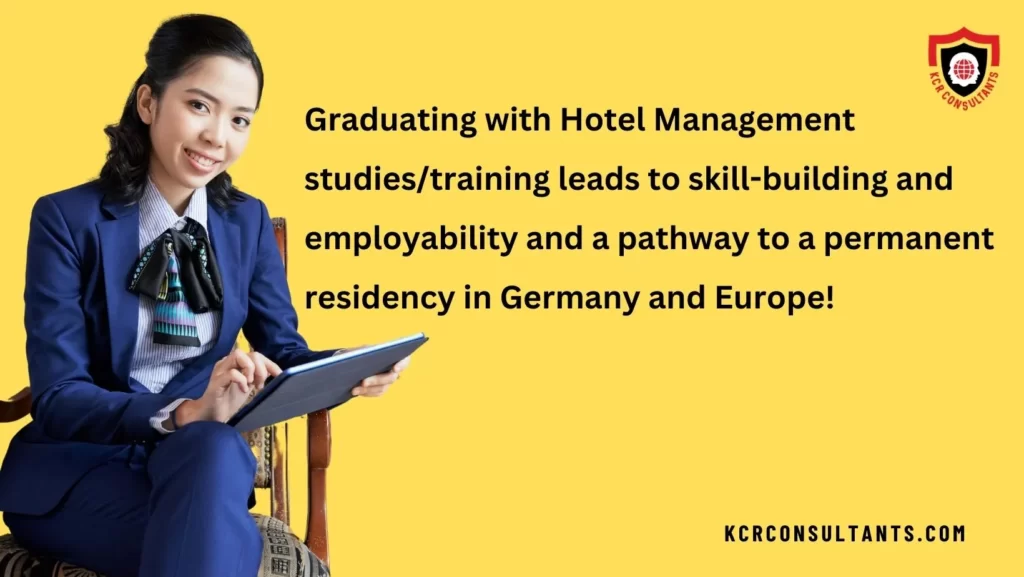 These are just a few examples of popular hotel management study programs in Germany.
Each program has its unique curriculum, specialisations, and industry collaborations.
 Researching and comparing different programs is essential to find the one that aligns with your interests, career goals, and desired field. 
When selecting a hotel management study program, consider factors such as accreditation, faculty expertise, practical training opportunities, industry connections, and alums network.  
These aspects contribute to a well-rounded education and enhance your employability in the competitive hotel industry. 
A hotel management course as vocational training or Ausbildung Hotel Management leads to an accredited vocational qualification. 
Ausbildung also trains in restaurant management, and the graduates find jobs as restaurant managers later.
Generally qualifies for a hotel management job with the same hotel which trains them. 
The State-accredited Ausbildung hotel management vocational qualification is accepted by employers across Germany.