Are you looking for a Germany Education Consultant in Chennai? Don't second-guess yourself; KCR CONSULTANTS is the comprehensive solution to all your service and procedure needs.
With a focus on the opportunities for higher and further education in Germany from the very first year of introducing Free Education in Germany, Germany Education Consultants in Chennai has been in the business of career counselling, admissions, and student recruitment for the past 21 years.
Graduate, college and high school students interested in studying in Germany can get advice from the experts at German Consultants in Chennai.
Let's say you have completed either 12 years of schooling followed by a 3-year degree program or ten years of education followed by a Diploma and lateral entry (2/3-year) degree.
You can seek advice from German Consultants in Chennai about studying in Germany for a bachelor's degree at a German public university.
Expert advice and direction are part of Germany Education Consultants in Chennai for completing a master's degree in Germany at a public institution. 
It would be advantageous if you had completed and passed the equivalent of the 12th grade in your country.
Germany Education Consultants in Chennai,
the company that pioneered admissions counselling for Germany's Ausbildung programs, also provides consulting services for international students interested in studying in Germany.
Consequently, Study Abroad Consultants in Chennai KCR CONSULTANTS is the go-to place for advice and counsel on organizing your time in Germany as a student.
Those from India (or anywhere else) who want to study in Germany to obtain a secondary, postsecondary, or university education today have a fantastic opportunity to do so. 
By completing postsecondary education at a German public institution or receiving vocational training through an Ausbildung program, one's professional and personal prospects improve.
There are no tuition costs for attending a public university, and students have the option of studying in English if they so choose.
However, fluency in German is essential for success in Germany. Those who invest in learning German, particularly in a German setting, before enrolling in a degree program at a German public university are more likely to have a positive experience and graduate with the credentials they seek.
If you want help on how to enrol in a Bachelor's or Master's program at a public university in Germany, an excellent place to start is Consultancy for Study in Germany in Chennai.
Compared to competing services, what makes German education consultants in Chennai stand out?
Let's say you're interested in taking a German course but don't want to see generic search results but rather those for a specific university. 
There is much information about the program's potential in Germany, the studies, and the cost of living that you won't be able to access without knowing German.
All hope is lost for the students.
No, I don't think you're interested in becoming one of them.
Colleges and universities in India and other countries have different online presences. The students will have difficulty deciding what to do and what they think.
Working with a German education consultant in Chennai is helpful in this case.
Students trust consultancy for Study in Germany in Chennai to provide accurate information to make an educated decision.
You can find anything and everything concerning the German currency and the cost of living there.
To my knowledge, KCR CONSULTANTS is one of Chennai's finest German education consultants in Tamil Nadu.
The first and most crucial evaluation aspect is the consultant's greeting style, especially when dealing with international students.
To recommend the best overseas university for each student, the best overseas education consultancy in Chennai places a premium on getting to know them personally.
There needs to be a consideration for students' ability to pay.
An overseas education consultant in Chennai must also consider the student's language skills, communication abilities, aptitude test needs, and post-study goals.
If a student from Tamil Nadu needs a loan to cover the costs of studying in Germany, they can turn to a Germany Education Consultant.
How Do Germany Education Consultants in Chennai Help You?
Germany Education Consultants in Chennai have extensive experience helping students gain entry to universities in Germany and elsewhere.
To further the success of our strategy in gaining entry to universities in Germany.
German Consultants in Chennai have German representatives based there. Unfortunately, we are all too familiar with the difficulties Indian applicants face.
Suppose you are searching for Overseas Education Consultants in Chennai or  Foreign Education Consultants in Chennai. Get in touch with KCR CONSULTANTS!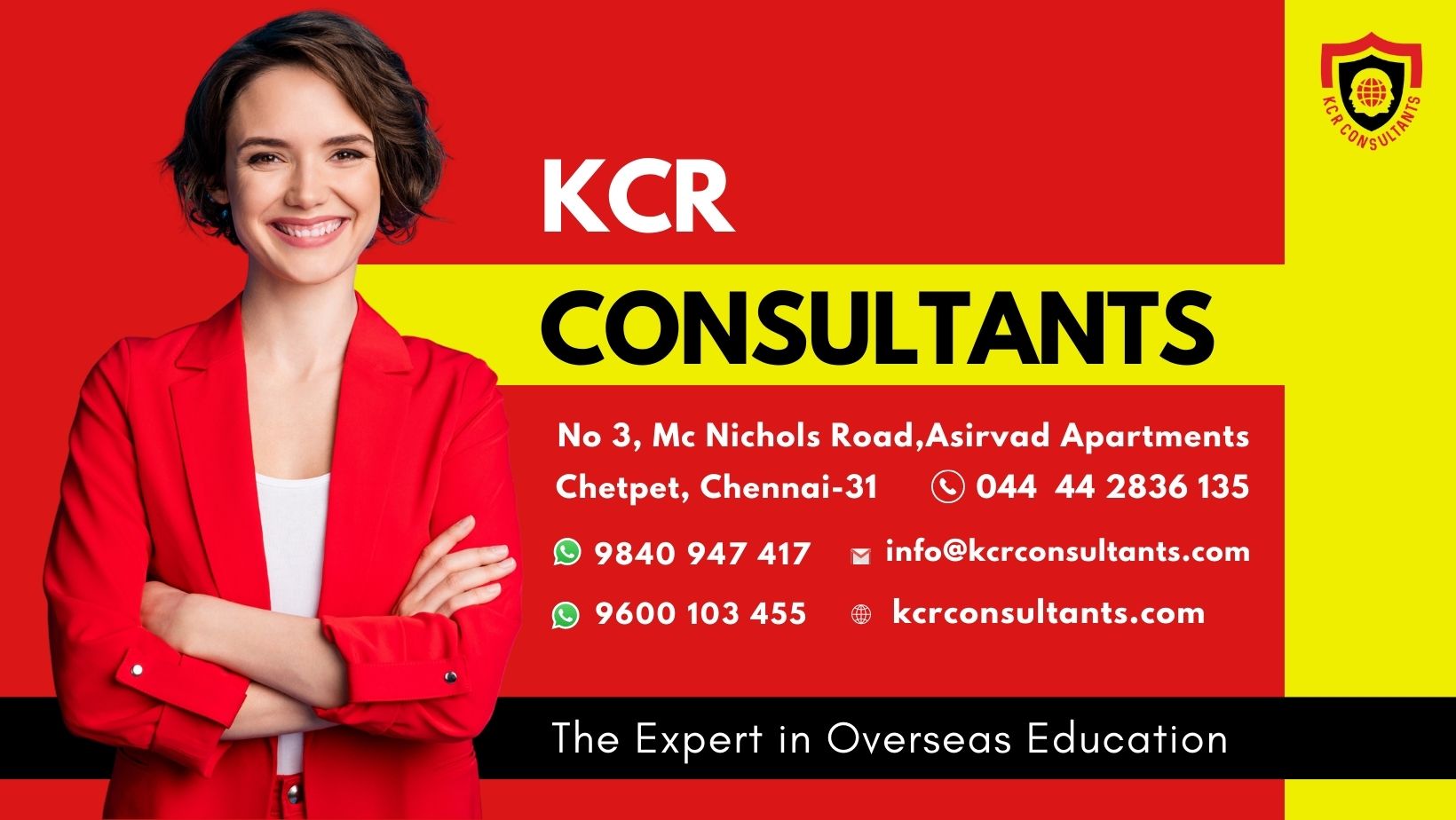 Another Related article:
Germany Education Consultants in Tamil Nadu