German Language Course in Chennai
Learn German Language Course in Chennai for Studies, Work, and Migration

The German language is around 100-years old. Relatively young, but given the importance of Germany on the world map, German remains one of the most influential languages. There are close to 130 million speakers of the language worldwide, and that continues to expand its influence around the world.
If you are someone aspiring to go to Germany and are not familiar with German, it becomes doubly important that you start attending a German language course in Chennai. Germans are far more comfortable in using their native language even while communicating with people from other countries. This notwithstanding, there are other reasons also why you must embrace German as an alternative language.
Before we go any further, let's delve into why it is a good idea to learn the German language course in Chennai; here we go:


German is Relatively Easy: There are enough anecdotes and myths around the German language for being hard to learn. However, if you are well-versed in the English language, you are at an advantage. It is because both German and English originate from the same root. And there are thousands of words that sound similar to English, known as "cognates." For instance, water is "Wasser", and chin is "Kinn" in German. It makes it much easier. Unlike Arabic, Chinese and Japanese, you are not required to learn new alphabets. There is only the addition of a few more alphabets. 

German language experts at the Language Learning Centre of KCR CONSULTANTS have devised enough shortcuts to make learning German a breeze in the German language course in Chennai.



Language of the Intellectuals: German is the language of poets, thinkers, and intellectuals. Given Germany's contribution to the literary and scientific world, there is no denying that part. Over 100 Nobel prizes are a testament to the immense contribution of brilliant Germans to the domains of physics, literature, chemistry, and medicine. Furthermore, among the list of Nobel laureates, some came from outside and joined German universities. So, if you are someone keen on working on cutting-edge technology and advanced sciences, Germany is the place to be, making it quite important to remain conversant in German.     

An Important Academic Language: By contributing immensely to the scientific community, German, by default, becomes the language of academia. It ranks second, just after English as a scientific language. Therefore, it should not come as a surprise that Germany stands only third behind Chinese and English to be producing the highest number of books. Since there is only a small percentage of books translated, it makes sense to remain knowledgeable in German.

Destination for World-Class Education: One of the reasons for Germany to be having such a vibrant scientific community is due to the presence of reputed universities. Most of them are associated with cutting-edge scientific work making them an attractive destination for foreign students. The country always figures in the top 5 regarding hosting students from abroad on their university campuses. Moreover, German universities can pride themselves on having very low or non-extinct tuition fees. Hence, there are good reasons for learning German to save oneself from student loans.

Germany's Economic Strength: Germany is the largest economy in the European Union and ranks 4th among the economies in the world. Many global companies have German origins like Bosch, Lufthansa, SAP, and Audi. And these are companies that are at the forefront of new technologies. Anyone who seeks to travel to Germany and work in these companies is expected to have a good grip on Germany. All over the world, native speakers appreciate foreigners being able to converse in their native tongue; it is considered an act in good faith. Also, any business that seeks to partner with German companies can find it easy when communicating in German.

Most Widely Spoken European Language: You may believe that German is spoken only in Germany. Well, that is a wrong notion because it is the third most used language in the European Union and has the status of being one of the official languages of the European Union. Apart from Germany, the language is spoken in Switzerland, Liechtenstein, Austria, Belgium, and Luxembourg. In English-speaking countries, German is the most taught foreign language. That's not too bad for a small country like Germany. Hypothetically, learning German can give you access to more than 100 million people who speak the language.

Big Online Footprint: While you may not reach out to 100 million people in your lifetime, you can surely reach a percentage of them online. German websites make a large chunk of the online websites. Any website ending with .de will have a German origin and is known to be a popular top domain out there. Knowing German can give you access to more than 15 million German websites, excluding the ones ending with .org, .info, and .net. Interestingly, .de websites rank second to .com websites in cyberspace in absolute numbers. Not bad for a language with 130 million speakers.

Germans are Everywhere: If you are an avid traveler, the chances of running into a German are quite high. Germans are known for being voracious travelers. With almost 6-weeks of annual leave and with a disposable income, there are German travelers all around the globe. Germans are known for being big spenders at the international level. Incidentally, it was only recently that Germans were outnumbered by the Chinese for being the biggest spenders during their travels. Any business keen on tapping into this German tourist market will find it easy with the knowledge of the German language.

German is a Part of World Heritage: Although Germans have the reputation of being left-brained and analytical. Incidentally, their contribution to music, art, and philosophy cannot be denied. Right from Goethe and Kafka to Mozart and Bach to revolutionary philosophers like Kant and Hagel. They all came from Germany. If you look forward to enjoying their literary and philosophical masterpieces in their original form, then learning German can quite come in handy. You are not only assimilating knowledge but also are tapping into the world's cultural heritage first hand.
Tips to Learn German Fast

Now that you understand the reasons to study German, let's look into tips on how you can learn German fast; here we go:
Create a Study Plan: You really cannot be overambitious about learning German. Instead, remaining pragmatic and creating a study plan can help the cause. Start by dividing the subject matter into small categories with individual topics. Decide on starting with the easier topics while you attempt the complex ones for a later date. A study plan will also allow you to monitor your performance and help manage available time efficiently. The German language course in Chennai offered by the Language Learning Centre of KCR CONSULTANTS can help you in this matter. 

Study Regularly: It may happen that on some days you are not interested in studying. On those days, you can make it a point to study in shorter segments. Also, with the availability of study materials online, you can even opt to complete exercises online when you have "off-days." Your chances of improving at German increase with your dedication and the regularity with which you take up study.

Study German Words with Article: It would have come to your notice that articles are quite important in the German language. So, when you study vocabulary, you must always consider the correct article. If you start your study in this manner, it will save you from many mistakes later. Also, new learners must have good knowledge of plurals in the German language; it helps with the correct usage of words.

The Language Learning Centres' German language course in Chennai would be ideal.



Make Use of Helpful Study Tools: To remember vocabulary and important phrases, make it a point to write these on "post-its" and stick them into spaces you frequent in your household. It could be your fridge, coffee machine, or mirror in your toilet. Such tools will help you with constant reminders on the correct usage of words and phrases. Over time, you will have a good grasp of frequently occurring terms and phrases. A German language course in Chennai can help you prepare well.

Simple Memory Hooks: Many German words and phrases need not stick in your memory the first time around. Hence, it will be prudent for you to use memory hooks, where you create your mnemonics in the form of a song or rhyme. These will allow terms and phrases to register well with the memory.

Sketches and Notes: Each one of us is likely to have our way of learning a language. Ideally, each one of us needs to evolve our methodology when learning the language. To begin with, you can start with taking notes in different colors in your German classes. It will allow you to draw better attention to what is important. Also, instead of writing everything in words, it can be better if you create a set of visualizations to understand certain language rules and grammar. German grammar happens to be quite extensive, and it can be helpful if you divide them into smaller and manageable categories.  
Learn a German language course in Chennai at the Language Learning Centre of KCR CONSULTANTS.

While there may be many places to study German, the language experts at the LLC have been reliable for learning German for quite some time now. Regardless of the need to learn German, whether you are going to Germany for studies or job-related assignments. The Language Learning Centre has pre-designed course packages suited to individual needs to study German Language Course in Chennai.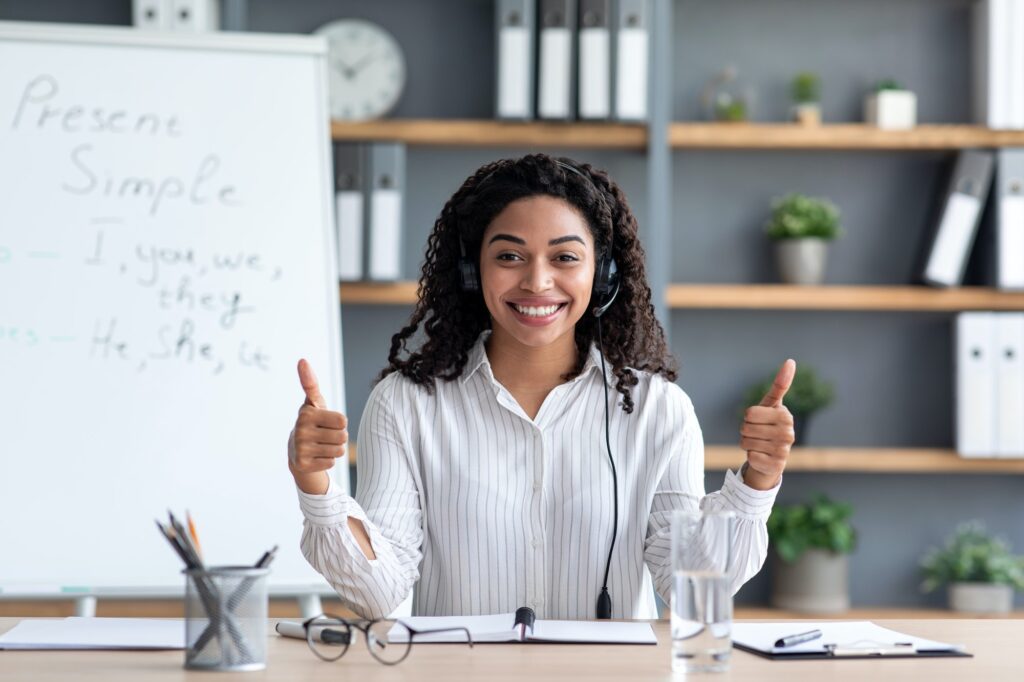 Road Map to Learning German


Get in touch with one of the Language Learning Centre's counselors or coordinators; to guide you on how much effort will be involved in making you learn German in the most optimal time. Our effort is to help you reach a stage where you can speak and write German effectively.

The mentor at the Language Learning Centre will evaluate and let you know whether you need a beginner, intermediate or professional level course to match your need.

Once you enroll in our courses, our mentors will equip you with the necessary study materials required to complete the German language course successfully.

You can even check with our past students who have managed to learn German and received compliments for their fluency in German.
Frequently Asked Questions (FAQs)
Q. How can I decide on the right course?

Answer: Once you get in touch with an admission counselor at the LLC of LCR CONSULTANTS, you will discuss your needs. Based on the discussion and your level of understanding of the German language, the mentor will suggest a course. If you are not convinced with the suggestion, you can request and talk to someone else at the Language Learning Centre for complete satisfaction.
Q. What are the types of courses available?

Answer: These are the courses that are available presently:
German Beginner Level (A1): Rs.17,000/-
German Basic Level (A2): Rs.17,000/-
German Beginner to Basic Level (A1&A2): Rs.30,000/-
German Intermediate Level (B1): Rs.26,000/-
German Upper Intermediate Level (B2.1): Rs.26,000
German Upper Intermediate Level (B2.2): Rs.26,000
Q: How long will it take to learn the German Language?

Answer: For the average English-speaking person, it will take approximately 30 weeks or 750 hours to learn German effectively. This is significantly less than the amount of time required to learn Chinese, Japanese, or Arabic which takes about 88 weeks.  
Q. How do I track my progress?

Answer: You need to introspect each step of the journey and analyze how much improvement you have made so far. One of the things you can do is to change your language on the mobile to German. The emphasis here is to remain in touch with the German language – watch songs, films, or videos online to better appreciate the language and its nuances.
Conclusion:

We at the LLC of KCR CONSULTANTS have remained synonymous with learning German for quite some time now. We come with 20+ years of experience in career counseling and can give proper guidance & advice to someone who aspires to travel to Germany for studies or a job. We can make it easy for the individual to navigate the needs and requirements while traveling to Germany. In this case, proficiency in the German language is quite crucial.
Get in touch with us and enroll in a German Language Course in Chennai Immediately!
Open from 8am - 8pm Monday - Friday
Fill out the form below to receive expert advice and guidance.