Direct and Assured Studienkolleg Admissions in Germany: Your Pathway to Higher Education.
Are you an international student aspiring to study in Germany? 
The German education system intrigues you, but navigating the admission process seems complex. Look no further – we've got you covered with direct and assured Studienkolleg admissions that streamline your path to higher education.
Studienkolleg Option 1
Embark on a comprehensive journey by opting for an all-in-one-year Foundation Course. Begin with learning the A-1 level German language in your home country, followed by the A-2 Level directly from the Studienkolleg online. 
This option ensures a seamless transition into the German education landscape.
Studienkolleg Option 2
For those who've completed the A-2 Level German language in their home country or country of residence, our all-in-one-year direct Foundation course awaits you. 
This route optimises your learning experience, preparing you for success in higher education at one of the best German public universities.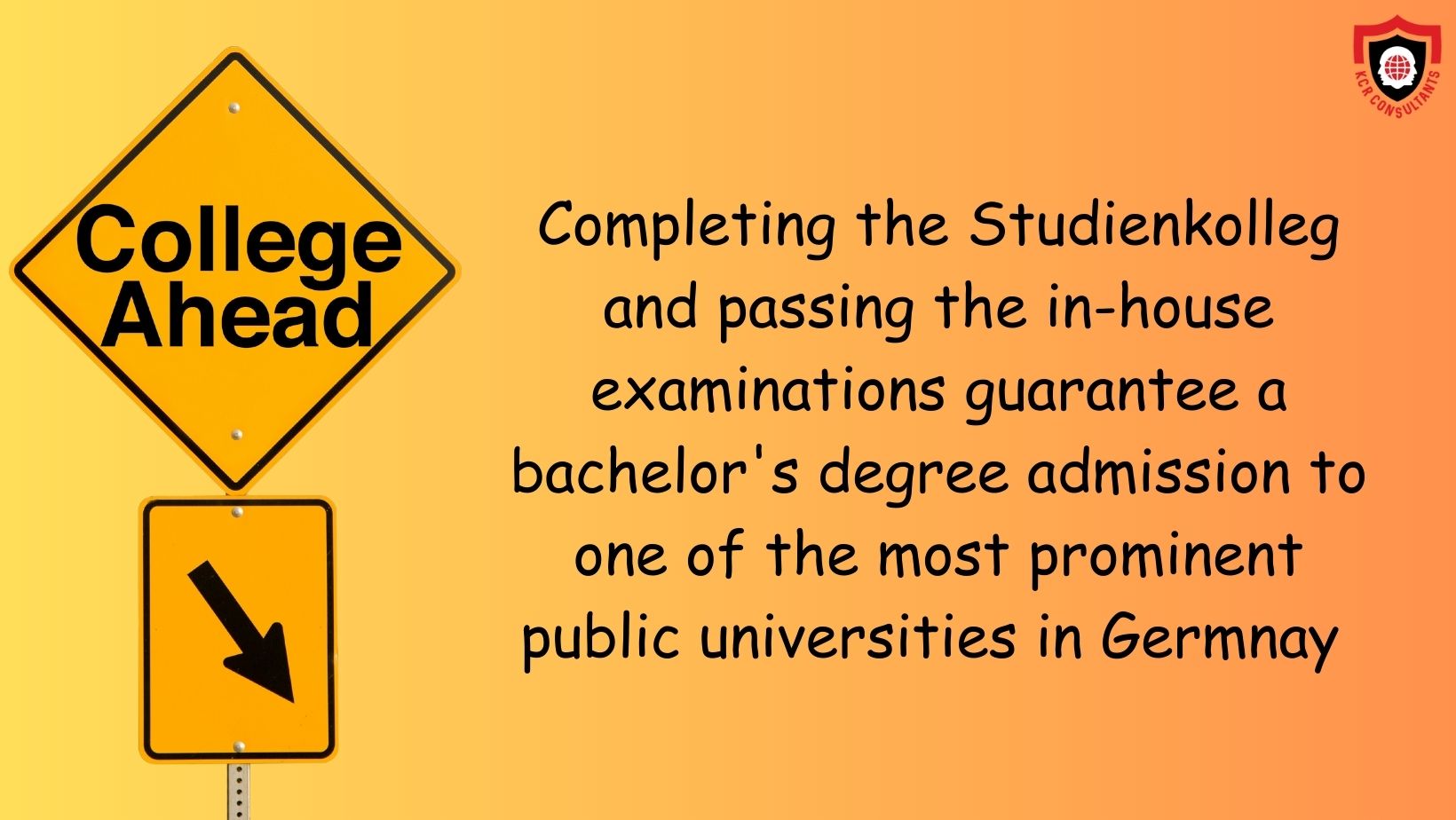 The Scope of Studienkolleg Options 1&2:
Completing the Studienkolleg 1 or 2 option and passing the in-house examinations guarantee a bachelor's degree admission to one of the most prominent universities for which you will receive a conditional admission letter much in advance, in fact, before applying for your visa. 
You may attend a T course, a W course or an M course depending on what bachelor's degree you have been accepted by the University conditionally.
After attending the foundation course, you can study in any public university after state Fachschulung Prufung (FSP).
The package also covers the one-year foundation course, including a B1 level German language course, boarding and lodging (hostel and monthly allowance for foo), German state government health insurance for the entire year, all study material and exam fees!
Studienkolleg Option 3
Immerse yourself in German by starting with a 4-month B-1 level in Germany. 
Following this, dive into a foundation year at the same Studienkolleg- where you achieved your B1 level skills in German by attending the B1 level course at its language centre. 
This immersive approach enhances your language skills and equips you with the academic foundation for your journey.
Scope of Studienkolleg Option 3:
You will have an excellent opportunity to attend the B1 level German course offered at the language centre of the Studienkolleg of a public university which is a member of the 'German as a foreign language association'- this organisation issues the licenses for the German language test for university admission throughout Germany.
The Studienkolleg belongs to the central university institution and official examination centre for the FSP, DSH, TestAs, TestDaF and Telc examination formats. 
Successful completion of a foundation course guarantees a place in the University.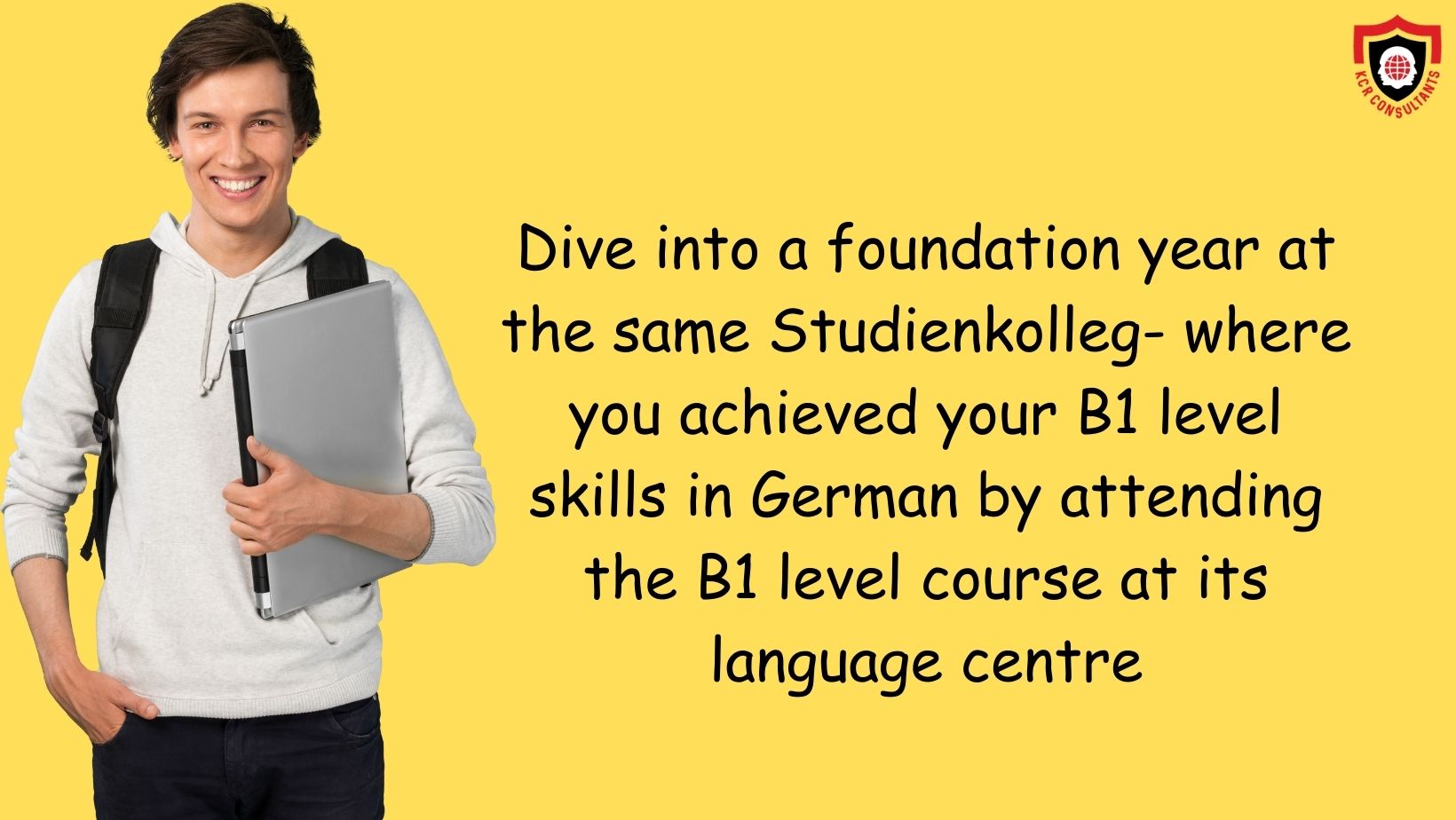 Studienkolleg Option 4
Elevate your linguistic prowess by attending A1-C1 level communication skills through German courses taught by native-speaking licensed teachers at a linguistic centre in Germany approved for language teaching foreign citizens. 
Progress seamlessly from language studies to the Foundation year at the same Studienkolleg. This option ensures a holistic learning experience while gradually acclimating to the German education system.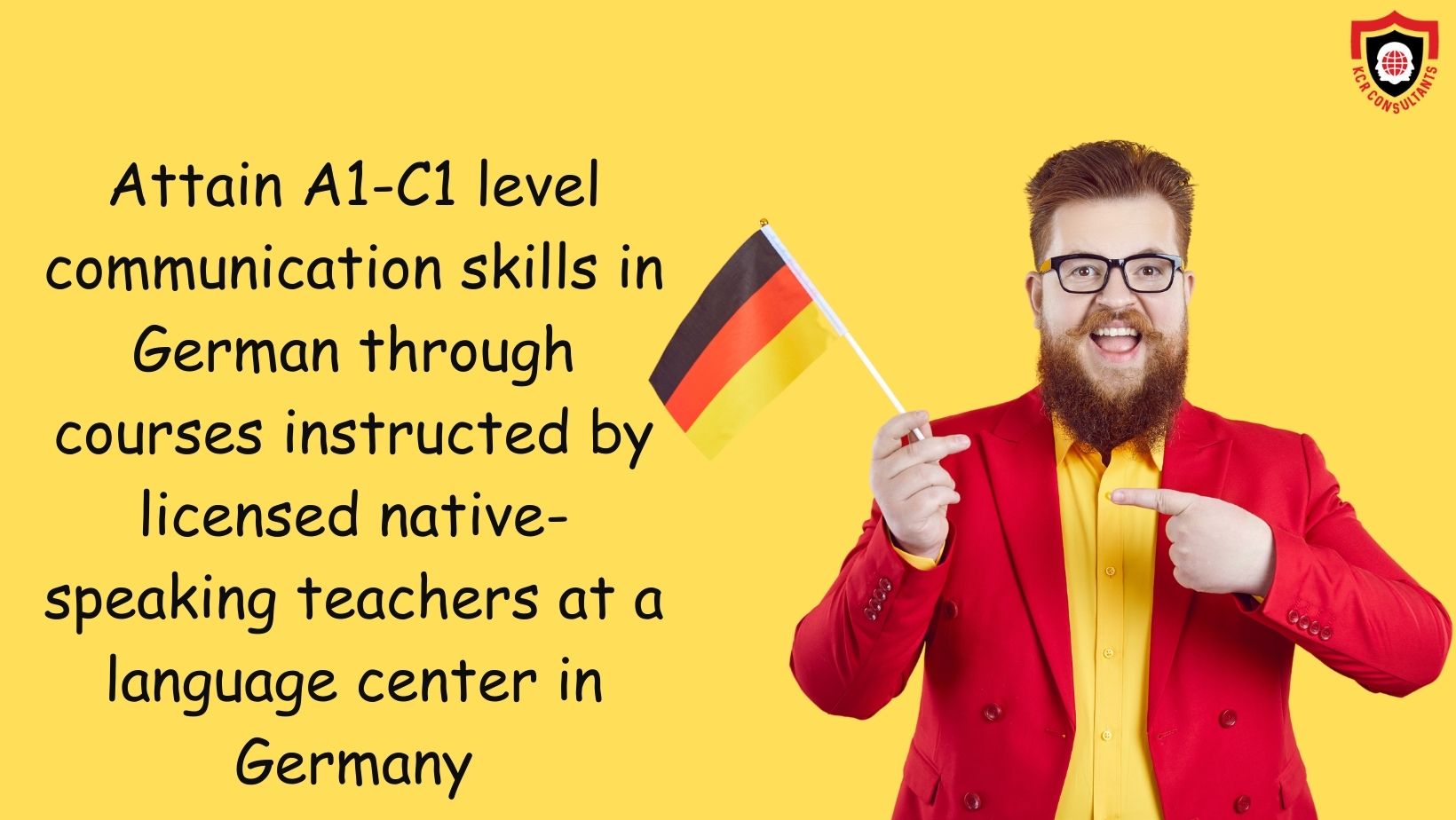 The scope:
Technical, management and Medical foundation courses are offered here. Since attaining a C1 level, the Foundation programme's duration is reduced to 8 months from 12 by concentrating only on the subjects.  
Studienkolleg Option 5
For students seeking English-taught programs, the direct foundation course offers an 8-month pathway to success.
Upon completing this program, you can confidently progress to an English-taught bachelor's course at a prestigious public university.
This option widens your academic horizons and ensures you're prepared for your studies in Germany.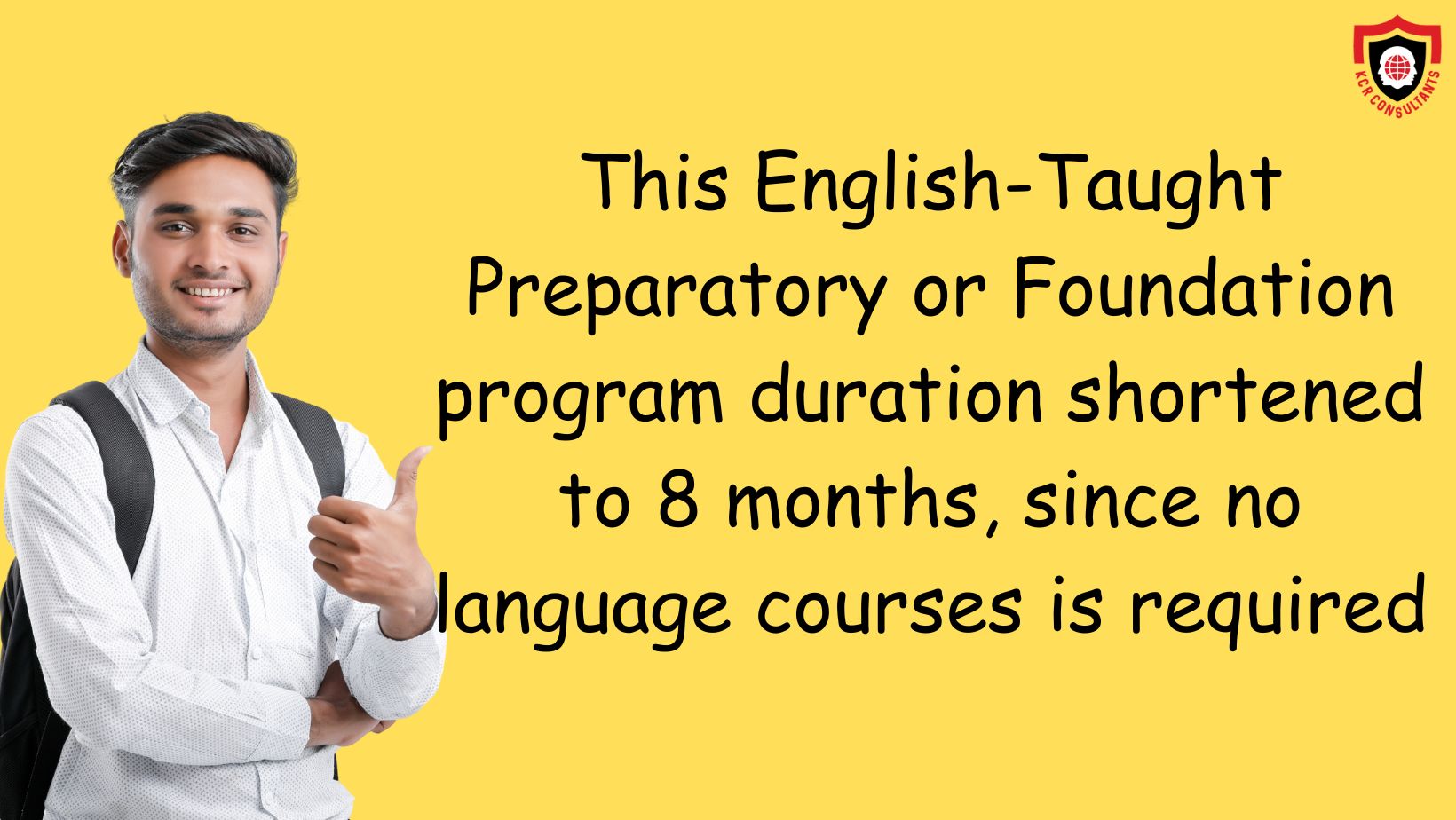 The scope:
Since you have learnt all these 12 years of your school education in English or regional language or both, continuing with studying in English may be ideal and easy. 
Since the Preparatory or Foundation programme is taught in English, the length of the course is reduced to 8 months. 
Unlike the other Foundation courses, the in-house exam at the end of the period qualifies the students to meet the University's academic and language conditions for admission.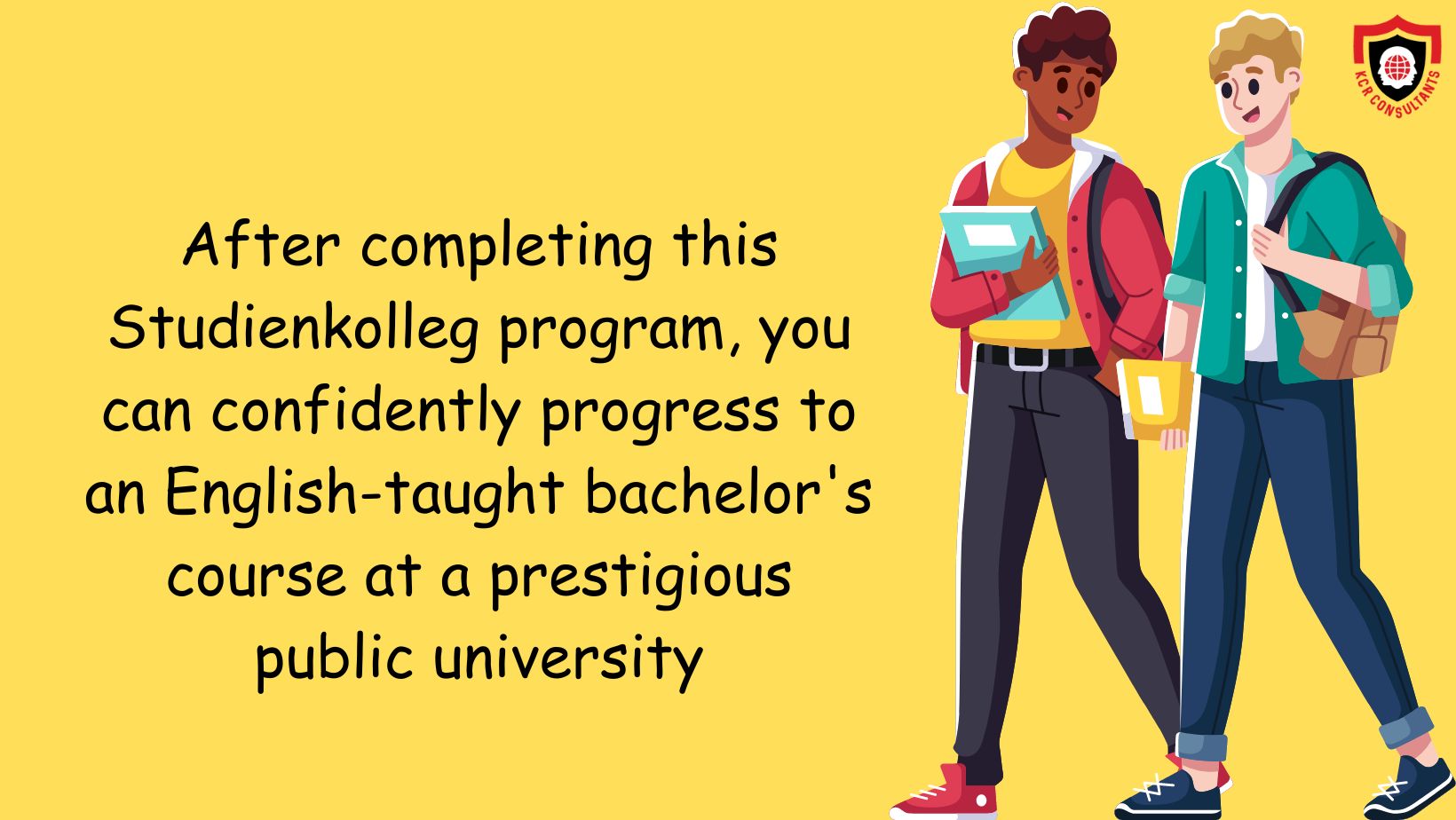 Why Choose Direct and Assured Studienkolleg Admissions?
Simplified Process: Navigating the German education system can be daunting. Our direct admissions eliminate complexities, allowing you to focus on your academic journey.
Structured Learning: Each option is designed to provide a structured learning pathway, ensuring a solid academic foundation and language proficiency.
Language Proficiency: Mastering German is pivotal for academic and personal success. The Studienkollegs' foundation course in German facilitates gradually but effectively enhancing your language skills to follow a German-taught degree programme at a public university.
Flexible Approach: Whether starting from scratch or building upon existing knowledge, the range of options accommodates your unique learning background and pace.
International Network: Join a diverse community of international students on the same journey. Forge connections, share experiences and create memories that will last a lifetime.
Embarking on your higher education journey in Germany has never been more accessible. Our direct and assured Studienkolleg admissions options pave the way for your academic success while fostering a solid foundation in language and education. 
The dedicated team at KCR is committed to providing expert guidance and support at each step of your journey. Navigating the complex landscape of Studienkolleg admissions can be daunting, so we offer these clear and compelling pathways. 
Embrace the opportunity to study, grow and thrive in one of the world's leading education destinations.
Contact us today to discover the pathway that aligns perfectly with your ambitions and ensures your direct and assured Studienkolleg admission in Germany. 
By choosing our services, you select certainty, efficiency and a steadfast commitment to your educational goals.
Your future starts here.