Bavaria is renowned for its natural countryside scenery, unpolluted atmosphere, abundant cultural offerings and well-known relaxed Bavarian demeanor.
The medieval era's architectural landscape encompassed various notable structures, including castles, small villages, spectacular palaces and Baroque churches.
But Bavaria isn't just another region; it's a vast expanse that covers nearly a fifth of Germany's entire landmass. And within its borders, more than 13 million souls call it home, making it Germany's second most populous state.
Like these, we can describe more.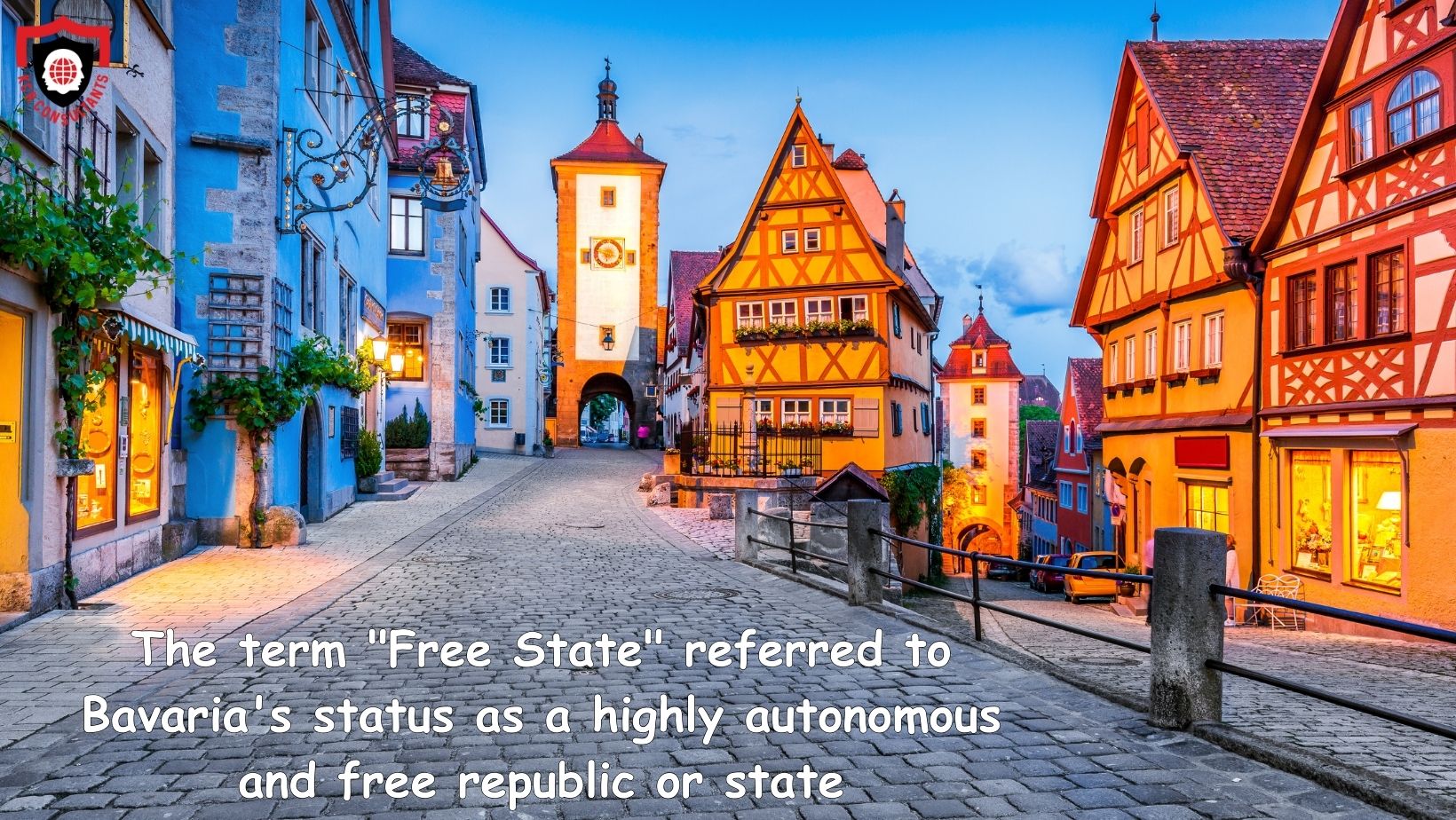 The Region is located in southeastern Germany and unlike other states, it is not called the State of Bavaria but the Free State of Bavaria.
Its capital city is Munich, which holds the distinction of being the largest city within the state and the third largest city in Germany.
Now that you have acquired a foundational understanding of the subject matter, this article will explore more about the Free State of Bavaria.
WHY IT IS CALLED AS THE FREE STATE OF BAVARIA
Unlike other states in Germany, Bavaria is not called the State of Bavaria but the Free State of Bavaria.
Why is it a free state of Bavaria?
To answer this question, we must journey back to the 19th century when the term "Free State" took root in Germany. It was a deliberate choice, a linguistic counterpart or translation of the Latin-derived concept of a republic.
In other words, "Free State" was used to describe Bavaria's political status as a republic or a state with a high degree of autonomy and freedom during this period.
The term "Free State" specifically gained popularity among the states of the Weimar Republic following the fall of the German monarchs.
After World War II, Bavaria, unlike the majority of German states that chose to use "State of" in their names, distinguished itself by adopting the title "Free State of Bavaria" (Freistaat Bayern). This choice, deeply rooted in historical and cultural identity, sets Bavaria apart and continues to define its spirit to this day.
HISTORY OF BAVARIA
The state has played a pivotal role in several historical events, encompassing medieval duchies, royal dynasties and participation in the Holy Roman Empire.
Let us understand the history of the Free State of Bavaria.
Due in part to the Confederation of the Rhine, Bavaria became a kingdom in 1806 after Napoleon ended the Holy Roman Empire.
Following the ascent of Prussia in the early 18th century, Bavaria managed to maintain its autonomy by strategically leveraging the rivalry between Prussia and Austria.
In 1870, upon France's declaration of war against Prussia, the southern German states of Baden, Württemberg, Hessen-Darmstadt and Bavaria, except for Austria, aligned themselves with the Prussian armies and subsequently became part of the Federation, which was later renamed Deutsches Reich (German Empire) in 1871.
Although Bavaria became a part of Germany, The annexation of Bavaria into the newly established German Empire was met with controversy among Bavarian nationalists.
Following the revolution in 1918, the term "Free State" was adopted as part of Bavaria's official title during the Weimar Republic, which began in 1919, following the end of World War I and the abdication of the Bavarian monarchy.
Later, in 1946, the Rhenish Palatinate was separated from Bavaria and incorporated into the newly established state of Rhineland-Palatinate.
Due to the Basic Law (constitution) of West Germany in 1948, Bavaria was established as a state of the Federal Republic.
Throughout history, political transformations and cultural identity have marked Bavaria's journey.
ECONOMY STATUS
As we have clarity about Bavaria's History, Let us explore its economic status.
Bavaria has historically maintained a prominent economic strength, boasting one of Germany's most substantial regional economies and across the European continent.
The state exhibits robust economic interdependencies with Austria, the Czech Republic, Switzerland and Northern Italy.
Do you know that Bavaria has the best-developed industry in Germany and has the lowest unemployment rate.
Industrial Facility
Bavaria is renowned for hosting Germany's most advanced and prosperous industrial sector, which is a cornerstone of Germany's economic landscape, characterized by robust industrial development.
After World War II, the government initiated strategies to draw in businesses, resulting in Bavaria outpacing other German regions in industrial growth.
Since the end War, Bavaria's industrial sector has been advancing, thus providing more career opportunities every year.
Munich, Bavaria's primary industrial hub, is a prominent center for high-technology enterprises and is a central transportation hub.
Numerous major corporations, such as Adidas, Audi, Allianz and BMW, have their headquarters in Bavaria.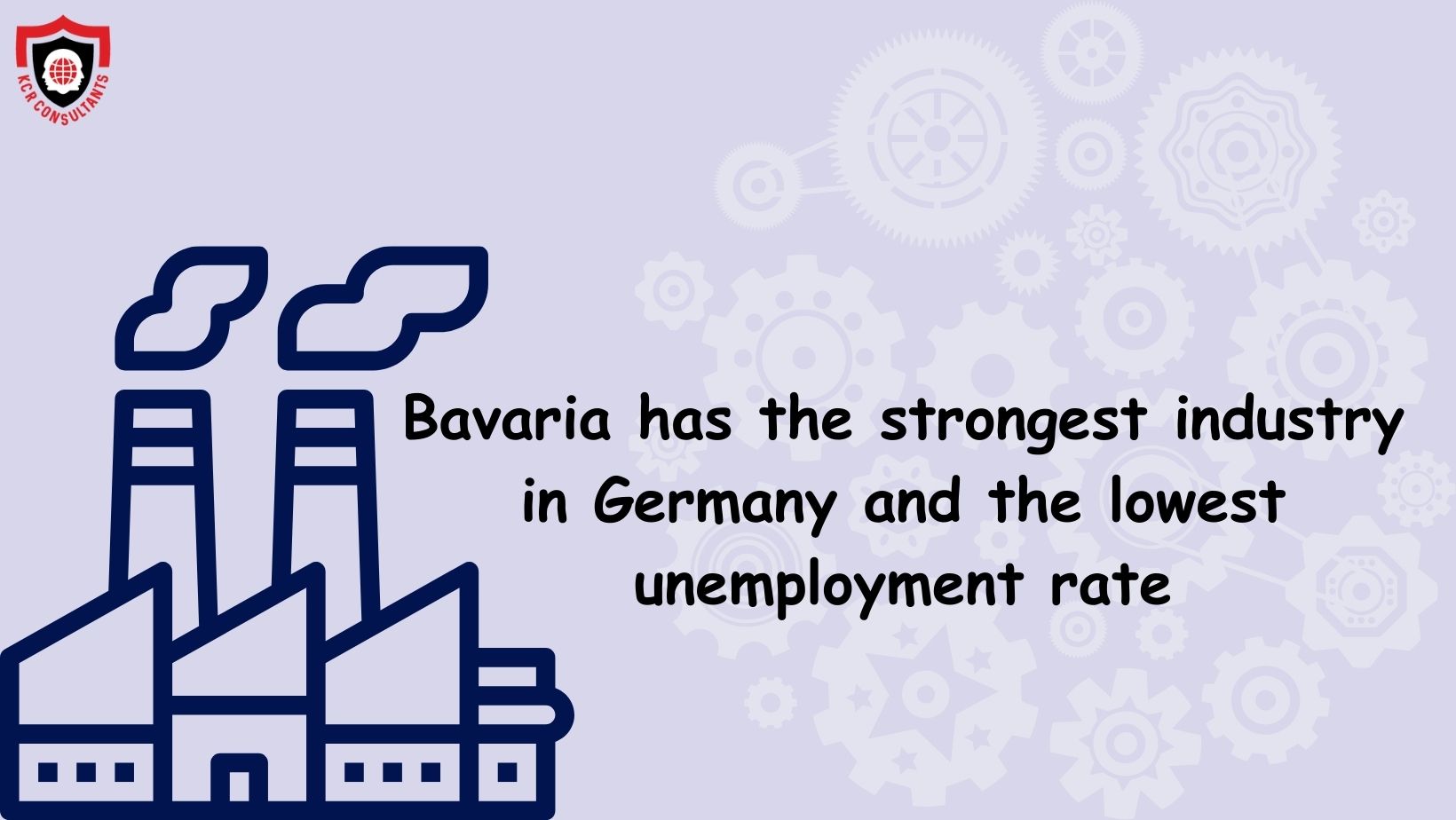 Some of the other top companies are,
Puma
Brose
BSH Hausgeräte
Infineon
KUKA
MTU Aero Engines
Conrad Electronic
Unemployment Rate
Now, let's turn our attention to a compelling aspect of Bavaria's economic prowess—its remarkably low unemployment rate.
Bavaria is one of the other states in Germany that has a low unemployment rate.
For example, in 2022, the unemployment rate in Bavaria was recorded at 3.1%, indicating that Germany has a relatively low unemployment rate compared to other European Union member states.
Transport and Road Facility
Now let us see about Bavaria's Transport and Road facilities.
The transport system in Bavaria offers convenient travel options for all residents there.
Not only the transport system, but Bavaria also has an extensive and well-maintained road network, providing efficient transportation across the region.
Road infrastructure includes a network of
Highways (Autobahnen)
Federal roads (Bundesstraßen)
Local roads
Bavaria offers a comprehensive public transport system includes, such as
Trains
Underground trains
Trams
Buses
These facilities facilitate convenient travel within the state.
HIGHER EDUCATION SYSTEM
Do you know that approximately 440,000 international students are studying in Germany annually, solidifying its reputation as a global education powerhouse?
According to the statistical data for 2022, Germany received a total of 440,564 international students, thereby positioning itself among the top five nations globally regarding international student enrollment.
This highlights the quality of education systems throughout the different states of Germany. As Bavaria is a part of the country, let us explore its Education system.
Bavarian universities provide diverse academic options and uphold high educational standards for students and faculty members.
Bavaria encompasses various universities: Universities of applied sciences, Research institutions and Universities of arts. 
It serves as a prominent global hub for scientific inquiry and scholarly investigation.
All universities in Bavaria provide a remarkably high standard of instruction and research and are widely recognized for their outstanding international standing.
Because of all these reasons, many international students choose Bavaria. There are approximately 34,553 international students studying in the Free State of Bavaria.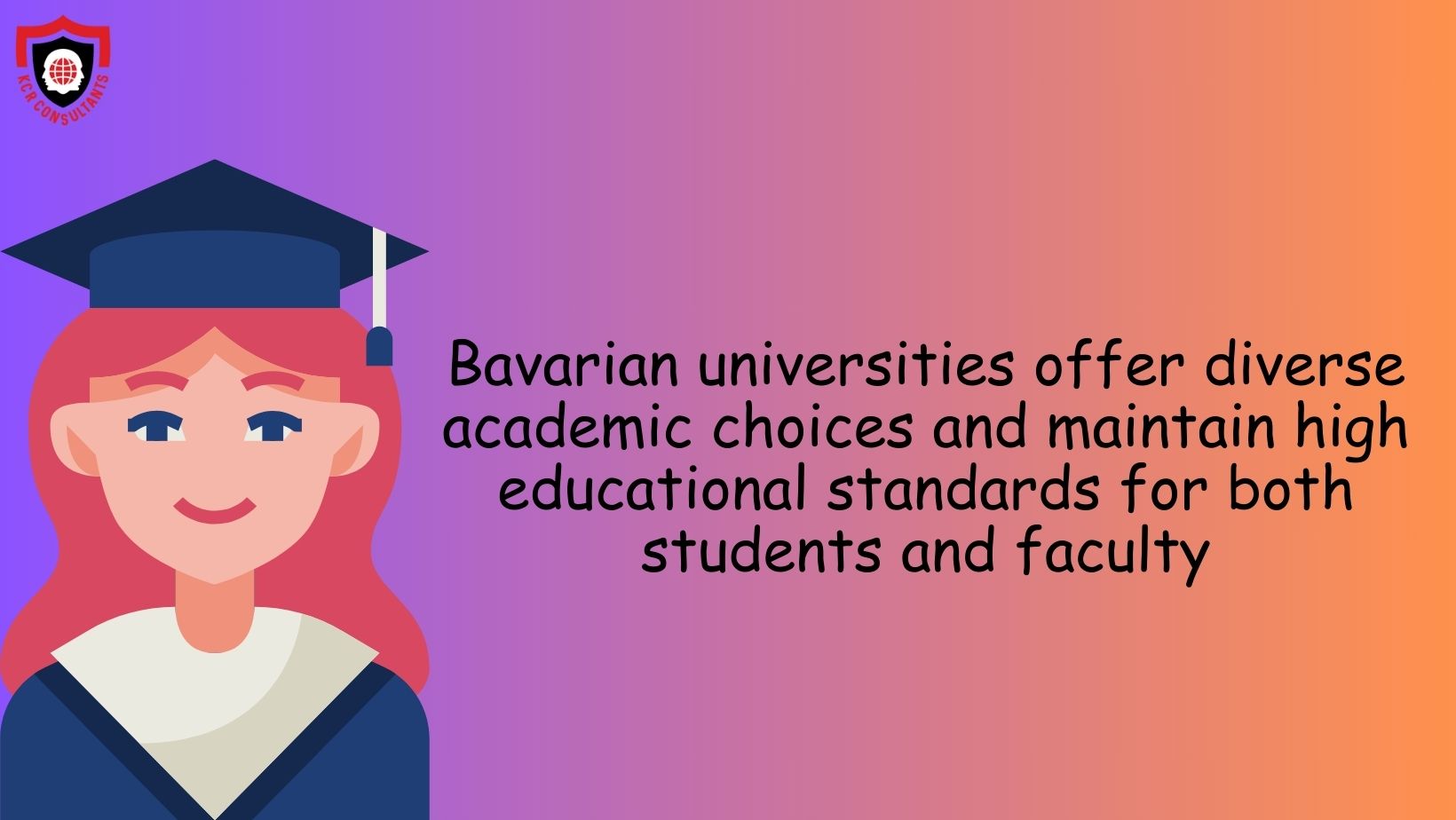 Study Grants
Unlocking the door to higher education can be challenging, but in Bavaria, the government has a helping hand extended in the form of Study Grants.
Study grants are a form of financial assistance the Free State of Bavaria provides to universities to enhance study conditions.
The funds are allocated equitably by the student representatives and are utilized to enhance the quality of instruction.
In Bavaria, education is supported by a government that values knowledge and invests in the futures of its students.
Research Universities
As Bavaria has many renowned specialized universities, one of the specialized universities is Research universities.
Traditional academic training is the goal of research universities in Bavaria. Most teach various courses, but some focus on specific areas, like the humanities, sciences, or technology.
If a person goes to a research university, they will be trained in excellent training for work in many different fields. Specific careers, like teaching high school, being a doctor, or being a lawyer, can only be done with a degree from a research university.
Universities of Applied Sciences
Another specialized university that Bavaria concentrates on is applied science universities.
Degree programs offered at universities of applied sciences integrate a research-oriented framework with a greater emphasis on practical instruction. All degree programs include work placements.
Universities of Arts
Lastly, Bavaria has another type of specialized university, the Universities of Arts.
Aspiring professional painters, musicians, actors, or filmmakers are encouraged to apply to specialized Universities of Arts.
These institutions offer comprehensive training tailored to their chosen artistic discipline, fostering the development of skills and knowledge necessary for successful careers in their respective fields.
UNIVERSITIES IN BAVARIA
Munich Business School
University of Applied Management
Wilhelm Löhe University
Catholic University of Eichstaett-Ingolstadt
Macromedia University of Applied Sciences
Ukrainian Free University
Augustana Divinity School
IU International University of Applied Sciences – Campus Bad Honnef
FOM University of Applied Sciences for Economics and Management
Fresenius University of Applied Sciences
ISM ACADEMY GmbH
HHL Leipzig Graduate School of Management
EBS Business School
Steinbeis University Berlin
University of Applied Sciences for SMEs (FHM) – Campus Bielefeld
Munich University of Applied Languages
PFH Private University of Applied Sciences
H:G University of Health & Sports, Technology & Arts
Media Design University
Hamburg Distance Learning University
IST University
SRH University of Health Gera
Allensbach Constance University
Zeppelin University
Diu Dresden International University GmbH
University of Applied Sciences Appollon
Wilhelm Buchner University
Euro-FH European Fernhochschule Hamburg
AKAD Education Society
Diploma University of Applied Sciences Bad Sooden-Allendorf
EU Business School
SRH Fernhochschule – The Mobile University
Hof University of Applied Sciences
University of Passau
University of Erlangen–Nuremberg
Technical University Ingolstadt of Applied Sciences
Deggendorf Institute of Technology
Kempten University of Applied Sciences
University of Applied Sciences Landshut
University of Augsburg
Otto-Friedrich-Universität Bamberg
Rosenheim Technical University of Applied Sciences
Hochschule für Musik Würzburg
University of Applied Sciences Amberg-Weiden
University of Bayreuth
Regensburg University of Applied Sciences
Munich University of Applied Sciences
Neu-Ulm University of Applied Sciences.
Munich University of Applied Sciences
Julius Maximilian University of Würzburg
Technische Hochschule Nürnberg Georg Simon Ohm
Coburg University of Applied Sciences
Ludwig Maximilian University of Munich
University of Regensburg
Munich University of Applied Sciences
Weihenstephan-Triesdorf University of Applied Sciences
Academy of Fine Arts Munich
University of Television and Film Munich
Hochschule für Musik und Theater München
Technical University of Applied Sciences Würzburg-Schweinfurt
Hochschule für Musik Nürnberg
Bavarian School of Public Policy
University of Applied Sciences for Public Administration and Legal Affairs in Bavaria
INTERNATIONALIZATION
As we know, Bavaria's education system attracts many students worldwide; now, let us explore what Free State Bavaria does to improve internationalization.
Bavaria's internationalization is marked by its strategic global engagement. The region cultivates economic, academic and cultural ties worldwide.
Its industries, universities and cultural events attract a diverse international community, fostering cross-border collaborations and enhancing its global presence.
One step that the Government has to improve internationalization is Bavaria's foreign trade strategy, which extensively supports Bavarian enterprises in exploring and expanding into new international markets. This support encompasses a variety of initiatives conducted both within Bavaria and overseas.
Bavaria also provides Studienkolleg for international students. The Studienkolleg is a mandatory preparatory course that international students in Germany must successfully undertake before being eligible to apply for specific university programs.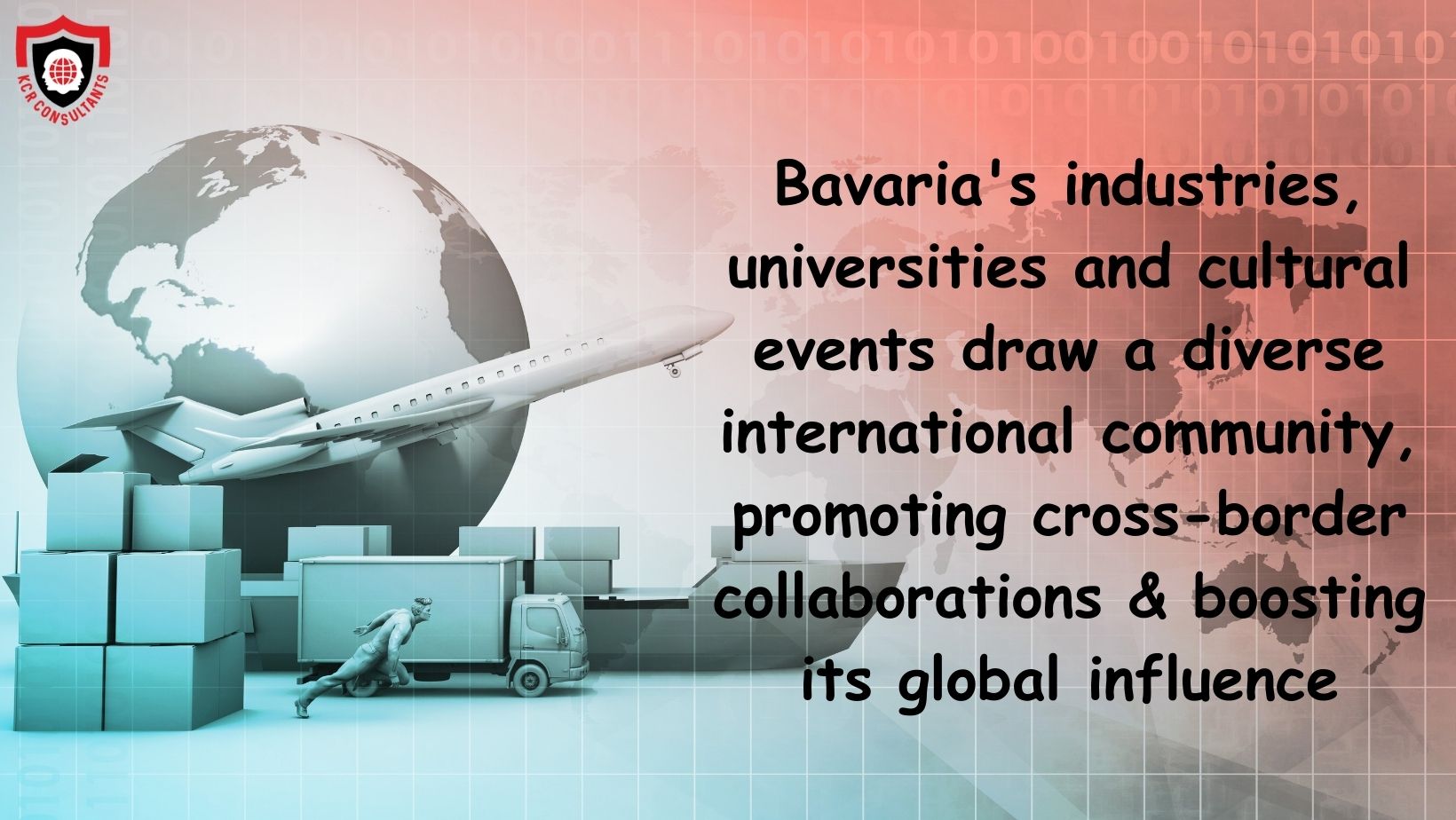 LIST OF STUDIENKOLLEG
INSTITUTION – Studienkolleg Munich Language Academy
CITY – Munich
TYPE – Preparatory College
COURSES

– T, W, M
INSTITUTION – Preparatory college at the universities of the Free State of Bavaria
CITY – Munich
TYPE – Preparatory College
COURSES

– T, W, M, G
CAREER FACILITY
Not only is Bavaria excellent economically and educationally, but it also provides diverse career opportunities.
Bavaria is widely recognized and esteemed globally for its exceptional quality of life and reputation as a favorable business location.
The state is considered a leading opportunity country due to its long-term potential for above-average economic growth and its utilization of state-of-the-art technology. These factors contribute to the availability of high-quality, well-compensated employment opportunities and promising prospects for the future.
In the region of Bavaria, it is common for the Bavarian state government to provide a master craftsman's bonus to individuals who have completed their professional training and attained the esteemed status of a master craftsman or a comparable certification.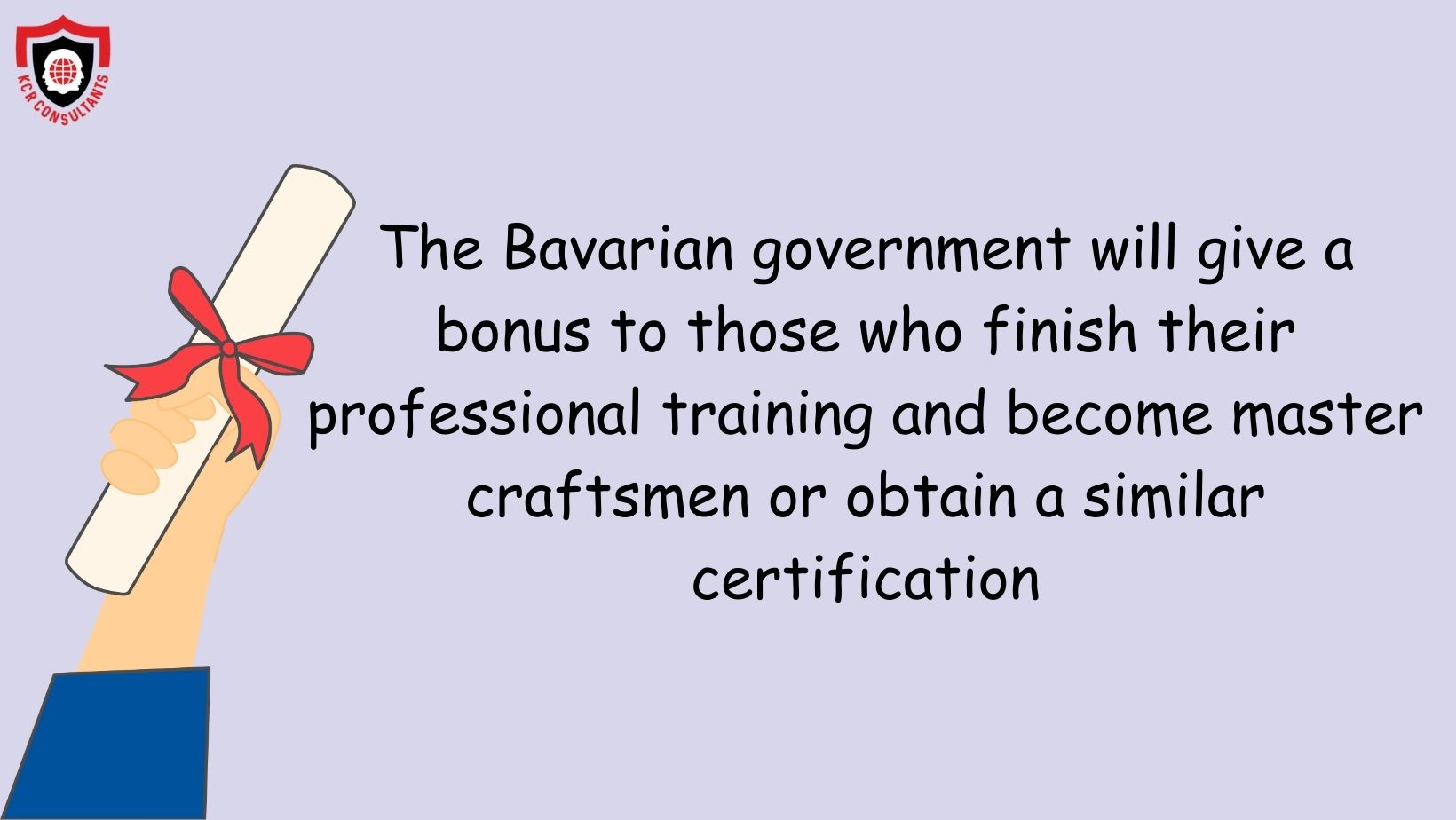 Focused Sectors,
Bavaria encompasses diverse sectors, notably in manufacturing, technology, automotive, aerospace, healthcare, tourism and agriculture.
These sectors contribute significantly to the region's economic vitality and global prominence.
Let us explore these sectors.
Some of the Top Sectors are,
Automotive Sector
The automotive sector is a crucial and highly advanced industry in Bavaria, encompassing the production of high-end automobiles, specialized vehicles and automotive components.
The state possesses the second-largest workforce within this particular sector.
Aerospace and Defense Sector
The aerospace and defense industry is involved in the production of various military assets, such as multi-role attack jets, missiles, rocket components, ultra-light planes, radars and other related equipment.
The various areas encompass a range of specialized institutes, including the Microwaves and Radar Institute, the Institute of Robotics and the Institute for Software Technology, among others.
HOUSING AND RENTING
Bavaria is also good place to live.
Bavaria is renowned for its exceptional quality of life, as seen by the state's outstanding living standards. The state's living standards are elevated due to its strong economy and exceptional infrastructure.
Now, let's talk about homes. In Bavaria, the possibilities are as diverse as the landscape.
The maximum rental price for a Bavaria home is around €9,900.
The cost of rooms in privately-owned housing, which includes utilities, ranges from 350 to 650 euros per month.
The cost of rooms in university housing is 300 euros, with an additional option available at 370 euros, including monthly utilities.
CONCLUSION
Bavaria is a notable illustration of the successful integration of innovation with tradition, creating an appealing environment for international commercial activities and cultural discovery.
The Free State possesses a diverse range of internationally acclaimed universities and research organizations, fostering an environment conducive to pursuing advanced education and interdisciplinary cooperation.
All these advantages make Bavaria one of the best Free states in Germany. 
Related Article : STUDY IN GERMANY