GERMANY'S SILICON VALLEY
Baden-Württemberg is a federal state located in the southwestern region of Germany, sharing borders with France and Switzerland. It is commonly shortened to BW or BaWü.
It is renowned for its captivating blend of rich history, thriving economy and picturesque landscapes. With a diverse cultural heritage and vibrant cities like Stuttgart, Heidelberg and Freiburg, Baden-Württemberg captivates visitors with its fusion of tradition and innovation.
It is the third-largest German state by both area, behind Bavaria and Lower Saxony and by population, behind North Rhine-Westphalia and Bavaria.
The primary urban hub in Baden-Württemberg is Stuttgart, the capital city.
This region is a hub of technological advancements, home to renowned industries such as automotive manufacturing and engineering and often nicknamed Germany's Silicon Valley.
The state's lush forests, charming villages and the majestic Black Forest offer a stunning backdrop to its cultural and economic prominence. Baden-Württemberg is a dynamic microcosm of Germany's past, present and future.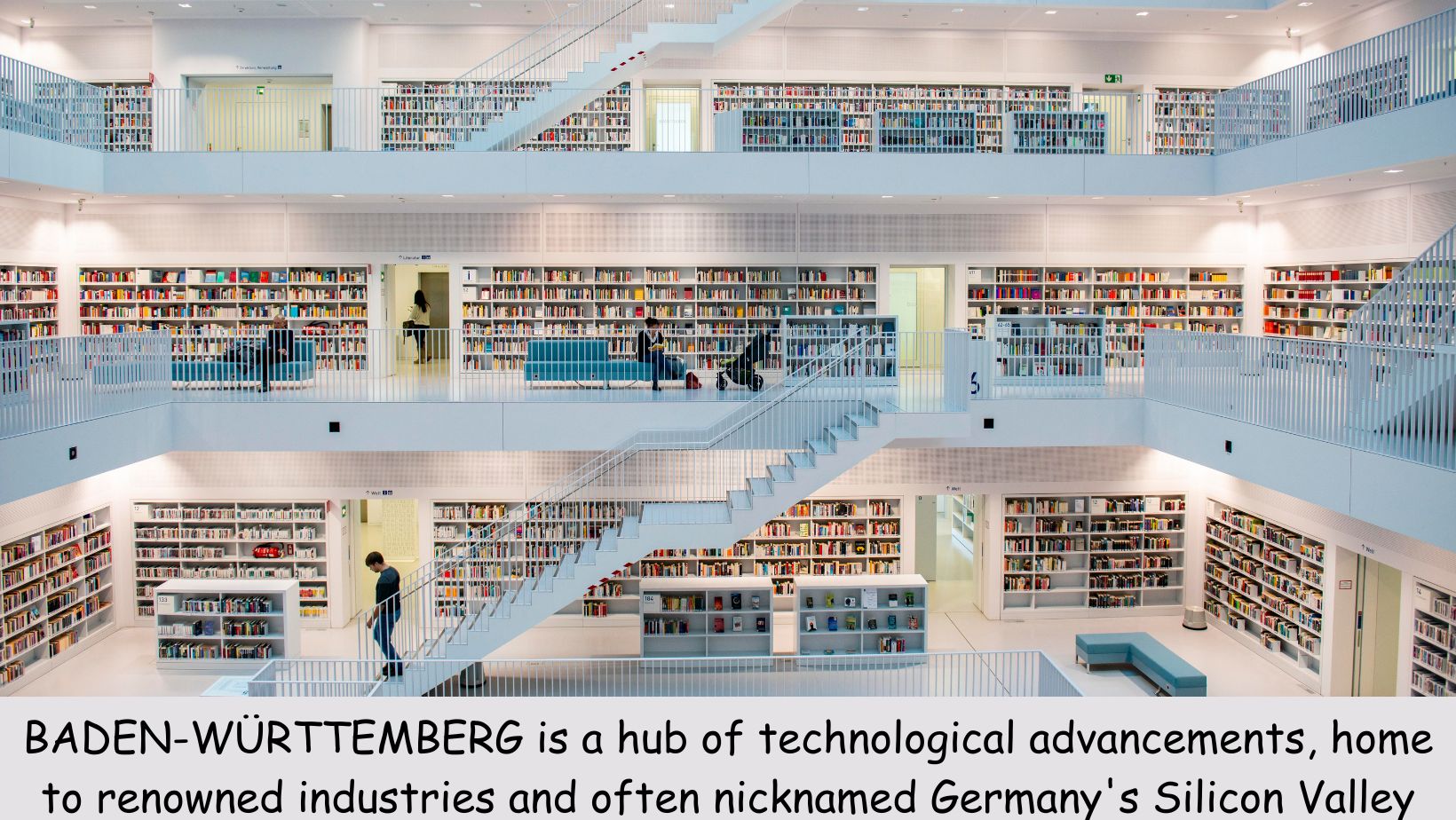 Some of the Major cities in here are,
Stuttgart
Freiburg im Breisgau
Heidelberg
Heilbronn
Pforzheim
Reutlingen
Tübingen
Ulm
HISTORY
From medieval duchies and royal dynasties to its role in the Holy Roman Empire, the state has witnessed profound historical events.
In April 1952, Baden-Württemberg was created as a federal state of West Germany.
This occurred due to the merging three former states: South Baden, Württemberg-Baden and Württemberg-Hohenzollern.
The Allies deliberately established the three mentioned nations following World War II's conclusion by dividing preexisting traditional states across various occupation zones.
ECONOMY STATUS
Baden-Württemberg is renowned for its robust economy, characterized by a diverse range of businesses such as automobile manufacture, electrical engineering, mechanical engineering and the service industry, among others.
The region exhibits the third-highest gross regional product (GRP) among all areas in Germany. Situated inside the Blue Banana region and affiliated with the Four Motors for Europe initiative, Baden-Württemberg accommodates several prominent German corporations, such as Mercedes-Benz Group, Schwarz Group, Porsche, Bosch and SAP, which have established their headquarters in this region.
Despite its limited abundance of natural resources compared to other regions in Germany, the state has achieved remarkable prosperity and stands as one of the wealthiest regions in Europe.
Throughout the past, this state has consistently maintained a low unemployment rate.
HIGHER EDUCATION SYSTEM
The education system of Baden-Württemberg exemplifies the region's dedication to achieving high academic achievement standards and fostering innovative approaches. It is home to some of Germany's oldest, most renowned and prestigious universities.
In the state of Baden-Württemberg, there exists a considerable number of tertiary education institutions, including many more universities of applied sciences known as Fachhochschulen, as well as teacher training schools, referred to as Pädagogische Hochschulen.
The state possesses the most concentrated number of universities compared to any other state in Germany. Universities maintain robust academic criteria, hence promoting the cultivation of research and innovation.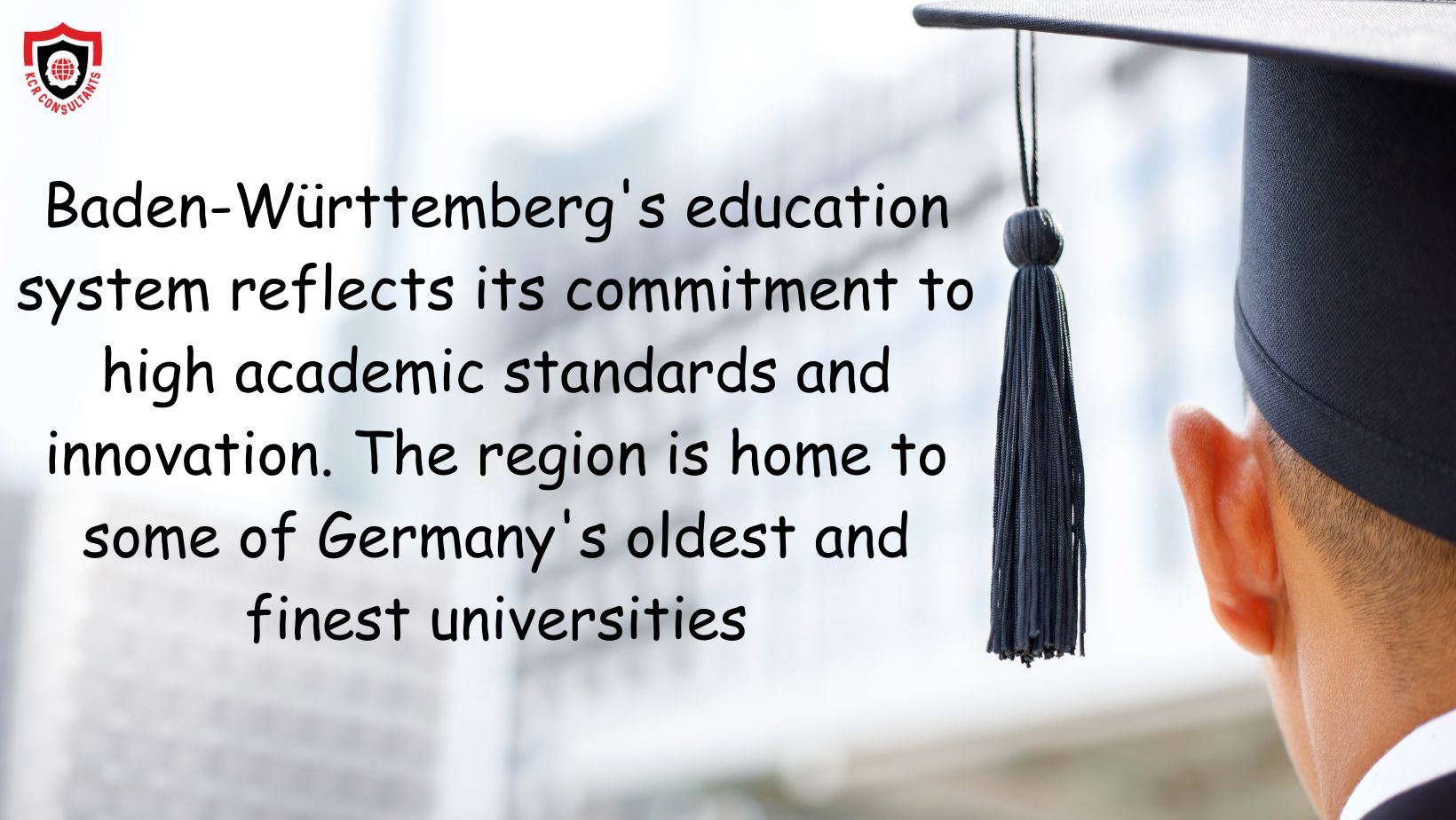 Advantages
Tuition-free education in public universities attracts students globally, promoting accessibility.
The dual education system integrates theoretical learning with practical training, nurturing skilled professionals.
Collaborations between academia and industry bolster real-world applicability. With its world-class faculties, cutting-edge research opportunities and commitment to quality education, Baden-Württemberg's educational landscape is a cornerstone of its intellectual and economic vibrancy.
Baden-Württemberg is powerful in STEM subjects and medicine and our Innovation Campus Initiative supports these research areas.
PUBLIC UNIVERSITIES IN BADEN-WÜRTTEMBERG STATE
Heidelberg University

Aalen University Of Applied Sciences
Nürtingen-Geislingen University
Esslingen University Of Applied Sciences
Pforzheim University
Reutlingen University
University In Baden-Wurttemberg
Academy Of Performing Arts Baden-Wuerttemberg
Baden-Wuerttemberg Cooperative State University
Biberach University Of Applied Sciences
Karlsruhe Institute Of Technology
Albstadt-Sigmaringen University
Hochschule Konstanz Für Technik, Wirtschaft Und Gestaltung
Karlsruhe University Of Education
Karlsruhe University Of Applied Sciences
State Academy Of Fine Arts Karlsruhe
Trossingen University Of Music
University Of Applied Sciences Offenburg
University Of Mannheim
University Of Freiburg
Hochschule Konstanz
University Of Konstanz
Eberhard Karl University Of Tübingen
Ulm University
Rottenburg University Of Applied Forest Sciences
Furtwangen University
Pädagogische Hochschule Heidelberg
University Of Stuttgart
Esb Business School
University Of Hohenheim
Heilbronn University Of Applied Sciences
Ravensburg-Weingarten University Of Applied Sciences
Hochschule Für Technik Stuttgart
Mannheim University Of Applied Sciences
State Academy Of Fine Arts Stuttgart
University Of Music Würzburg
Stuttgart Media University
Hochschule Für Gestaltung Schwäbisch Gmünd
Freiburg University Of Education
Ravensburg-Weingarten University Of Applied Sciences
Hochschule Für Musik Karlsruhe
University For Music And Performing Arts In Mannheim
Pädagogische Hochschule Schwäbisch Gmünd
Hochschule Für Musik Freiburg
Hochschule Für Öffentliche Verwaltung Kehl
Zeppelin University
Schwetzingen Technical Institute & Graduate Court Registrars' College
Protestant University Of Applied Sciences Freiburg
Popakademie Baden-Württemberg
TRANSPORT FACILITY
The state's economic performance is enhanced by and dependent upon its robust infrastructure.
In addition to the urban municipalities of Berlin, Bremen and Hamburg, Baden-Württemberg ranks fourth in average proximity to train and bus routes among all German states.
Railway
The railway system constitutes a significant component of the transportation infrastructure in the region of Baden-Württemberg.
The primary gauge railway network, overseen by DB Netz, encompasses over 3,350 kilometres (2,080 miles) of railway lines interconnecting all-important state settlements. This extensive network facilitates the operation of almost 6,500 trains daily.
Tram and Light Rail system
Tram and light rail systems operate in Freiburg, Heidelberg, Heilbronn, Karlsruhe, Mannheim, Stuttgart and Ulm.
In addition to domestic tram lines, Baden-Württemberg is also served by international tram connections.
For instance, Basel's tram line 8 services Weil am Rhein, while Strasbourg's tram line D extends its reach to Kehl. Esslingen am Neckar also possesses a trolleybus system.
Bus
Baden-Württemberg boasts an extensive bus network connecting urban, suburban and rural areas. With frequent services, integrated schedules and accessibility features, buses provide convenient and inclusive transportation options.
INTERNATIONALIZATION
Baden-Württemberg is widely recognized as a hub of expertise in all aspects of internationalization. The state is home to prestigious universities that provide a wide range of English-taught programs, drawing students from around the globe. Research collaborations with overseas partners are crucial in fostering innovation and internationalization within the state.
The industries within the state exhibit robust growth through their emphasis on exports, thereby cultivating economic connections on a global scale.
The Cultural exchange and study-abroad activities contribute to the enhancement of cross-cultural understanding here.
Almost all the public universities in the region of Baden-Württemberg provide opportunities for student exchange programs, enabling local students to study abroad and welcoming international students to pursue their studies inside the area.
Baden-Württemberg International
There is a state agency called Baden-Württemberg International to support international cooperation.
The agency known as BW_i, located in Stuttgart, serves as a hub for international economic and scientific collaboration.
It functions as the primary authority in the German state of Baden-Württemberg for facilitating businesses' global expansion and promoting scientific endeavours.
BW_i supports firms in Baden-Württemberg in expanding into international markets and strategically positioning the region as a hub for economic and scientific activities in southwest Germany.
CAREER FACILITY
Baden-Württemberg offers a robust career facility driven by its thriving industries and innovative ecosystem. Renowned for automotive and engineering excellence, the state provides abundant job opportunities in these sectors.
Well-connected cities like Stuttgart and Karlsruhe are hubs for networking and job fairs.
Established and startup companies provide diverse career paths.
There are many organizations available to assist newcomers with integration and job searches. German language proficiency enhances job prospects, but English-friendly positions are also open, especially in technology and research.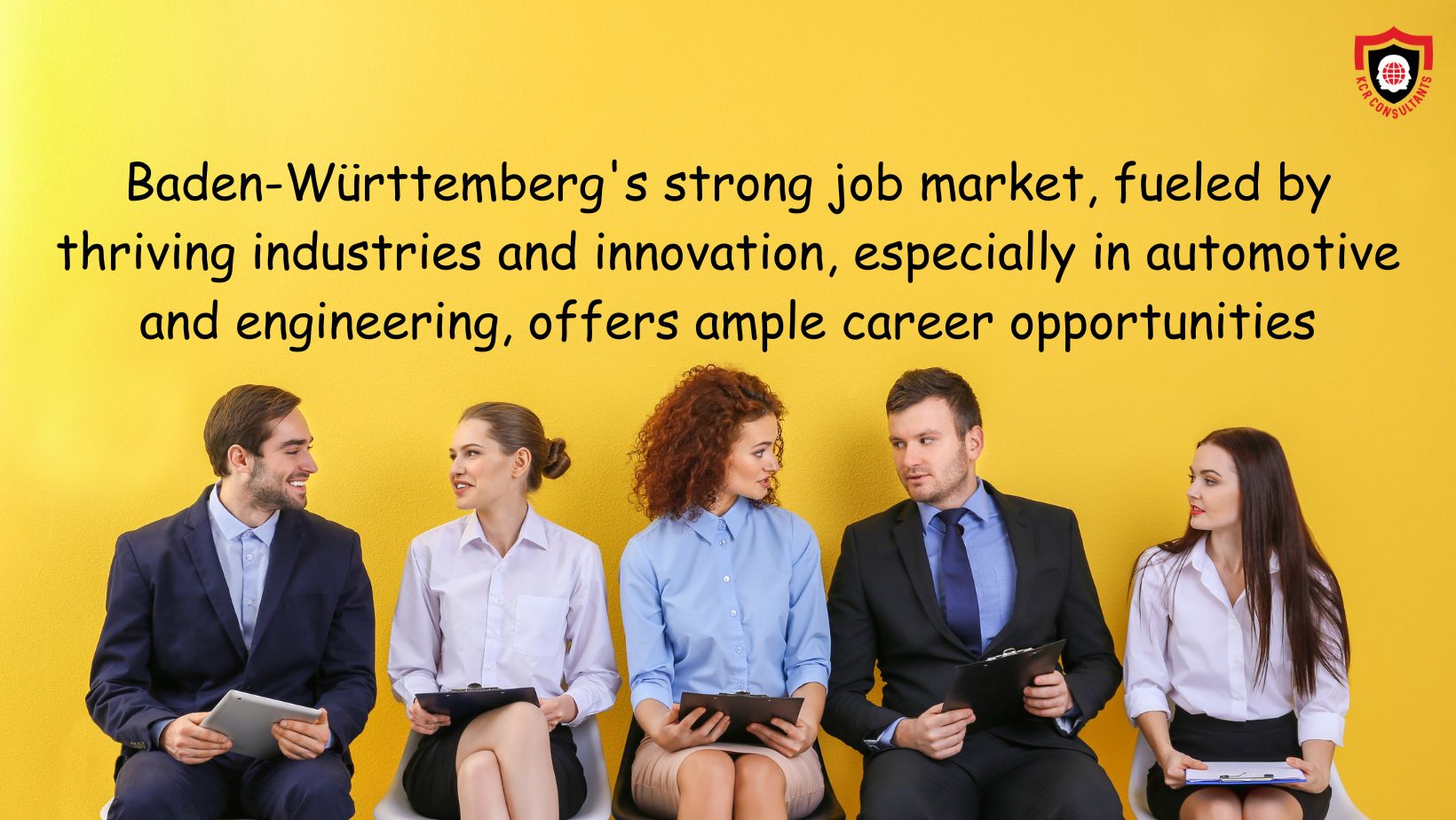 Focused Sectors,
It is also the center of German mechanical and plant engineering.
This region also offers jobs in the healthcare industry.
The environmental technology of Baden-Württemberg is widely recognized globally for its excellence in environmental engineering, raw materials management, waste disposal and recycling.
Some of the Famous Industries
Mercedes-Benz Group
Porsche
SAP
Bosch
TRUMPF
Festo
BIOPRO
HOUSING AND RENTING
Baden-Württemberg is known for its beautiful landscapes, world-class cultural events and friendly towns. There is a good mix between work and play and a family-friendly atmosphere because there are many things to do outside work.
The state offers diverse housing and rental facilities to accommodate its residents and newcomers.
Urban centers like Stuttgart and Heidelberg provide a mix of apartments, flats and houses.
The student population can also stay in the state without issues as they can benefit from university dormitories and shared apartments.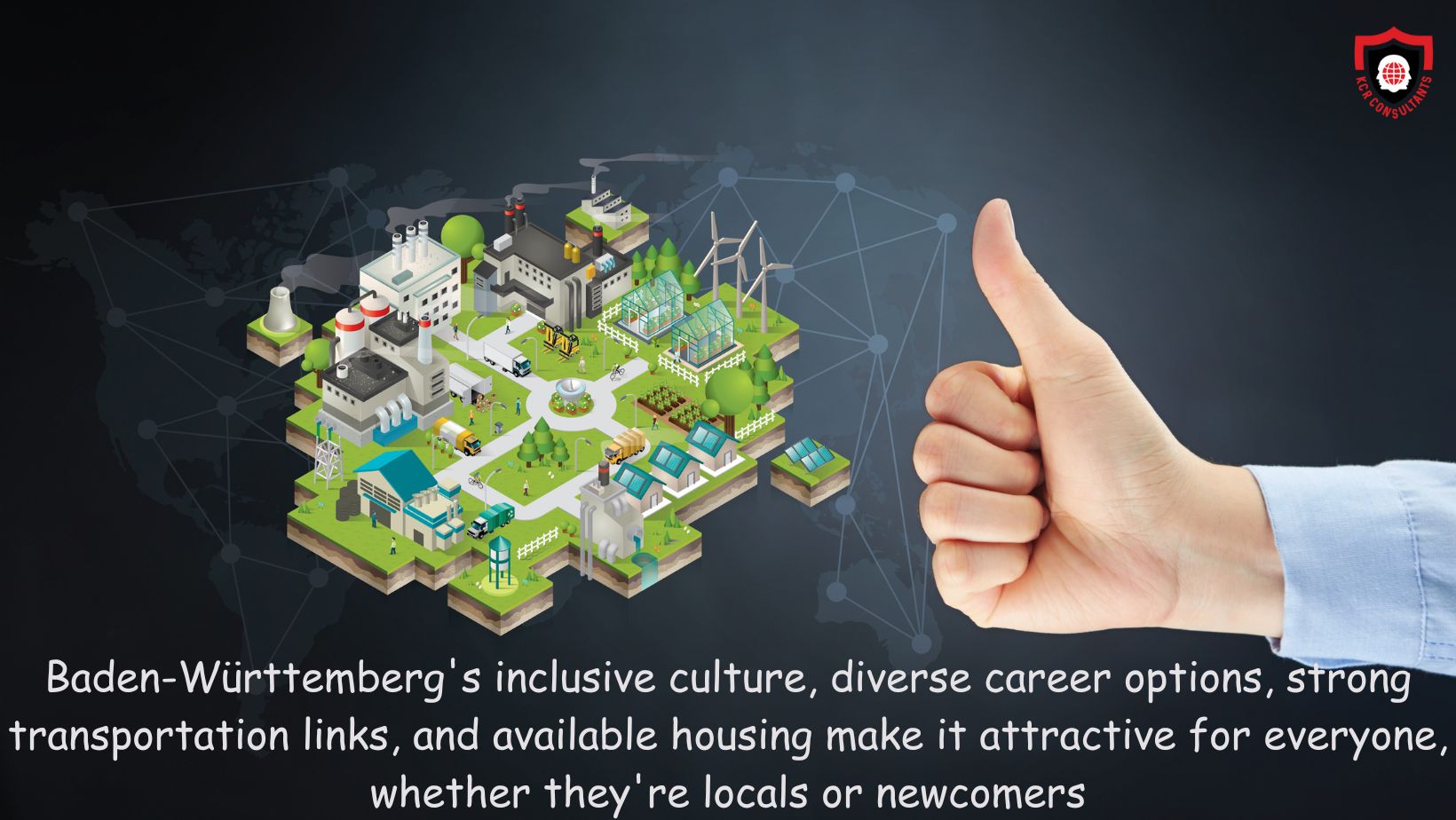 Rental costs
Rent costs in Baden-Württemberg vary significantly based on location, size, type of accommodation and amenities.
Urban centers like Stuttgart, Heidelberg and Freiburg tend to have higher rents than rural areas.
The average rent in Germany is around €800 or even more than €1000.
In suburban or smaller towns, rent costs can be lower, ranging from €500 to €800 for a similar apartment.
CONCLUSION
Baden-Württemberg stands as a captivating blend of tradition and innovation. Its rich history, thriving economy and world-renowned universities reflect a dynamic state seamlessly merging its historical legacy with contemporary progress.
From the picturesque landscapes of the Black Forest to the bustling cities of Stuttgart and Heidelberg, Baden-Württemberg offers a high quality of life and diverse opportunities.
It remains an innovator committed to education, internationalization and cutting-edge industries.
Its inclusive culture, diverse career pathways and accessible housing options contribute to its appeal for both residents and newcomers. 
Related Article : STUDY IN GERMANY